Our editorial team uses a strict editorial review process to compile all reviews, research, and evaluations of any kind. Our company, WallStreetZen Limited, is supported by our user community and may receive a small commission when purchases are made through partner links. Commissions do not affect the opinions or evaluations of our editorial team.
In some ways, SoFi Automated Investing isn't all that different.
There are dozens of robo-advisor platforms that offer a similar service of building a portfolio and helping you invest toward retirement and other goals.
But here's what IS unique about SoFi Automated Investing: the service comes with no annual management fees.
SoFi is a financial company that offers everything from banking, to student loans, to automatic investing, and more.
It also has a robo-advisor service that helps you manage your investment portfolio through sophisticated algorithms, automatically creating a portfolio for you to rebalance over time.
In this Sofi Invest Review, you'll learn how it all works, including the investments available, portfolio construction, extra SoFi perks, and the funds fees to help you decide whether it's right for you.
SoFi Invest Review: Is it Safe and Worth It in 2023?
The bottom line: SoFi Automated Investing is one of the best robo-advisor platforms available, with no annual management fees, a wide range of ETFs, multiple portfolio options, and unlimited access to human financial advisors.
But SoFi does use its own funds as part of your investment strategy, and while the fees for those funds are currently waived, they may cost you more in the long-run vs. competitors.
Moreover, if you're looking for an all-in-one financial company to manage your investments, cash, and loans, SoFi is hard to beat.
Just make sure to understand how they invest your money before signing up.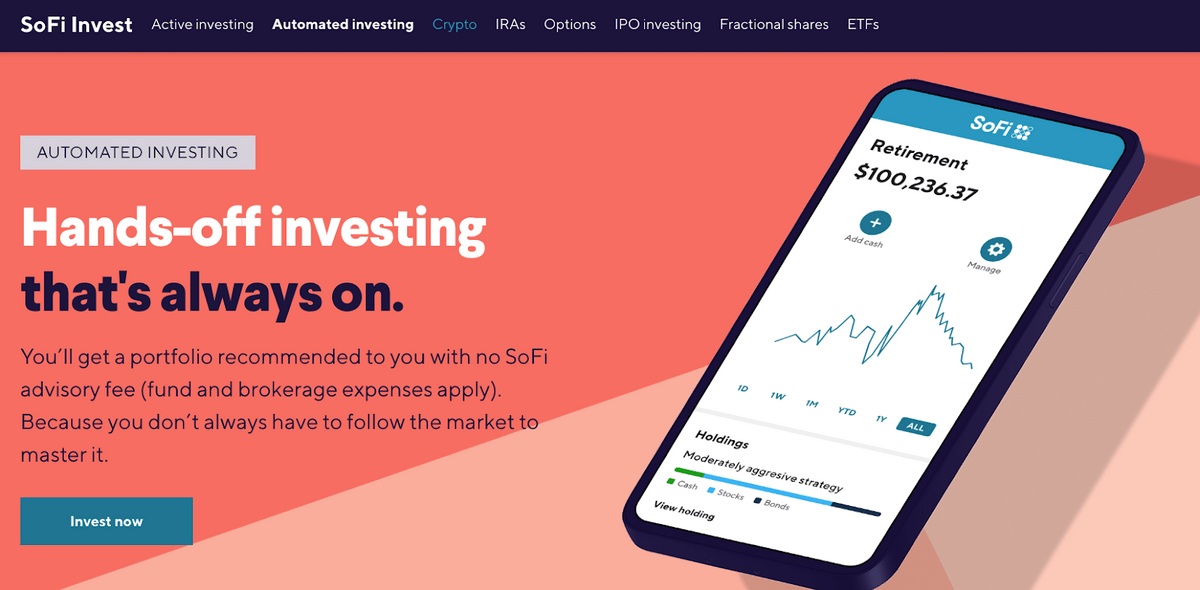 At-a-Glance: SoFi Invest Review Summary
| | |
| --- | --- |
| Overall rating | 4.5 / 5 |
| Promotion | Free career coaching and access to financial advisors |
| Account minimum | $0 |
| Fees and commissions | 0% management fee |
| Portfolio types | ETFs from 10+ asset classes, multiple portfolio mix options |
| Portfolio rebalancing? | Yes |
| Supported accounts | – Brokerage accounts- Traditional, Roth, SEP, and Simple IRA |
| Expense ratio | Various |
| Cash management account? | Yes |
| Access to financial advisor? | Yes, included |
| Tax strategy | Access to tax-free bonds |
| Mobile app? | Yes |
| Customer service | Chat and phone support, Monday to Thursday 5 a.m. to 7 pm PST; Friday to Sunday 5 am to 5 pm PST. |
| Other features | Goal setting features, discounts on SoFi loans |
What is SoFi?
SoFi originally started as a private student loan company. It has expanded to offer banking services, personal loans, auto loans, investing services, and even access to crypto.
SoFi gives all members unique access to services such as career coaching and financial planning, all without any additional fees.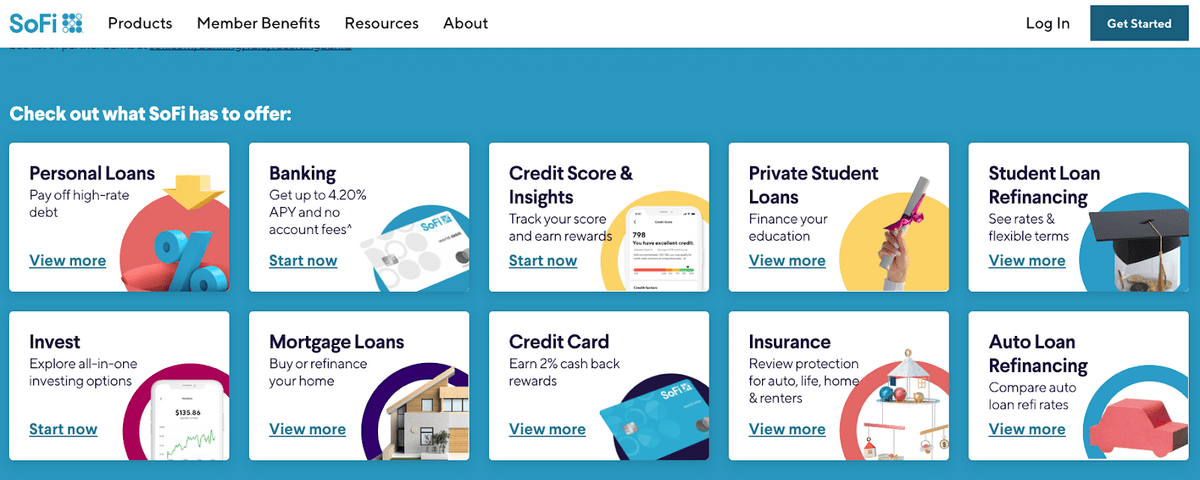 SoFi's investing services include a full-service brokerage as well as an automated investment platform. And SoFi Invest allows you to share your trades publicly, giving other members a view of your investing activity.
The Automated Investing Platform builds an investment portfolio for you of low-cost ETFs and automatically handles all investing for you.
SoFi is a "one-stop-shop" for most of your financial life, and if you prefer to handle your loans, mortgage, banks accounts, and investing all in one place, it's one of the only places to do this.
How SoFi Automated Investing Works
After signing up for a free SoFi account, you can set up a new SoFi Automated Investing account. You can choose between a regular SoFi brokerage account or a retirement account (IRA).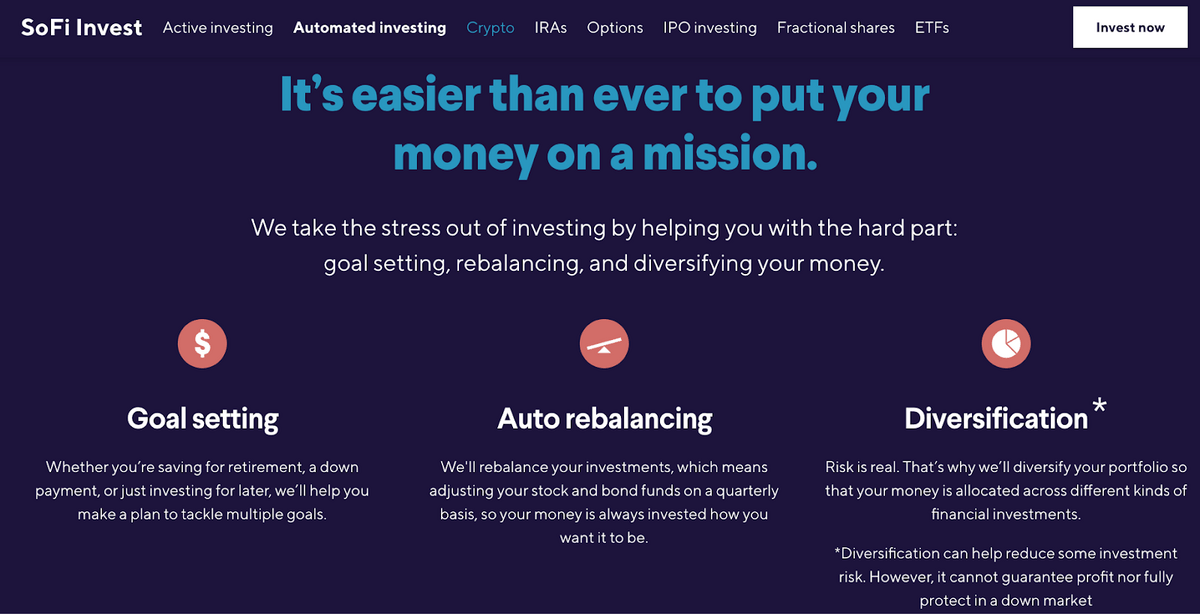 SoFi will ask a few questions about your goals, including how long until you'd like to hit your goal, and then one question about risk tolerance (protect assets vs. best growth). Once you choose, it will create a diversified portfolio for you based on your answers.
The portfolio typically consists of low-cost index funds by places like Vanguard, but over half of the portfolio is invested in SoFi proprietary ETFs.
The performance and track record of these ETFs has only been around for a few years, so it's hard to say how they will perform vs. other funds.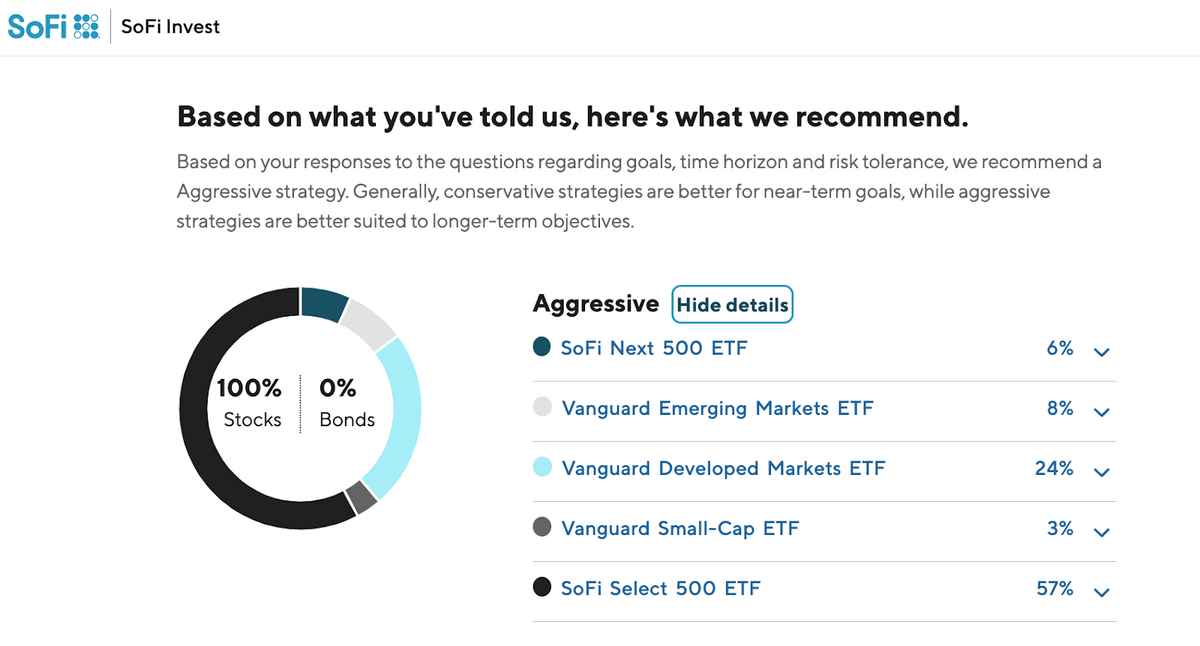 One downside to the SoFi ETFs is the expense ratio. While the fee is waived for at least the first year, after that, the fee is much higher than, saw, and Vanguard index funds. For example.
The SoFi Select 500 ETF is basically an S&P 500 fund that mirrors Vanguard's VOO ETF. But the expense ratio is 0.19% annually vs. Vanguard's 0.03%.
Note: While this fee difference might seem like a small amount, the bait-and-switch with the funds could be an unwelcome surprise for investors.
Once you choose a portfolio mix, you can complete an account setup and link a bank account to fund your account. The funds will automatically be split up and invested based on the portfolio you choose.
SoFi Automated Investing also offers automatic portfolio rebalancing, meaning they will reset the portfolio to its original mix if any one portion of it grows or shrinks by more than 5%.
Other SoFi Invest Features
In addition to automated investing, SoFi offers other perks and features of their investment platform.
Financial Advisors
One of the best parts of being a SoFi member is unlimited access to licensed financial advisors.
Most of these advisors hold a CFP designation and they are not paid on commission, so their advice should be unbiased. You can ask any questions you have about your financial plan, including goal-setting, debt payoff, retirement, and more.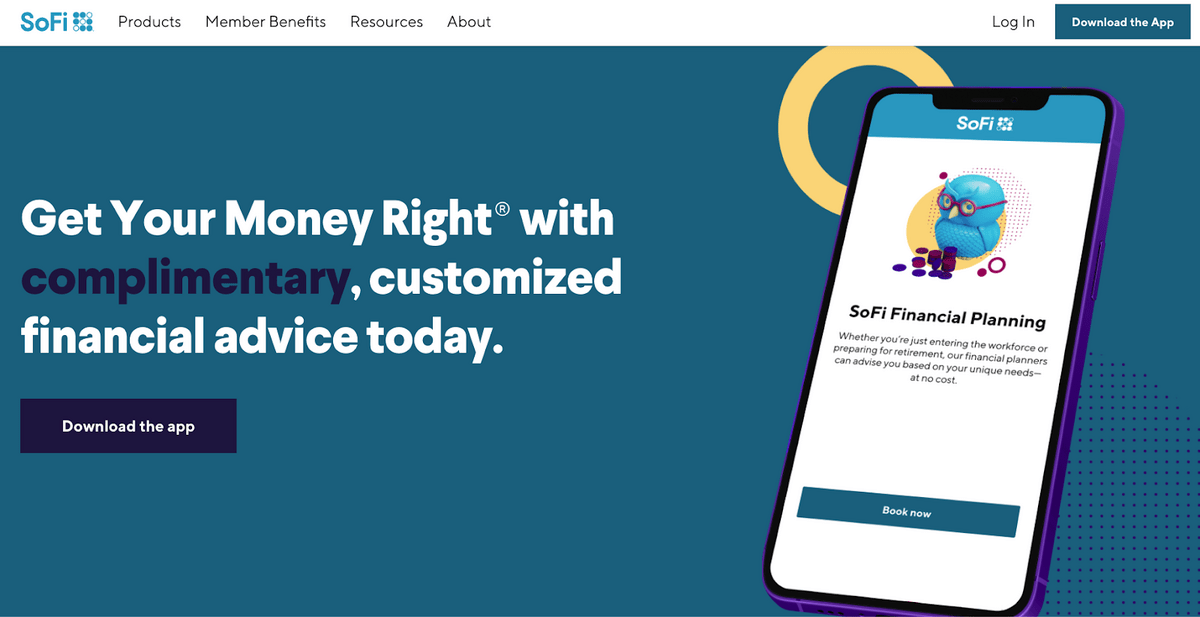 Career Coaching
SoFI members also get access to career coaching for free! You can talk with an expert about getting a raise at work, how to pivot to a new career, or simply ask them about how to advance in your current job.
This service is a great way to help you gain confidence in your career and potentially increase your income.
SoFi Active Investing
If you want a more "hands-on" approach to your investing strategy, you can also open a SoFi Active Investing account.
SoFi has a sophisticated trading and investing platform that lets you choose your investments, including single stocks, ETFs, options, and even crypto investing. There are no trading fees with SoFi investing, but there is a 1.25% fee for crypto trades.
SoFi Invest Fees
SoFi Invest doesn't charge an annual management fee for its Automated Investing platform. But there are fees assessed from the underlying ETFs used in your portfolio.
While half of the funds are very low-cost ETFs that charge around a 0.05% expense ratio, there are SoFi proprietary ETFs used in portfolio construction, so you may pay higher fees on half of your investments.
Here's a list of SoFI ETFs (and their fees), which may be used in your portfolio:
SoFi Select 500 ETF – 0.19% fee
SoFi Net ETF – 0.19% fee
SoFi doesn't let you remove these from your portfolio mix, so while the fees are waived for the first year, they reserve the right to impose this fee after that at any time.
Other fees for using SoFi Invest include a 1.25% crypto trading fee (if you choose to trade), and SoFi funds fees for SoFi Active Investing customers.
Pros: What I like about SoFi Automated Investing
No management fees
Free access to financial advisors and career coaching
Goal-setting tools for targeted savings
Well-designed mobile app
Can get discounts on other SoFi products
Cons: What I don't like about SoFi Automated Investing
Portfolios include high-fee SoFi ETFs
Limited portfolio control
No kid's custodial accounts or 529 accounts
SoFi Reviews (Vs. the Competition)
SoFi isn't the only robo-advisor option available. Here's how it stacks up against some of the biggest robo-advisor platforms available:
SoFi Vs. Betterment
SoFi offers automated investing with an annual management fee and access to human advisors for no extra cost. Their proprietary funds are required in every automated portfolio, and the fees are a bit higher than the competition.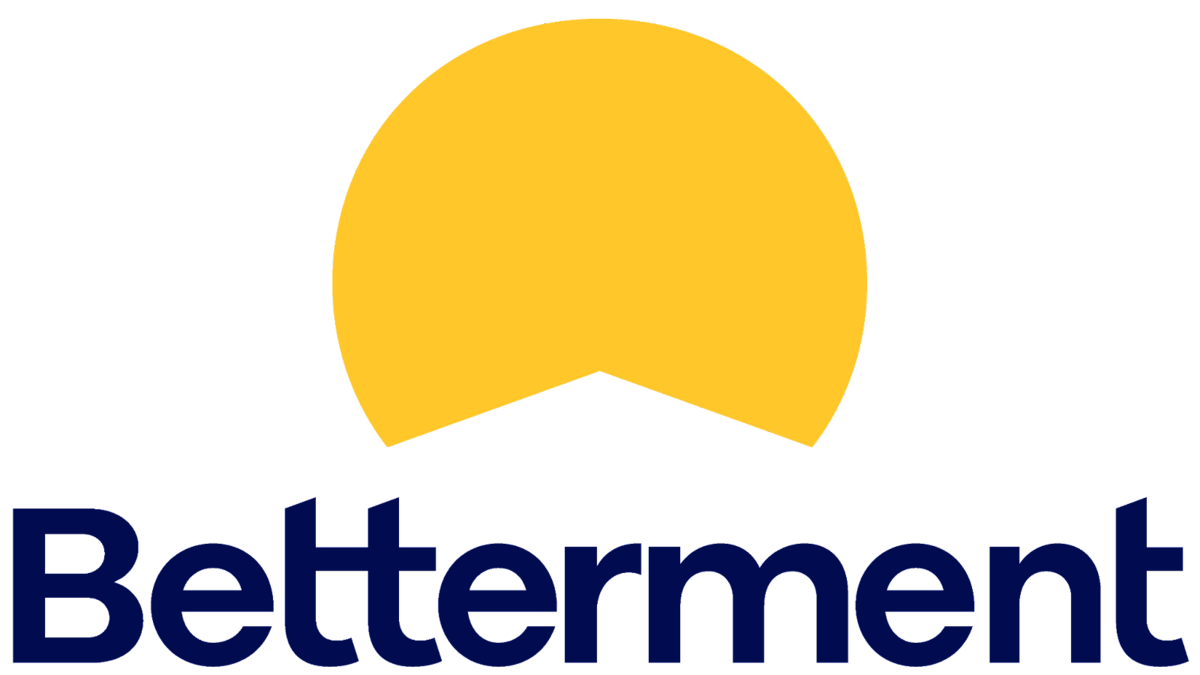 Betterment is a longstanding robo-advisor that offers a unique goal-setting approach and some advanced tax strategies with its automated investment approach. Betterment charges a flat 0.25% management fee, but lower fees for larger balances.
SoFi is best for new investors that want access to human advisors and a simple portfolio for no annual fee. You should keep an eye on your fund fees, but overall, it is still one of the best low-cost options for new investors.
Betterment is best for both new and experienced investors that want complete account management and access to a wider range of investment options and portfolios. Plus there is built-in tax-loss harvesting and SRI portfolio options.
SoFi Vs. Wealthfront
SoFi has fee-free automated investing, but with higher fee funds, while Wealthfront charges a flat 0.25% management fee.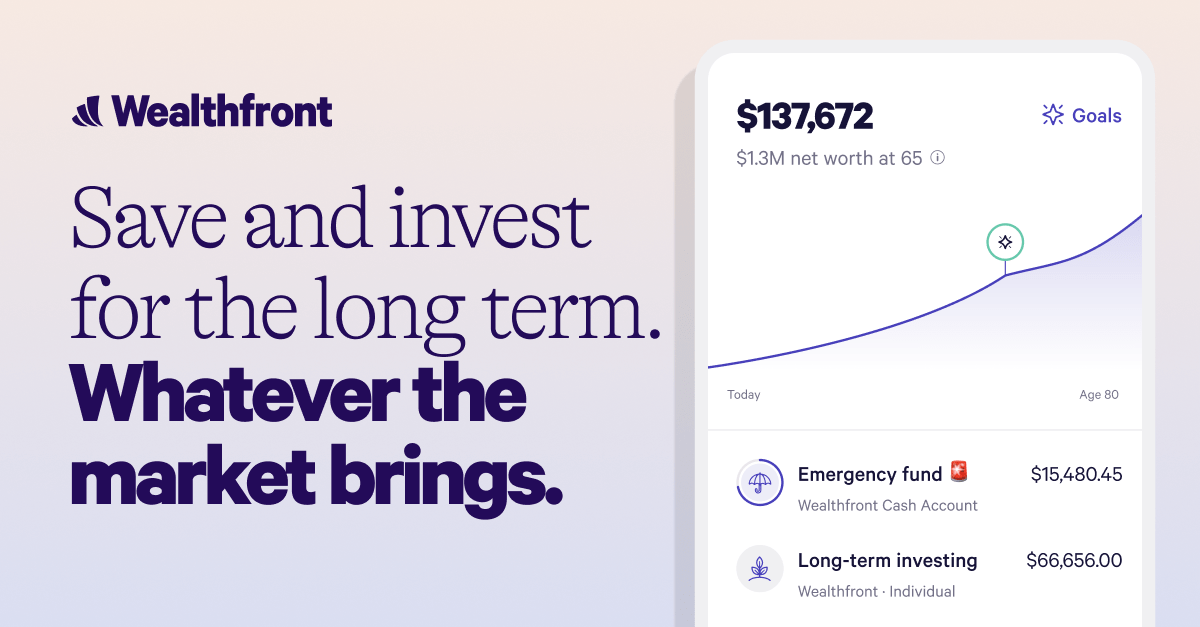 SoFi offers five simple portfolio options, while Wealthfront has nearly-unlimited portfolio options as they let you customize the portfolio how you want.
SoFi is best for new investors that want a simple approach to investing and don't mind using SoFi funds.
Wealthfront is best for investors with larger portfolios that want access to advanced features and complete financial automation. This includes portfolio loans, multiple tax strategies, and even access to crypto.
Is SoFi Safe and Legit in 2023?
Is SoFi safe? Yes, SoFi is a legit company and its investing platform is a solid choice for new investors that don't want to pay huge fees upfront.
SoFi also gives you access to licensed financial professionals as well, giving you peace of mind about your investment strategy. SoFi offers both FDIC and SIPC insurance for your cash and investments. It is also a licensed broker.
Final Word: SoFi Invest Review
SoFi Automated Investing offers quite a few features for a "free" service. With access to human advisors, automated investing and goal-setting, and extra perks just for being a member, it's hard to argue that it is a great service for new investors.
But SoFi does require using its proprietary funds in their automated portfolios, and the expense ratios are much higher than, say, a Vanguard ETF.
This might be a small issue, but over time, the fees can add up. It's important to run the numbers to make sure SoFi Automated Investing is the right choice for you.
But the bottom line is even with the higher ETF fees, overall, they are less expensive than most robo-advisors and offer a more personal touch.
---
FAQs:
Is SoFi a good company to invest in?
SoFi is an innovative company, but this does not mean that you should invest in their stock. Market sentiment, interest rates, the leadership team, and how the company handles their money are all factors you should consider before investing in SoFi. Their stock has tanks since the IPO in 2021, but do your own research before choosing to invest in SoFI stock.
Is SoFi Automated Investing good for beginners?
Yes, SoFi Automated Investing is one of the best robo-advisor platforms for beginners, offering fully-automated investments for no annual fee. Plus, you can gain access to licensed financial advisors that can answer any question you might have about your investment strategy. Just be aware of the ETF fees over time.
How much do you need to start investing with SoFi?
SoFi doesn't require any minimums to open an account, but you do need to have at least $5 to begin investing. This allows you to buy fractional shares of ETFs within your portfolio.
What is the difference between SoFi and Robinhood?
SoFi is an all-in-one financial company that offers way more features than Robinhood, including student loans, auto loans, mortgages, automated investing, insurance, and even a credit card. Robinhood is a stock and crypto trading platform designed for active trading, while SoFi offers multiple ways to invest, as well as a cash account that pays a high interest rate.
Where to Invest $1,000 Right Now?
Did you know that stocks rated as "Buy" by the Top Analysts in WallStreetZen's database beat the S&P500 by 98.4% last year?
Our June report reveals the 3 "Strong Buy" stocks that market-beating analysts predict will outperform over the next year.