Our editorial team uses a strict editorial review process to compile all reviews, research, and evaluations of any kind. Our company, WallStreetZen Limited, is supported by our user community and may receive a small commission when purchases are made through partner links. Commissions do not affect the opinions or evaluations of our editorial team.
Trading options can be far more lucrative than trading stocks, especially if you have a small account.
Unlike day trading stocks, day trading options has the potential to generate hundreds of percent gains in less than a day.
But if you think day trading stocks is difficult, day trading options is on another level.
Unlike stocks, every option contract has an expiration date which drives the value of the contract lower and lower every second. Not only that, but there's buying and selling, opening and closing, the Greeks, IV, premiums…
The best way to learn options trading is to take an options trading course. These courses lay out a specific curriculum and can take you from total novice to consistent profits.
If you try to learn options trading on your own, from books or YouTube videos, you will end up confused and/or losing money.
In this best options trading course review, I'm going to cover the cost, the pros & cons of each, and each course's details so you can choose the best options trading course for you.
6 Best Options Trading Courses (Learn Options Trading) in 2023:
1. Benzinga Options – The Best Way to Learn Options Trading
Cost: $297/year
Pros:
Learn from a highly-profitable options trader
Real, profitable trades – not theory
Analysis, explanation, transparency, and education
Cons:
Expensive
Better for larger accounts
Benzinga Options Premium Trading Service is my recommendation for the best way to learn options in 2023.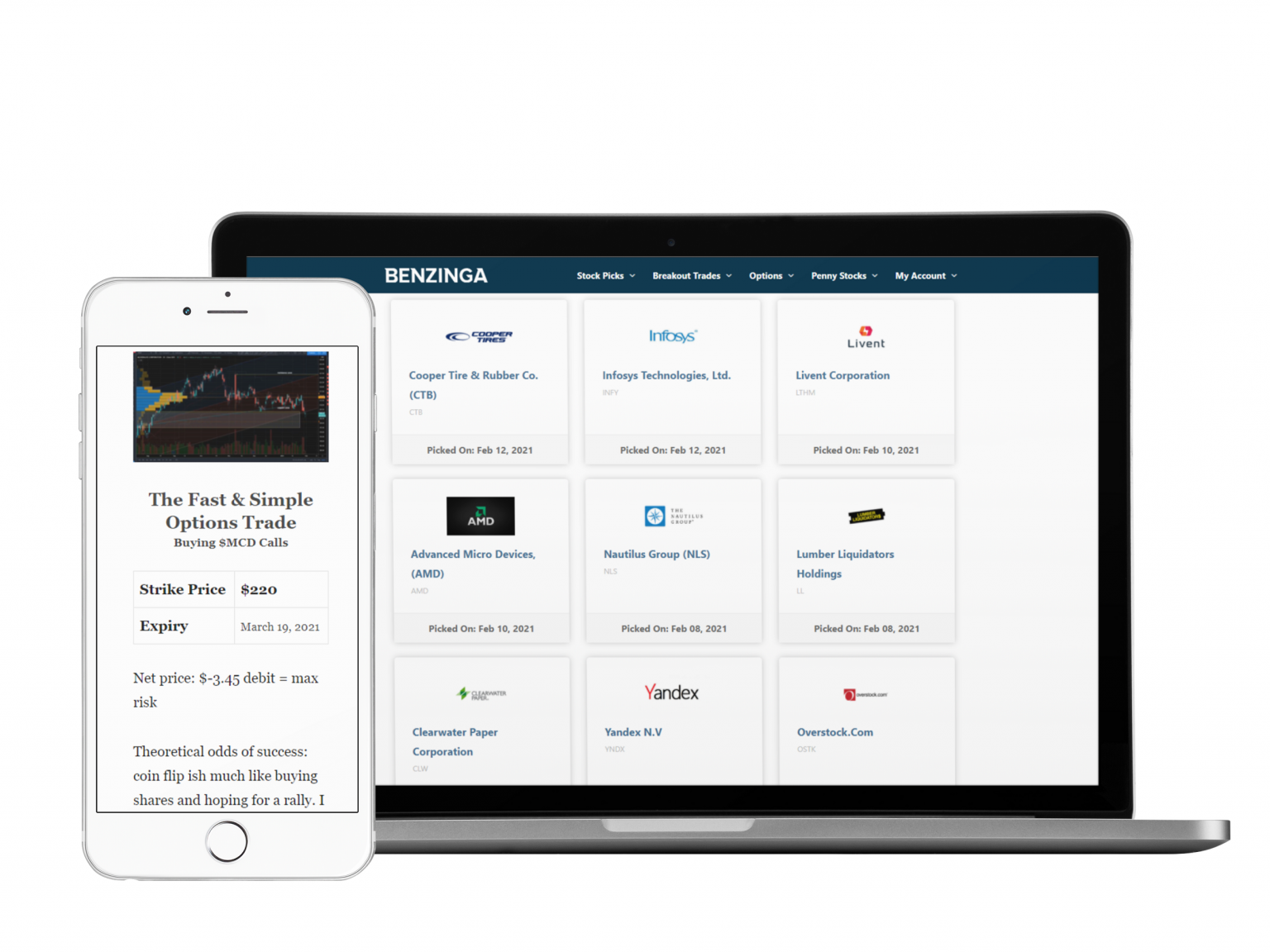 It is not an ecourse, it's an alert service that provides high-conviction and highly profitable options trades. However, each trade comes with a complete explanation and analysis, so you learn why Benzinga's star options trader, Nic Chahine, is taking the trades and his exact trading strategies.
In fact, one of his primary tenets is to help you become an independent options trader.
And if you're totally new to options, don't worry – the trades are easy to follow and simple to implement. Plus, each trade can be tailored to fit any portfolio size.
This is my favorite approach for learning options for 2 reasons:
You can start making money from options right away.
You learn profitable strategies in real-time – none of it is theoretical.
I cannot recommend this service highly enough, and at $297/year it's almost a no-brainer.
2. Selling Options for Income – The Best Options Course for Selling Options
Cost: $79
Pros:
Simple strategies for consistently profitable trades
Techniques to never fear assignment / losing trades
Anyone can implement and generate income
Start making money from day 1
Cons:
Best for accounts with at least $10,000
You should have a basic understanding of options
Selling Options for Income will take you from having never sold an option to covering the cost of the course, within 90 minutes.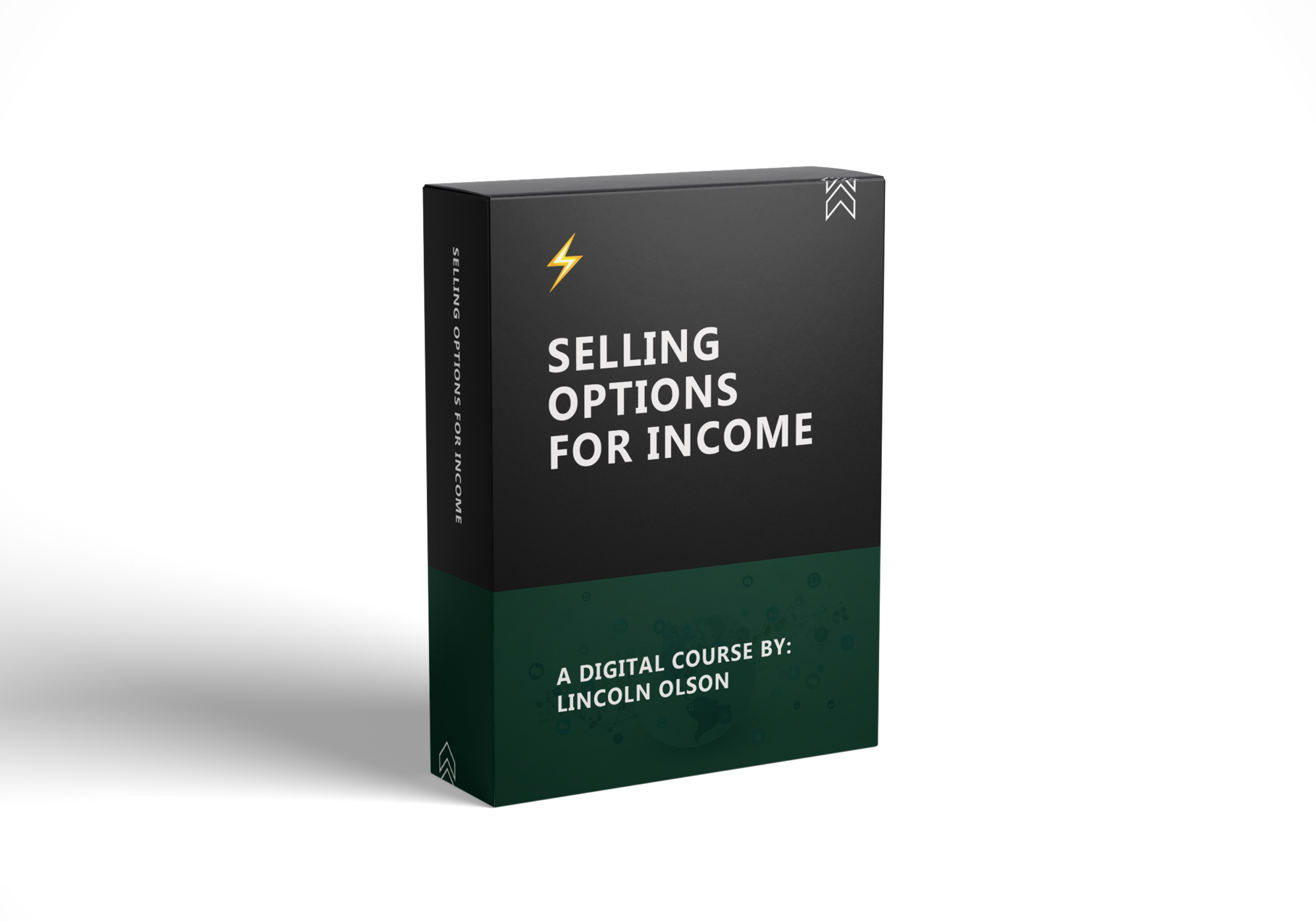 Yes, I'm really promoting my own course (at least I didn't make it #1 – journalistic integrity right there). But I made it because I believe it's the best.
My system will teach how to sell options the right way, so you:
Take simple, consistently profitable trades
Make money from your existing portfolio – no need to change your allocations
Never fear assignment
Never fear losing trades
The way I sell options produces consistent income and, since I'm happy with every potential outcome, is completely stress-free.
Learning how to sell covered calls and cash-secured puts the right way leads to results like this: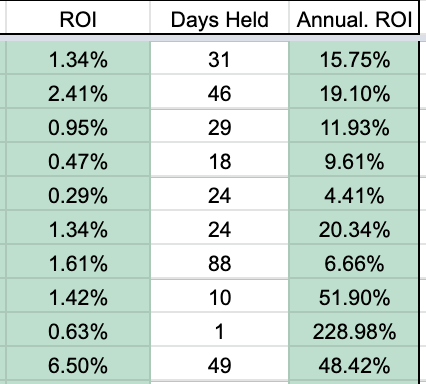 and this…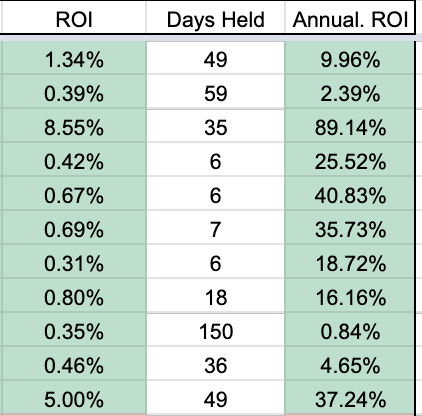 and this…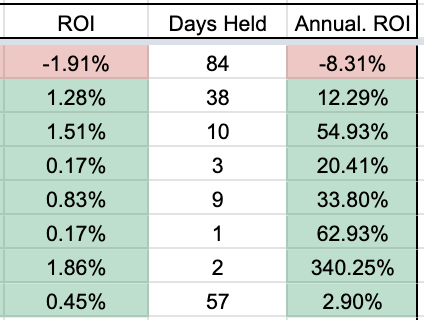 The best part: I don't have to change a thing about my underlying portfolio.
My "Golden Rule" gave me a 91.3% win rate over the last 3 years, and even when I "lose", I win – I never fear assignment.
You're 60 minutes of training and 10 minutes of work per month away from similar results.
This course is chock-full of the best options strategies for income.
Learn how to sell options the right way and turn your portfolio into a cash-flowing machine.
3. Option Alpha – The Best Free Options Trading Course
Cost: All Options Alpha courses are free
Pros:
Content tailored to beginners and advanced options traders
Courses are free
High-quality, informative materials
Cons:
You will not be taught how to make profitable trades on your own
For a free, risk-free way to quickly shorten your options trading learning curve, Option Alpha offers 12 educational courses containing hundreds of videos. This is the best place to start your options trading journey for free. For all the info, check out our complete Option Alpha review.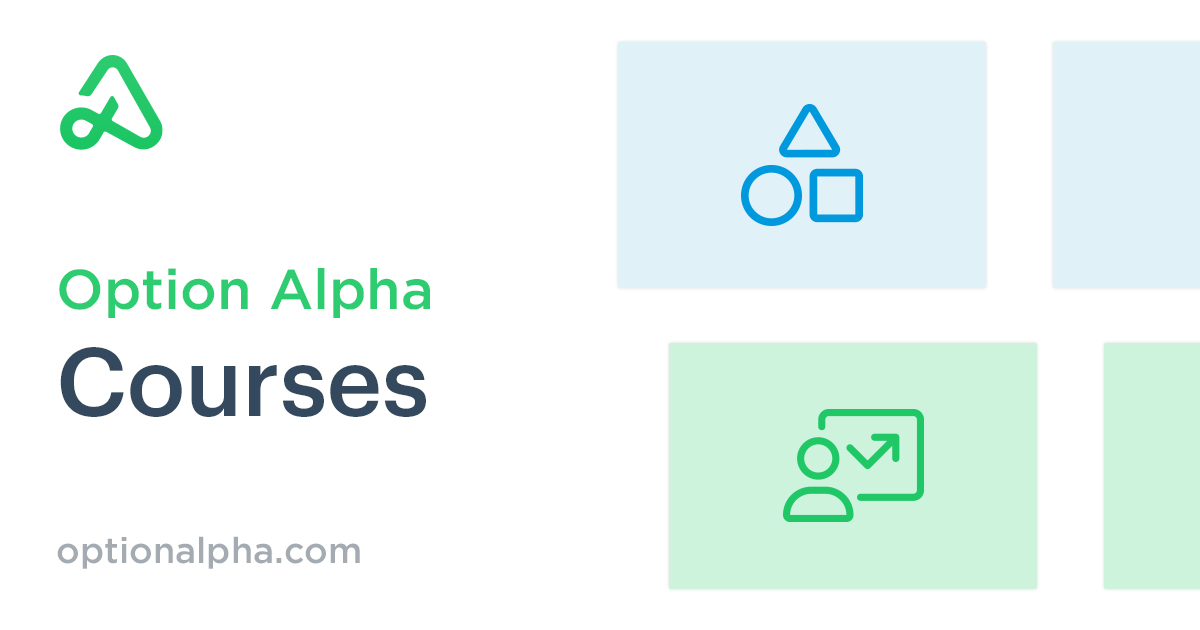 Option Alpha takes a different approach to pricing than Simpler Trading. Instead of paying for courses separately, Option Alpha makes the education component free. After you complete their educational programs, the company hopes you will sign up for its automated options trading software tools, but it's not necessary to access the content.
The 12 courses are all curriculum-based, guided learning which you can complete at your own pace. Whether you are a beginner, intermediate, or advanced options trader, these lessons will take you from A to B, then B to C, all the way to Z for each topic.
After taking a few courses, head over to the best app for trading options to get some hands-on experience.
In addition to the courses, Option Alpha also offers workshops, blog articles, and a podcast.
Option Alpha is the best place for beginners to learn options trading for free.
It also happens to be where I started learning about options investing.
4. Udemy – The Best Options Trading Course for Beginners
Cost: $20 for recommend course with the link above (80% OFF)
Pros:
Affordable
Choose your own classes
Courses designed for beginner and more advanced traders
Cons:
If you want to learn about options trading but aren't ready to invest in an entire course, turn to Udemy.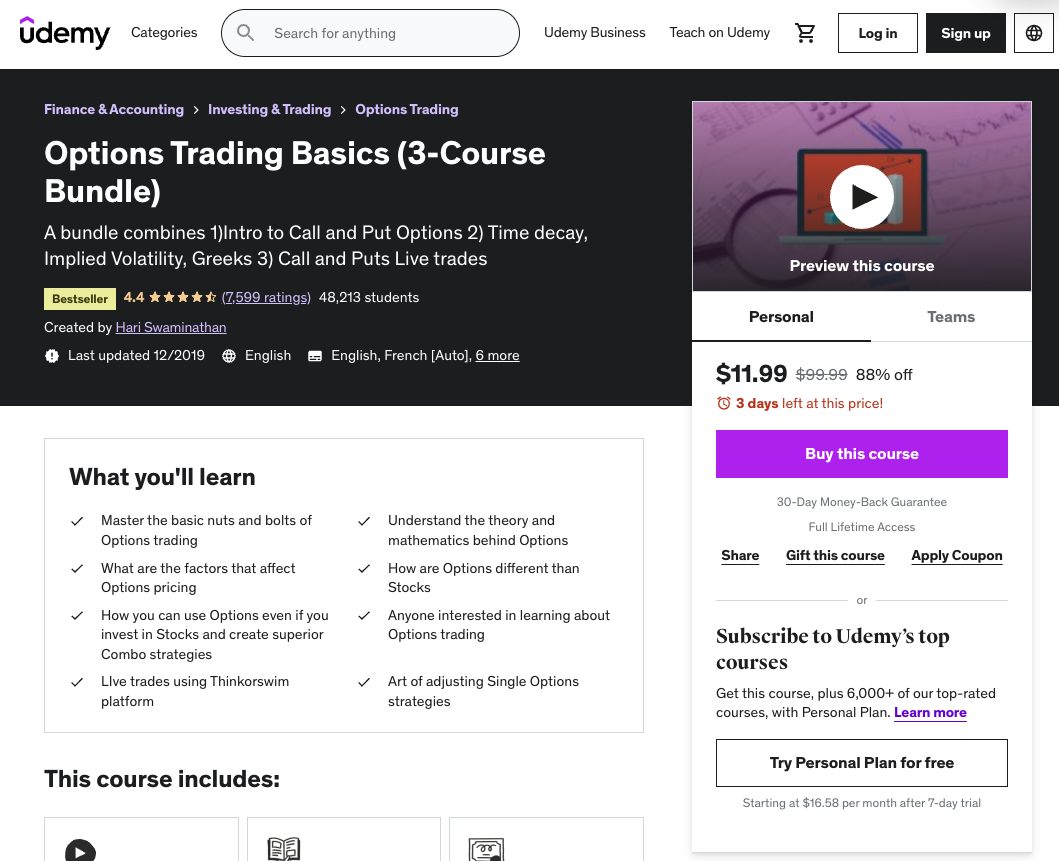 Udemy has done an excellent job of attracting top instructors to teach the theories and practical applications of their respective fields. This includes options traders.
For a fraction of the cost of many options trading courses, you can learn the basics of options trading before deciding to commit further.
In addition to its single course offerings, there are also curriculum-style beginner option trading courses. In this category, Udemy's Options Trading Basics (3-course bundle) is very highly reviewed.
For just $99, you can learn about calls, puts, the Greeks, and see live options trades, all led by a renowned trader who has taught more than 90,000 students.
And if you use the link above, you can get this course for 80% OFF!
And, if you already know the basics, you can take single classes about specific trading strategies.
For these reasons, I've rated Udemy as the best options trading course for beginners.
5. TD Ameritrade (Now Owned by Charles Schwab) – The Best Free Options Trading Courses
Cost: Free
Pros:
Massive library of high-quality resources
Many free resources
Learn how to trade options on TD Ameritrade
Thorough, professional material
Tuition-based one-on-one coaching over the phone
Cons:
No direct coaching

Requires a TD Ameritrade or Charles Schwab brokerage account





TD Ameritrade may have the single best offering of investing resources in the world.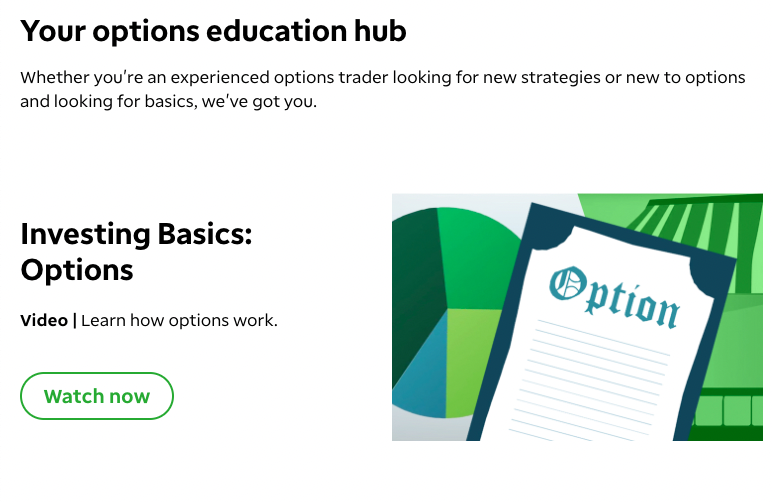 TD Ameritrade offers a huge number of all kinds of learning resources including videos, articles, webcasts, podcasts, and in-person events. These cover market news, personal finance, investing, retirement planning, inherited accounts, and trading, and many are freely accessible to everyone.
It also offers the "Immersive Curriculum" — a series of courses aimed at helping you start if you are a beginner, or master the art of trading if you are an advanced user. 
The curriculum requires you to open a brokerage account and enables you to access a personal coach with several curriculums available at different price points.
You should, however, note that TD Ameritrade was acquired by Charles Schwab in 2019 and accounts were merged in 2023. This is great news if you are already a Schwab user as you can now access TD's extensive offering – including the much-lauded Thinkorswim app – with your existing account.
I am convinced that 95% of investors could learn everything (and more) they would ever need to learn about money and investing on TD Ameritrade – whether you are willing to pay for knowledge or want to learn as much as you can for free. Plus, it is one of the best day trading platforms in addition to being a great learning library.
TD Ameritrade also ranks #2 on my list of where to buy OTC stocks.
6. Simpler Trading – The Best Premium Options Trading Courses
Cost: Options courses range from $297-$1547
Pros:
Extensive curriculum
Content for every experience level
Designed and instructed by a renowned options trader
Library of training videos
$7 trial membership
You will learn how to make profitable trades on your own
Cons:
Trading courses sold separately
Simpler Trading courses were not made for beginners
Courses are very expensive
Whether you're a complete beginner or have been trading options for years, Simpler Trading is stacked with courses, resources, and tools to take your trading to the next level.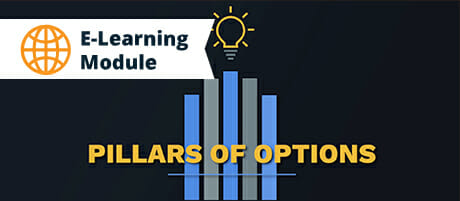 Simpler Trading primarily sells memberships to help stock and option traders become more profitable.
In addition to their memberships, Simpler Trading offers courses that are sold separately.
John Carter, author of Mastering the Trade, teaches 8 different options courses. "Small Account Secrets" is the options trading course best suited for beginners looking to grow their accounts quickly.
This course starts off assuming viewers already know some of the basics of option contracts. It will give you multiple strategies Carter has used throughout his prolific trading career.
If you want to become a Simpler Trading member, you will get access to daily premium newsletters, potential trades for the next day, trade recaps, and an Options Dashboard that provides recommendations for high-probability trades.
If you want to become a profitable options trader, you can't go wrong with a membership or course purchase from Simpler Trading. That's why it's in the top stop of my best online options trading course review.
The Bottom Line: The Best Options Course in 2023
If you were to Google "How to learn options trading", there would be countless answers.
YouTube, books, PDFs, podcasts, websites, and options trading courses.
Instead of blindly bouncing from one set of materials to another and trying to learn about a complex issue like trading options, you will be much better off paying for a course with a set curriculum that was designed to take you from novice to expert trader.
Hands down, these are the 6 best options trading courses in 2023.
---
FAQs:
Which option trading course is best?
Optionable Dividends is the best overall trading course in 2023.
Learn how to sell options profitably from day 1.
Can you get rich from options trading?
Yes, you can get rich from trading options, and you can make more from trading options than trading stocks.
However, trading options is complex and competitive - you will be trading against some of the smartest people and best traders in the world.
If you want to learn stock trading, check out my review of the best stock trading courses.
Is it worth it to learn options trading?
If you're interested in trading options, even if you don't plan to become a full-time options trader, it is worth it to study options trading.
However, if you're not planning on becoming a full-time trader, you probably won't find much value in the paid options trading courses listed above. I would recommend using the free materials on Options Alpha, TD Ameritrade, and YouTube.
And if you want to start earning weekly income from your existing stock portfolio, check out my Optionable Dividends course.
How do you train options trading?
After studying and learning how to trade options using one of the courses above, there's no substitute for the real thing - it's time to put your money on the line and start applying what you've learned.
If you're not ready to risk your own cash, you may want to try paper trading on TD Ameritrade or one of the other best paper trading platforms.
This is the only way to become trained in options trading.
Where to Invest $1,000 Right Now?
Did you know that stocks rated as "Buy" by the Top Analysts in WallStreetZen's database beat the S&P500 by 98.4% last year?
Our December report reveals the 3 "Strong Buy" stocks that market-beating analysts predict will outperform over the next year.