Our editorial team uses a strict editorial review process to compile all reviews, research, and evaluations of any kind. Our company, WallStreetZen Limited, is supported by our user community and may receive a small commission when purchases are made through partner links. Commissions do not affect the opinions or evaluations of our editorial team.
When you're making a big-ticket purchase, you probably shop around. You don't want to buy something when you can find a better price elsewhere. On the flip side, you don't want to sell at a discount if someone's willing to pay full price.
Why not take the same approach to options trading?
There are times when option prices are inflated and other times when they are deflated. As an options trader, it is important to be able to differentiate between the two situations.
But how? Two words: Implied volatility, your secret weapon for identifying over- and undervalued options.
Keep reading for the ultimate implied volatility options education, including how this calculation helps you make better decisions when buying and selling options.
Looking to uplevel your options trading?
Benzinga's option alert service is the best way to trade and learn about options.
This top-notch options alert service is led by options trader and mentor Nic Chahine.
Chahine not only shares his high-conviction and highly profitable options trades, but he also provides thorough analysis so you can learn as you trade. Here's what you get:
High-probability option trades

Transparent access to trade explanations and analysis

Market analysis

Education
Plus, for a limited time, you can get free access to the next Benzinga Boot Camp to learn how to trade stocks and options like a pro.
What Is Implied Volatility in Options?
Implied volatility is a metric used by investors to estimate a security's price fluctuation (volatility) in the future and it causes option prices to inflate or deflate as demand changes.
You see, an option's market value is determined in part by changing demand for that option. This is the driving force behind implied volatility.
Two core reasons why option traders should understand it?
IV can help you determine a security's future potential price movement.
And recognize when option prices are over and undervalued.
But to truly understand implied volatility, you've got to understand historical volatility.
Over time a security's price fluctuates and a mean price can be determined. Once the mean is calculated traders can track the security's price to see how far the price moves above or below its mean – thus gauging volatility.
While historical volatility informs a trader how much a security's price has moved in the past, implied volatility is used to help traders determine how much a security's price might move in the future.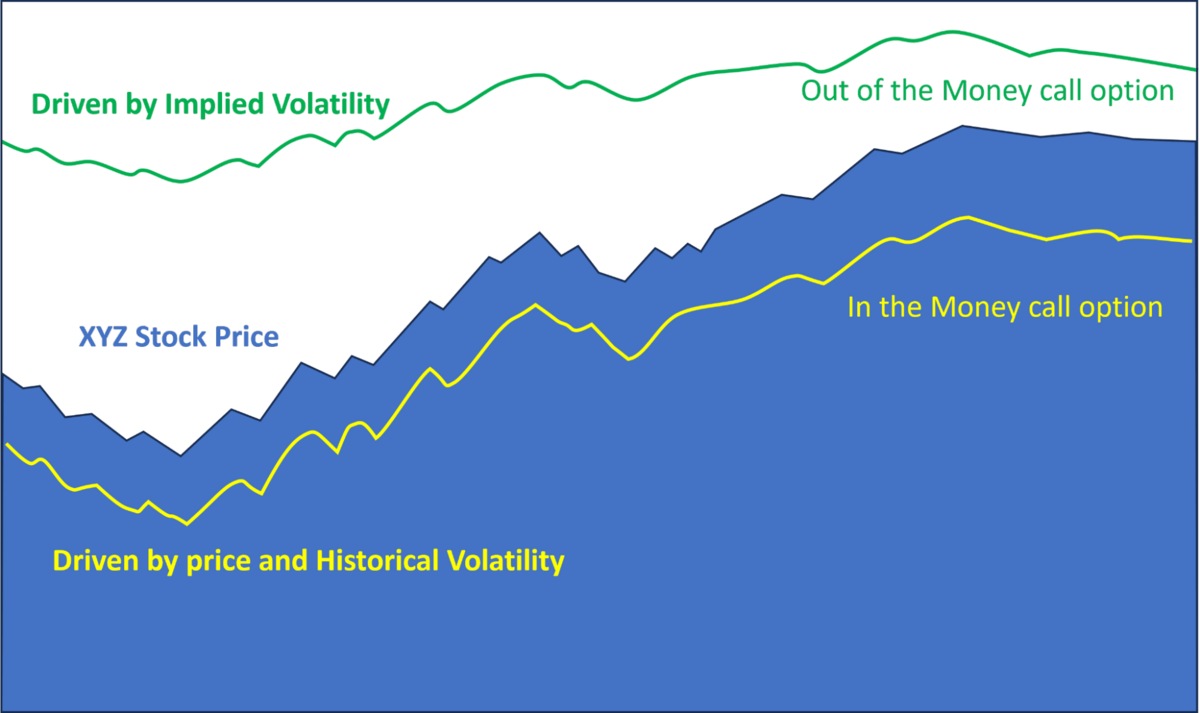 When implied volatility is high, it "implies" that greater price movements may be coming.
When implied volatility is low, a smaller movement might be expected for the time allowed before expiration.
But in answering "What is implied volatility options?" there's something else to consider – option prices.
Calculating options values may be complex, but there are three components to consider:
Days until expiration
Calculated in-the-money values
Implied volatility options
As I've noted, #3, implied volatility, is something every option trader should understand.
We'll answer the following common (and important) questions below:
How implied volatility works?
How implied volatility affects options?
How do option traders use implied volatility to estimate the potential range of an underlying security's price movement?
Why implied volatility is important and should matter to option strategists?
How to find the implied volatility of a stock?
Implied volatility can make or break any option trade, so let's talk about it here.
Implied Volatility: How Does it Work?
To continue our discussion of what is implied volatility in options, let's look at historical volatility, which indicates how much the security's price has moved in the past, and how much a security's price may move in the future as demand changes.
Traders use implied volatility to recognize uncertainty and confidence in a company and the broader market.
When the market leans bearish, implied volatility increases, which can inflate option prices.
The opposite is also true; when markets lean bullish, implied volatility can fall along with option premiums.
Demand may drive inflation and deflation in option prices, but it's up to the option trader to recognize its occurrence.
Let's keep on exploring the topic of what is implied volatility in options by studying its effects.
Want more FREE options trading education? Check out the excellent (and no-cost!) courses offered by Option Alpha.
How Does Implied Volatility Affect Options?
To better understand the effects of implied volatility in options, consider a baker. The baker can sell cookies for $3 each and has several people knocking on the door for them.
However, the next time the baker opens the door there's a long line of customers demanding cookies – demand has spiked.
With extra demand, the baker increases the price to $4. After time passes something has happened… Now, the baker has only one person per day wanting cookies – demand has fallen.
With less demand, the baker drops the price to $2.
As demand changed from strong to weak, prices of the product also fluctuated.
Implied volatility effects are similar. With high demand, option prices inflate. When demand tapers, option prices can shrink. (But no, you don't get a cookie.)
Let's next talk about using implied volatility to estimate the range of an underlying security's future price movement.
How to Use Implied Volatility to Estimate Potential Price Movement Range
Implied volatility can be used to guesstimate the price range of a security in the future. All you have to do is add call and put premiums together.
Look to at-the-money call and put options for guidance. To find at-the-money options, look at the security's current market value, then find the option strike price closest to that.
There are three simple steps to determine the anticipated price range for the security:
Step 1 – Identify the at-the-money strike price
Step 2 – Add the market values of the at-the-money call and put together
Step 3 – Add and subtract this amount to the stock's price
For step one, if a stock is trading at $90.50, the $90 strike price would be the at-the-money contract.
Then, in step two we'll assume the $90 call is trading for $3.50, and the $90 put trades for $3.00. Combining the call and put values equals $6.50.
Finally, for step three we'll take the stock's price, $90.50, and add and subtract $6.50 to guesstimate the stock's anticipated range expiration. In this case, the range is between $97 and $84, or $13.
Next, let's discuss the importance of implied volatility.
Why Implied Volatility Is Important for Option Traders
There are three immediate reasons option traders can benefit by understanding implied volatility:
First, implied volatility can help guesstimate the potential price movement of the security.
Second, option traders can make better decisions about buying and selling options. When option premiums are inflated traders may consider selling options for income. Alternatively, when options are more fairly valued traders might be inclined to buy them.
Third, when traders notice implied volatility rising in the broader market, traders might exercise caution and use options to hedge investments.
Let's illustrate with an example.
Real-Life Example of Using Implied Volatility
To illustrate let's follow option implied volatility changes ahead of earnings on Apple Inc. (NASDAQ: AAPL).
The image below illustrates Apple's August 4 options expiration and the associated implied volatility percentages along with anticipated price ranges of the security, indicated in parentheses.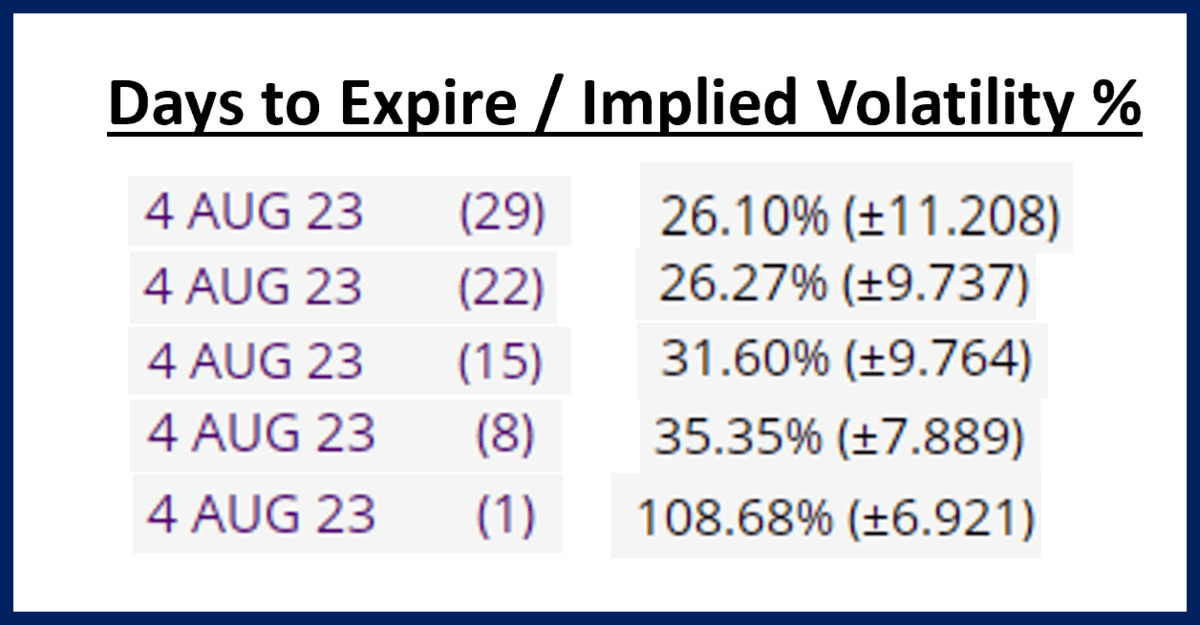 As volatility percentages increase, traders may recognize option market values becoming inflated.
In this example, Apple is reporting earnings on August 3 after the market closes.
The first row in the image shows (29) days until expiration with implied volatility at 26.10% and an anticipated price range of $11.20.
Two weeks later with (15) days remaining, traders see implied volatility rising to 31.60%.
Finally, as August 3 arrives with (1) day remaining before expiration, implied volatility skyrocketed to 108.68%, indicating extremely overvalued (inflated) option values.
Online brokers who cater to option traders will typically have option implied volatility available in their trading software, so be sure to ask if this feature is available to you as a prospective client.
Let's next discuss two common models (calculators) that traders might use to calculate potential option returns using implied volatility.
How to Determine Option Prices by Using Implied Volatility
The Black-Scholes Model
To determine how to find the implied volatility of a stock, a calculator was developed in 1973 by Fischer Black, Robert Merton, and Myron Scholes. Known as Black-Scholes, the calculator was used to calculate theoretical option values using five variables:
Price of the security
Days until expiration
Option strike price
Risk-free rate
Volatility
Although it's not necessary for you to use these calculators for implied volatility, having access to one through your broker would allow you to perform what-if scenarios on option trades.
The Black-Scholes model is used to price European-style options. However, most stocks and exchange traded funds offer American-style options – options with weekly expirations. You'll find European-style options in indices like the S&P 500.
The Binomial Model
The Binomial Model is designed to calculate implied volatility in stocks and what an option might be worth given changes to price, time, and volatility.
Equity options have expirations each day of the trading week, called weekly options.
Weekly options can be exercised at any time (American Style), so whether you're trading American-style or European-style options, the Binomial Model can be used.
As you learn more about implied volatility the question will surely arise – "What amount of implied volatility is good?"
What is a "Good" Amount of Implied Volatility?
Because implied volatility levels differ between strike prices and securities, you won't find a static value to use as a benchmark, but you can look at past implied volatility levels for guidance.
To illustrate, let's look at a chart called "The VIX." In the image below you'll see a three-month view of the broad-market volatility index – VIX.

The red lines on the graph indicate the high, low, and middle range of volatility over a three-month period.
Using the VIX is an easy way for you to determine where general market volatility levels have been over time, and whether the current volatility level, shown on the right, is high or low in relation to the past.
You'll notice the current level indicates volatility is about mid-range, but rising. Use the VIX as a quick guide to identify high or low levels of volatility.
Let's next consider the pros and cons of high and low implied volatility.
Looking to expand your knowledge of options trading? Check out these resources:
Pros and Cons of Trading with High Implied Volatility Levels
| | |
| --- | --- |
| Pros | Cons |
| Inflated option premiums mean greater returns for option sellers. | Inflated premiums can diminish returns for option buyers. |
| Stronger price movements are anticipated and can benefit the option buyer. | Strong price movements can cause significant losses if the stock moves against the trader. |
| High implied volatility levels can mean greater movement in the security before loss occurs. | Higher levels of implied volatility can imply less certainty in the direction and magnitude of the stock's price movement. |
Pros and Cons of Trading with Low Implied Volatility Levels
| | |
| --- | --- |
| Pros | Cons |
| Creates a more fair priced option buying opportunity. | Option sellers may not receive adequate compensation for risks associated with low implied volatility. |
| Returns are enhanced with strong movements in the underlying security when buying options with low implied volatility. | Underlying price movements in securities are anticipated to be less aggressive when implied volatility levels are low. |
| Losses may be diminished when options are purchased with low implied volatility | Option sellers may be forced to sell longer-duration option contracts to receive adequate premiums for options, leading to riskier trades |
Next, let's discuss how implied volatility is influenced.
What Factors Influence Implied Volatility Levels?
Implied volatility levels change daily for a variety of reasons.
Typically, however, we'll find that broad-market volatility increases when macro issues are brewing, such as:
Geopolitical situations
Economic headwinds, including rising inflation, unemployment, and Fed policy
Implied volatility also fluctuates in equity options regularly. Events like FDA announcements or semiconductor supply issues can impact option demand in a single stock.
Corporate earnings reporting is often a cause for increased demand and inflated option premiums.
Who Should Study Changing Implied Volatility Levels?
If you plan on trading options then you should pay attention to volatility.
Volatility shifts can cause an options buyer to lose money even if the security moves favorably. And, not recognizing the implications of implied volatility can be a hard lesson for any trader.
Important Considerations When Trading with Implied Volatility
By now it's clear that trading options can be riskier without the education of implied volatility.
Option traders should have a start-to-finish game plan before trading, Here's a list to get you started:
Personal risk tolerance level
Money management techniques
Recognizing price trend
Identifying high and low levels of implied volatility
General market and economic conditions
Upcoming events that may impact the trade
In addition to these considerations, find out what tools your broker has to help you be successful.
Brokers to Consider for Using Implied Volatility in Options Trading Strategies
We can't go into this list in exhaustive detail right now (thought we do in our Best Options Trading Platform post), but let's at least look at my top pick: eToro.
First off, the fees. At $0 per contract and a $50 account minimum, options trading is accessible to just about anyone on the platform.

Plus, it's a great one-stop-shop: eToro has thousands of stocks and ETFs available as assets or options.
It also has some very unique features, eToro's CopyTrader, which allows you to follow and copy the trades of experienced traders, perfect for new investors who are still learning and want to see how others trade.
Each trader has a profile with a rating, performance history, risk profile, and more so you can easily compare top traders and find the ones best suited for your goals.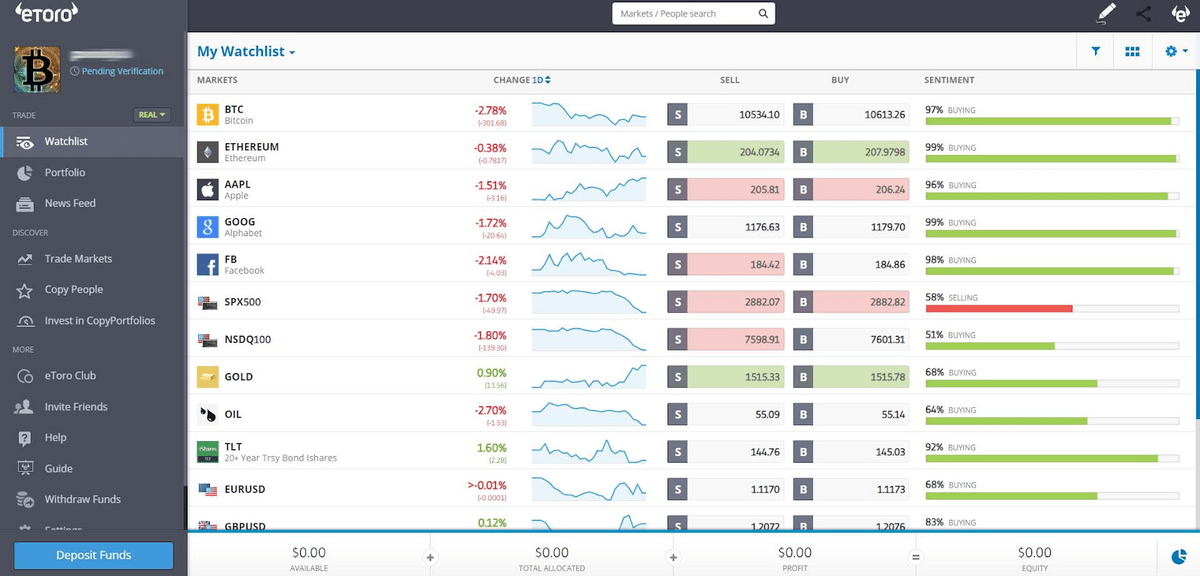 In summary, eToro is an excellent choice for beginner and intermediate options traders looking for an accessible platform with copy trading.
eToro is a multi-asset platform which offers both investing in stocks and cryptoassets, as well as trading CFDs.
CFDs are complex instruments and come with a high risk of losing money rapidly due to leverage. 81% of retail investor accounts lose money when trading CFDs with this provider. You should consider whether you understand how CFDs work, and whether you can afford to take the high risk of losing your money.
Cryptoassets are highly volatile and unregulated in the UK. No consumer protection. Tax on profits may apply.
Copy Trading does not amount to investment advice. The value of your investments may go up or down. Your capital is at risk.
eToro USA LLC does not offer CFDs and neither does it represent or assume any responsibility for the accuracy or completeness of the content of this publication, prepared by WallStreetZen, as a partner, using information available and public and not specific to the eToro entity.
The Final Word: Option Implied Volatility
Option trading can be exciting and rewarding. But greater potential rewards come with greater risk.
All option traders should perform due diligence when it comes to implied volatility and options.
By answering the question "What is implied volatility in options?" option traders can make better decisions regarding buying and selling options, and it can also enhance your success rate when trading options.
---
FAQs:
What is a good implied volatility for options?
There is not a static IV number as a benchmark. Instead traders can look at volatility ranges over time and compare current IV levels to it. The VIX is a good tool to measure broad-market implied volatility.
What does implied volatility tell you?
Implied volatility informs you of two things:
If risk is heightened and
If options are overvalued
Is high IV good or bad?
Implied volatility is subjective and can be good or bad, depending on your strategy. When implied volatility is high sellers bring in more premium. When low, buyers have the advantage of "cheap" option premiums.
What is implied volatility for dummies?
Simply put, implied volatility informs traders when market risk is higher and if option premiums are inflated and is based on demand for options.
Demand for options can change quickly and option prices can become inflated as IV rises.
IV can be a tool to help option traders find greater success as they utilize options in their trading.
Where to Invest $1,000 Right Now?
Did you know that stocks rated as "Buy" by the Top Analysts in WallStreetZen's database beat the S&P500 by 98.4% last year?
Our September report reveals the 3 "Strong Buy" stocks that market-beating analysts predict will outperform over the next year.