You own a stock on which Richard Davis, an analyst at Canadian investment bank Canaccord Genuity, just marked a "Strong Sell".
What now?
Should you sell the stock? Hold it? Buy more because it's now down 5% on the day?
And who the heck is Richard Davis!?
I'm glad you asked…
Who are the stock analysts?
Richard Davis is a "sell-side analyst", which means he's a stock analyst who works at an investment bank and brokerage.
If you've ever seen an analyst interviewed on a financial news program, chances are it was a sell-side analyst. These analysts are expected to reach unbiased opinions based on proprietary research and modeling.
The job of a sell-side analyst is to follow a list of companies, usually in the same industry, and provide regular research reports to the firm's clients. These research reports typically include a stock rating such as buy, sell, or hold.
From the public's standpoint (you and I), the ultimate outcome of these reports is a set of financial estimates (usually in the form of quarterly earnings and revenue estimates), a price target, and a buy/hold/sell recommendation.
The job of a sell-side analyst is primarily to provide institutional clients with timely and accurate information. If this is accomplished reliably, the analyst's firm will win more clients and generate more trading revenue.
How do they perform their research?
Wall Street analysts analyze the financial statements, suppliers, customers, competitors, macroeconomic trends, and any other public information which pertains to a particular company.
Some analysts even visit the headquarters of the companies they're researching and speak to management to get a first-hand perspective of the business (Peter Lynch was famous for this).
After their fact-finding missions, an analyst will plug their data into proprietary models and use other valuation techniques to determine a company's fair value. Then, depending on the results of their calculations and the current stock price, the analyst will make a buy/sell/hold recommendation.
If a stock is trading well below its fair value, the analyst will mark it as a "Strong Buy". If a stock is trading slightly above its fair value, it may be deemed a "Sell".
What do stock analyst ratings really mean?
Different ratings scales with different terms are used by sell-side firms.
Here is a chart including some of the most common ratings:

As you can see, a "SELL" at one firm may be marked as a "5" or "Strong Sell" at another. Similarly, "OUTPERFORM" and "Overweight" represent the same level of bullishness.
Fortunately, these classifications are self-explanatory.
Why should you trust stock analyst ratings (or not trust them)?
Let's look at a couple of examples of some very popular stocks and some associated ratings.
Should you sell a stock if it has a "Sell" rating?
Apple: In the Spring of 1998, a Bear Stearns analyst downgraded Apple stock (NASDAQ: AAPL) to "Sell".
Following the report, AAPL rose from $0.29 to a high of $1.12 on March 30, 2000.
The analyst was wrong about the stock.
Should you buy the stocks with buy ratings?
Coca-Cola: On March 4, 2010, UBS upgraded Coke (NYSE: KO) from "Neutral" to "Buy".
From July 30 to December 30 of that year, KO rose from $17.39 to $32.75, an increase of 88%. UBS nailed it.
Starbux: In December of 2006, UBS upgraded Starbux (NASDAQ: SBUX) from "Neutral" to "Buy".
SBUX plummeted from $18.88 to a low of $4.73 in 2 years, a nearly 75% drop. The analyst missed the mark.
How should you use stock recommendations?
As seen in the examples above, analysts can be right or completely wrong about a stock.
Does that mean we shouldn't listen to their opinions and read their reports? Absolutely not.
Don't forget: These are professional stock analysts who are paid quite well to perform stock analysis and write research reports. If they weren't good at their jobs, they wouldn't have them for long.
As you know, stocks are incredibly hard to predict (how to predict stock prices). This is the case even for professionals.
So here's how we should use analyst stock ratings: As well-researched, sophisticatedly-analyzed best guesses, completed by very smart (and highly paid) professionals.
The problem with analyst stock ratings
The problem with analyst stock ratings is we don't know which ratings to pay attention to and which ones to ignore.
Going back to my original example, should you sell your stock that Richard Davis marked as a "Strong Sell"?
Before you answer that, what if I told you Richard Davis has been right 65 out of his last 74 ratings (88%), with an average return of 51.94%?

It may not be a bad idea to listen to him.
But how do we know how analysts are performing when all we see are notifications like this:

Should we be buying NTRA?
Who is Kyle Mikson? (You can scroll to the bottom to find out.)
We either blindly follow the recommendation or we ignore it, right?
Not anymore.
Why WallStreetZen built Top Analysts
WallStreetZen tracks historical analyst recommendations and identifies top-performing analysts, so you can get stock ideas and forecasts from proven performers.
We rank nearly 4,000 sell-side analysts based on average return, win rate, and frequency of picks: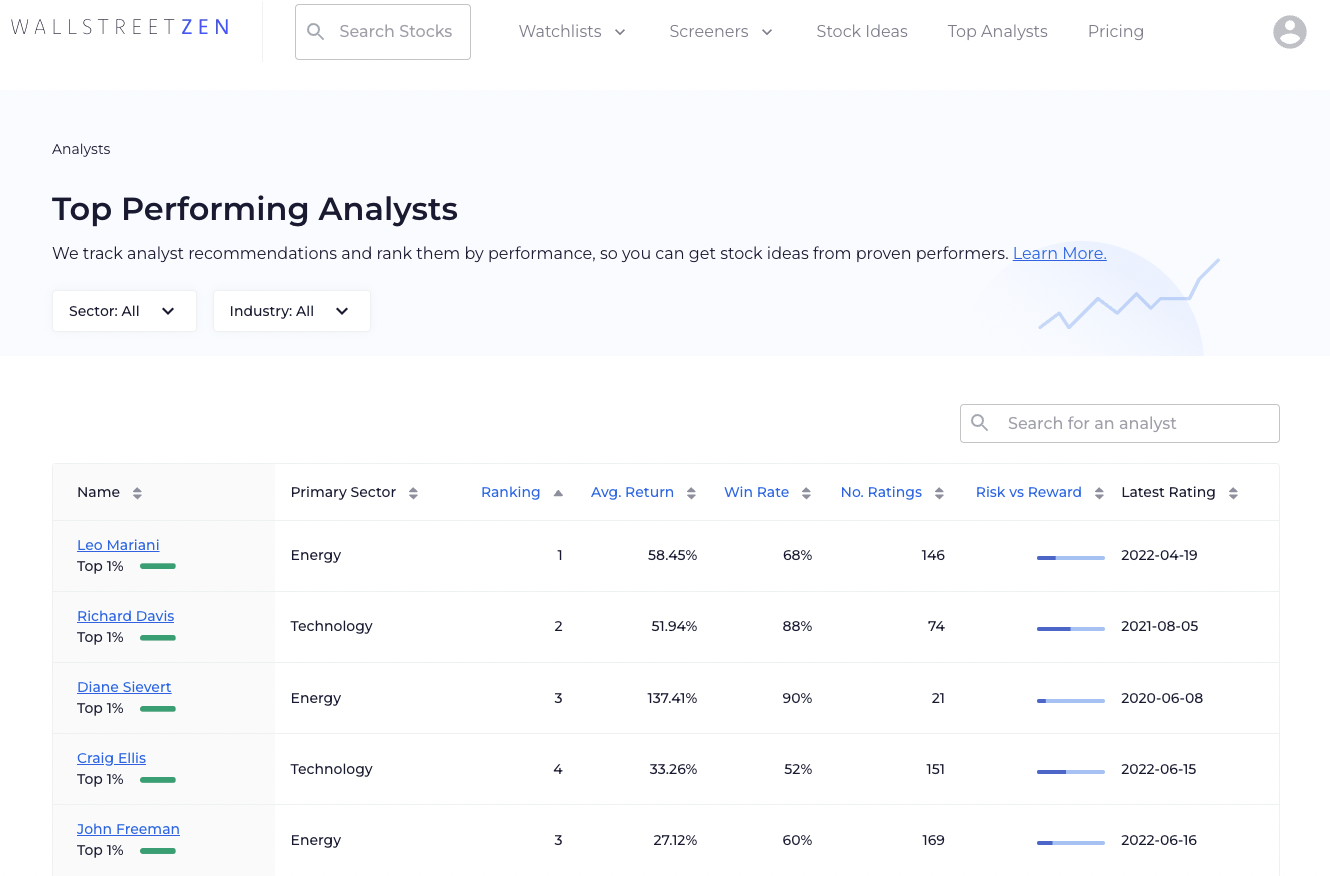 What does that mean for you?
You no longer need to blindly follow or ignore analyst buy, sell, hold recommendations.
A lot of tools may give you access to analyst ratings but, without the accompanying performance data, what good are those ratings?
With our Top Analysts, you can find the best investments recommended by the best analysts in no-time flat.
Plus, if you come across an analyst rating on another site, you can search for how that analyst has been performing:

And if you happen to see a stock recommendation from Kyle Mikson, I'd probably do the opposite (sorry Kyle!).
---
FAQs:
Who is the most accurate stock analyst?
The best-performing analyst on Wall Street right now is Leo Mariani who works for MKM Partners.
What are stock analyst ratings?
A stock analyst rating is the expected performance of a stock in a specific period of time, usually 1 year.
Brokerage and sell-side firms offer analyst ratings when issuing stock recommendations to clients.
Are stock analyst ratings accurate?
Some analysts perform very well and others perform terribly, which is why we track and rank analysts based on multiple criteria.
You should only be following advice from the analysts who consistently outperform the market.
Where can I get analyst reports on stocks?
Go to WallStreetZen and search for the stock you're interested in, then go to the Forecast tab for a complete view of any stock's analyst reports.
Read more: Who has the best stock picking record?
Where to Invest $1,000 Right Now?
Did you know that stocks rated as "Buy" by the Top Analysts in WallStreetZen's database beat the S&P500 by 98.4% last year?
Our December report reveals the 3 "Strong Buy" stocks that market-beating analysts predict will outperform over the next year.