Our editorial team uses a strict editorial review process to compile all reviews, research, and evaluations of any kind. Our company, WallStreetZen Limited, is supported by our user community and may receive a small commission when purchases are made through partner links. Commissions do not affect the opinions or evaluations of our editorial team.
Did you know that farmland has an 11% average yearly return? (Hint: that's a lot higher than most major assets in the last 30 years.)
And considering the growing population and subsequent food sourcing concerns, farmland is looking to grow even further in value.
As an investor, you might be interested in how to invest in farmland — but where should you start?
Good news: crowdfunded platforms like FarmTogether make investing in farmland simple and straightforward.
For this FarmTogether review, I've done a thorough, deep dive into the platform so you don't have to. You'll learn whether or not the platform is legit, how to get started, and guide you through a few example farm investment opportunities. By the time you're finished reading, you'll have a much better idea if FarmTogether is the best avenue to help you diversify your portfolio.
FarmTogether is only available to accredited investors. Not accredited yet? There are still ways to invest in farmland without having to milk cows — namely, investing in agricultural and farmland-related stocks.
Analyzing agriculture stocks is easier than ever thanks to WallStreetZen's Zen Score. See how you can leverage years of expertise, analysis, and forecasting skills in just a glance and choose a profitable agriculture stock in minutes.
The Bottom Line: Is FarmTogether the Best Farmland Investment Platform?
For accredited investors interested in diversifying their portfolio with a solid passive income stream option, FarmTogether is a fabulous choice.
Let's look at why.
Cost: 3.7/5
FarmTogether has a minimum investment of $15,000, an Initial Investment Fee of about 2%, an Annual Maintenance Fee ranging from 1% to 2%, and then a Net Operating Income Fee of about .75%-5%. Though $15,000 can feel steep for many investors, most of the FarmTogether costs do seem on par with its leading competitors.
Accessibility: 4/5
FarmTogether accepts traditional means of investment like wire transfers and ACH transactions, but they also accept payments from self-directed IRAs, individual entities, corporations, LLCs, and more.
FarmTogether also offers an easy-to-use platform with transparent investment tracking and analytics, as well as a dramatically simplified investment process. But to invest, you must be an accredited investor.
You'd better shop around…
Don't just go with the first investing platform you find. Always research alternatives.
With competitive fees and features, AcreTrader is another compelling crowdfunded farmland investing platform. Want to see how they stack up? We'll dig in a little deeper later on in the review.
Due Diligence Process/Analysis: 5/5
FarmTogether really shines in its due diligence process. In fact, the company incorporates 150 data sets when analyzing the properties that it chooses and goes through a proprietary 105-point due diligence checklist.
The company analyzes things from a macro view, which includes water table levels, climate changes, etc., and also looks deeper down at the soil quality, leaf health, and more.
Even though there have been 9200+ opportunities assessed, they have brought only 44 to its investors — a roughly .4% acceptance rate.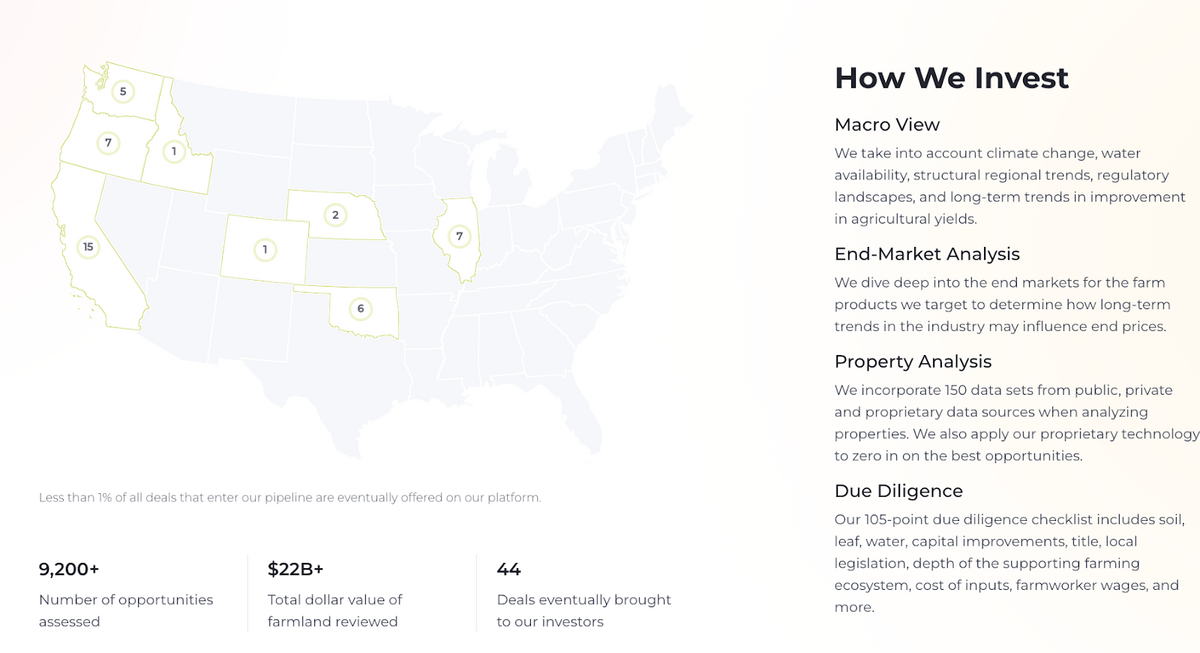 Usability: 5/5
FarmTogether offers easy, hassle-free investment services. Not only can you research and fund an investment within a few clicks, but you can also:
Track your investments performance
Access and download documents
Review historical distributions
Check projected performance
And access all K-1 tax forms
Looking for real estate investment ideas that go beyond farmland? Here are some of our favorite platforms for real estate alternative investments:
What is FarmTogether?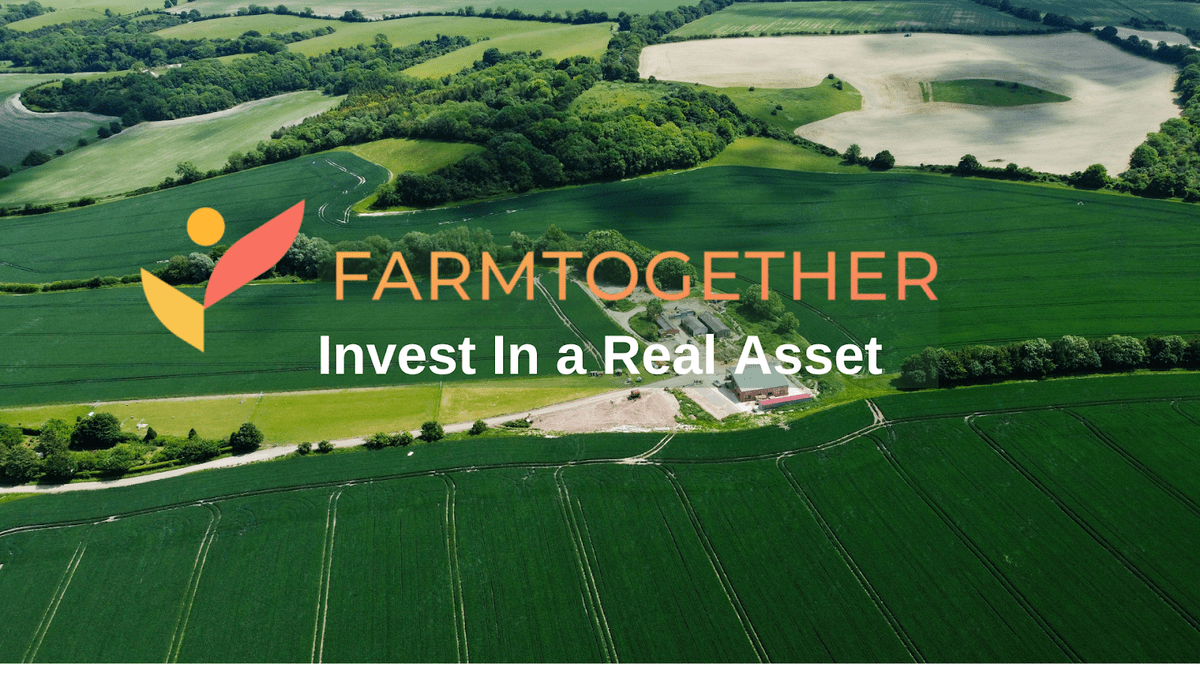 Founded in 2017 in Lewes, Delaware, FarmTogether is an investment platform that uses groundbreaking technology, data science, and crowdfunding, to invest in farmland opportunities.
FarmTogether's mission is to help remove the barriers to investing in farmland, offering competitive prices to farmers with flexible deal structures and terms, doing extensive research into every opportunity, and creating a seamless investment process for accredited investors.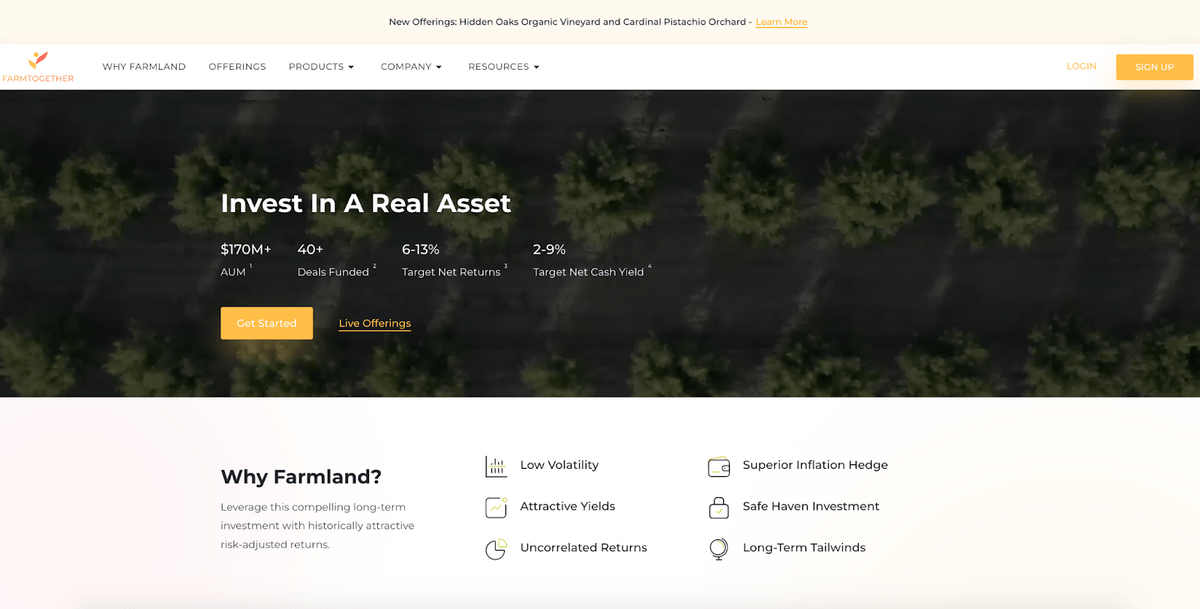 FarmTogether Features
Asset: 5/5
Minimum Investment: 3.4/5
Average Annual Returns: 4.8/5
Investment Fees: 3.7/5
Account Types: 5/5
Investment Terms: 3/5
Accreditation Requirement: 2.5/5
Types of FarmTogether Investments
One way that FarmTogether sets itself apart is by offering a variety of investment opportunities:
Crowdfunded
Sustainable Fund
Bespoke Solo Ownership
Let's look at a couple of investment opportunity examples.
Since the solo bespoke opportunities are fully customizable, let's look at an example from each of the other two types.
As I write this FarmTogether review, there's a live crowdfunding opportunity for an organic vineyard.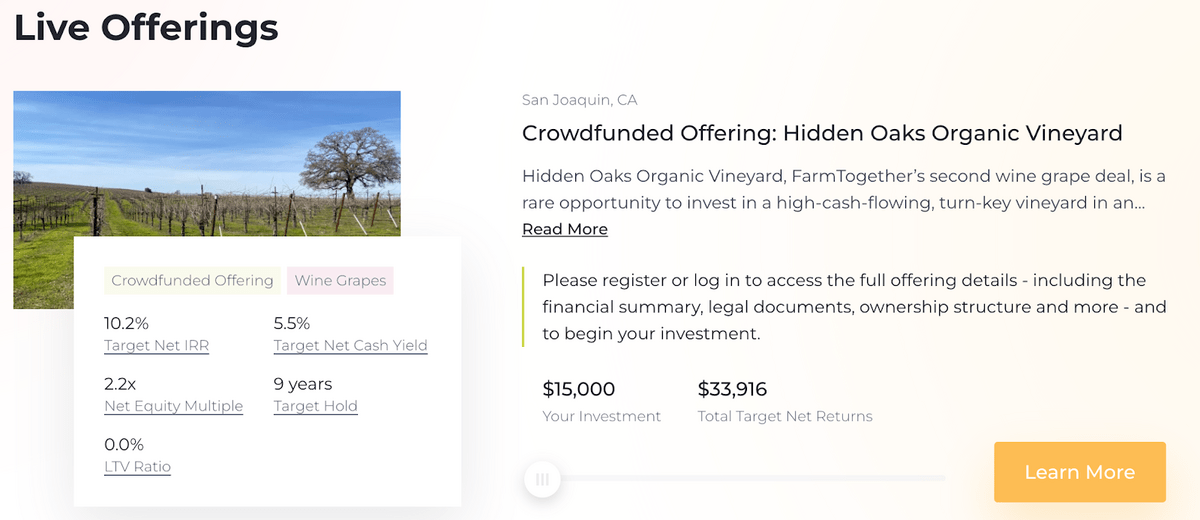 With this example, the minimum investment is $15,000, up to a maximum investment of $500,000. If you were to invest the minimum investment, they expect $33,916 in total target net returns based on common metrics:
5.5% Target Net Cash Yield
10.2% Target Net IRR
2.2 X Net Equity Multiplier
9 Year Hold
Now, let's look at a live sustainable farmland fund investment opportunity.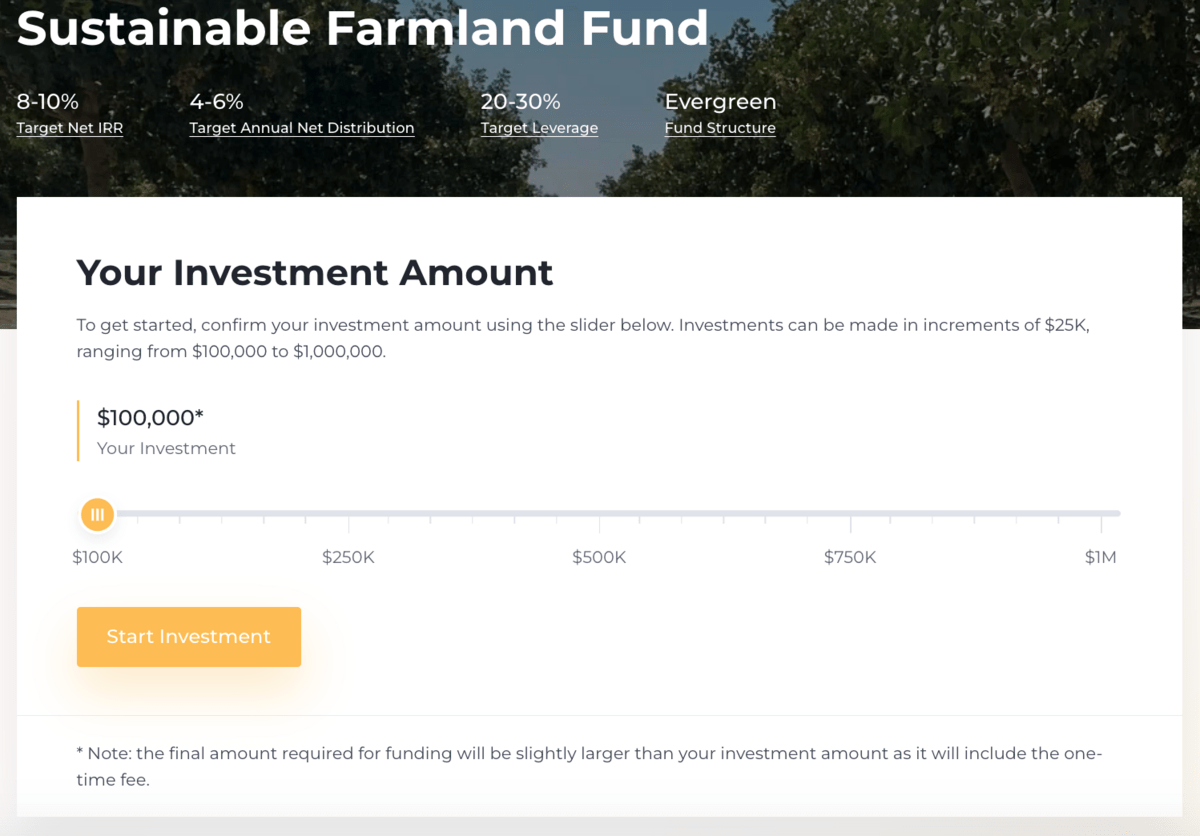 The minimum investment begins at $100,000 and maxes out at $1 million.
8-10% Target Net IRR
4 to 6% Target Annual Net Distribution
20 to 30% Target Leverage
How to Invest in Farmland on FarmTogether (Step-by-Step Process)
Ease-of-use seems to be FarmTogether's primary goal. Working with them is fairly straightforward:
Step 1 – Open an Account
The first step is to open a free FarmTogether account and complete your profile.
Step 2 – Select an Investment
Log into your account, go to the offering page, carefully review all open investment opportunities, and select the opportunity you want to invest in.
Step 3 – Choose Your Investment Amount
Using the slider, adjust to indicate how much you want to allot to this investment. Then, click "invest."
Step 4 – Wire Funds
If you haven't already, you will need to add your funding account. Once completed, select the account to wire funds.
Step 5 – Prove Your Accreditation Status
You will now need to prove your accreditation status. Once complete, you'll be asked to sign an electronic agreement.
Step 6 – Confirm Your Investment
Once signed, you can confirm your investment details and receive final payment instructions.
Solo Ownership Bespoke Opportunities
FarmTogether's offers a bespoke product is where an individual (or an entity) can purchase sole ownership of a farm of their choice. This is ideal for those who want a greater investment return, more control, a customizable deal structure, and greater tax benefits.
The Solo Ownership Process
The solo ownership opportunity process differs from FarmTogether's other two types of investments. If you have the $3 million initial investment seed fund and are interested in investing in a bespoke solo ownership opportunity, here's how the process would go.
Step 1 – Have Your 1:1 Call
There's a lot that goes into each farmland investment, so an expert will connect with you to make sure you understand what goes into investing in an opportunity like this.
Step 2 – Narrow Down What You Need
FarmTogether will then help you narrow down your target criteria, such as your ideal investment size, target returns, diversification, and more. Once that's hammered out, the team gets to work looking for properties that meet your desired criteria.
Step 3 – Start the Feedback Loop
Naturally, they'll be a little back-and-forth. You give your feedback on the opportunities presented and FarmTogether takes that information into account when searching for new deals.
Step 4 – Choose Your Deal
Once you've decided on your ideal investment opportunity, the FarmTogether team submits a letter of intent on your behalf. Once the LOI is mutual accepted, then they will submit a deposit on your behalf, and start the due diligence process.
Step 5 – FarmTogether Does Their Due Diligence
Since the due diligence process is so in depth, it typically takes anywhere from 30 to 45 days and includes soil tests, tree health tests, water table tests, and much more. If the property passes the test, then FarmTogether helps the investor close escrow and transfers the title.
Step 6 – Property Management & Upkeep
The FarmTogether team then provides ongoing management and monitoring of the property. They also manage distributions, all the accounting, and the prepping of all tax documents.
Getting Paid by FarmTogether
FarmTogether gives payouts for two different income streams: appreciation and income, and is based on ownership percentage.
Income is typically generated through rental payments, lease payments, and direct management contracts, such as permanent crops or farming operations.
Appreciation will only be realized on the sale of the property and is calculated by the difference between the sale and purchase price. FarmTogether attempts to maximize the appreciation value by supporting property improvements and studying long-term land value trends.
Depending on the investment terms, they pay dividends on a quarterly, semiannual, or annual basis and are directly deposited into the investor's bank account.
Pros and Cons of FarmTogether:
| | |
| --- | --- |
| Pros | Cons |
| Extensive Due Diligence | Accredited Investors Only |
| Supports Multiple Investment Methods | Hold Periods Range 2-11 Years |
| Ease of Use | Not Ideal for Investors Just Starting Their Investment Journey |
| Passive Income (Due to FarmTogether's Management) | |
| Supports Sustainability & Fair Treatment to Farmers | |
FarmTogether Fees
You may be asking — does this farm together investment come with a fee?
Yes. The fees vary with each opportunity, though the company says they aim to be lower than the industry standard. You can expect to pay an Initial Expense Reimbursement Fee (~2%), an Annual Management Fee (1% to 2%), and then a Net Operating Income Fee (.75%-5%).
Let's look at an example.
Crowdfunding Opportunity: Hidden Valley Organic Vineyard
Minimum investment: $15,000 for .38 acres
Fees:
$297 One-Time Initial Fee (1.9%)
1.5% of Project Basis Annual Management Fee
5% of Net Operating Income (Share of NOI Fee)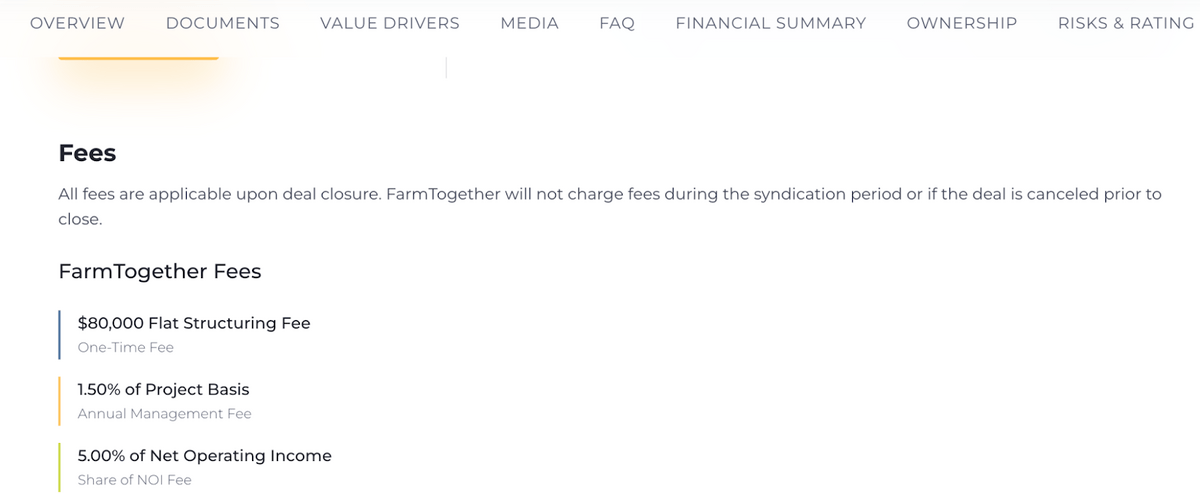 Should You Invest in Farmland With FarmTogether?
This platform is right for accredited investors looking to hedge their portfolio with passive income, with an asset that is solid and expected to rise steadily. This is ideal for investors who don't have or don't want to invest a lot of time into the management and upkeep of a farmland investment and can hold their investment long term (2-9 years).
FarmTogether vs AcreTrader
Let's talk about some non-farm together platforms. When it comes to farm investment opportunities, there's one major competitor: AcreTrader. Here's how they compare:
Overview
| | | | | | |
| --- | --- | --- | --- | --- | --- |
| | | Fees | Opportunity Acceptance Rate | Minimum Investment | Expected Returns |
| #1 | FarmTogether | 2% Initial Fee1% to 2% Management Fee .75%-5% Net Operating Income Fee *Additional Incentive Fees for Sustainable Farmland Fund & Bespoke | ~.4% Accepted | $15k | 6-13% |
| #2 | AcreTrader | 2% Initial Fee.75% Annual Fee5% Sale of Land Fee | >5% | $15K | 3-5% |
Let's talk about your options.
1. FarmTogether – Quality Farm Investment Opportunities
Overall rating: ⭐️⭐️⭐️⭐️
Account Minimum: $15,000
Investment Types: Crowdfunding, Fund, or Bespoke
Fees/Pricing: Varies Per Project. 2% Initial Fee + 1%-2% Management Fees + .75%-5% Net Operating Income Fee (Note: Some deals also include incentive fees.)
Investment Methods Accepted: ACH, Wires, Individual Entities, Self-Directed IRAs, Corporations, Trust, 1031 Exchange, LLCs, and Other Vehicles
Due Diligence: >1% Acceptance Rate
Why I like FarmTogether
Not only is their due diligence above industry standards, but FarmTogether seems to have superior deals with expected yields ranging from 6% – 13%, even after incorporating their fees.
They also have offerings that include both row crops and permanent crops, which is ideal for diversification. I also like that there is a range of investment types, which can also lend itself to diversification options.
2. AcreTrader – One of the Best Non-Farm Together Platforms
Overall rating: ⭐️⭐️⭐️⭐️
Account minimum: $15,000
Investment types: Land Value and Annual Cash Rent From Farmers
Fees/Pricing: 2% Initial investment Recuperation Fee + .75% Annual Servicing Fee + 5% Land Sale Fee
Investment Methods Accepted: Most Self-Directed IRAs, ACH, Wire Transfer, and Dwolla Wallet
Due Diligence: > 5% Acceptance Rate
Why I like AcreTrader
Like FarmTogether, AcreTrader removes a lot of the barriers to entry to investing in farmland.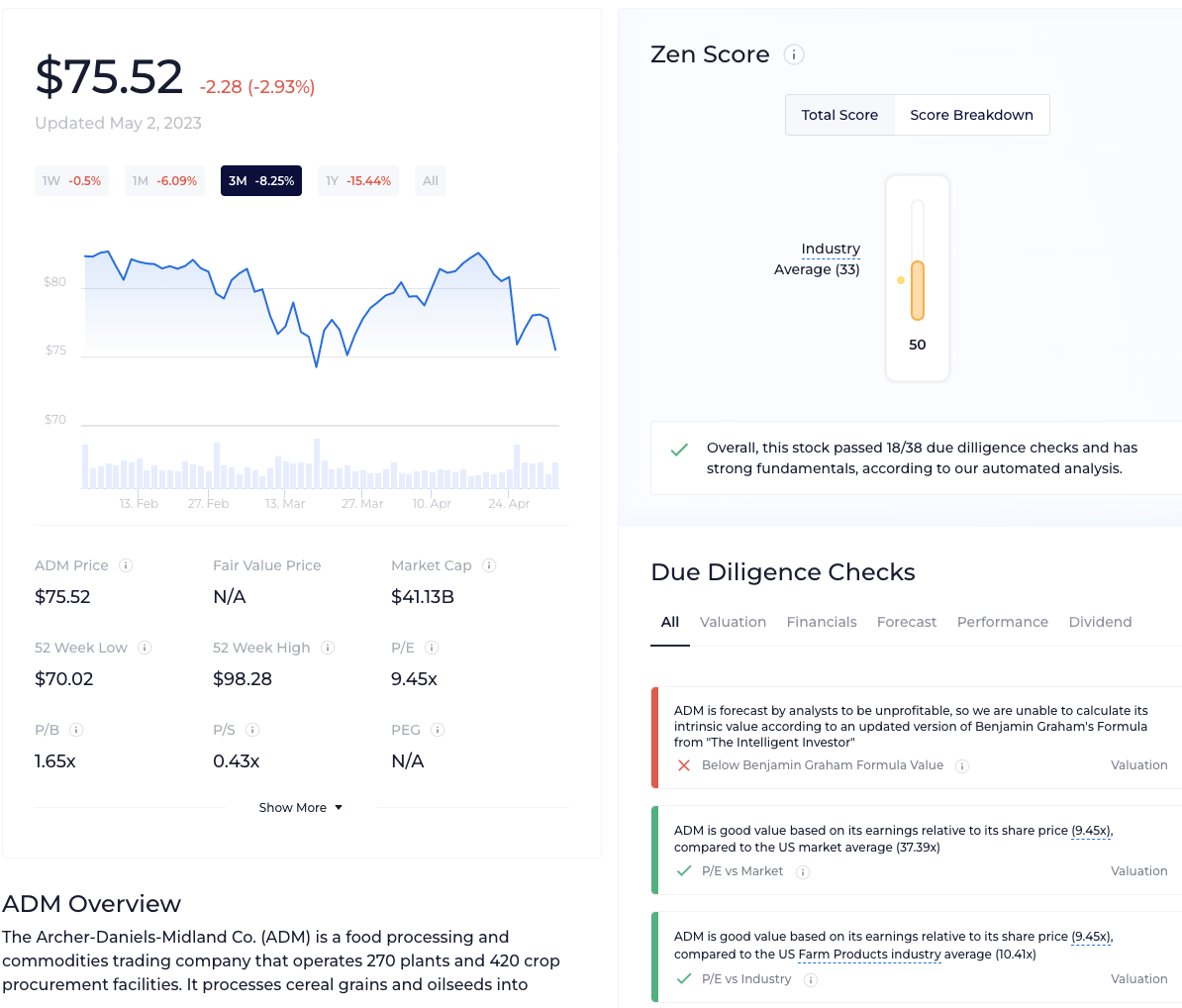 Final Word: FarmTogether Review
FarmTogether is a superb option for accredited investors to branch into farmland investment opportunities.
Though AcreTrader has a slightly smaller price tag on their annual management fees, FarmTogether's easy-to-use platform, reasonable fees, due diligence, and modest initial investment requirement, this investment platform certainly gets my vote.
---
FAQs:
Is FarmTogether legit?
Yes, FarmTogether is legit. The platform has curated $170M in assets under management and closed over 44 deals.  
What is the minimum investment in FarmTogether com?
The minimum Farm Together investment varies depending on the investment: $15k for crowdfunded opportunities; $100k for sustainable farmland fund opportunities; and $3 million for their custom sole ownership deals.
Do you have to be an accredited investor to invest in FarmTogether?
Yes. For now, you must be an accredited investor to invest in FarmTogether. However, the company is working to develop opportunities for all investors.  
Who is the owner of FarmTogether?
The owner of FarmTogether is Artem Milinchuk, who founded the company in 2017.
Is FarmTogether worth it?
For many accredited investors, FarmTogether is worth it. The platform simplifies farmland investment and offers peace of mind through a rigorous investigative process, high investment management standards, and steady historical returns.
Is investing in farmland safe?
Yes, investing in farmland is generally considered a safe investment. Though there are risks with any type of investment, farmland investment assets have outperformed most assets in the last 30 years.
Where to Invest $1,000 Right Now?
Did you know that stocks rated as "Buy" by the Top Analysts in WallStreetZen's database beat the S&P500 by 98.4% last year?
Our September report reveals the 3 "Strong Buy" stocks that market-beating analysts predict will outperform over the next year.