Our editorial team uses a strict editorial review process to compile all reviews, research, and evaluations of any kind. Our company, WallStreetZen Limited, is supported by our user community and may receive a small commission when purchases are made through partner links. Commissions do not affect the opinions or evaluations of our editorial team.
You need a broker.
Fidelity, TD Ameritrade, Charles Schwab, and Vanguard are the biggest names in the investment space.
If you're struggling to choose between 2 or more of them, you just need to learn what makes each one unique.
Each broker caters to different types of investors – once you figure out your own needs and what each broker specializes in, the choice becomes obvious.
For example, I'm an active trader, and I want access to the entire realm of trading possibilities – which rules Vanguard out for me (I use TD). But Vanguard is excellent for those taking a passive approach to investing, which is why it has over 30 million users and is one of the largest brokerages in the world.
Here are the 3 steps to finding the broker that's best for you:
Know your needs
Know what makes each broker unique
Make the obvious choice that's best for you
You should know #1 already. I'll walk you through #2 and #3.
These legacy brokers are good, but they're dinosaurs.
Invest in stocks, ETFs, cryptocurrencies, treasuries, and alternative assets on Public.
It has one of the most complete sets of offerings and is one of the most well-built brokerage apps available.
Join more than 1 million investors who have made the switch to Public.
Evaluation Criteria: Fidelity vs TD Ameritrade vs Charles Schwab vs Vanguard
I've written about each in more depth and have done some head-to-head comparisons (Fidelity versus TD Ameritrade or Charles Schwab vs. Vanguard) below. Here's the evaluation criteria I used.
Today, no-commission trading and low account minimums are the standard, and all of the legacy brokers have excellent customer support, educational resources, and investment research. Those factors won't help you pick one over another.
Here are the real differentiators:
Target clientele
Trading platform
Investment products
User experience
With that criteria in mind, read on for my breakdown of each broker.
How does Fidelity compare to the rest?
Fidelity is the best overall broker on this list.
Regardless of your investing style, whether you're a completely passive investor or an extremely active trader, Fidelity will work for you. Since most investors do some of everything, this versatility is important in a broker. That makes Fidelity the best choice for most.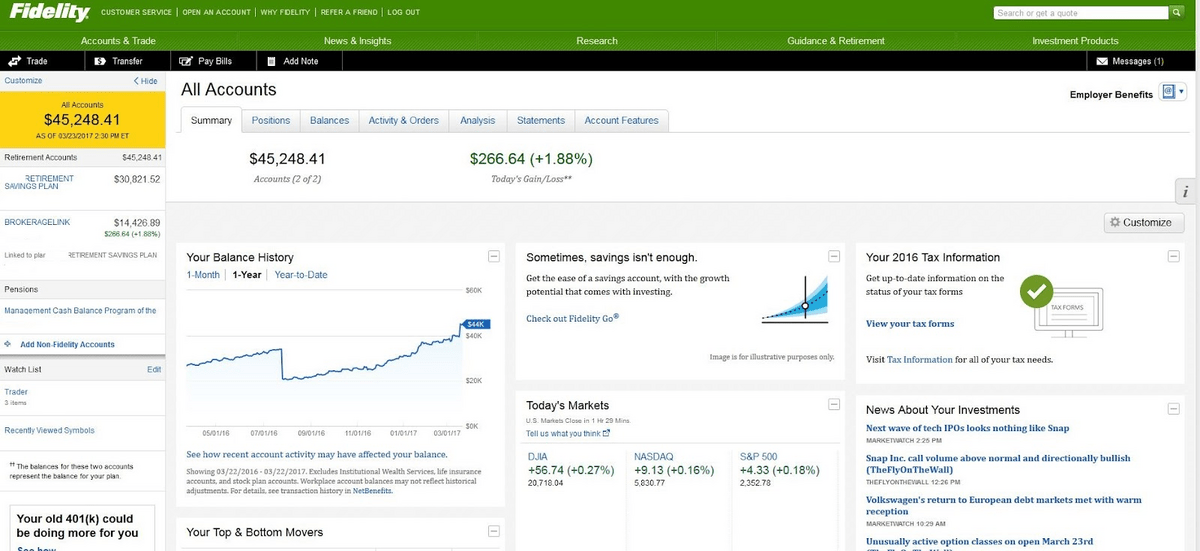 In the 1960s, Fidelity became the first investment firm to market its mutual funds to middle-class investors. Today, it maintains this aim as the go-to option for everyday people, regardless of your exact investing style.
Fidelity has developed their offerings into a balanced array suitable for every type of investor and trader. It's great for passively investing in mutual funds and ETFs, active management and individual stock picking, and (more recently) day and swing trading.
Which is why it has 80 million users and $3.6 trillion in assets under management, which is one of the leading tallies among all brokerage firms.
Like TD Ameritrade and Schwab, Fidelity has two levels of trading platforms. Its suite of investment apps rates among the easiest to use, while its Active Trader Pro trading platform has all of the charting options offered by TD Ameritrade and Schwab. (Vanguard only has web and mobile investment apps.)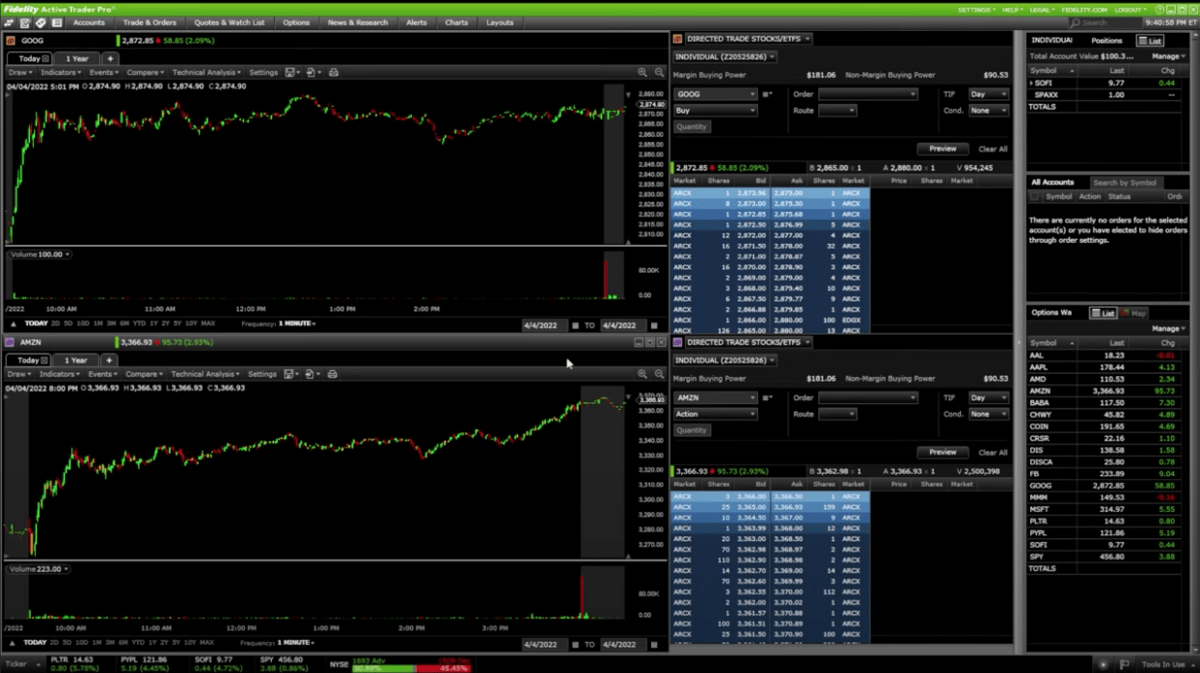 For beginner investors, Fidelity Go (Fidelity's robo-advisor) allows you to start passively investing with a $0 minimum. It's free until your account size hits $25,000, then you'll accrue 0.35% in yearly fees and get access to unlimited 1-on-1 coaching calls.
Fidelity Go is the best solution for new investors provided by any legacy broker.
A couple more points worth mentioning:
Fidelity doesn't allow futures trading and limits access to OTC stocks, unlike TD Ameritrade and Schwab
The broker will soon offer no-commission bitcoin and ethereum investing through an ancillary service, Fidelity Crypto. The others on this list only offer cryptocurrency exposure through ETFs
Fidelity robo advisor services are free for accounts below $25,000 and cost 0.35% per year for accounts $25,000 and above
Is TD Ameritrade better than the rest?
If I didn't use Fidelity, I would use TD Ameritrade.
Despite its well-rounded offering, Fidelity has a slight slant toward passive and buy-and-hold investors. TD Ameritrade, on the other hand, has a massive slant toward traders.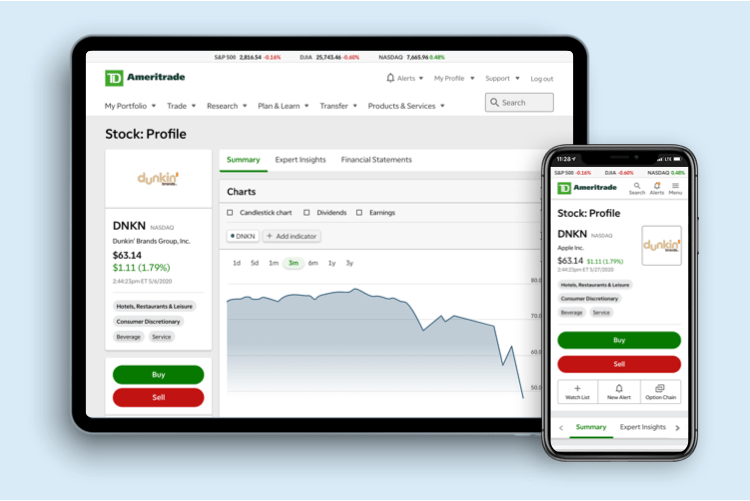 While you can have passive investments and long-term stock investments on the platform, most TD users are spending (at least) some of their time trading.
In 2009, TD Ameritrade acquired thinkorswim, which is one of the best trading platform options and one of the most heavily used programs in the industry. If you are an active trader, you'll appreciate the unparallelled toolkit that thinkorswim puts at your disposal.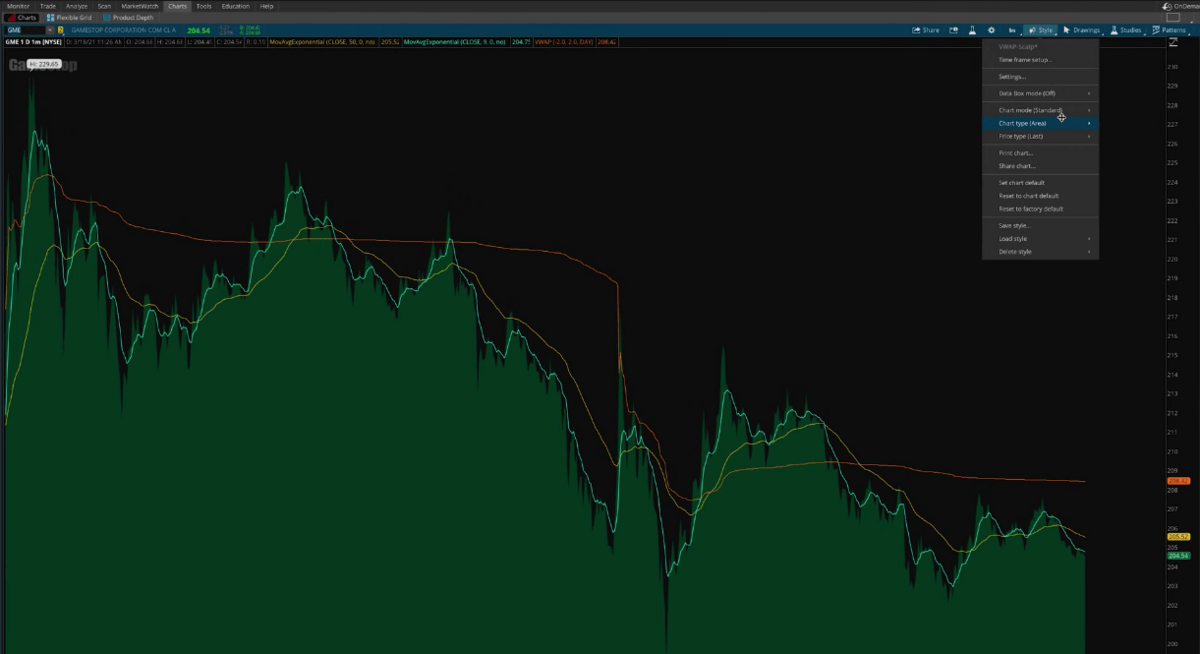 TD Ameritrade was acquired by Schwab in 2020 and is being gradually integrated into Schwab's existing platforms. All managed accounts now go through Schwab – I'll run down their services next.
One of the biggest remaining differences, the thinkorswim platform, will be available to Schwab users in 2023. That will take some of what still separates these two brokers out of the equation.
TD Ameritrade gives traders access to the full suite of investment vehicles, excluding crypto
The broker also doesn't offer fractional shares – but it may start doing so after integrating with Schwab, which does
TD Ameritrade no longer offers its own robo advisor services. Instead, investors can access Schwab's Intelligent Portfolios
How does Charles Schwab compare to the rest?
Even before they acquired TD Ameritrade, Schwab was the largest brokerage in terms of assets under management. Now, it manages $7.3 trillion for a client base that ranges from long-term investors to short-term traders. They have the services to complement every approach.
That said, Schwab is best for long-term, retirement-focused investors (with well-funded portfolios).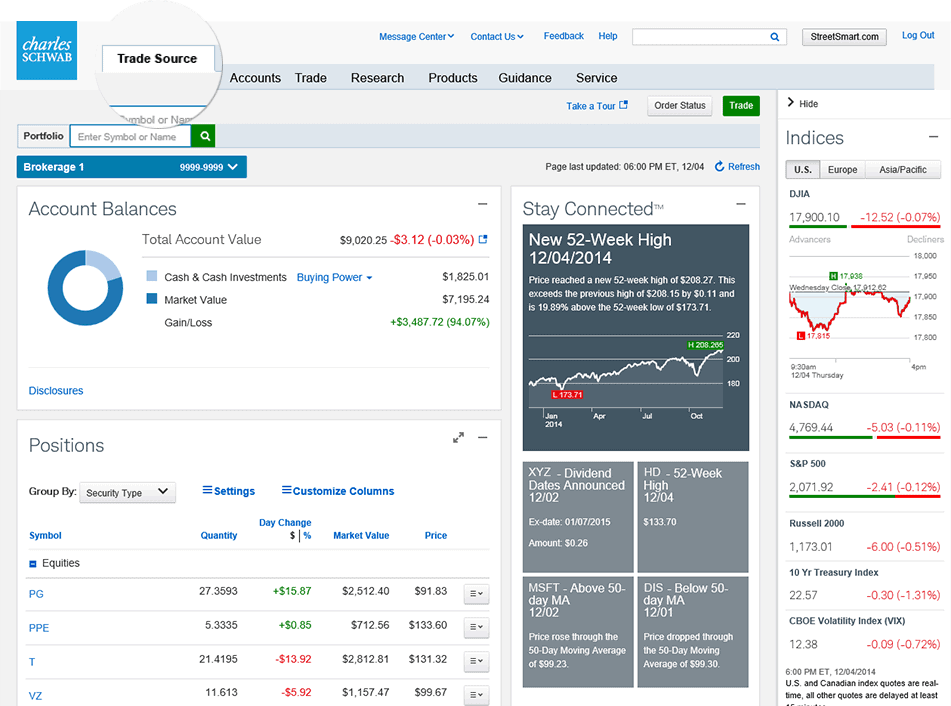 Schwab's appeal for active investors will get a boost when TD Ameritrade's thinkorswim trading platform is integrated. The current option, StreetSmart Edge, is a step behind both thinkorswim and Fidelity's option.
Schwab's robo-advisor wing, Schwab Intelligent Portfolios, charges no fees – although there is a $5,000 account minimum. The next step up, Schwab Intelligent Portfolios Premium, has a one-time set up fee of $300 and charges $30 per month ongoing. That might not seem like it, but for smaller accounts it's one of the highest rates out there.
Again, Schwab is positioned for those in, near, or approaching retirement.
You'd need to invest more than $100,000 to make Schwab's robo advisor cheaper than Fidelity's offering, and nearly $200,000 to match Vanguard's service fees. With that kind of account size, you'll likely be more interested in one of Schwab's Managed Account Select professionally managed portfolios, which start at $100,000.
Schwab gives investors access to more mutual funds than the other brokerages on this list. There are more than 17,000 to choose from, with 4,000 incurring no fee
The broker also gives access to the most international stock markets at 30
Schwab's basic robo advisory is free. The broker charges a one-time set up fee of $300 for their premium services, and $30 per month ongoing
Is Vanguard better than the rest?
Like I've said, Vanguard is a very different brokerage from the others on this list. For long-term, risk-averse investors, Vanguard is a proven choice; for investors and traders who want to actively manage their money, this broker won't be a good fit.
As a passive investment platform, Vanguard has a borderline cult-like following.
Vanguard made its name with low-cost funds and they're still seen as a leader in this space. Their longtime strength has been their Vanguard index funds, which carries one of the lowest expense ratios in the industry.
But the other brokers on this list have mostly caught up. Fidelity, TD Ameritrade, and Schwab all offer comparable low-expense and no-fee funds. They also offer investment vehicles that Vanguard does not, like futures, forex, and more OTC stocks.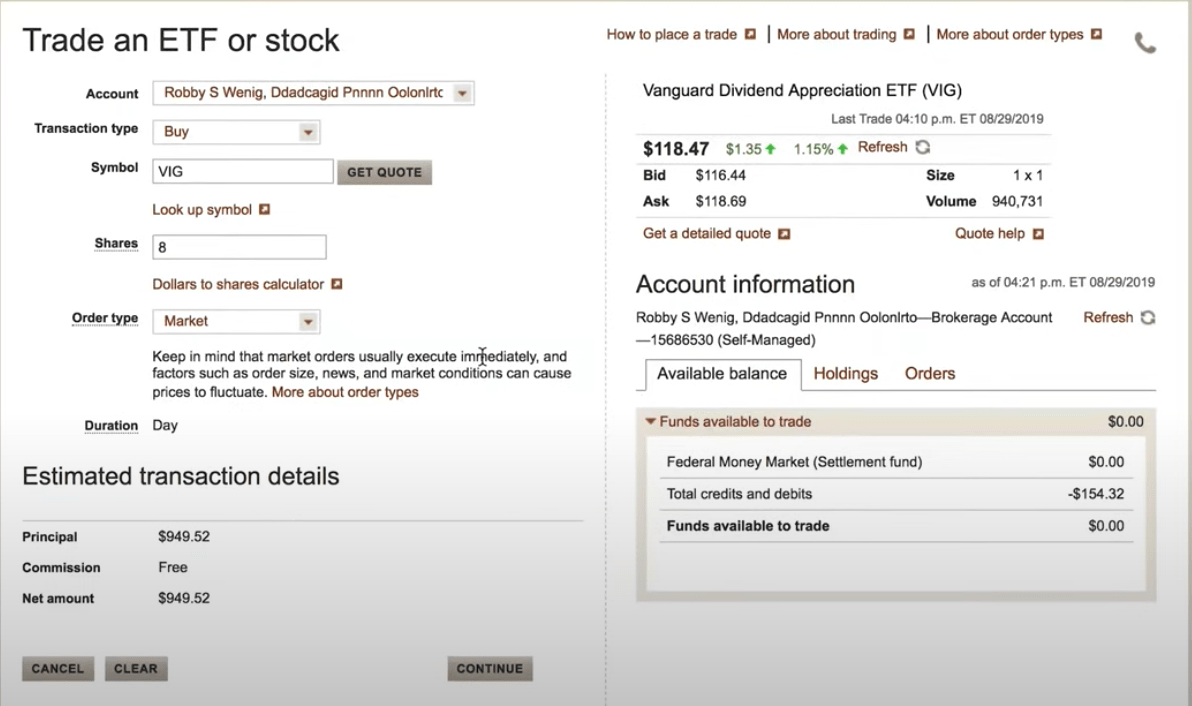 Vanguard doesn't have a trading platform, and it isn't meant for investors who'd need one. Instead, Vanguard targets the same buy-and-hold, cost-conscious investors it's always focused on. This focus has brought in $6.7 trillion in assets under management.
Vanguard Digital Advisor automates your investments for only 0.2% per year, the lowest robo-advisor fee on this list. The account minimum of $3,000 is decreased to $5 for some 401(k) retirement accounts. Vanguard's professionally managed portfolios are available with an account minimum of $50,000, and incur some of the lowest charges on this list.
Vanguard's customer service is unlocked with bigger accounts; for smaller accounts, it may feel limited compared with the competition
As of the end of 2022, Vanguard is in beta testing with its bank sweep program. Previously, cash left in brokerage accounts was swept into the firm's federal money market fund, which produced smaller interest rates than other brokers on this list
Vanguard's robo advisor services are free for the first 90 days, then 0.2% per year
Head-to-Head Comparisons:
I've already told you that my preferred broker is Fidelity, but the decision was easier when I made it. Now that Schwab has acquired TD Ameritrade, the comparison between brokers has gotten tighter.
I'll compare them head-to-head here so you can come to your own conclusions.
Fidelity vs TD Ameritrade – Is Fidelity better than TD Ameritrade?
When I look at Fidelity versus TD Ameritrade, I'm looking ahead to the latter's Schwab integration. For me the choice is still clear – I pick Fidelity.
Many of Fidelity's investment products have lower costs than TD Ameritrade's (many of which are Schwab offerings). Their trading platforms are both excellent, though thinkorswim gives TD a slight edge (I use TradingView anyways). The only thing that gives me pause is Fidelity's smaller selection of OTC stocks.
Charles Schwab vs Fidelity – Is Charles Schwab better than Fidelity?
No, Charles Schwab is not better than Fidelity.
Schwab has higher rates on many investment products and services than Fidelity, and has a worse trading platform.
If you're in, near, or approaching retirement, however, you might appreciate Schwab's features more.
Charles Schwab vs TD Ameritrade – Is Charles Schwab better than TD Ameritrade?
It's hard to declare a clear winner between Schwab and TD Ameritrade, as they are slowly integrating after a 2020 merger. In 2023, Schwab will start offering thinkorswim to its users, eliminating the biggest advantage that TD Ameritrade currently enjoys.
But, before that happens, TD Ameritrade is still better than Schwab for its top-notch trading platform advantage.
Vanguard vs Charles Schwab – Is Vanguard better than Charles Schwab?
Vanguard vs Charles Schwab is another tough call – they appeal to different types of investors. But Schwab provides a decent approximation of what Vanguard offers, while Vanguard can't compete with Schwab's offerings.
To me, that puts Schwab ahead, unless you're obsessed with low-cost, passive investing.
Fidelity vs Vanguard – Is Fidelity better than Vanguard?
Fidelity is better than Vanguard according to the logic of the previous head-to-head.
Fidelity offers nearly as many low-cost mutual funds as Vanguard, with a far greater selection of other investment vehicles.
Again, if you're a die-hard fan of Vanguard's investing approach, use Vanguard.
Final Word: Fidelity vs TD Ameritrade vs Charles Schwab vs Vanguard
Fidelity is the broker that offers the most versatility with the least cost – for me, that puts it ahead of the other names on this list. I want my broker to cater to as many investing styles as possible, so that it can grow with me as my investment focus changes.
This is my personal choice, and it might not be the right one for you. The only way to know is to try the brokers that you're interested in. With low or no account minimums, there's no downside to trying out several brokers.
Here's what I like about each broker:
Fidelity – Best Broker Overall
TD Ameritrade – Best Trading Platform
Charles Schwab – Best Broker for Retirement
Vanguard – Best Broker for Low-Cost, Passive Investing
---
FAQs:
Which is better: Charles Schwab or Fidelity?
Fidelity is better than Charles Schwab because of its often lower costs on investment products and services. Fidelity also wins the trading platform comparison over Schwab with its Active Trader Pro app.
Which to use for trading: Fidelity or TD Ameritrade?
I use Fidelity for trading - TD vs Fidelity is a similar comparison to the last. TD Ameritrade was acquired by Schwab in 2020, and it uses Schwab's managed account services and robo advisor. These charge higher fees than the comparable Fidelity offerings.
What are some Fidelity and TD Ameritrade competitors?
TD vs Fidelity isn't the only comparison to look at when choosing a broker - there are many other brokers worthy of your attention. E-Trade, Interactive Brokers, Merrill Edge, and TradeStation are all power brokers with a wide range of offerings.
Where to Invest $1,000 Right Now?
Did you know that stocks rated as "Buy" by the Top Analysts in WallStreetZen's database beat the S&P500 by 98.4% last year?
Our June report reveals the 3 "Strong Buy" stocks that market-beating analysts predict will outperform over the next year.