Our editorial team uses a strict editorial review process to compile all reviews, research, and evaluations of any kind. Our company, WallStreetZen Limited, is supported by our user community and may receive a small commission when purchases are made through partner links. Commissions do not affect the opinions or evaluations of our editorial team.
Charles Schwab is one of the largest brokerage firms in the United States. With well over seven trillion dollars in assets under management, this popular brokerage firm has earned the trust of tens of millions of Americans.
As an endorsement, it doesn't get much better than that!
But do we agree? Is Charles Schwab good?
Yes. Charles Schwab offers an excellent product suitable for many investors. But it's not the only option available.
Over the next few minutes, we're going to take a deep dive into Charles Schwab brokerage accounts:
What is a Charles Schwab Brokerage Account?
How Does a Charles Schwab Brokerage Account Work?
Charles Schwab Brokerage Account: Services + Features Offered
Charles Schwab Brokerage Account Reviews: What Are People Saying?
Charles Schwab Fees
Becoming a Charles Schwab Brokerage Account Client
Charles Schwab Review: Pros and Cons
Charles Schwab: Important Considerations
Charles Schwab Competitors You May Not Have Considered
So, is Charles Schwab good?
Keep on reading to learn everything you need to know to decide for yourself. Let's go…
A newer brokerage to consider…
Schwab is an established company — but it's kind of a dinosaur.
In recent years, a relatively new brokerage has been making waves — moomoo. In a few short years, it's attracted 20 million+ users with commission-free stock and ETF trading offered on a platform with a user-friendly and clean interface.
Charles Schwab Review: Is the Brokerage Account Worth the Fees in 2023?
Overall Rating: ⭐⭐⭐⭐
The Bottom Line: Charles Schwab brokerage accounts are an excellent solution for investors looking for straightforward investing with a robust platform with numerous research tools and educational resources.
What is a Charles Schwab Brokerage Account?
Reviews sometimes gloss over the basics, but we're covering everything!
A Charles Schwab brokerage account is an investment account offered by Charles Schwab. The investment accounts allow clients to trade stocks, bonds, exchange-traded funds (ETFs), mutual funds, and other financial instruments.
How Does a Charles Schwab Brokerage Account Work?
Charles Schwab brokerage accounts work by providing you with a platform to buy and sell financial securities, like stocks and bonds. The account acts as a record of the activity taken and holds and lists your current holdings and market value.
Charles Schwab Brokerage Account: Services + Features Offered
As a major financial institution, Charles Schwab Investments has the resources to offer a robust platform with numerous services and features.
Trading: Charles Schwab brokerage accounts allow clients to trade financial products, like stocks, bonds, ETFs, and others.
Customer Service: Schwab has a reputation for delivering quality customer service. This includes 24/7 phone support and in-person assistance at physical branches, an exceedingly rare attribute these days.
Banking: Charles Schwab can provide clients not only with investment accounts but with more traditional checking and savings accounts. These accounts are FDIC-insured and provide features like unlimited ATM rebate fees on out-of-network machines.
Investment Advice: Schwab offers a range of investment advice, from automated robo-advisory (Schwab Intelligent Portfolios) to bespoke, personalized financial planning and advice.
Research and Tools: Clients get access to a range of research tools, including market research, news, and analysis. Advanced traders can also leverage Schwab's more sophisticated advanced trading tools.
Retirement Accounts: In addition to investment, checking, and savings accounts, Schwab offers retirement-focused accounts for its clients, like traditional IRAs, Roth IRAs, and Rollover IRAs.
Education Savings: Schwab also offers client plans that help save for education, like Education Savings Accounts (ESAs) and 529 plans.
International Services: Charles Schwab even offers services for clients outside the United States, like U.S. dollar-denominated checks, wire transfers, and debit card transactions.
Looking for other banking ideas? Check out these offers: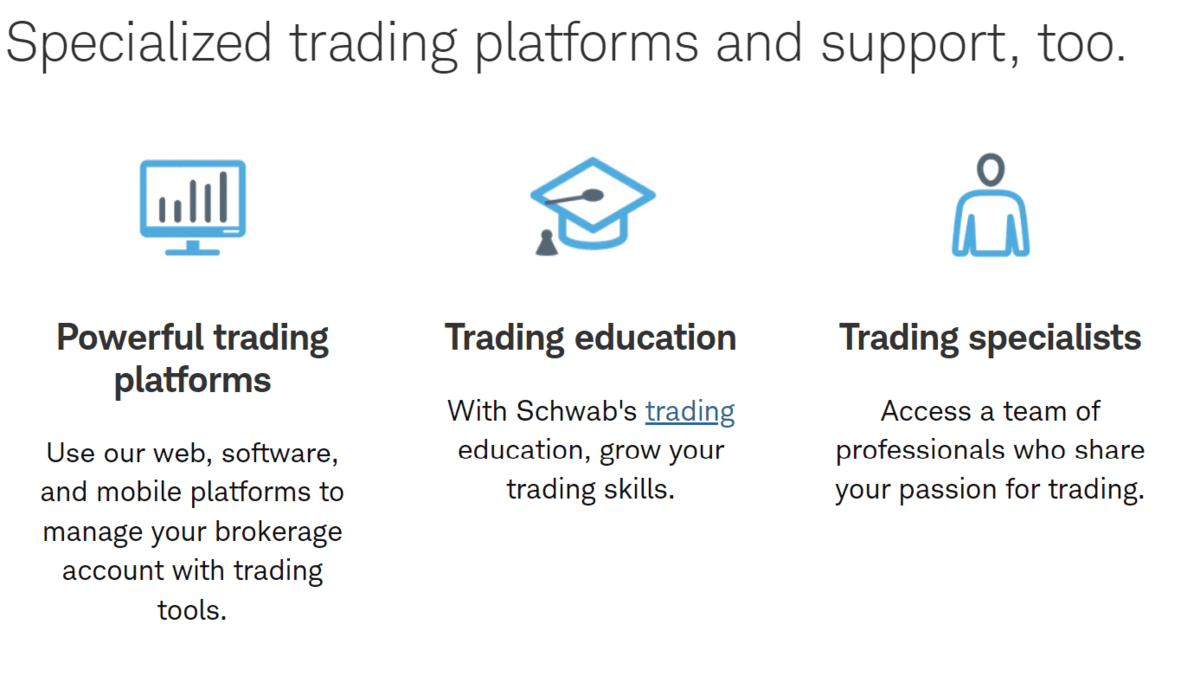 Charles Schwab Brokerage Account Reviews: What Are People Saying?
Trustpilot rating: 1.7 out of 5 (based on 196 reviews)
Google reviews: 3.1 out of 5 (based on 856 reviews)
BBB rating: A+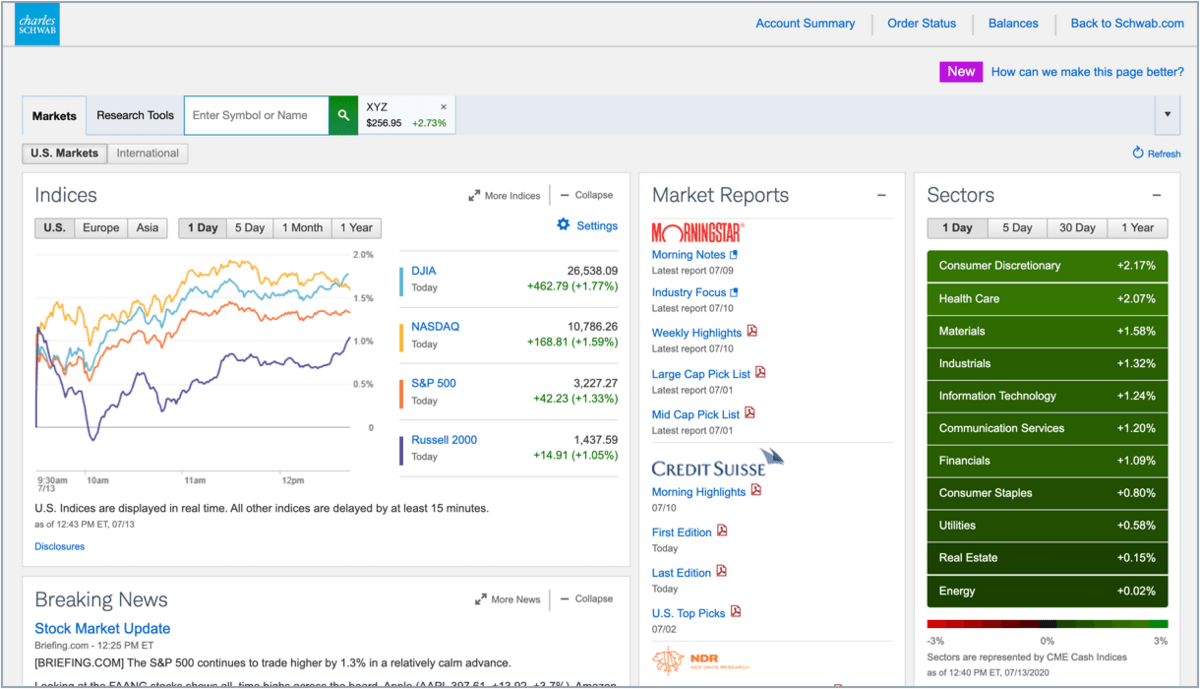 To sum it up: Charles Schwab is undoubtedly a brokerage service enjoyed and trusted by millions of investors, but unfortunately, not everyone is happy with their offering. That said, the ratings vary substantially, with many clients exceedingly satisfied with the financial offering.
While the platform gets a lot right – it's a reliable platform that includes robust trading services, impressive educational resources, customer services, and other prominent features – some clients complain of negative experiences with respect to more complex financial questions around taxes and more exotic securities.
While Trustpilot's rating leaves much to be desired, they're not all bad. Moreover, the platform still maintains a 3 out of 5 rating on Google (based on hundreds of reviews), and Schwab enjoys an A+ rating from Better Business Bureau.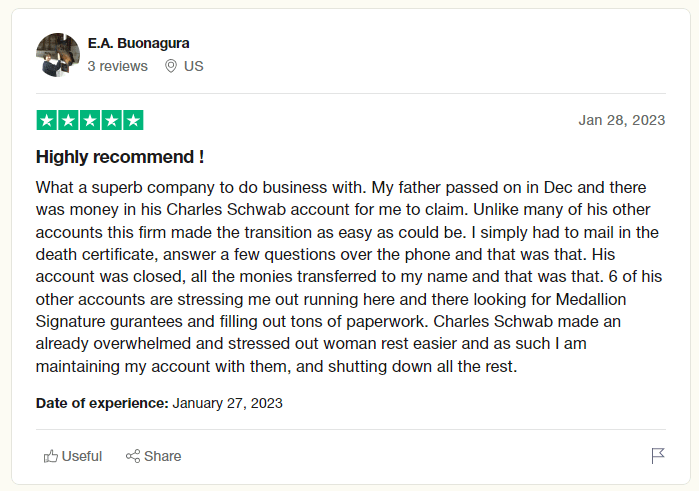 moomoo has a rating of 4.1 on the Google Play store.
Charles Schwab Fees
This Charles Schwab brokerage account review wouldn't be complete without fee details. After all, a brokerage account is no good if it's cost prohibitive.
Fortunately, clients do not require a minimum balance to open and maintain an individual or joint brokerage account. In other words, you can open a Charles Schwab investing account with $0.
Stocks and ETFs: $0 for trading listed stocks and ETFs online
Options: $0 base online commission + $0.65 per contract
Mutual Funds: $0
Broker-Assisted Trades: $25
Over-The-Counter (OTC) Equities: $6.95 (+ $25 if broker-assisted)
Futures: $2.25 per contract (both online and broker-assisted)
Treasuries: free (+$25 if broker-assisted)
Becoming a Charles Schwab Brokerage Account Client
There are a few steps to follow if you'd like to become a Charles Schwab brokerage account client.
Gather required information and documents: You'll need some basic documents to set up your account, which may include a social security number or Tax Identification Number, driver's license, banking information, and your employer's name and address.
Open account: Go to the Charles Schwab account opening page and select the type of account you wish to open (i.e., individual or joint brokerage). You'll be asked questions about the trading frequency you expect to complete. If you plan on trading more than three times per month, you'll be asked if you'd like to use the platform's advanced trading services, StreetSmart Edge. The service gives traders access to screeners, charting tools, and fundamental and technical analysis tools. You may be required to provide additional details to access the advanced trading features.
Confirm account features: You'll be prompted to select the specific account features you desire, like adding the ability to trade options or trade on margin.
Agree to terms and conditions: Review the provided terms and conditions and electronically sign the final documents. You may also be given opportunities to add other services at this stage, like the "cash features program," which can help your account earn a return on uninvested cash while you decide where to park your capital.
Fund the account: The final step is to fund your newly opened account. This can be facilitated in multiple ways:
Online money transfer from a bank account
Online transfer from another brokerage account
Mail in or physically drop off a check at a Charles Schwab bricks-and-mortar location
Charles Schwab Review: Pros and Cons
| | |
| --- | --- |
| Pros | Cons |
| No minimum fees | Relatively low default cash sweep rate |
| Extensive research tools offered (research from over 20 providers, like Thompson Reuters and Moody's) | A small number of fractional share opportunities compared to other brokerages |
| Huge fund selection (over 7,000 no-transaction-fee mutual funds) | |
| Commission-free stock, options, and ETF trading | |
Charles Schwab Brokerage Account Review: Important Considerations
This Charles Schwab brokerage account review wouldn't be complete without covering the most critical items you should consider. In fact, many of these considerations apply to any potential brokerage firm you might be interested in.
Complexity: Charles Schwab is a massive financial institution offering numerous ways to engage with them. From IRAs to traditional banking to advanced options trading, you can do it all. Not only that but within each area of business, there are typically multiple offerings. This can be an excellent feature for many clients, but it can overwhelm others.
Fees: Fortunately, Charles Schwab fees are competitive, and many trades can be completed for $0.
Investment Options: For most investors, Charles Schwab will offer all the financial instruments they'll ever need, like stocks, bonds, ETFs, mutual funds, options, and futures. Make sure the brokerage you select allows you to trade your desired securities.
Account Types: It's vital to ensure the brokerage firm you select offers the correct account type. More than this, it might also be valuable to have access to other account types you might need in the future, especially if you value keeping your relationships to a minimum. In other words, you might want an investment account today but require an IRA next year. Is it essential that you open the IRA at the same firm? If so, consider all account types you envision you'll need.
Platform and Tools: You'll want to ensure the brokerage you select offers a platform you like and the tools you need. For example, Charles Schwab provides numerous platforms, including their web application, mobile abb, and advanced trading platform. Schwab also offers various research and analysis tools that some traders rely on daily.
Reputation and Security: Entrusting your hard-earned money with a brokerage that enjoys a solid reputation and a history of diligent security is critical. With over $7 trillion in assets under management, Schwab certainly fulfills this criteria.
Charles Schwab Competitors You May Not Have Considered
1. moomoo – Best for Tools You Can Learn and Grow With
In recent years, a new kid on the block has been making waves in the brokerage space. For beginners and intermediate traders, moomoo has been exceptional. This straightforward platform offers traders commission-free stock and ETF trading.
From a user experience, we prefer the platform over Charles Schwab. The interface is clean and simple, but you still enjoy the benefit of a full-fledged brokerage platform.
With moomoo, you can have your cake and eat it, too.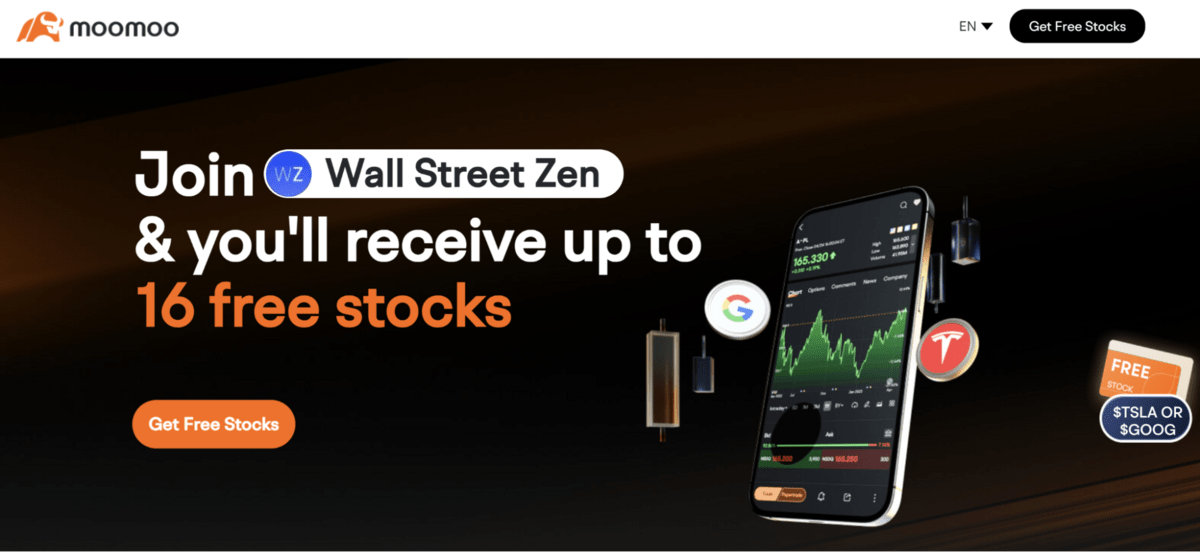 2. TradeStation – Best For Advanced Traders
TradeStation offers savvy traders a multitude of tools allowing them to flex their trading prowess, including powerful charting, advanced customization, real-time scanning of market indicators, and automated trading.
In terms of advanced trading, TradeStation is our go-to platform.
Some perks? TradeStation does not charge fees on over-the-counter (OTC) penny stock trades. TradeStation also allows users to trade 11 digital coins, while Schwabb currently does not support cryptocurrency trading.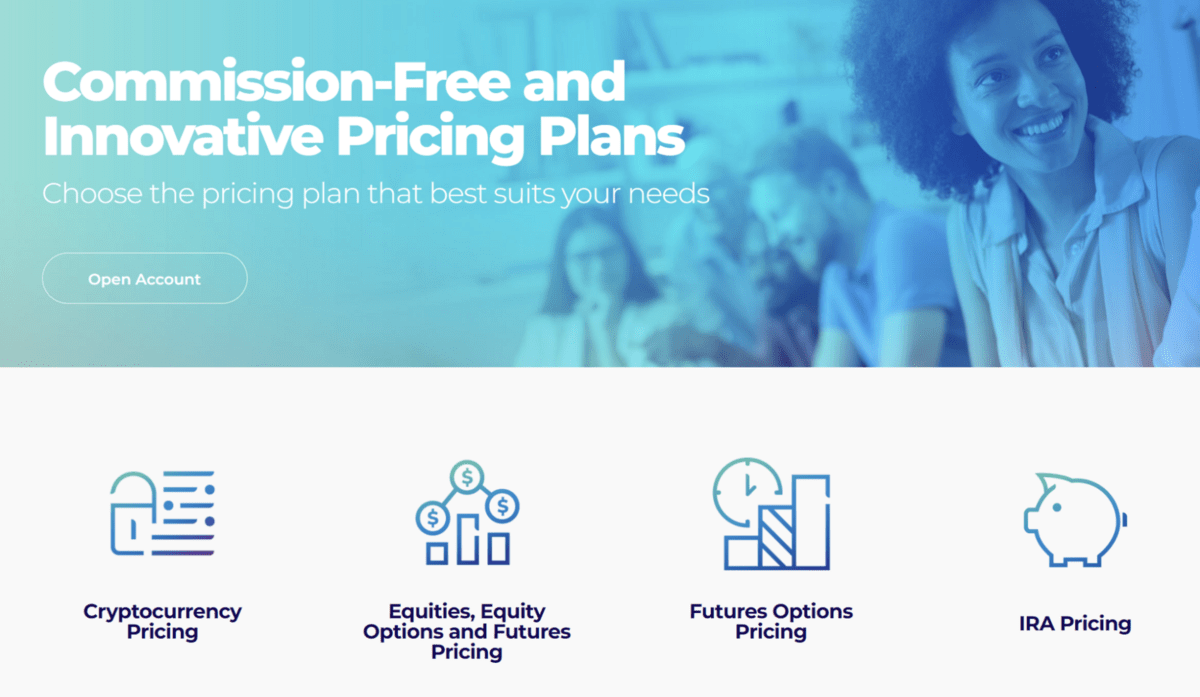 3. eToro – Best Features to Learn (CopyTrader)
Are you learning to trade but aren't sure where to begin? eToro might just be the perfect platform for you.
One standout feature? CopyTrader, which allows users to replicate the trades done by experienced traders on the platform. Yep, you read that right. You can mirror the same moves the pros are making. This feature is invaluable as you learn how to trade. Heck, even experienced traders can benefit from this feature.
As if it couldn't get any better, eToro's CopyTrader functionality even lets you subscribe to your favorite traders, allocate a portion of your balance to their strategy, and let the app run on autopilot.
4. J.P. Morgan Self-Directed Investing – Best Big Bank Alternative
Are you looking for a big bank alternative to Charles Schwab? No problem, we got you covered.
When it comes to the biggest names in the industry, our favorite is easily J.P. Morgan's Self-Directed Investing platform. But what makes it stand out?
For one, if you're already a J.P. Morgan client, you can view all your accounts in one place. No need to log in to multiple locations and reconcile your balances. This gives you a clean and comprehensive view of your financial picture.
J.P. Morgan also stands out with commission-free online mutual fund trading, a benefit Charles Schwab lacks. This is an important feature if you plan on frequently trading mutual funds.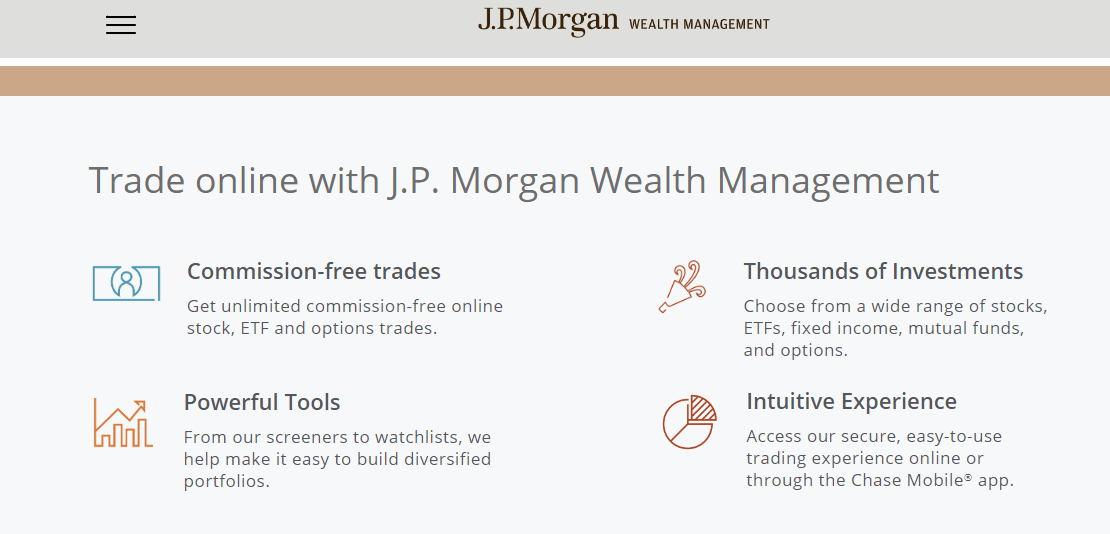 5. Betterment – Best for Automated Investing
When it comes to automated investing, few options outshine Betterment.
Betterment specializes in automated investing, and it shows. With over $36 billion in assets under management and a rating of 4.7 out of 5 based on over 38,000 reviews, Betterment has carved itself out as a leader in the space.
Its intuitive platform, low fees, and mult-goal planning options make it one of the best automated investing platforms.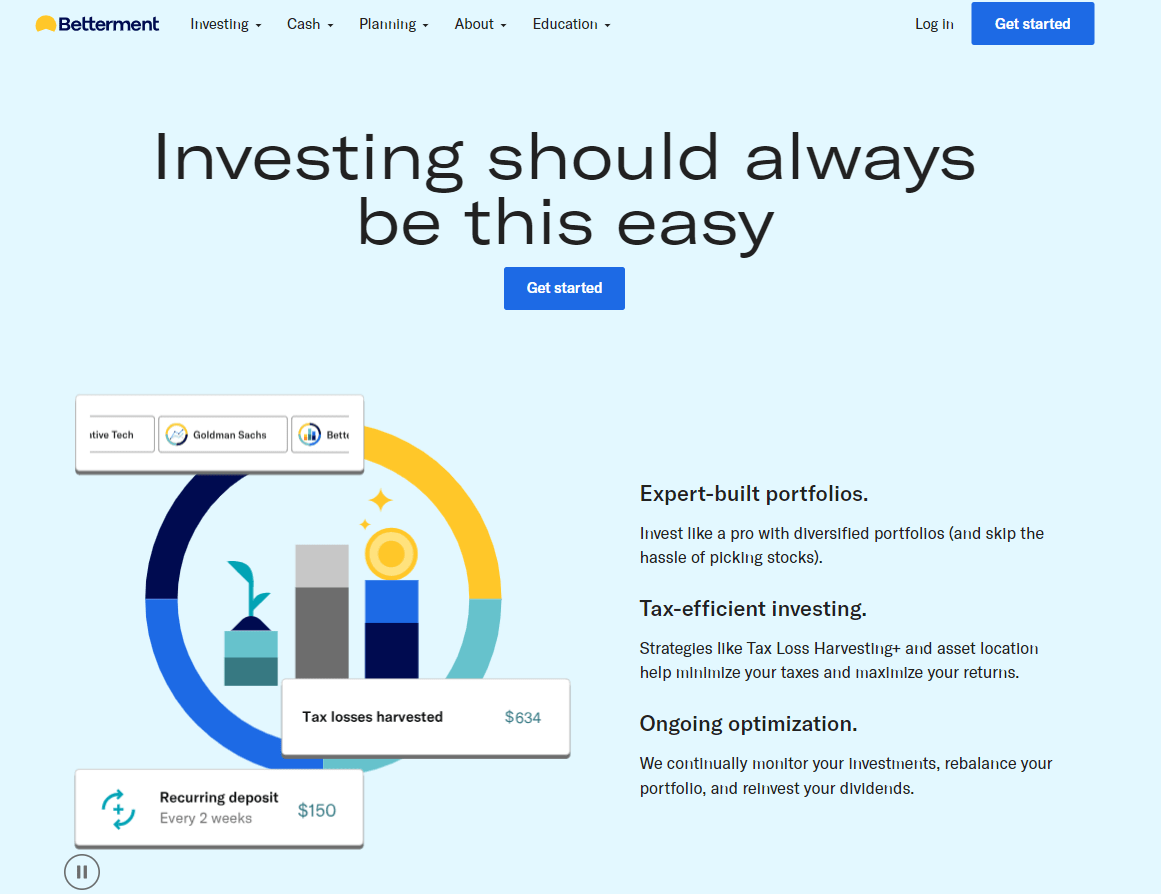 Final Word: Review of Charles Schwab
Charles Schwab is a great all-around platform offering numerous features from an established institution. Still, the old-school firm lags some of the newer kids on the block in some areas.
If you're looking for a jack-of-all-trades type platform, a Charles Schwab brokerage account might be a suitable solution, but if you cost conscious and are looking for specific features, you might find it lacking.
Before opening an account, assess the alternatives and determine which platform gives you the features you need, the prices you desire, with the reputation you deserve.
---
FAQs:
How safe is Charles Schwab's brokerage account?
A Charles Schwab brokerage account is considered safe because it is heavily regulated by the U.S. Securities and Exchange Commission (SEC) and the Financial Industry Regulatory Authority (FINRA). A Charles Schwab brokerage account is also covered by the Securities Investor Protection Corporation (SIPC) for up to $500,000 in protection per customer for lost or missing assets.
Is it good to invest with Charles Schwab?
Yes, it is largely considered good to invest with Charles Schwab because the platform is safe, secure, and offers numerous benefits and services.
Is Schwab good for beginners?
A Charles Schwab brokerage account is good for beginners, but some platforms, like eToro, offer services like CopyTrader that are uniquely beneficial for newer traders.
Are Charles Schwab fees high?
Charles Schwab brokerage account fees are broadly in line with most other platforms and, in some cases, cheaper.
Where to Invest $1,000 Right Now?
Did you know that stocks rated as "Buy" by the Top Analysts in WallStreetZen's database beat the S&P500 by 98.4% last year?
Our September report reveals the 3 "Strong Buy" stocks that market-beating analysts predict will outperform over the next year.