Our editorial team uses a strict editorial review process to compile all reviews, research, and evaluations of any kind. Our company, WallStreetZen Limited, is supported by our user community and may receive a small commission when purchases are made through partner links. Commissions do not affect the opinions or evaluations of our editorial team.
What is the most popular — yet overlooked — product in the country?
Hint: it historically appreciates at a steady rate, is in high demand, has tax benefits and provides regular cash flow.
I won't keep you in suspense — it's residential homes.
But dealing with the process of finding a property, renovating it, and dealing with tenants can be time-consuming and costly.
Doorvest, an online turnkey residential real estate platform, wants to make it easy to invest in single-family residential real estate.
But is Doorvest the right platform to help you maximize your portfolio exposure to real estate while minimizing risk?
Let's find out. In this Doorvest review, we'll look at every aspect of the platform, from the pros and cons to fees and how to invest.
Doorvest Review: Is It Legit?
The Bottom Line: Yes, Doorvest is a legit real estate investing platform.

Doorvest is on a mission to help busy professionals achieve financial independence and long-term wealth through residential real estate investing.
Investment areas started in Houston and have since been expanding to additional markets including Atlanta, Columbus, Cincinnati and Oklahoma City.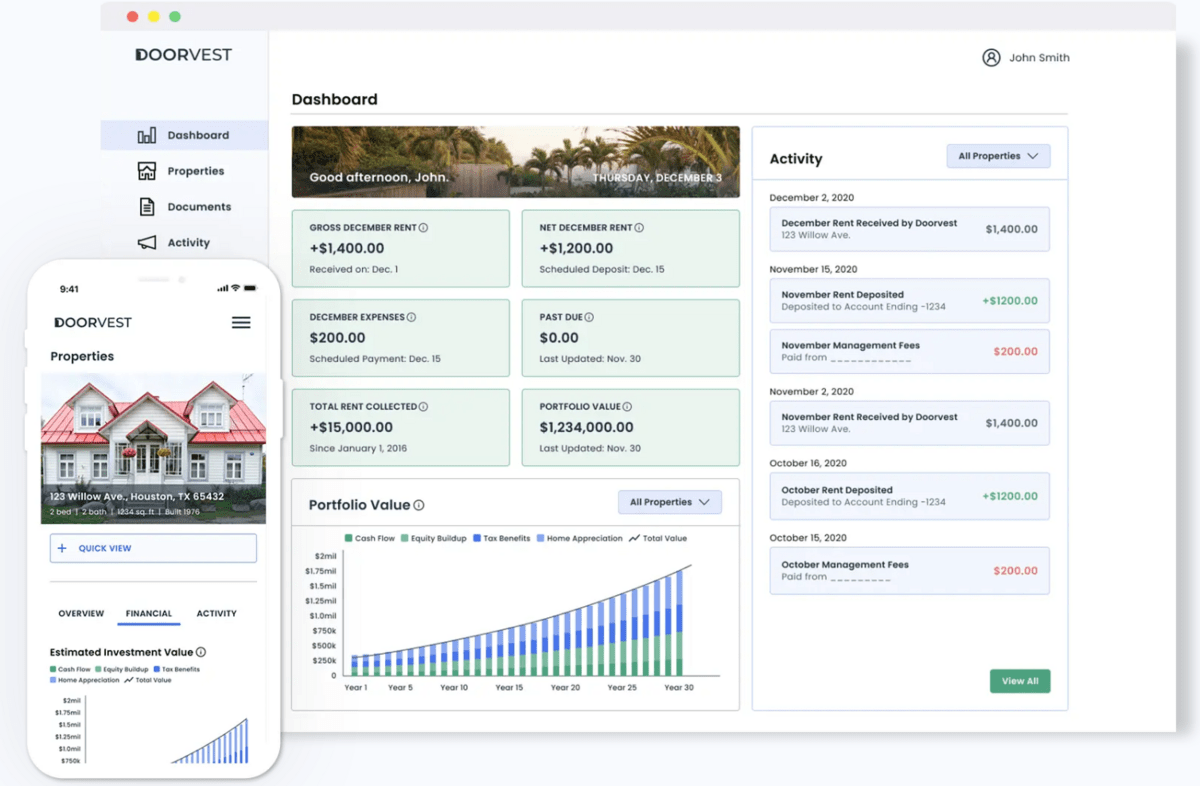 Best for: Busy working professionals who want to invest in real estate but do not have the time and/or expertise to get started.
Is turnkey legit?
Doorvest is a full-service real estate provider, also known as turnkey. Is turnkey legit when it comes to real estate?
This means the entire process to acquire a property and turn it into a cash flowing long-term investment is seamless.
You don't have to worry about finding the property in the right market, completing renovations, placing tenants and ongoing management.
Turnkey investments in hard assets like real estate result in less liquidity than public markets. It's much easier to sell a stock than a house, in terms of speed and complexity.
If you're looking for an investment more short-term providing liquidity, Doorvest may not be right for you.
What is Doorvest?
Doorvest is a full-service residential real estate investing platform designed to help investors gain financial security through rental properties.
It all started in 2014 when founders Andrew Luong and Justin Kasad realized the everyday investor was locked out of the #1 asset that historically produces the most millionaires — real estate.
At first, Luong sought out to solve his own problem. In looking for more financial security, he managed to acquire 12 single-family investment properties over a five-year period. Managing them and dealing with them was a hassle.
He figured, if this was a problem for him, imagine how difficult the process is for most 9-5 professionals to acquire rentals to generate wealth.
There could be an opportunity to provide a solution for the masses.
Doorvest was born.
Investing and managing residential properties is hard — even when it's your full-time job. Doorvest makes it accessible to everyone.
Doorvest not only cuts the acquisition time in half but also streamlines the process:
They find the properties, complete renovations, place tenants and provide ongoing property management. After the tenant is placed, Doorvest sells the property to the investor at fair market value.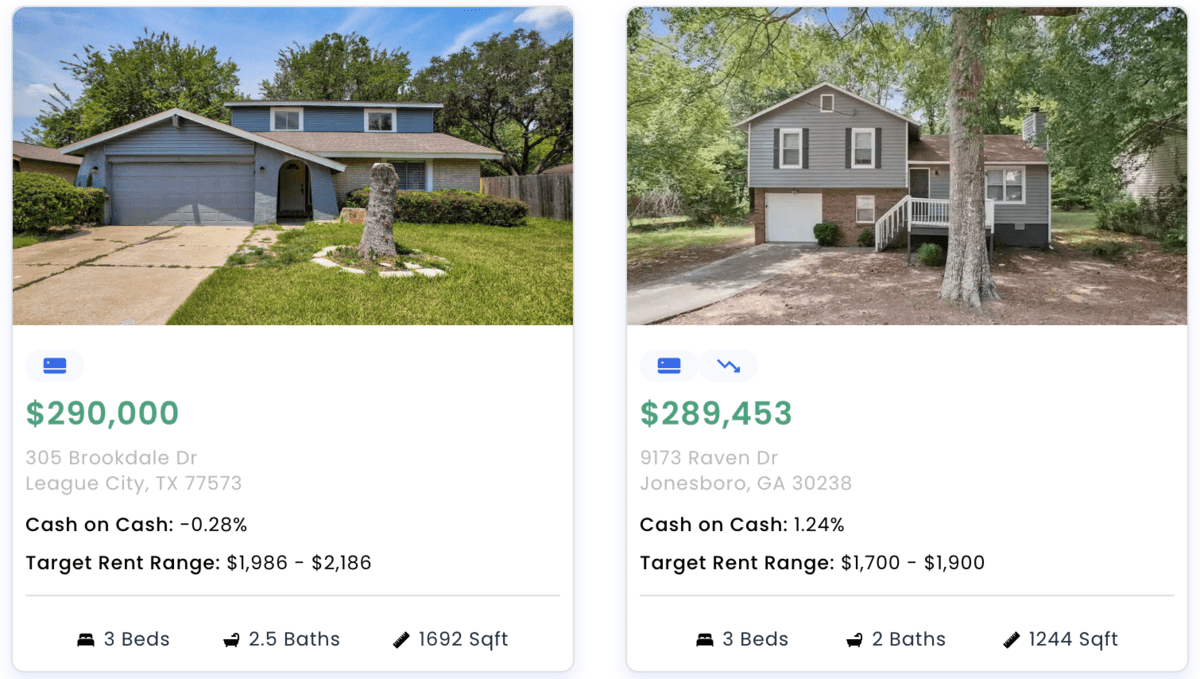 Properties range from $225,000 to $450,000 so expect to come out of pocket approximately $45,000 to get started. This is because non-owner-occupied purchases require a 20% downpayment.
Doorvest started in the Houston market and has since expanded into 8 total markets:
Houston
Dallas
San Antonio
Tulsa
Oklahoma City
Columbus
Atlanta
Cincinnati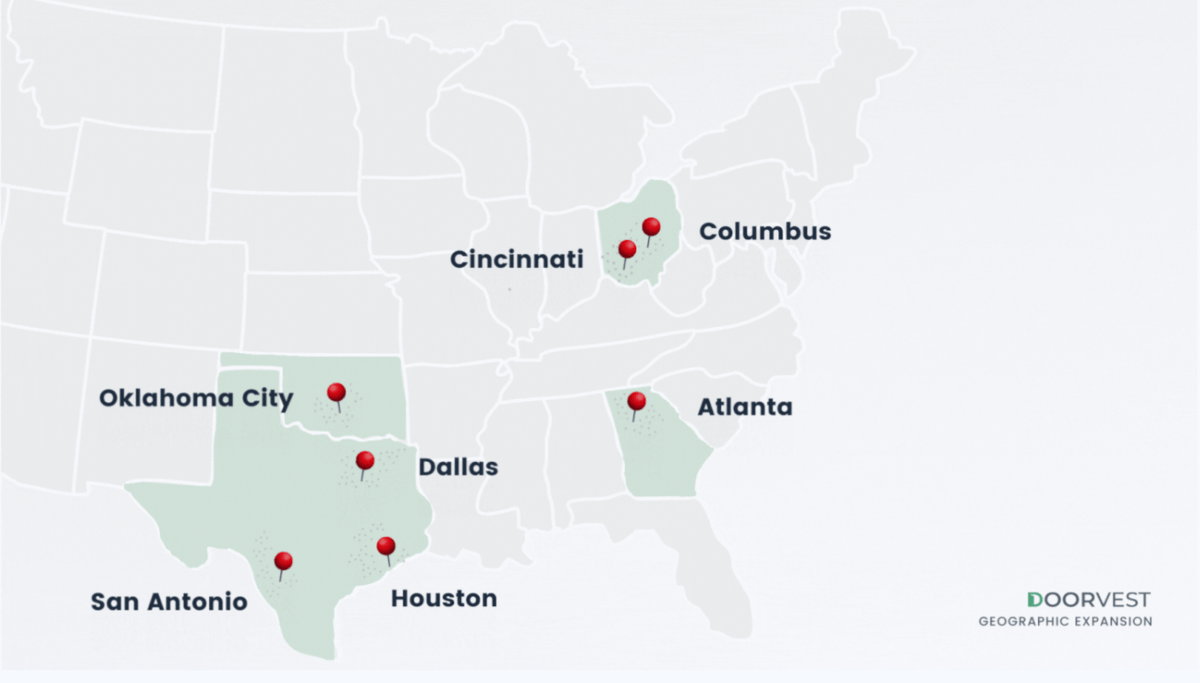 In the future Doorvest plans to continue expanding into similar markets experiencing net population increases, moderate median sale prices and steady rent demand.
Doorvest Features
Doorvest has a vision to provide a modern path to wealth from anywhere. Their goal is to make the real estate investing process simple to access and easy to grow. Let's take a look at some unique features of the Doorvest platform:
Customized investment criteria
Doorvest created Doormatch, a home-to-user matching algorithm, to match ideal homes with your investment criteria. Although you'll likely be purchasing a property out-of-state, Doormatch will help you feel comfortable knowing your property is within your desired criteria.
Direct ownership to build wealth
The key ingredient in wealth-building is equity. Some real estate platforms provide a partial ownership of pooled assets, while Doorvest allows direct ownership in individual properties.
With direct ownership comes all the benefits of real estate — appreciation, depreciation, tax advantages and cash flow.
Renovation and Rent Guarantee
One of the biggest barriers in purchasing a hard real estate asset is making the property rent-ready. This includes the following questions.
What is the scope of work?
Who will complete the work?
How do I screen and place tenants?
Doorvest gives you peace of mind with a renovation and rent guarantee. They will complete the renovations and include a one year warranty on the work. The rental guarantee is activated the day you close on the property.
From the close date, Doorvest guarantees the rental amount for three months regardless if there is a tenant in place or if they don't pay. In addition, if your home is leased for less than market rent, Doorvest will cover the difference the first year as long as the tenant is paying.

Relax and reap the benefits
Tenants. Toilets. Termites. These three T's are the big reasons why most first time investors steer clear of buying rental properties.
Ongoing property management can be time-consuming, expensive, and stressful. Knowing who to call to get issues resolved quickly is valuable in maintaining your property and tenant relationships.
Doorvest will take care of ongoing property management, including the following services:
Tenant placement
Rent collection
Profit and loss reporting
Maintenance repairs
Dedicated leasing/maintenance contact
How Does Doorvest Work?
Doorvest's business model revolves around a marketplace where investors can purchase properties and clients can sell properties. Let's first take a look at the investor acquisition side.
So you want to be a Doorvestor? Here's the detailed process to start earning rental income online.
Customize investment criteria – Answer questions about your investment criteria. Their home-to-user algorithm, Doormatch, will deliver recommended homes you can view in the marketplace.
Submit deposit – Part of joining the Doorvest community is submitting a $100 refundable deposit to show you're serious. This is how you gain access to all the available off market deals.
Reserve property – You sign a letter of intent to purchase the property, allowing Doorvest to initiate purchasing the home on your behalf. At this time you'll select a lender and work to get pre-approved for the purchase.
Begin renovations – Once Doorvest completes the purchase, you can begin renovations. Their in-house contractors complete the work and all Doorvest customers receive a 1-year free Home Renovation Guarantee (includes roof, water heater, HVAC and appliances).
Formal purchase and sale agreement – This is the official contract that states the terms of the deal (price, closing date, buyer, seller) and governs the transaction. This is legally binding, unlike an LOI (letter of intent).
Complete renovations – As renovations are completed, you'll sign the 1-year management contract with Doorvest.
Loan underwriting, appraisal, final inspections – Lender will initiate final underwriting with the investor and if the property is financed, an appraisal will take place from a third party service. Closing can be scheduled.
Close on property – The property is yours! Meet with the Doorvest success team
Doorvest will handle the rest – Set up ACH for rent deposits. Use their online portal to view maintenance requests and any activity each month. Understand tenant selection, property management services, the rental guarantee, and all other tenant-related questions.
Doorvest is a marketplace who helps both investors purchase properties and clients looking to sell their homes. Often people forgo selling a problem property for a variety of reasons.
They may not want to pay realtor commissions, or they don't have the time or money to make repairs. Doorvest ensures the process is stress free and fast with the following steps:
Receive an offer – Doorvest will review the neighborhood comparables and the property condition. You'll receive a hassle-free offer within 24 hours.
Fast closing – Review the purchase and sale agreement, choose a title company and close quickly. Cash deals can close in 10 days or less.
Get your cash – Receive a check or wire for your proceeds.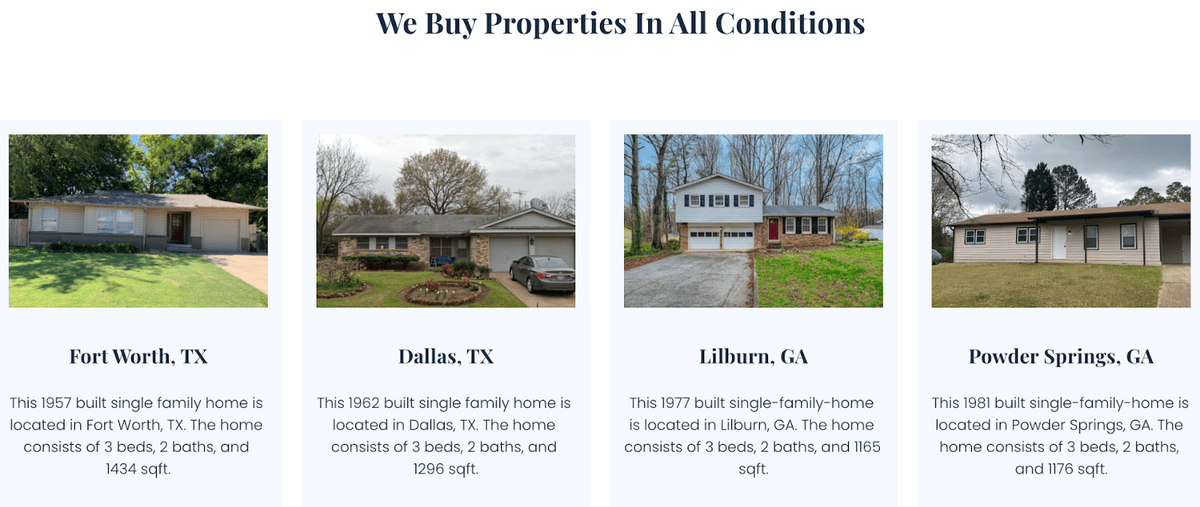 Doorvest Fees
Doorvest has two revenue streams:
Property management – 10% monthly management fee based on gross rent received. You must use Doorvest for property management for at least one year.
Sale of the property – Doorvest collects a very small margin on the sale of the property from them to you, as they sell to the investor at fair market value.
As an owner of investment property, you'll have some expenses outside of Doorvest. These include the mortgage payment, property taxes, and home insurance (aka PITI).
As an owner of physical investment properties, I can confirm that PITI and monthly property management are common fees associated with owning a rental.
Is Doorvest Safe?
Doorvest launched in 2018 so it's still in the early startup stages. But things look promising:
According to the Doorvest Crunchbase profile, they've raised a total of $92.5 million in 5 rounds of funding.
Their plans for 2023 and beyond involve expanding into new markets and becoming a one-stop-shop for all your finances, including additional equity investments and banking services.
However, plans for a young startup means the potential for more funding. That can pose a risk for investors if plans don't pan out. So keep track of the Doorvest Crunchbase profile!
But as for transactional safety, customers can have peace of mind knowing accurate processes are being used to buy properties.
Purchase and sale agreements govern the transaction. Title companies hold funds in escrow until closing and lenders are properly underwriting the buyer and getting properties appraised as a part of their due diligence.
Pros and Cons of Doorvest:
| | |
| --- | --- |
| Pros | Cons |
| Hands-off strategy to purchase property | $45,000 minimum investment |
| Access to off market deals | Customer gains no investment skills |
| 1-year renovation guarantee | Early startup compared to other platforms |
| 3-month rental guarantee | Must commit to 1-year management contract |
Doorvest Competitors:
| | | | |
| --- | --- | --- | --- |
| | Doorvest | Fundrise | Arrived |
| Overall Rating | 3/5 | 4/5 | 3/5 |
| Asset | Single family homes – direct ownership | Commercial, Single family, eREITs – crowdfunding | Single family homes – crowdfunding |
| Minimum Investment | $45,000 | $10 | $100 |
| Accreditation Requirement? | No | No | No |
| Best for: | Working professionals, newer investors looking for direct ownership | Diversification in multiple asset classes for all investors | Investors of all levels looking to diversify within the rental home class for low cost |
| | Check out Doorvest | Check out Fundrise | Check out Arrived |
Final Word: Doorvest Review
Doorvest is streamlining the process for the working professional to invest in real estate. Sourcing profitable real estate deals is one of the most difficult parts of the investing process.
By providing a full-service real estate platform Doorvest is on a mission to ensure long-term wealth is easy to access from anywhere.
However, the pursuit of financial security and independence is a long-term outlook. Doorvest requires a large investment to get started so if you're looking for liquidity, you may want to invest with other crowdfunding platforms.
---
FAQs:
How does Doorvest make money?
Doorvest has two main revenue streams. First, they make a small amount during the home sale process. They initially purchase the property on your behalf, complete renovations, then sell the property to the investor at fair market value.
The second revenue stream is by managing properties for 10% of the gross monthly rent. After selling the property to the buyer, signing a 1-year management contract is a requirement.
How long has Doorvest been in business?
Doorvest was founded in 2018 by Andrew Luong and Justin Kasad. They started in the Houston market and have since expanded into 8 total markets.
Who owns Doorvest?
Andrew Luong and Justin Kasad are co-founders of Doorvest. Prior to starting the platform, from 2014-2019 they worked together in the tech industry and built a portfolio of 12 rental properties in pursuit of long-term financial security.
Is property investment a good retirement plan?
Investing in property is a great long-term plan. A small portfolio of properties can have a large impact on your financial security and wealth. Compared to traditional investments, properties provide more benefits including appreciation, depreciation, cash flow and equity.
Where to Invest $1,000 Right Now?
Did you know that stocks rated as "Buy" by the Top Analysts in WallStreetZen's database beat the S&P500 by 98.4% last year?
Our September report reveals the 3 "Strong Buy" stocks that market-beating analysts predict will outperform over the next year.