Our editorial team uses a strict editorial review process to compile all reviews, research, and evaluations of any kind. Our company, WallStreetZen Limited, is supported by our user community and may receive a small commission when purchases are made through partner links. Commissions do not affect the opinions or evaluations of our editorial team.
Investing in real estate can be a headache.
High up-front costs, fixing up a property, screening tenants, and dealing with plumbing issues at 3am can be a part of your job as a landlord.
But if you simply want some of the returns of owning real estate without the huge costs or time involved in owning it directly, you might want to consider crowdfunded real estate instead.
Ark7 is a real estate platform that allows you to own fractional shares of an income property, earning monthly income from rent without having to manage the property yourself.
We've reviewed the Ark7 platform, its offerings, investment options, fees, and customer service to find out if it's a worthwhile option for casual real estate investors.
If you've dreamed of owning a piece of real estate while letting a professional team deal with the details, keep reading:
The Bottom Line: Is Ark7 Worth It?
Overall rating: 4.5/5
Ark7 is a well-designed platform that makes it easy for beginners to dip their toes in the world of real estate investing – without all the fuss of becoming a landlord and owning a property directly. You can quickly sign-up, browse for deals, and purchase shares of ownership in rental properties.

As with any crowdfunded real estate platform, there are fees assessed for the sourcing, purchasing, and management of a property.
But Ark7 keeps these fees transparent and simple (3% sourcing, 8% – 15% management), and the fees are in line with buying your own property and hiring a management company.
Overall, Ark7 is one of the most approachable crowdfunded real estate investment sites, allowing you to invest as little as $20 to own one of the best asset classes in history.
What is Ark7?
Ark7 is an online crowdfunded real estate platform that allows you to purchase shares of ownership in a property, earn monthly dividends from rents collected and potential home value appreciation.
Ark7 was founded by Andy Zhao, a former Google engineer. After Andy discovered that real estate prices in his hometown (San Francisco) were exorbitant, he realized the need for a more accessible way to invest in real estate.
Consequently, he left his comfortable tech job to create a platform that offers truly passive real estate income to everyday investors.
You can join Ark7 for free, browse the marketplace, and find one (or several) properties to invest in. Ark7 focuses on single-family and smaller multi-family homes in high-growth areas to maximize potential rents and price appreciation.
Ark7 handles all of the details of sourcing, purchasing, fixing-up, listing, and renting of each property. They also handle ongoing management and maintenance needs, including tenant screening, handling complaints, and fixing issues.
Investors just need to buy shares and collect monthly dividends.
How Does Ark7 Work?
Ark7 is a platform that purchases investment properties, puts each property in its own LLC, splits up ownership of that property through investment shares, and sells shares to investors through its online platform.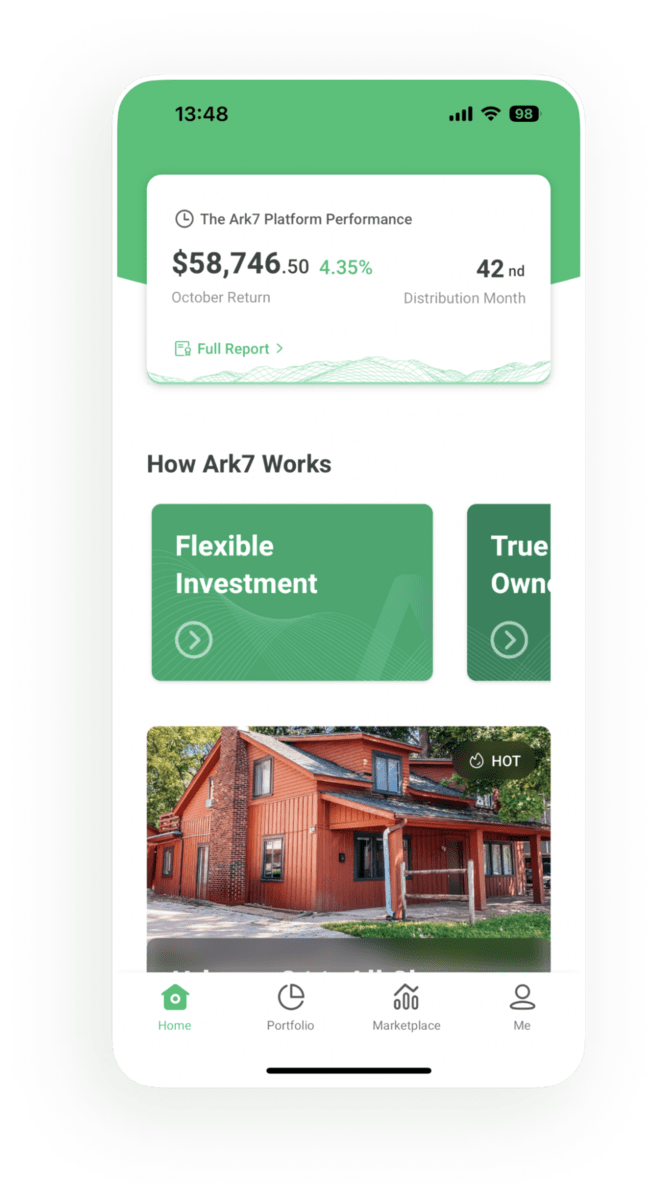 Ark7 has its own team of real estate experts who review over 1,000 properties per month to find ones that fit their investment criteria. This includes reviewing over 100 indicators for each property including the local real estate market conditions, topography, population growth, and more.
Once Ark7 narrows down their selection and chooses a property, they purchase a property, put it inside an LLC, and offer shares of ownership in the LLC itself. Ark7 also retains ownership of a portion of the shares of the property to help along their incentives with investors.
Monthly distributions in the form of dividends are sent to shareholders in proportion to their shares of ownership.
Income distributions are net of operating expenses, meaning that Ark7 pays for the operating costs of the property before distributing the rest of the income to shareholders.
Ark7 offers properties in 9 states (soon to be 10) around the U.S., including:
Alexandria, VA
Arizona City, AZ
Atlanta, GA
Austin, TX
Berkeley, CA
Chandler, AZ
Chicago, IL
Dallas, TX
Memphis, TN
Philadelphia, PA
Seattle, WA
Urbana, IL
Tampa, FL
Getting Started on Ark7
Set up Your Account
Ark7 is an online platform and mobile app that lets you sign up for free with your email address or through Google, Apple, or Facebook. Once signed in, you can set up your investment account by providing personal and banking information and choosing your investment preferences.
To use the Ark7 platform, you must qualify based on the following
Be at least 18 years old
Have a U.S. Social Security Number (SSN) or an Individual Taxpayer Identification Number (ITIN)
Have a valid US address for tax filing purposes
Have a valid US bank account
Have a valid email address and US phone number
If you are an accredited investor (for example, individuals with at least $200k annual income or $1 million net worth outside of personal residence. Find the detailed Accreditation qualification on Ark7 FAQ), you will have access to more investment choices.
While single family homes are available to all investors, you must be accredited to invest in multi-family homes. To unlock this capability, you'll need to upgrade to Ark7+ and verify your accreditation status.
Investment Options
Ark7 has a marketplace available to review your investment choices. You can browse for properties that are still accepting investors, and you can also view properties that have closed funding to see what types of properties investors are choosing.
Ark7 has single-family homes available for all investors on the platform, and multi-family homes available for accredited investors. Each property will have a "price per share" available, which is the minimum investment amount required to invest in that property.
Investing on Ark7
Investing with Ark7 is fairly simple. You sign up for an account, fill out your profile, and invest in properties. Here's how it works:
How to Invest in Property
Once your profile is set up, you can browse for properties you are interested in investing in. You can click in and review each property to see the investment details.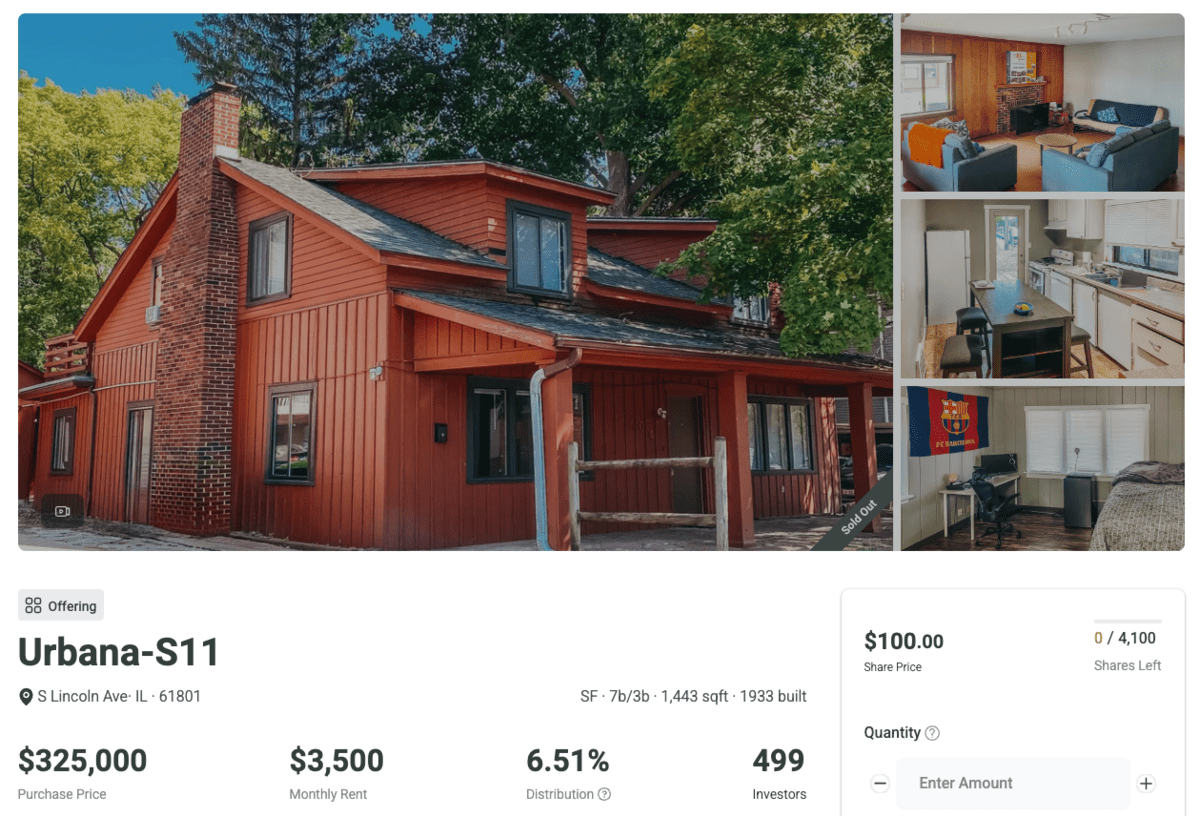 It's important to make note of the following details:
Purchase price
Monthly rent
Distribution (your income)
Number of investors
Share price
Shares left
You can purchase as many shares up to 10% of market cap and as are available for a property, but must buy at least one whole share to invest.
The listed distribution percentage is the anticipated rate of return (the historical rate of return for the past 12 months, or the launch-to-date average) on your investment, and is paid out in monthly dividends.
Once you choose a property to invest in, you can choose the quantity of shares to invest in, based on the funds in your Ark7 account.
You can also buy shares on the Ark7 Secondary Market, which allows you to purchase shares in properties from other Ark7 shareholders. This can be a great way to invest in a property that is already sold out.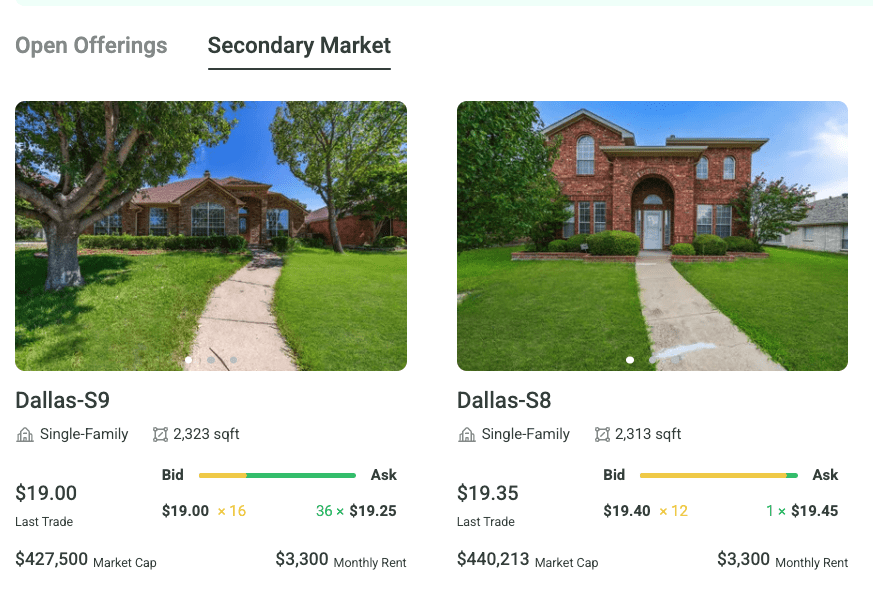 How to Sell Shares
If you need to sell shares for any reason, Ark7 is one of the few real estate platforms that offers a secondary marketplace. You can list your shares on the market and sell them directly to other investors on the platform.
IMPORTANT: You MUST hold your shares for at least one year before selling them on the secondary market, unless otherwise noted.
The secondary market will suggest a selling price, but you can also list your own price that you want to sell each share for. And the Ark7 platform will automatically show you how many shares are eligible to sell (i.e. have been owned for at least 1 year).
Investing With an IRA
If you want to hold real estate in your IRA, Ark7 has an option for that. You can open either a traditional or Roth IRA account with Ark7, and invest in real estate within the IRA itself. Dividends won't be taxed each year, and your investments will grow tax-free until retirement.
It's important to note that all investments will count toward your annual IRA contribution limits each year.
Ark7 Features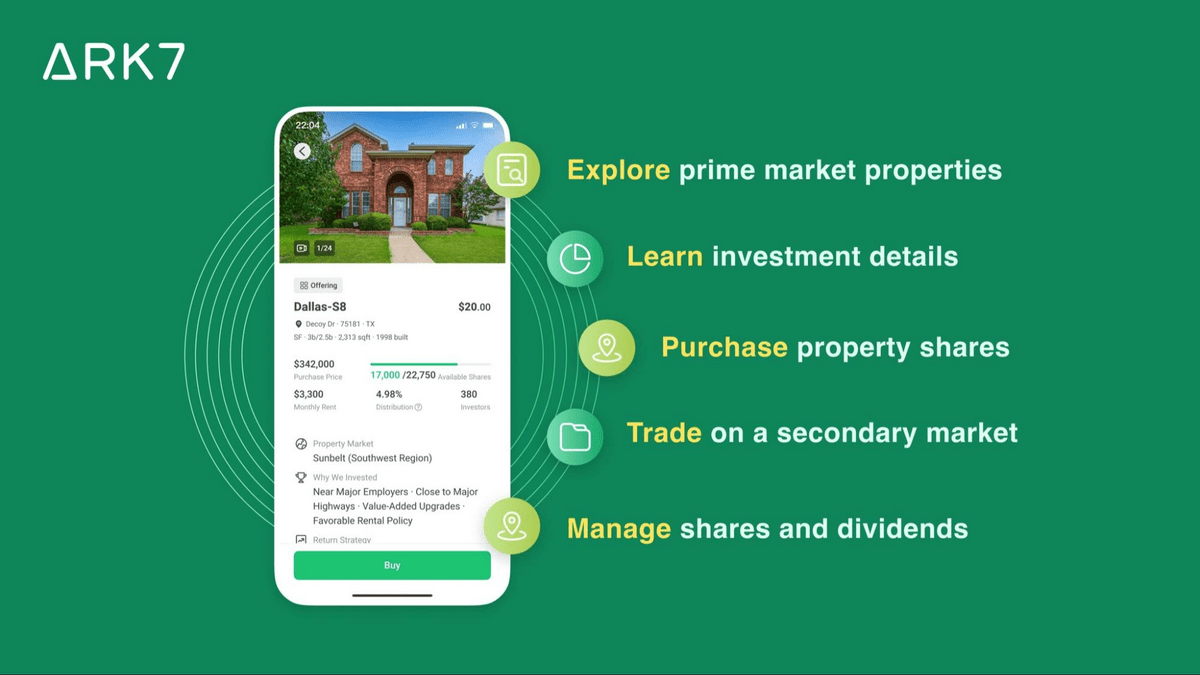 Ark7 makes it simple to invest in single-family homes and other real estate properties. Here are a few platform features available to investors:
Marketplace. The Ark7 marketplace allows you to quickly browse several properties to invest in. When you click on a property, you will get pertinent details, including property sales price, monthly rent price, annual distribution percentage, and price of shares. You can also see details about the property and why it may be a good investment.
Secondary market. If you need to sell your shares, you can place orders on the secondary market (after the minimum required holding period). This gives you more flexibility than most real estate investment platforms. You can also buy shares from others on this marketplace and potentially score a great deal.
Portfolio. In your account, you can monitor all of your holdings in your portfolio. This will show a breakdown of each investment, what percentage you hold in each, and your dividend payments.
How Can You Make Money on Ark7?
Ark7 helps you earn money through real estate investments without all the headaches of ownership. Here's how:
Dividends
The main form of payment on Ark7 comes from rent profit distributions. Each property you invest in earns money from monthly rents collected. After paying for operational expenses, the profits are distributed to shareholders in the form of a monthly dividend payment.
The amount of the dividend is calculated on an annual percentage basis, and the dividend you receive is based on your percentage of ownership in the property LLC.
Value Appreciation
For long-term investors, Ark7 also helps you earn money through property appreciation. This means that shareholders will receive a portion of the gains on a property that is sold for a profit.
This requires holding much longer, as properties aren't typically sold for at least a few years.
Ark7 Reviews: What are People Saying?
Ark7 is a younger platform that has only been around for a few years, but here's what people are saying so far:
Trustpilot: 4.1 out of 5 stars. Users report excellent customer service and the platform is easy to use.
Google Play: 4.2 out of 5 stars. Users report the app is convenient, but the app can sometimes be delayed.
Apple app store: 4.6 out of 5 stars. Users report the app and platform are easy to use and navigate.
In Summary:
Ark7 investors enjoy the simplicity of the platform and monthly dividends. They can sometimes be confused as to how the returns and secondary marketplace work, but customer service responds to every review.
Is Ark7 Legit?
Ark7 is a legit, SEC-qualified investing platform that allows you to invest in real estate properties through each property's LLC structure. Properties are purchased and managed by Ark7 and pay out steady dividends to shareholders.
Ark7: Pros and Cons
Pros
Easy to get started and invest
Earns monthly income
Access to single-family and multi-family real estate
Transparent fee structure
Cons
Fees may be higher than investing in real estate directly
Funds are locked up for at least one year
Some properties are only available to accredited investors
Limited investment selection
Ark7 Fees
Ark7 is transparent about the fees they charge. Here are the main two fees assessed on each property:
3% one-time sourcing fee
8% – 15% management fee
The IRA fee can be high, though, as it is a self-directed IRA managed by Millennium Trust Company. There is a $100 custodial fee for each property in your Ark7 IRA, up to $400 per year. If your IRA balance is above $100,000, you can have the fee waived.
It's important to calculate the fees when choosing to invest any deal on the platform to ensure you are comfortable with them.
How does Ark7 Make Money?
Ark7 makes money in a few different ways:
Sourcing fee. There is a 3% fee assessed on all properties that Ark7 collects for researching, finding, and purchasing a property.
Management fees. Ark7 manages each property and collects a management fee of 8% to 15% of the rent collected.
Investing in deals. Ark7 directly invests in each deal on the platform, profiting from the cash flow and property appreciation on each.
Ark7 Alternatives
Ark7 is a newer real estate investing platform and offers very low investment minimums and transparent fees. But may not be the right fit for you. Here are a few Ark7 alternatives to choose from:
Arrived
Arrived is a Seattle-based crowdfunded real estate platform that focuses on single-family homes. You can invest in long-term rentals or short-term rentals, and start with as little as $100.
Similar to Ark7, you invest in shares of ownership of the LLC that owns an individual property.
Fundrise
Fundrise is one of the original real estate investing platforms, starting in 2012. Fundrise has access to both residential and commercial real estate investment opportunities, and even has pre-built portfolios and funds as well.
Fundrise has over 1 million investors and over $7 billion in real estate under management, making it the largest platform today.
REITs
Real estate investment trusts (REITs) are publicly-traded funds that allow you to invest in an entire portfolio of real estate properties within a single investment. You can invest in REITs on just about any stock trading platform (we like moomoo).
Many REITs offer low fees and solid returns, and you can buy them using your favorite investment app. REITs may or may not provide monthly income distributions, though.
Final Word: Ark7 Review
Ark7 is a solid real estate investing app that connects investors with individual properties to earn steady passive income. While the platform is still new, it is easy to use, offers transparency around fees, and you only need $20 to get started.
As with any investment, it's important to do your research to understand if investing with Ark7 is a good fit for your risk tolerance and investing goals.
There is always a risk of loss, so it's important to only invest in a property you understand and are willing to risk loss on.
But if you want access to single-family homes and multi-families with decent monthly dividends, Ark7 is worth a look.
---
FAQs:
How much money can you make on Ark7?
The money you make highly depends on your investment strategy and properties chosen. Many properties pay out 5% to 6% in distributions each year, and properties can appreciate over time.
But there is also a risk of loss, so it's important to make sure you do your research before investing.
What is the difference between Fundrise and Ark7?
Fundrise is a much larger crowdfunded real estate platform with millions of users and a wide range of commercial real estate investment choices. Ark7 is much more focused on single-family homes, short-term rentals, and smaller multi-family properties that generate high returns.
Fundrise is a great choice for their selection of investment types, but Ark7 is better for focusing on individual homes.
Is fractional real estate a good investment?
Fractional real estate can be a good investment, but it all depends on your risk tolerance, goals, timelines, and the fees of the platform. Real estate investing comes with a risk of loss, as properties can be vacant, market prices can drop, and fees can eat into your overall returns.
It's important to consider all of these factors before choosing to invest in fractional real estate.
Who qualifies as an accredited investor on Ark7?
Accredited investors are defined by the Securities and Exchange Commission (SEC) as an individual investor with a net worth of at least $1 million (excluding personal residence), or someone that has earned at least $200k per year (or $300k combined with spouse or partner) for the past 2 years, with a reasonable expectation to earn it again this year.
Where to Invest $1,000 Right Now?
Did you know that stocks rated as "Buy" by the Top Analysts in WallStreetZen's database beat the S&P500 by 98.4% last year?
Our December report reveals the 3 "Strong Buy" stocks that market-beating analysts predict will outperform over the next year.