Our editorial team uses a strict editorial review process to compile all reviews, research, and evaluations of any kind. Our company, WallStreetZen Limited, is supported by our user community and may receive a small commission when purchases are made through partner links. Commissions do not affect the opinions or evaluations of our editorial team.
There are a lot of investing tools and services available.
But which ones are worth the cost?
And which one is right for you?
Some services give you the tools you need to perform your own investing research while others take a more 'done-for-you' approach.
And I've tried them all.
In this review, I'm going to compare 4 of my favorites (Motley Fool vs Zacks vs Morningstar vs Seeking Alpha) head-to-head. These are 4 of the largest and best stock research websites in the world.
I'm going to compare these services head-to-head and cover each product's unique features, their costs, their quality and reputation, and which type of investor they're most suitable for.
They're all very different services with products that are geared towards investors looking for very different things – it's actually a pretty easy choice once you have all the facts.
So, if you want to skip the details, here are the conclusions (which I've sorted by popularity):
Motley Fool, Zacks, Morningstar, Seeking Alpha – Which is the best investment service for you?
If you're interested in how I reached these conclusions and want more information before you decide to subscribe to one of these premium investment research services, you'll want to read this detailed guide to determine which one will best meet your needs as an investor and give you the best chance of reaching your investment goals.
The Motley Fool
The Motley Fool is best for beginners and investors looking to get 2 high-quality stock picks delivered straight to their inbox each month.
The Motley Fool offers done-for-you stock research, analysis, and recommendations via paid newsletters.
The company was founded in 1993 and has since helped hundreds of thousands of investors reach financial independence through its website, content, and premium investing services.
The Motley Fool's most popular product and flagship investing newsletter is Stock Advisor.
Read my full Motley Fool review.
Motley Fool Stock Advisor ($199/year)
Join over 1 million investors and start getting expert stock recommendations right away.
The Stock Advisor team has outperformed the market 3-to-1 since its inception by searching for overlooked companies they believe could be poised to shatter the market.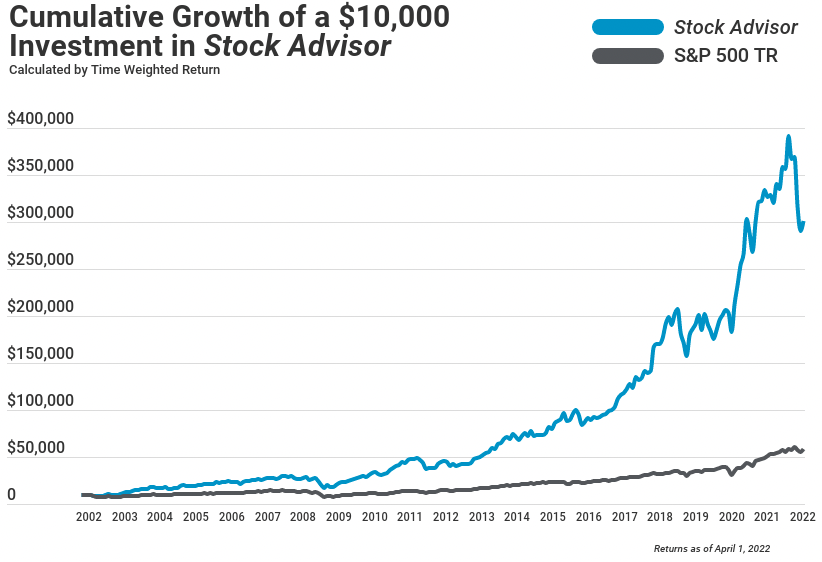 As a member, you'll get immediate access to ongoing expert advice so you can spend less time researching the market and more time enjoying it.
You'll get:
Stock Recommendations – 2 new stock recommendations each month
Best Buys Now List – a list of the team's favorite investment opportunities right now
Stock Reports – dozens of reports written and explained by experts to help improve your portfolio
Investment Articles – an extensive library filled with expert advice to help you along your investing journey
Online Community – a group of individuals who share the same goals as you
And if you sign up with the link above, you'll get a 30-day, no-hassle, money-back guarantee.
If you're looking for the best stock-picking service, look no further.
Seeking Alpha
Seeking Alpha is best for advanced investors looking for in-depth analysis on individual stocks and other asset classes/investment opportunities.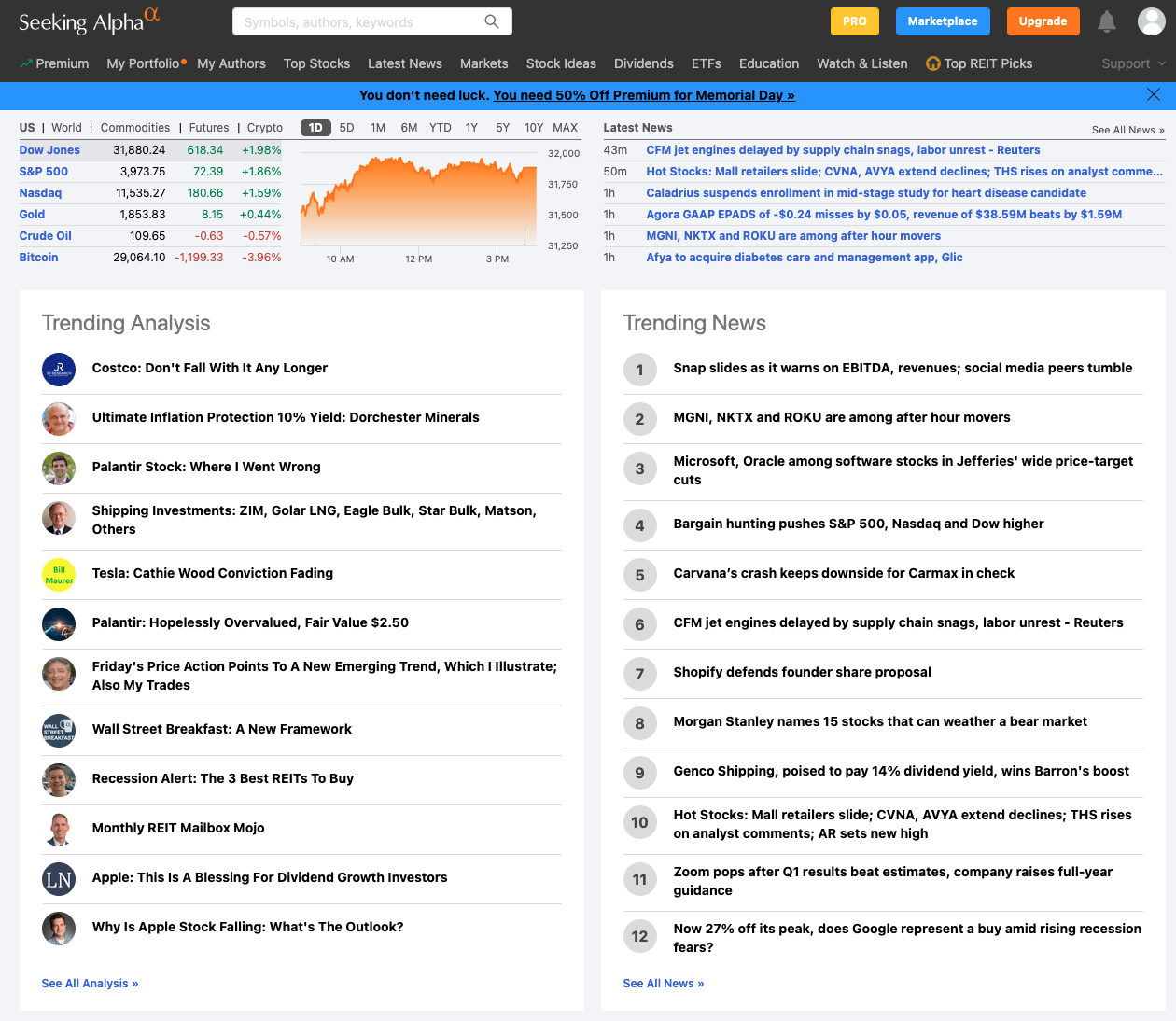 Seeking Alpha is a site which crowdsources investment research written by more than 16,000 contributors, all of whom are required to disclose their portfolio holdings.
While The Motley Fool provides a completely 'done-for-you' approach, Seeking Alpha offers access to independent, in-depth analysis you can use to inform your investing decisions.
Most of this content is geared toward an intermediate or above audience, making Seeking Alpha not particularly beginner-friendly.
That said, the diverse opinions and wide range of coverage make Seeking Alpha an invaluable resource for conducting investment due diligence.
Read my full Seeking Alpha review.
Seeking Alpha Premium ($239/year, 14-day Free Trial through our link below)
After poking around on Seeking Alpha, you will quickly bump into a paywall.
Upgrading to Seeking Alpha Premium will give you unlimited access to Premium content.
Additionally, members receive access to:
Author Ratings
Author Performance
Stock Quant Ratings
Stock Dividend Grades
Full access to SA's aggregated research materials
A host of portfolio management tools
To really get the most out of your Seeking Alpha Premium subscription, you should expect to invest the time in carefully reading through the various research reports the site provides.
Seeking Alpha Premium is my favorite service (besides WallStreetZen, of course) investment research service.
Get started for free today with the link above.
Morningstar
Morningstar is best for advanced investors who want objective analysis (in contrast to the more subjective analysis found on Seeking Alpha) and any investor looking for mutual fund and exchange-traded fund (ETF) data.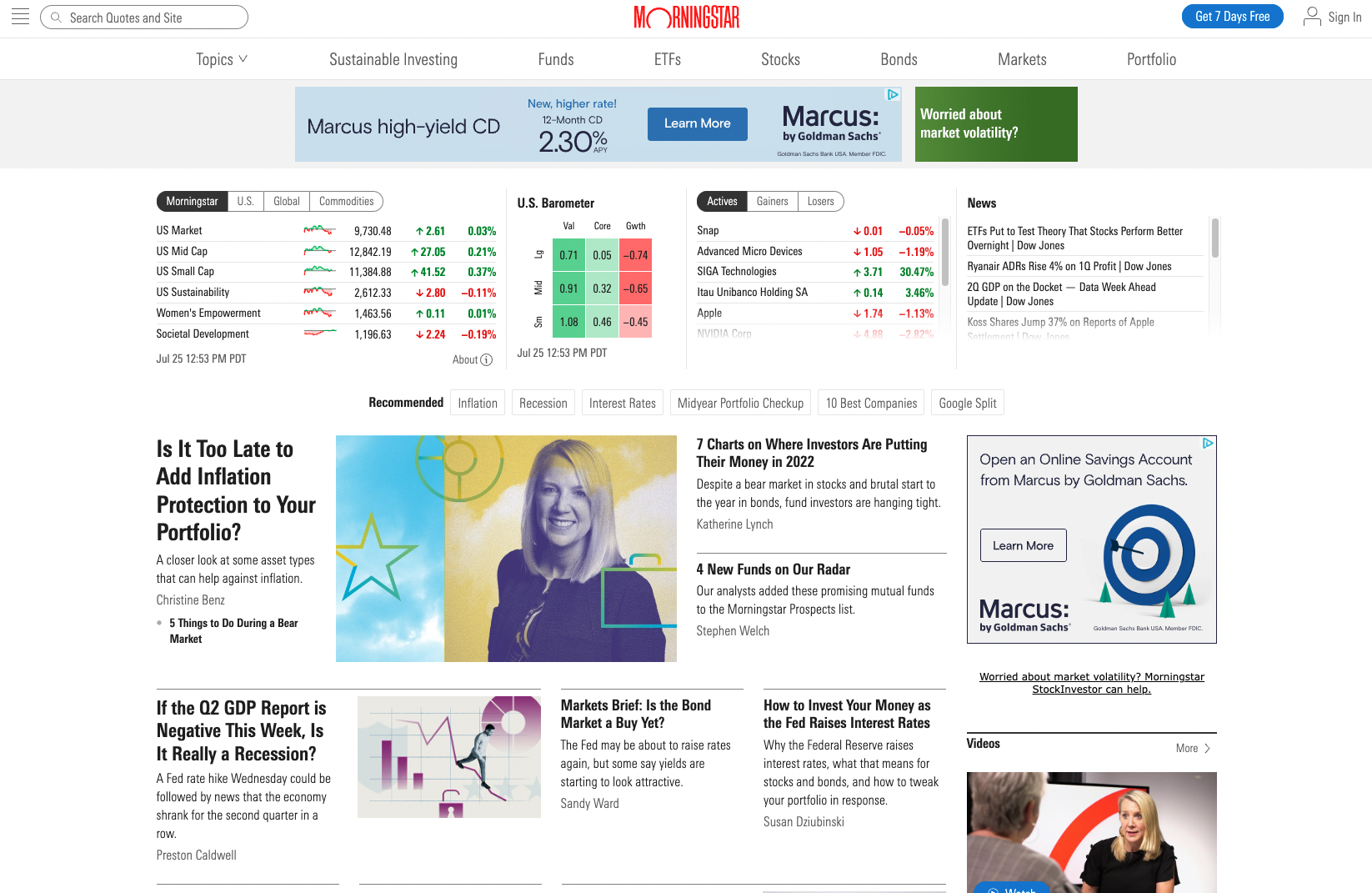 Morningstar has earned an excellent reputation as one of the best and most reliable resources for investment research and stock data. The site is used heavily by financial advisors and other investment professionals.
As mentioned above, beyond having financial statements and price data for individual companies, Morningstar also collects data and ranks funds – one of the only sources for this information.
The company's commitment to "fiercely objective analysis" can be seen in everything it does, from its research reports to its news headlines. Morningstar does things differently.
Read my full Morningstar review.
Morningstar Premium/Morningstar Investor ($199/year)
Morningstar Premium (which is being rebranded as Morningstar Investor) gives you complete access to the company's in-depth analysis, ratings from over 150 Morningstar analysts, and the ability to screen stocks, mutual funds, and ETFs based on whatever data points you find most important.
With all this, it's easy to find the highest-quality investment ideas that best meet your goals and needs as an investor, knowing the whole time that the analysis you're reading was not corrupted by any hidden incentives.
The Premium service also includes portfolio management tools to help you gauge your exposure and to give you recommendations on asset allocation. These tools are like having a personal financial advisor just a few clicks away.
Start your free trial and discover for yourself why Morningstar is the obvious favorite for so many professional investors.
Zacks
Zacks is best for investors looking for a simple (yet highly effective) rating system to supplement their own investment research.
Zacks Investment Research was founded in 1978 and has grown into one of the premier investment research firms in the U.S.
The company is best known for its ranking system, which grades hundreds of stocks on a scale from #1 – Strong Buy to #5 – Strong Sell.
Read my full Zacks review.
Zacks Premium ($249/year)
With a membership to Zacks Premium, you'll get full access to the ranking system and its accompanying suite of features.
The Zacks system was built on earnings estimate revisions. The company believes that when financial analysts make changes to the amount a company will earn in a given quarter, those changes affect stock prices more than anything else.
(Here are a couple articles to read to learn about what makes stocks go up and down or how to predict stocks.)
Does the system work? You tell me: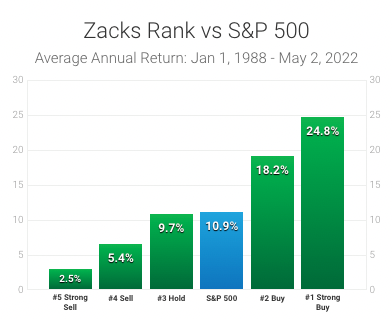 With a Premium membership, you can see the full list of Zacks #1 Strong Buy stocks and filter based on industry, value, growth, momentum, income, and much more.
If you're a believer in the Zacks system, the company's filters are an excellent place to find new stock ideas.
You can start your free 30-day trial of Zacks Premium here.
And as an introduction to Zacks, don't forget to grab your free report above!
WallStreetZen
WallStreetZen is best for advanced investors looking to quickly perform high-quality fundamental analysis and see the latest stock recommendations from the best-performing analysts on Wall Street (learn how we track stock analyst performance and how we recommend you use stock analyst ratings).
WallStreetZen was created for investors who are serious about their fundamental analysis.
We took the most widely-used due diligence checks inspired by legendary value investors like Warren Buffett, Benjamin Graham, and Peter Lynch and automated them. We call it Zen Score: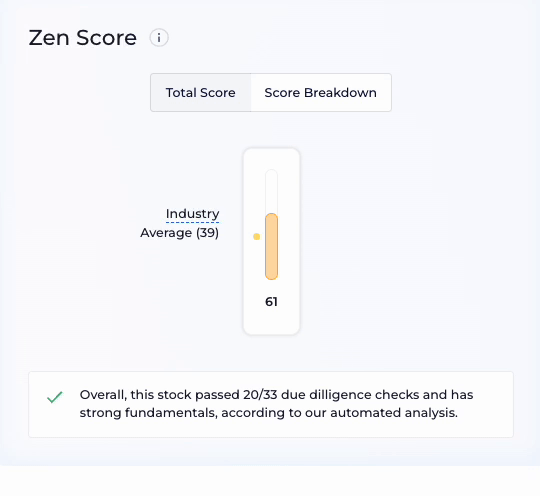 We were tired of reading the reports of "professional" analysts who were terrible at picking stocks.
I used to read a lot of these reports from countless different firms, but I never knew which ones to believe. One analyst said AAPL was a Buy and another said it was a Strong Sell – obviously, one of them was wrong!
Unfortunately, there was nowhere to see how these analysts have performed in the past, so I didn't know which one to believe.
So we made Top Analysts.
Top Analysts aggregates, tracks, and ranks nearly 4,000 Wall Street analysts so you can get the latest stock recommendations and research from the best performing analysts: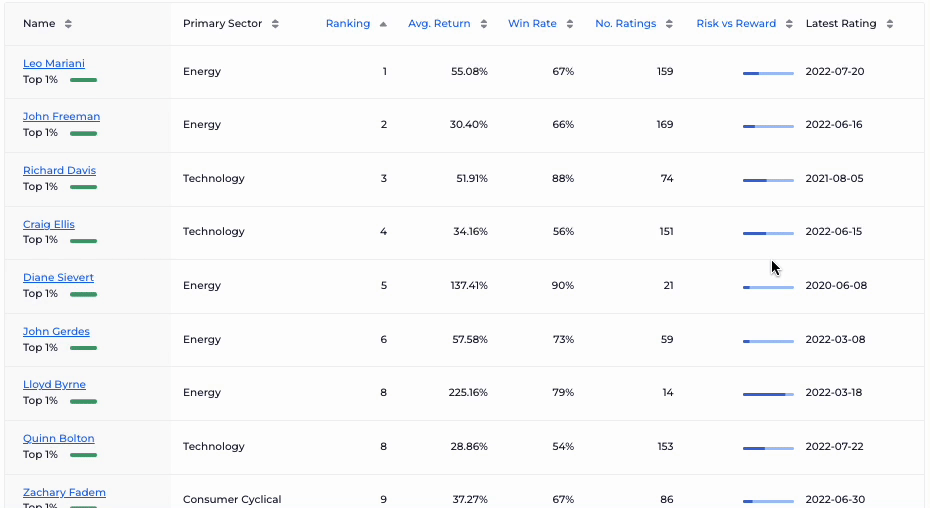 And we incorporated these analysts' research and opinions into various areas of our site, from Zen Score to the Stock Screener.
It's time to start taking advice from professionals who have consistently shown the ability to outperform the market.
WallStreetZen Premium ($150/year)
With a free Basic account, you'll get limited access to the above features and the ability to create a Watchlist:
For unlimited access to Zen Score, Top Analysts, Premium Stock Ideas, and more, go Premium.
Use the trial link above to start taking your investment research to the next level.
The Bottom Line
If you're new to the stock market and investing and/or want to pay for a service with a track record of outperformance, Motley Fool Stock Advisor is the best option for you.
You may also be interested in my article on how to invest in stocks for beginners with little money and how to buy stocks online.
If you're an investor who wants to actively research and develop your own investment thesis around various ideas and work to improve your own investing strategy and acumen, a Seeking Alpha Premium subscription is an unmatched service.
If you want to do your own research and don't love the subjective nature of Seeking Alpha (and especially if you also want research reports on mutual funds and ETFs), I highly recommend Morningstar Premium.
If you've heard great things about Zacks Ranking System and want to see what all the hype is about, a Premium membership makes it easy to get complete access to the company's #1 Strong Buys List. It's a great place to find new stocks.
And if you're looking for the best fundamental analysis stock research platform in , you've got to check out WallStreetZen. The Top Analysts feature makes one thing abundantly clear – not all analyst opinions are equal.
Head-to-Head Comparisons
Let's do some head-to-head comparisons in light of the above information. These are heavily influenced by my own personal experience and opinions of each service.
Zacks Premium vs Morningstar Premium (Zacks vs Morningstar)
Morningstar Premium is the obvious winner here for me. Unless you're very fanatic about Zacks Ranking System (some people are), you won't get much value out of Zacks Premium.
Morningstar Premium, on the other hand, is an excellent and highly reputable product which can be valuable for many types of investors. Its portfolio tools are exceptional and can give you unparalleled insights into your portfolio composition.
Seeking Alpha vs Motley Fool
Hopefully you know by now that these are 2 very different services.
Motley Fool Stock Advisor will give you 2 stock picks each month, great for beginners or investors looking for a 'done-for-you' investing service.
Seeking Alpha is a consortium of in-depth research analysis performed by many highly-educated investors which you can use to guide your own investment decisions.
Personally, I prefer Seeking Alpha, but only because I like to take a more hands-on approach to my investing. For newer investors (or those looking for a hands-off approach), Motley Fool is the obvious choice.
Motley Fool vs Zacks (which is better: Zacks or Motley Fool?)
The Motley Fool is the obvious choice here.
I prefer the analysis, reports, and simplicity of its "just buy this" stock-picking newsletter.
Motley Fool vs Morningstar
I'll echo what I said in the Seeking Alpha vs Motley Fool comparison above: I would choose Morningstar (I really like their portfolio tools) only because I like to take an active role in my investments.
If you want a service to deliver you quality stock picks straight to your inbox, you'll most likely be happy with a Motley Fool Stock Advisor subscription (or another service I recommend on my best stock newsletter list).
---
FAQs:
Which is better Motley Fool or Seeking Alpha?
For hands-on investors, Seeking Alpha is better.
For hands-off or newer investors, Motley Fool is better.
Which is better Seeking Alpha or Zacks?
Seeking Alpha is a better service than Zacks.
Is Zacks better than Morningstar?
No, Morningstar is better than Zacks.
Is Motley Fool or Morningstar better?
If you're looking for stock picks, Motley Fool is better.
If you're looking for portfolio management tools, Morningstar is better.
Where to Invest $1,000 Right Now?
Did you know that stocks rated as "Buy" by the Top Analysts in WallStreetZen's database beat the S&P500 by 98.4% last year?
Our June report reveals the 3 "Strong Buy" stocks that market-beating analysts predict will outperform over the next year.