Our editorial team uses a strict editorial review process to compile all reviews, research, and evaluations of any kind. Our company, WallStreetZen Limited, is supported by our user community and may receive a small commission when purchases are made through partner links. Commissions do not affect the opinions or evaluations of our editorial team.
TradingView is a technical analysis charting software for day traders and swing traders.
It's fast, reliable, powerful, and affordable.
If you've used the free version of TradingView (or even if you haven't) and are wondering if the paid versions are worth it, you'll get my unequivocal answer in a few paragraphs.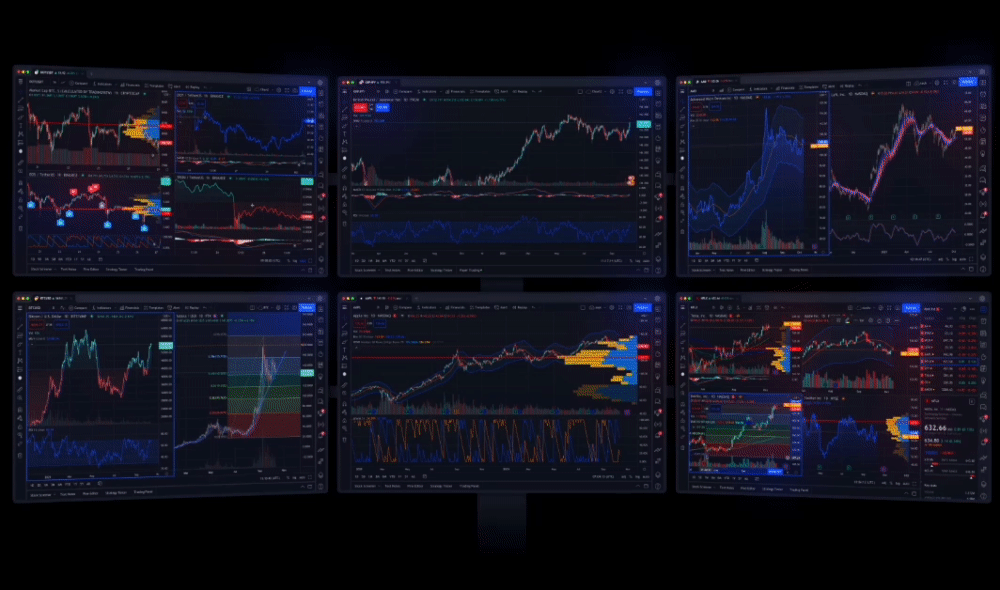 I've been a regular day trader for the last 6 years and am also a huge fan of finance software (hence my role at WallStreetZen).
I've tested nearly every day trading software and charting platform on the market.
While it may have been a waste of time for me, this TradingView review is the culmination of that "research".
TradingView is my #1 choice for charting software. And it's not even a close race.
In this TradingView review, I'm going to cover why it's the best, what you can do on it, what you can't do on it, how much it costs, and how to get started with a 30-day free trial.
And as is the case with all my review articles, we start with the conclusion:
Is TradingView Pro Worth It?
The Bottom Line: Yes, TradingView Pro is worth it (though I recommend you use TradingView Pro+, more on that later).
TradingView is the best charting platform in 2023 because of its comprehensive feature set, speed, ease-of-use, coverage, reliability, and extreme affordability. It's the best solution for new and veteran traders alike.
Accessibility: 5/5
Quality of Research/Analysis: 4/5
Price: 4.5/5
What is TradingView?
TradingView is a comprehensive charting platform used by more than 30 million traders.
It allows traders to chart, add indicators, and analyze real-time data to accurately predict stock price movements and profit from short-term price changes.
TradingView was primarily built for stocks and ETFs, but has recently added coverage for cryptocurrencies. You'll find financial derivatives like futures and CFDs, too. While you're at it, be sure to check out the best platform for CFD trading.
In addition to its key charting features (covered below), TradingView offers paper trading (virtual trading to hone your skills before risking real money), fundamental data, broker connections, and more across its browser-based application, iOS and Android apps, and desktop software.
Who is TradingView For?
TradingView is a platform for active traders to perform technical analysis primarily on stocks and crypto.
While long-term, fundamental investors may want to do some basic charting for entry/exit points (which they can do with the free version of TradingView), they're not who TradingView is built for.
Here's what TradingView does really well: It's easy-to-use for new traders who are learning about different indicators, trading strategies, and developing their own unique style while being exceptionally powerful for traders with decades of experience and their own custom scripts.
Key Features of TradingView:
TradingView is absolutely packed with features while maintaining an exceptionally sleek interface, which is why it's the perfect solution for both new and veteran traders.
Here are a few of TradingView's key features – if you're interested in everything it has to offer, head to their website for more details.
Charts and Technical Analysis
Charting is the reason you're considering investing in TradingView, and you won't be disappointed.
There's A LOT to unpack here, so I'm just going to cover the highlights.
You can choose from:
14 Chart types
20+ Timeframes
90+ Drawing tools
100+ Pre-built indicators
100,000+ Community-build indicators
70+ Exchanges from 50+ countries
I can almost guarantee there's nothing you'll be missing – which is why TradingView is used by more than 30 million traders every month.
However, when it comes to actually using these features (especially in combination), you'll be severely limited by a Basic plan.
First off, here are the chart limitations:
And here are the technical analysis limitations:
There's really no question: If you're serious about your trading, you need to upgrade.
Fortunately, you can experience TradingView's full capabilities risk-free with a 30-day free trial.
Screeners
Beyond your few favorite assets you like to trade, you need a way to quickly sift through thousands of securities for potential trades.
TradingView has 3 screeners:
Stocks
Forex
Cryptocurrencies
There are endless filtering options for each screener based on whatever criteria and quantitative data you find most important. Notably, you can filter by technical indicators.
For example, you can filter by stocks with an overbought RSI if you want to look for potential short opportunities.
The screeners also include TradingView's Technical Rating which ranges from Strong Sell to Strong Buy. These ratings are calculated based on measuring the interplay between a number of technical indicators.
When you're finished, hit the export button to download the data into a CSV for further analysis.
Here's the feature comparison across plans:
Alerts
Most traders follow many stocks at once – you need to in order to find the best setups to trade.
But it also gets overwhelming, and constantly switching between different assets can be a large mental drain.
TradingView solves this problem by offering server-side alerts. These alerts allow you to set price alerts on the assets you're following around key support/resistance levels so you can be notified when a stock is approaching or leaving a major price.
I use alerts all the time so I don't drive myself crazy switching back and forth between every stock in my watchlist.
The total number of alerts is the key limitation by not upgrading:
Community
Trading is really hard. Plus, it can get lonely.
On TradingView, you can easily share your ideas with other experienced traders and see what strategies are working for profitable veterans.
Sure, reading books on technical analysis and practicing with paper trading is beneficial, but one of the best ways to improve your trading is by learning from others and having them test your assumptions and strategies. This is one of the fastest ways to pick up on the nuances of trading, which is often the difference between profits and losses.
In TradingView's Trade Ideas section, millions of traders are posting their trades and setups they're looking to enter. This is one of the fastest ways to level up your trading skills and discover new technical analysis techniques
Beyond improving your technical trading skills (pardon the pun), you'll also learn about risk management, trading styles, market interpretation, trading plans, and so on. Though these "soft skills" are less talked about, experienced traders know the vital role they play in consistent profitability.
TradingView's Community gives you direct exposure to learn every facet of effective trading from some of the world's best traders.
Other Features
Here are a few other notable features:
Assets: Stocks, futures, commodities, forex, CFDs, cryptocurrencies
Markets: Most major indices and 50+ exchanges
Web-based platform and desktop and mobile apps
Paper trading
Enhanced watchlists
Fundamental stock data
Trade ideas
Chart exports
Real-time, global news
Earnings calendars
These features are available (at least to a degree) on all plans.
TradingView Pricing: How Much is TradingView?
You can use various features for free within the Basic plan, but traders will want to upgrade to a paid plan: Pro, Pro+, or Premium.
These paid plans will give you access to more indicators, multiple charts, custom time intervals, advanced chart types, and more – all the bells and whistles.
Each of these paid plans is extremely affordable and a great value, but only one is the best option.
TradingView also ranks #1 as my best platform for swing trading.
My Opinion: TradingView Pro vs Pro+
TradingView Pro+ is the best plan for most traders.
With Pro+, you can use TradingView across multiple devices, save more chart layouts, use more indicators per chart, increase the number of alerts you can set, and more.
For my own trading, I use the following indicators:
Volume
Volume Profile
RSI
MACD
2 EMAs
and a MA
Here's an article of, in my opinion, the best volume indicators.
That's 7 indicators in total, which means the Pro plans 5 indicator maximum doesn't cut it. Most traders will use at least this many indicators.
I also like to keep my eye on SPY, QQQ, and the VIX while trading, so having 4 charts in one layout is a must – also a Pro+ only feature.
Beyond those key must-haves, the rest of the features from upgrading are "nice-to-haves" (I like to set a lot of alerts).
Here are all of the differences between Pro and Pro+:
The Premium plan unlocks even more functionality, but it's total overkill in my opinion (unless you're running a trading firm or some other business using TradingView's software).
For just $17.95/month (when billed annually), TradingView Pro+ is the best charting subscription in 2023.
If you use fewer indicators than I do and don't need as many charts in one window, TradingView Pro is an excellent price.
Final Word: TradingView Review
TradingView is an absolute necessity for my trading.
I don't need an alert service or a bunch of trade ideas. I want a place to chart that's fast, reliable, and affordable – TradingView is a home run.
It has every indicator and analysis tool I need (and much more) and its minimalist design makes trading simple and effective. Plus, it's extremely affordable.
And it's a great solution for you, too.
If you're still wondering, "Is TradingView good for day trading?", here's your answer:
Yes it is. It's trusted by more than 30 million traders because no one can find anything they don't like about TradingView.
Use the link below for your 30-day free trial and experience the difference TradingView makes:
See my full list of tools for traders.
---