Our editorial team uses a strict editorial review process to compile all reviews, research, and evaluations of any kind. Our company, WallStreetZen Limited, is supported by our user community and may receive a small commission when purchases are made through partner links. Commissions do not affect the opinions or evaluations of our editorial team.
If you're like me you stumbled across one of YCharts' data visualizations and was blown away by the amount of information displayed in such an easily digestible way.
For me, it was when I was looking up historical information on Apple's P/E. YCharts didn't just give me the data I wanted, it did it in a highly intuitive and simple to understand visualization: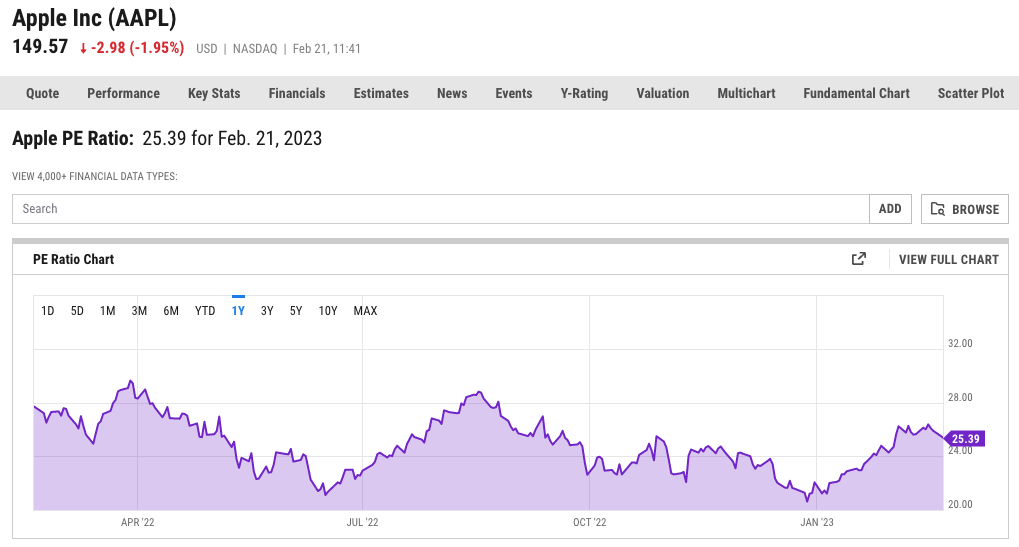 I was hooked, but only for about 5 minutes.
YCharts is an exceptional product, but it's best for financial advisors and other investment professionals. It's not for retail investors.
In this YCharts review, I'll tell you exactly what you need to know about YCharts pricing, YCharts alternatives, and if it's the right tool for you.
Is YCharts Worth the Price in 2023?
The Bottom Line: No, YCharts is not worth the price.
YCharts is a fantastic program with beautiful data visualizations that can help you make better investing decisions. I couldn't be happier with the research and information provided on YCharts.
But, unless you're a financial advisor or investment professional, YCharts pricing is prohibitively expensive ($300/month per user).
Interested in a cheaper YCharts alternative? Skip ahead to the "YCharts Alternatives" section below.
What is YCharts?
YCharts is a broad-based financial analysis tool which focuses on bottom-up analysis. It has over 4,000 financial metrics which have data reaching back as far as 3 decades.
Instead of the traditional quantitative approach to fundamental analysis (like you would find on a Bloomberg Terminal), YCharts transforms this data into easily understandable data visualizations which make research and analysis incredibly simple: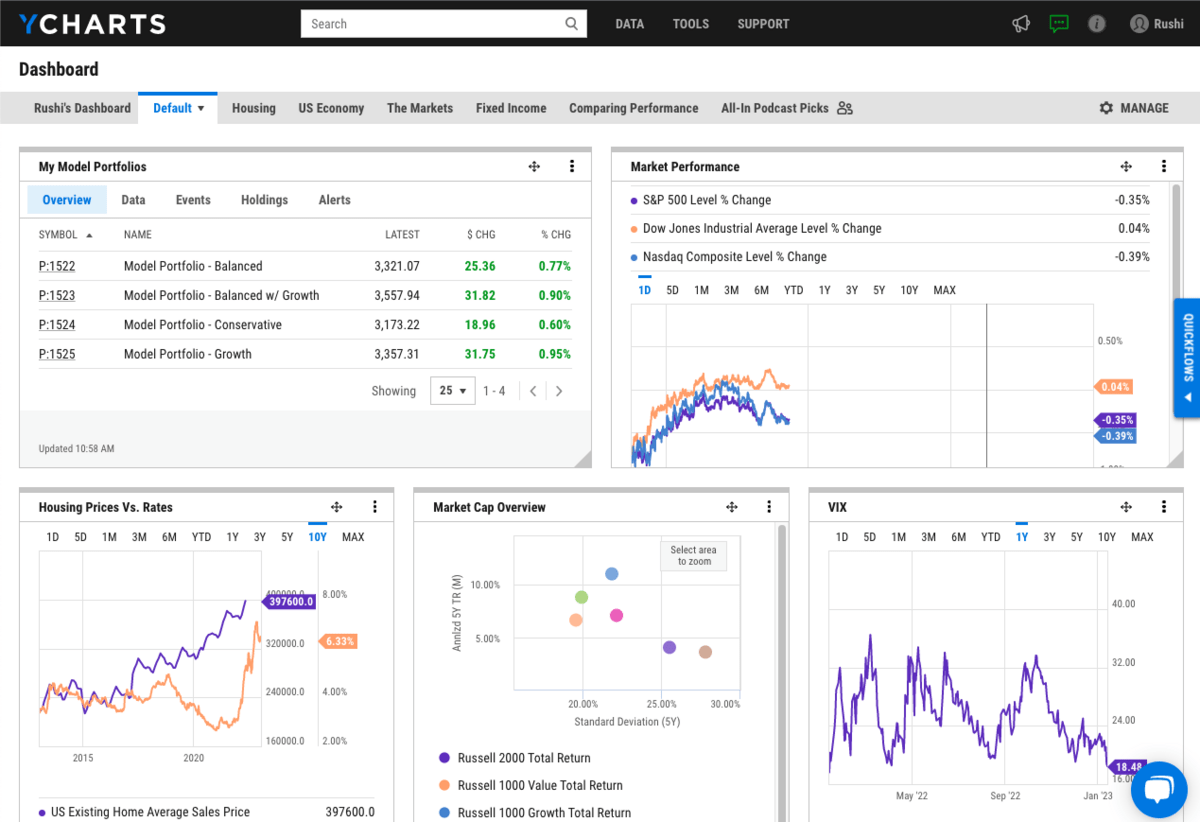 YCharts is a cloud-based platform, has fully exportable data, and a product unlike any other in the industry.
Unfortunately, it wasn't built (and is not priced) for retail investors.
YCharts Features
At its core, YCharts delivers analysis, screening, charting, and news, among other tools. The software excels in its ability to quickly and cleanly analyze company fundamentals and produce customized comparisons and charts.
For example, imagine you pull up Apple on YCharts. As a default, like most platforms, you'll be presented with a short-term historical price chart against a benchmark like the S&P 500.
From there, you can scroll through a key dashboard, presenting stats like market cap, popular ratios (i.e., PE ratio), dividends, risk, news, events, earnings, and more.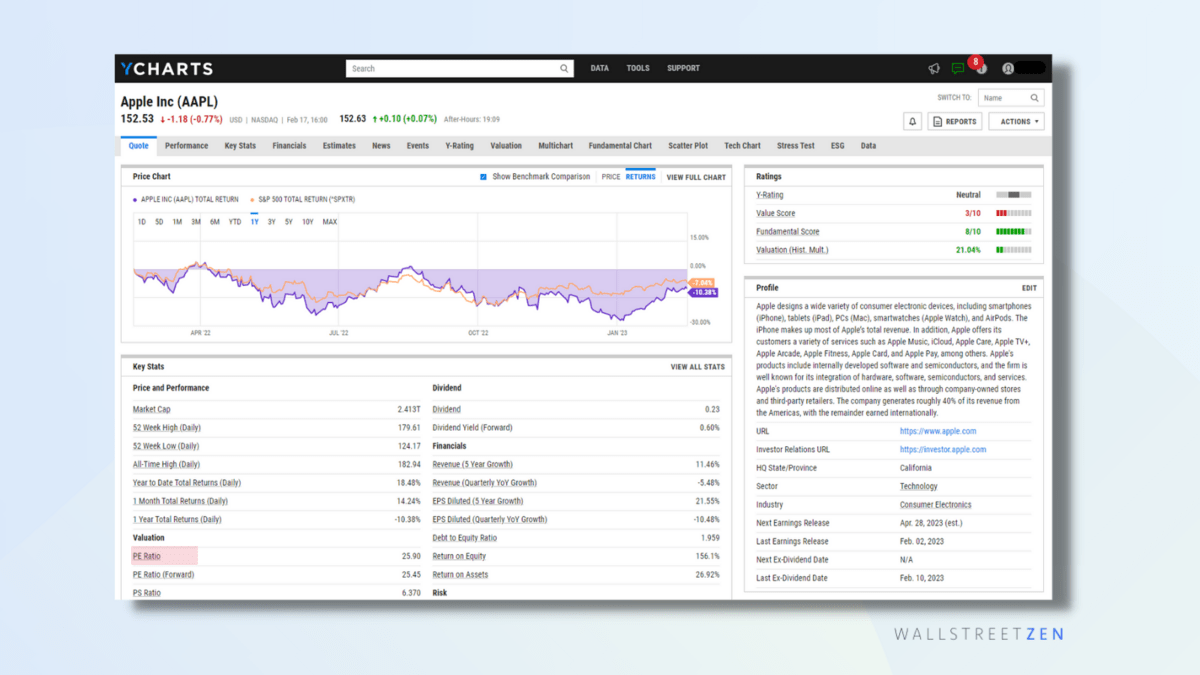 You can click and drill down on virtually every metric.
For example, you can access a comprehensive PE dashboard which will show you historical trends, benchmark comparisons, related metrics, and other notable details.
In some ways, YCharts anticipates some of the data you may not even realize you want or need.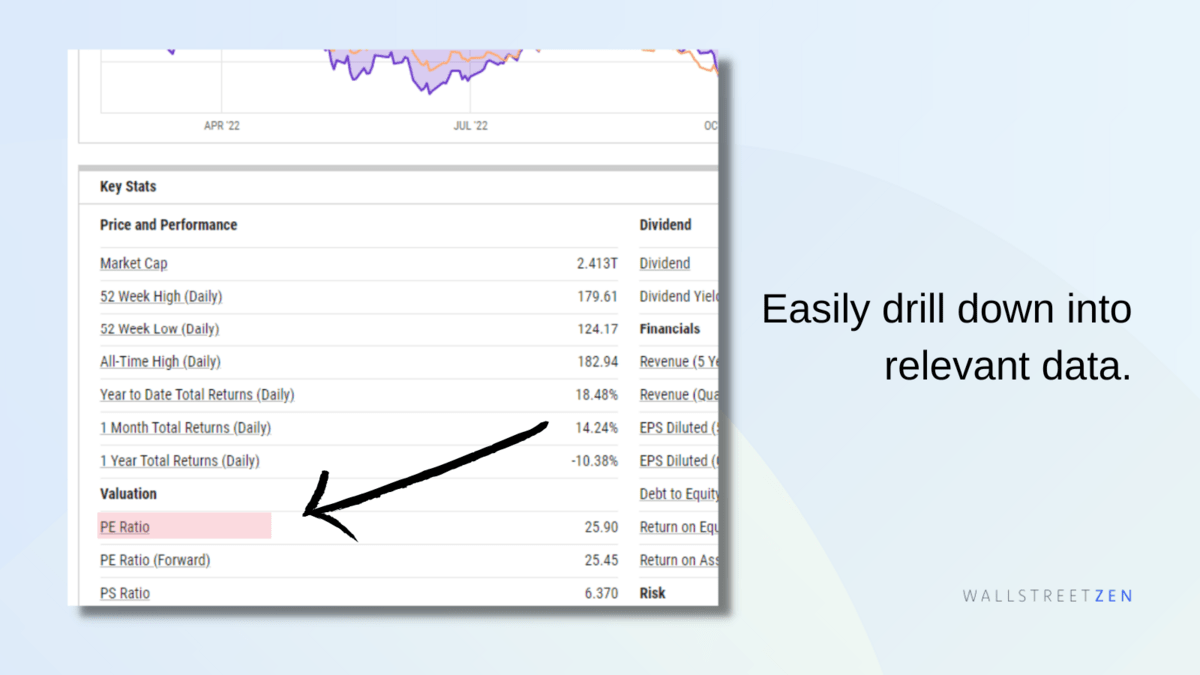 A few other notable features available on YCharts include:
Newsfeeds: Access all your critical financial news in one convenient place. Using a portfolio view, you can even curate your feed only to display information related to specific securities.
Technical Indicators: While it's more of a fundamental-focused platform, technicians can still find dozens of indicators like moving averages and relative strength measures.
Alerts: This feature allows users to tailor specific notifications when certain criteria are met. This tool is powerful, limited chiefly by your creativity. It permits alerts linked to stocks, indicators, or even investment strategies.
YRatings: YCharts' own rating system is a handy tool that grades securities based on fundamental considerations, like earnings yield and revenue. YRatings are a valuable added resource, especially for smaller firms lacking a team of analysts.
Data Export: YCharts makes exporting data seamless. Virtually all the data you work with can be exported in some relevant form, either raw or compiled into a beautiful chart.
Screener: YCharts permits you to quickly filter for stocks or funds, focusing predominantly on underlying fundamental characteristics, like income, for example.
Watchlists: You can customize watchlists based on industries, sectors, investment themes, charts, and others. You can get creative and customize your watchlist or choose from the already available presets.
While intuitive and straightforward, YCharts does not lack details and data. You can use the platform to compare securities to other indexes, companies, products, or macroeconomic metrics, to name just a few features.
YCharts sounds great, right?
It is, until you check the price.
How Much Does YCharts Cost?
For a standard license, YCharts is $300/month per user.
YCharts pricing means it will be out of reach for most retail investors. Unless you're a financial advisor or investment professional, it's hard to justify its cost.
The platform comes in 3 tiers: standard, professional, and enterprise.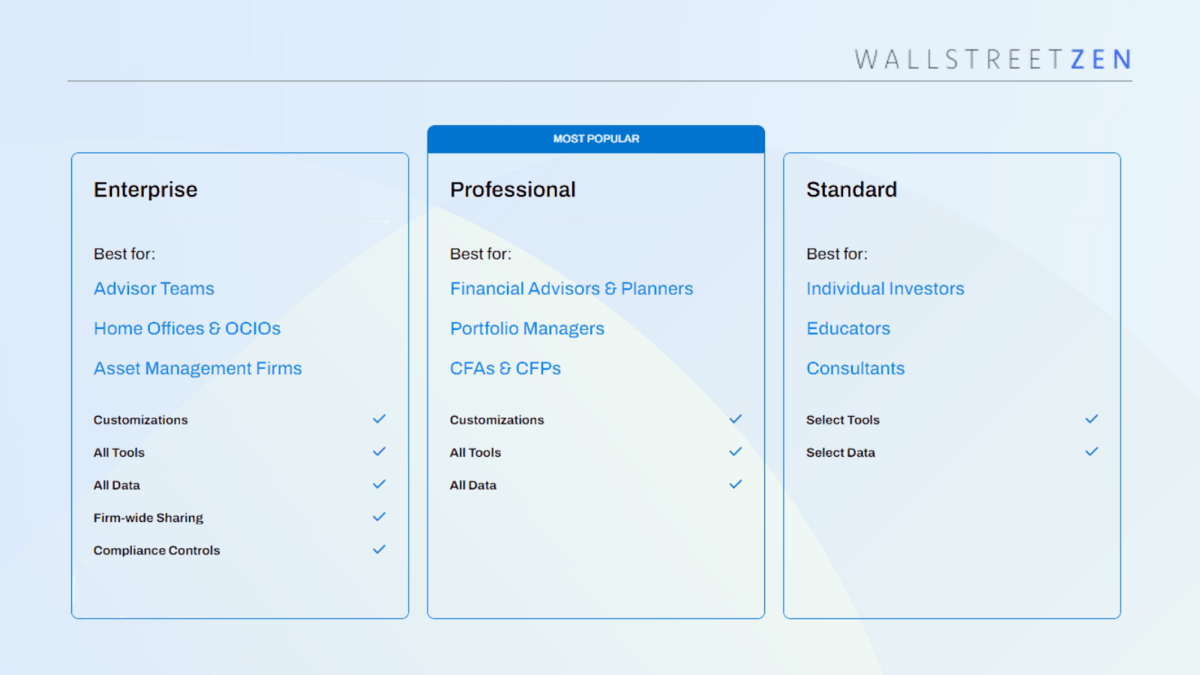 YChart Pricing Among Tiers:
Standard: $300 / user / month, billed annually ($3,600).
Professional: $500 / user / month, billed annually ($6,000).
Enterprise: Custom pricing. You must contact YCharts directly for a quote.
How much does YCharts cost?
Even the lowest tier YCharts pricing plan will set you back $3,600 for a year's worth of access.
YCharts Alternatives
Identifying worthy competitors for this YCharts review wasn't easy, given how well it performs at fundamental analysis.
Still, it serves many of the same functions as other tools, so let's take a closer look at the competition.
Here are 4 YCharts alternatives to consider, 2 of which were built for retail investors and the other 2 were built for institutional investors:
1. WallStreetZen – The Best YCharts Alternative for Retail Investors
For: Retail investors
Pricing: $150/year
WallStreetZen is a stock research platform that covers NYSE- and Nasdaq-listed equities.
Like YCharts, WallStreetZen transforms bulky and complex data into clean, easy-to-understand data visualizations which you can use to guide your fundamental analysis process: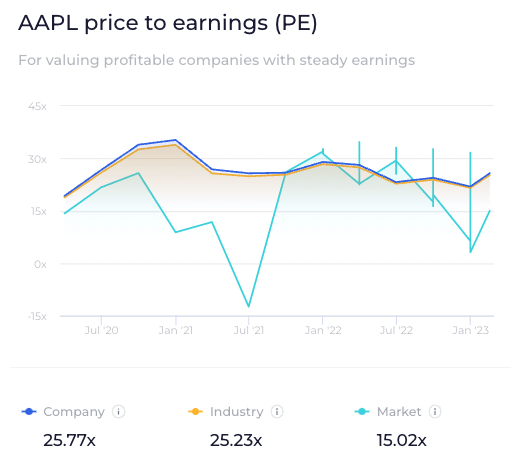 The interface is user-friendly and customizable, and you can easily compare financial metrics across historical periods and competitors' data.
2. Bloomberg Terminal – The Best YCharts Alternative for Institutional Investors
For: Institutional investors
Pricing: $24,240/year
The Bloomberg Terminal is the gold standard for investment research and analysis. You will not find more financial data in any system in the world.
But you won't be buying a Bloomberg Terminal as an individual investor.
A Bloomberg Terminal costs about $25,000 per user per year. While it's feature-rich and an incredibly powerful platform, it's simply overkill.
3. FactSet Research Management – The 2nd Best YCharts Alternative for Institutional Investors
For: Institutional investors
Pricing: $12,000/year
FactSet is another financial data provider created for institutional-level clients.
The biggest differences between Bloomberg and FactSet are that FactSet has a much simpler user interface and is about half the price of Bloomberg.
4. Koyfin – The 2nd Best YCharts Alternative for Retail Investors
For: Retail investors
Pricing: $180 – $840/year
Koyfin makes it easy to uncover new investment ideas and research current positions with data, analytics, and market news all in one place. It's a top YCharts alternative for retail investors.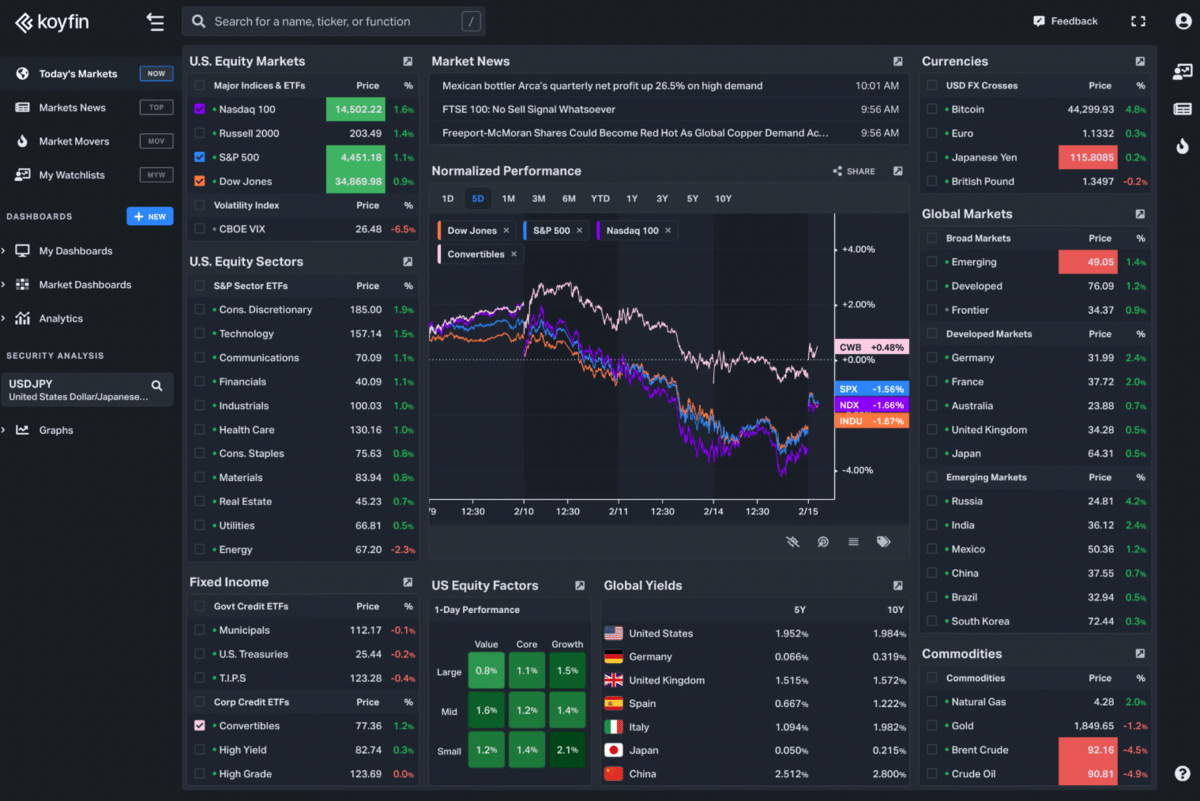 Like YCharts, Koyfin boasts an intuitive interface, powerful financial analysis views, and access to a large pool of indices and metrics, but at a fraction of the cost.
Koyfin offers 4 membership tiers:
Free: core analytical tools and live data
Basic: $15/month – adds customization to the free plan
Plus: $35/month – adds features like company transcripts
Pro: $70/month – unlocks custom formulas, custom FA templates, and US mutual fund data
Unless you're interested in mutual fund data, I find the Basic tier to be the best value.
Final Word: YCharts Review
If I had the resources, I would pay for YCharts. It's a great platform with powerful tools and easy-to-understand visualizations.
If you're a financial advisor or an investment professional, YCharts is an exceptional solution – especially if you don't want to go all-out and invest in a Bloomberg Terminal.
But the price is prohibitively expensive for retail investors.
For this reason, unlike other YCharts review articles, I recommend passing on YCharts.
---
FAQs:
How much does YCharts cost?
YCharts starts at $300 per month per user, billed annually ($3,600) for the standard tier. The professional tier increases to $500 per month per user, billed annually ($6,000). The enterprise tier varies depending on the customization.
Does YCharts have a free version?
YCharts offers a free 7-day trial but does not offer a perpetual free tier like some other stock charting software.
Where does YCharts get its data?
YCharts sources its data from S&P Global. According to the company's website, S&P Global aggregates analyst data at banks and research firms on behalf of YCharts.
Who uses YCharts?
YCharts is suitable for those focused on fundamental research and long-term investing. Given its high monthly cost, however, it's predominantly used by full-time industry professionals, like financial advisors, consultants, and RIAs.
Where to Invest $1,000 Right Now?
Did you know that stocks rated as "Buy" by the Top Analysts in WallStreetZen's database beat the S&P500 by 98.4% last year?
Our September report reveals the 3 "Strong Buy" stocks that market-beating analysts predict will outperform over the next year.