Our editorial team uses a strict editorial review process to compile all reviews, research, and evaluations of any kind. Our company, WallStreetZen Limited, is supported by our user community and may receive a small commission when purchases are made through partner links. Commissions do not affect the opinions or evaluations of our editorial team.
Wondering how you can invest in SpaceX?
I've got you covered.
SpaceX is Elon Musk's $100 billion space traveling company.
Musk's venture transports NASA astronauts to the International Space Station, delivers communications satellites into orbit, takes people for joy rides into space, and will eventually transport people to Mars.
SpaceX is the first company to reuse the same rocket, the first to ferry passengers into space, and the first private company to reach a $100 billion valuation.
So, how can you buy SpaceX stock?
Can You Buy SpaceX Stock?
SpaceX is still a private company, which means you cannot buy shares of SpaceX stock at this time. Its shares are not listed on any stock exchanges.
This means you can't buy SpaceX stock – at least, not directly.
Right now, SpaceX is owned privately by Elon Musk, a few public companies, and many private equity firms.
However, as we learned with TikTok stock, there may be a way to invest in SpaceX indirectly.
You can become an investor in private companies like Stripe, Reddit, and Instacart.
Equitybee gives accredited investors access to hundreds of high-growth, VC-backed startups. By funding employee stock options, investors like you can own stakes in private companies at past valuations. In exchange for funding the options, you will receive a percentage of future proceeds from successful liquidity events.
Start investing in private companies on Equitybee.
Subject to availability.
How to Invest in SpaceX Stock (Indirectly)
Although you can't buy shares of SpaceX as a retail investor, you can invest in it indirectly by buying shares in one of the companies that owns it.
There are only 2 publicly-traded companies that have invested in SpaceX:
Bank of America is a $270 billion investment bank and financial services holding company headquartered in Charlotte, North Carolina.
Bank of America invested $250 million in SpaceX in November 2018 at a valuation of around $30 billion. Its position in SpaceX is likely worth $1 billion.
Google is a $1.5 trillion company which primarily sells advertising services across its Google brands and YouTube. It also invests in a variety of early stage tech companies.
Alphabet invested $900 million in SpaceX in January 2015 at a valuation of $12 billion. It was part of another $337 million investment in December 2021. In total, Google's investment is likely worth more than $10 billion.
The other investors in SpaceX are all private equity firms, which are not public companies.
Remember, both Bank of America and Alphabet (Google) have significant businesses, which their investment in SpaceX is just a small piece of. You should perform due diligence into their entire businesses before buying their shares.
Looking to buy Bank of America or Alphabet (Google) stock, so you can own a small piece of SpaceX?
eToro is one of the world's most popular investing platforms with over 28.5 million users.
As of January 27, 2023, eToro is offering a $10 bonus* for U.S. residents who open and fund a new account. Open your eToro account here.
$10 bonus for a deposit of $100 or more. Only available to U.S. residents. Additional terms and conditions apply.
How to Buy the SpaceX IPO
As a retail investor, you cannot buy SpaceX stock. Not yet, anyways. We must wait until its IPO.
The company has not announced when it will go public, but at some point its investors will be looking for an exit. This exit will likely happen through an IPO.
In addition to pressure from investors who want to sell their stakes, SpaceX is a very capital-intensive business. It's expensive to send things into space.
The easiest way to receive more funding would be for SpaceX to become a public company via an IPO. If it does decide to go public, you should be ready.
Here are the steps you will need to take to buy shares of SpaceX when it becomes available (not currently available):
Create or login to your brokerage account (if you don't have one, we recommend eToro – it's free)
Search for SpaceX
Select how many shares you want to buy
Place your order
Monitor your trade
Remember, you cannot yet buy SpaceX stock. You cannot buy shares of SpaceX stock until its IPO.
Keep an eye on IPOs of other companies owned by Elon Musk too. He announced that he intends take Twitter stock public within a few years.
Other Ways to Invest in SpaceX
There are a number of other publicly-traded companies in the space technology sector in which you can invest:
You can also invest in companies that may be partners or suppliers to SpaceX:
If you're interested in SpaceX, you may also be interested in this list of the Best Aerospace & Defense Stocks to Buy Now in 2022.
And if you're not willing to wait until SpaceX's IPO, click here to learn more about buying pre IPO stock.
---
FAQs:
How to buy SpaceX stock?
As a retail investor, you cannot invest directly in SpaceX stock.
You can invest indirectly through:
1. Companies with investments in SpaceX (Bank of America, Alphabet)
2. Other publicly-traded companies in the Aerospace sector
3. Potential partners or suppliers
Eventually, SpaceX will IPO. We will be able to buy its shares then.
Who owns SpaceX stock?
SpaceX stock is owned by Elon Musk, Bank of America, Google, and a number of private equity firms.
What is SpaceX stock stock symbol?
SpaceX is not a public company, so it does not have a stock symbol. It may IPO in the next several years.
How much is SpaceX stock?
As of its latest funding, SpaceX is valued at $127 billion.
Since the company is not publicly-traded, it does not have a price per share.
What does SpaceX stock price chart look like? How much is SpaceX worth in 2022?
Since it's a private company, there is no SpaceX stock price, but its latest round of funding gave the company a valuation of $127 billion.
Here's a graph of SpaceX's valuation history: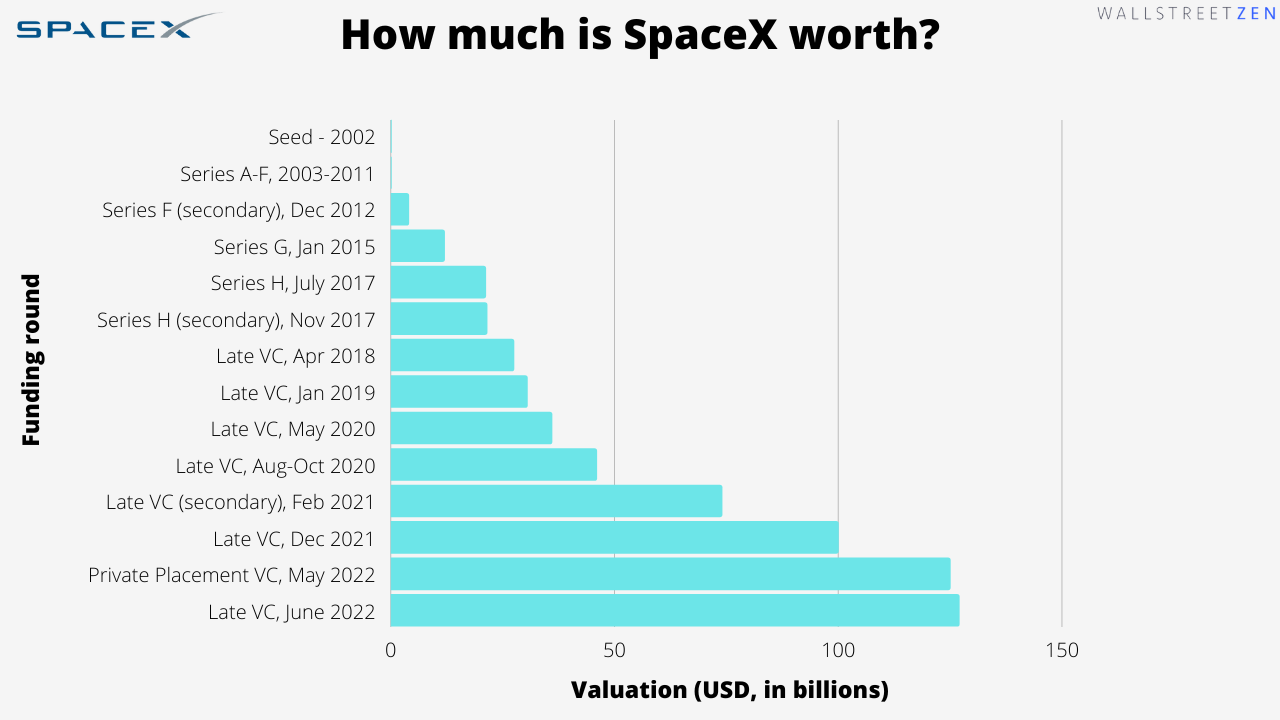 Where to Invest $1,000 Right Now?
Did you know that stocks rated as "Buy" by the Top Analysts in WallStreetZen's database beat the S&P500 by 98.4% last year?
Our January report reveals the 3 "Strong Buy" stocks that market-beating analysts predict will outperform over the next year.