Our editorial team uses a strict editorial review process to compile all reviews, research, and evaluations of any kind. Our company, WallStreetZen Limited, is supported by our user community and may receive a small commission when purchases are made through partner links. Commissions do not affect the opinions or evaluations of our editorial team.
What is a treasure trove of useful knowledge for one trader, may be an utterly unintelligible mess of noise for another—and in a high-risk, high-reward environment such as options trading, you can't afford to take any chances you can avoid.
Thankfully, there is an excellent selection of feature-rich platforms readily available, and I'm going to guide you through some of the best option trading tools and best option analysis software and help you find the right ones for you — no matter your current level of expertise.
At-a-Glance: Best Options Trading Software & Tools
Here's a shortlist of our favorite option trading software, platforms, and tools — keep reading to learn more about all of them!
eToro is a multi-asset investment platform. The value of your investments may go up or down. Your capital is at risk.
The 7 Best Options Trading Software & Tools in 2023
1. moomoo
Overall Rating: ⭐⭐⭐⭐⭐
Options Commissions: $0.65 per contract
With its high customizability, access to professional-grade Level 2 NYSE market data, and zero-commission trading, moomoo is the perfect choice for many a trader — but it isn't for everyone.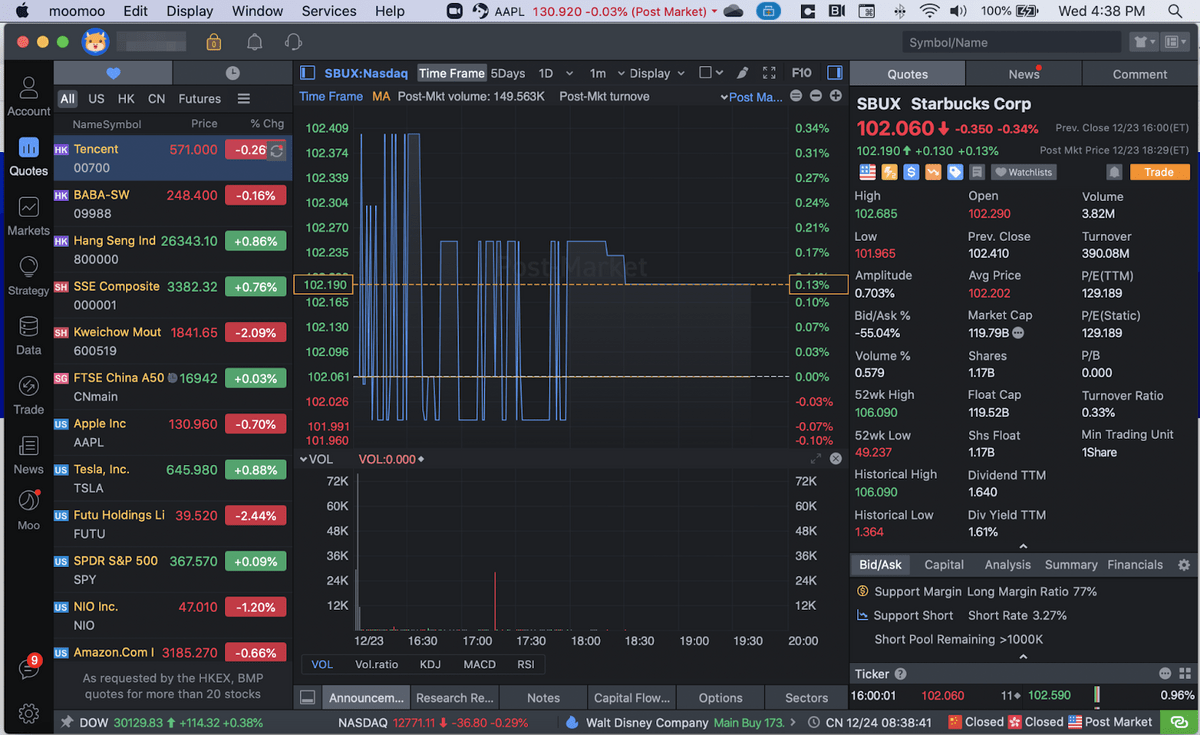 Along with the always-welcome zero-commission trading, one of Moomoo's standout features is the in-depth analysis tools it offers.
The most noteworthy of these is the access to Level 2 NYSE market data. This data is usually only available to professional traders and provides a real-time feed to bids and ask on the New York Stock Exchange.
The ability to clearly view options chains and access the latest news as it happens directly through the platform makes sure you can easily plan, modify, and execute the best possible trading strategies.
moomoo also offers a specialized options analysis tool enabling you to see the likely outcomes of your trades before you fully commit.
Additionally, while the numerous research resources and tools can make moomoo overwhelming for beginners, the platform also offers fully-featured paper trading helping you to get acquainted with its interface and test your strategies before risking any of your real money.
Another great thing about moomoo is that is highly customizable on all available platforms — Android and iOS, Mac and PC — and allows its users to synch their accounts across their devices.
All-in-all, whether you are a beginner trader who wants to figure out and use advanced instruments, or an advanced trader who wants to have a shed full of useful gear, moomoo has some of the best option trading tools for you.
2. TradeStation
Overall Rating: ⭐⭐⭐⭐⭐
Options Commissions: $0.60 per contract
There is a lot to love about TradeStation: advanced charting capabilities, advanced automation capabilities, fast execution, and much more.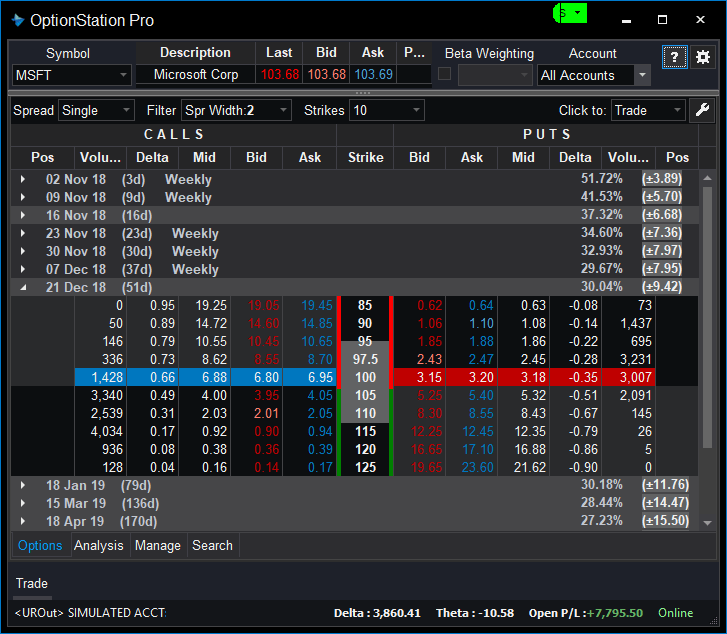 As long as you don't mind paying $0.60 per contract—which is very commonplace, to be frank—TradeStates is probably among the best options trading software out there. It offers a wealth of information and detailed analysis tapping into data across multiple decades.
TradeStation's options-specific tools also enable you to test out numerous strategies and evaluate the results across multiple expiration dates. It also offers a visual representation of options chains making it easier to pick out the most likely winners.
One of the fairly unique features of TradeStation is its own scripting language — EasyLanguage. With it, you can automate and either simulate or execute your trades. If you're looking to automate your trades, our Option Alpha bot review outlines another easy way to get started.
All of these features TradeStation is offering also present a double-edged sword. On the one hand, the wide array of tools it offers can significantly help any trader, on the other, they can prove hard to master and rather confusing.
If you are an active trader and like to base your trades on a wealth of data or to extensively pre-plan your strategy to make the winning transaction, TradeStation is likely the best options trading software for you.
3. TD Ameritrade
Overall Rating: ⭐⭐⭐⭐⭐
Options Commissions: $0.65 per contract
With a venerable history dating back to the 70s, excellent software across multiple operating systems, and top-of-the-line customer support, TD Ameritrade is one of the most popular platforms for options traders for a very good reason.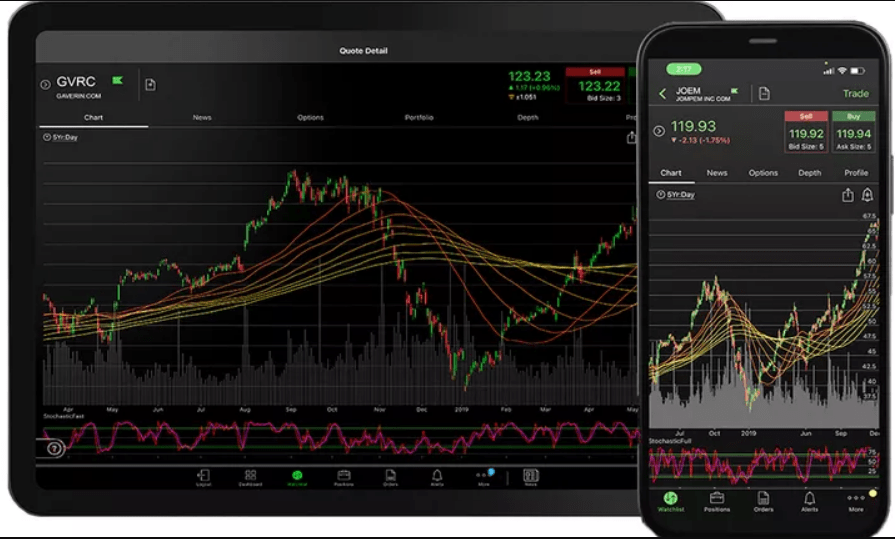 While experienced traders will not be disappointed, TD Ameritrade has a lot to offer to beginners. Not only does it provide a wide array of third-party research resources like the Federal Reserve Economic Database and Morningstar but also has one of the finest customer services in the business.
To make things even better, the research and learning library is free for all Ameritrade users.
One of its standout features is its unique trading platform — thinkorswim. Thinkorswim makes finding and executing great trades a breeze as you can, directly within it, chart, research, analyze, and place orders.
Ultimately, whether you are an advanced user, or just starting out, TD Ameritrade offers a great platform for options trading.
4. Interactive Brokers (IBKR)
Overall Rating: ⭐⭐⭐⭐⭐
Options Commissions: $0.65 per contract
Dense, robust, and highly customizable, Interactive Brokers (IBKR to those in the know) and its Trader Station is one of the best platforms for all experienced options traders.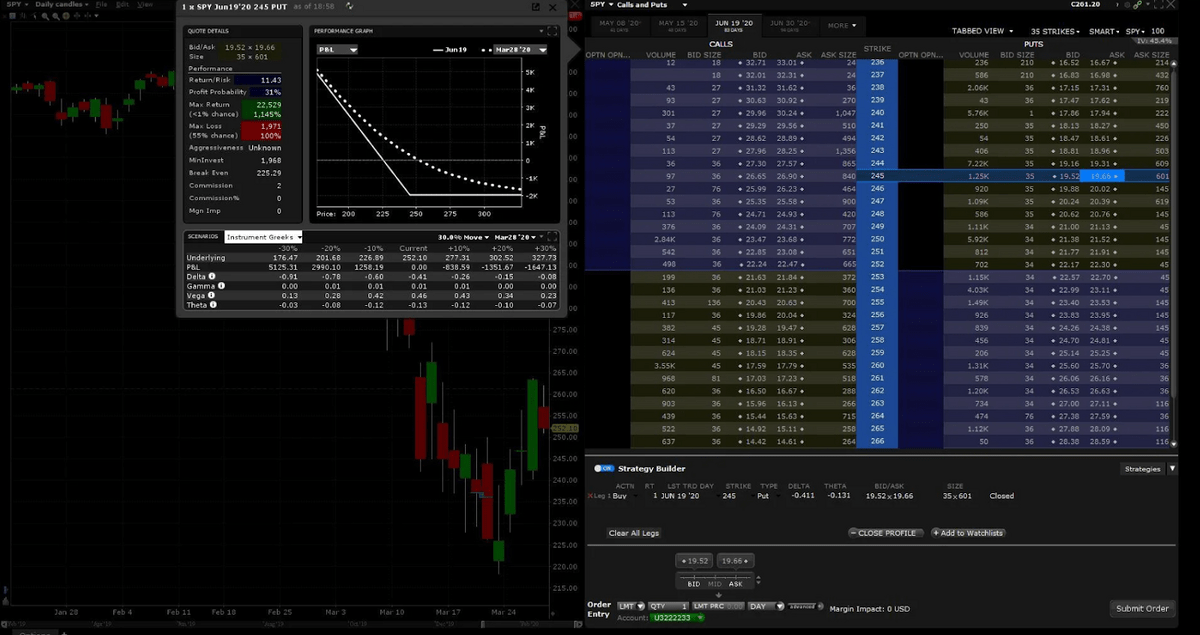 Interactive Brokers is widely considered a go-to platform for advanced users. Once you consider the wealth of features and options trading tools it offers, its reputation appears only natural.
You should beware, however, the numerous tools available make IBKR Trader Workstation less-than-readable, so, if you are a beginner, you might want to steer clear for now.
Built for experienced traders, Interactive Brokers offers a powerful Trader Workstation with integrated real-time data, technical analysis, and charting tools, and much more.
Additionally, IBKR features advanced automation tools making it easy to automate the options trading strategies of your dreams—and all of that across most major markets across the globe.
While it features a wealth of research and learning tools, some of them incur additional fees and the interface isn't entirely readable unless you already know what you are doing. Basically: Beginners beware!
Ultimately, Interactive Brokers offers some of the best options trading software around with low fees and access to global markets. It is certainly an outstanding choice for all advanced traders looking to step up their game with a platform that truly meets their needs.
5. Fidelity
Overall Rating: ⭐⭐⭐⭐
Options Commissions: $0.65 per contract
With its well-designed platform, access to numerous types of securities, and low costs, Fidelity might be the single best all-rounder when it comes to options trading software.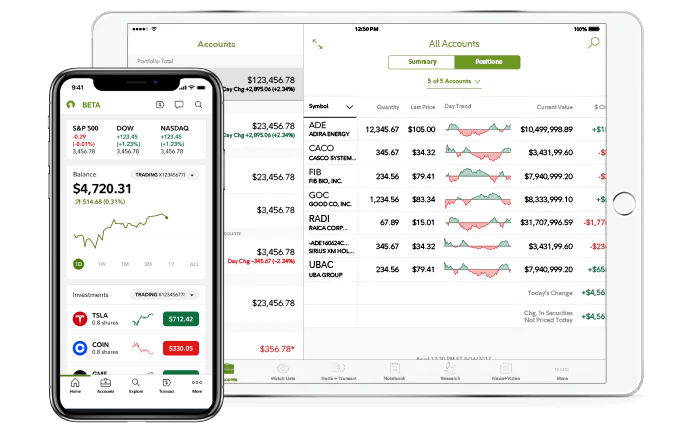 A well-known all-rounder with strong features, real-time data feeds, an accessible interface, and strong customer support, Fidelity offers software that any options trader would be remiss not to consider.
It offers access to multiple other types of securities including:
Stocks
Fixed income
ETFs
And even crypto if you want to spice up your game.
A great thing about Fidelity is that its mobile apps are really well-designed, easy to read, and very intuitive. This is especially important considering it pools information from dozens of third-party providers including the likes of Moody's and Morningstar.
Additionally, Fidelity's options trading software for computers is similarly elegant and great all around. It is also pretty powerful, highly customizable, and feature-rich.
Along with its in-depth tools, this options trading software provides real-time data and relevant news feeds—all available at a glance.
Beginner or a scarred veteran, an obsessive researcher or a man of action, options-focused or casting a wide net, a short-term trader or a long-term investor, Fidelity has plenty to offer.
6. Robinhood
Overall Rating: ⭐⭐⭐⭐
Options Commissions: $0 per contract
Thanks to its commitment to low fees, and highly accessible software, Robinhood is the natural fit for cost-minded, internet-native options traders.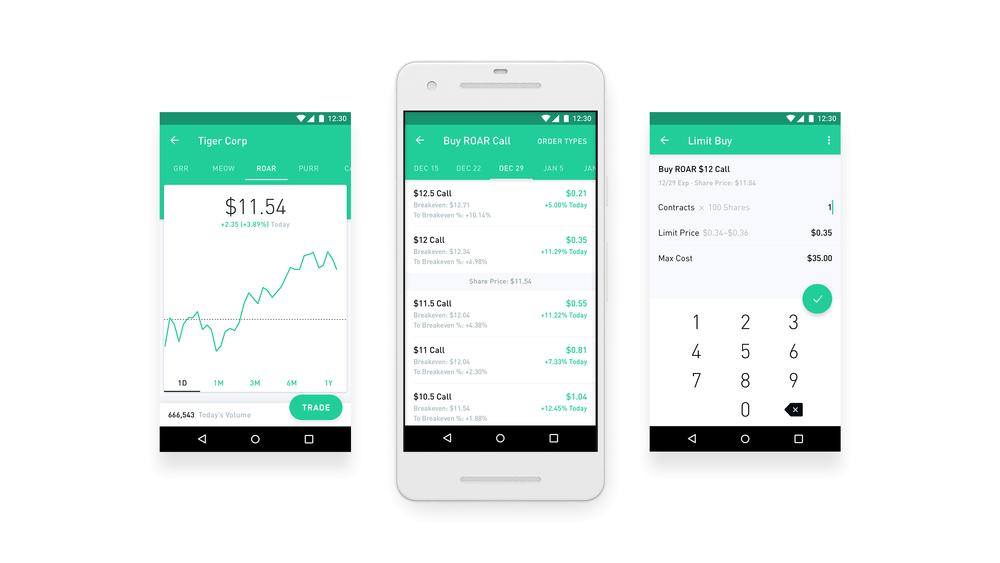 Robinhood is probably the closest you can get to plug-and-play in the world of options trading. Its simple design and intuitive interface make the platform one of the most user-friendly on the market.
Its strengths shine particularly when it comes to options trading. Unlike many of its competitors, Robinhood's commitment to keeping the fees as low as possible ensures that you won't have to pay the industry-standard per-contract fee.
As a nice bonus, the software's options chains are some of the most readable on the market.
All things considered, Robinhood is by far the best options trading software for beginners and it will help you get right in the thick of trading with no headache.
It is worth noting, however, that its central position in the meme stock craze, and its dabbling with crypto placed it under close regulatory scrutiny and it isn't entirely clear how things will play out yet.
7. eToro
Overall Rating: ⭐⭐⭐⭐
Options Commissions: $0 per contract
eToro is one of the top platforms for options trading. Here's why.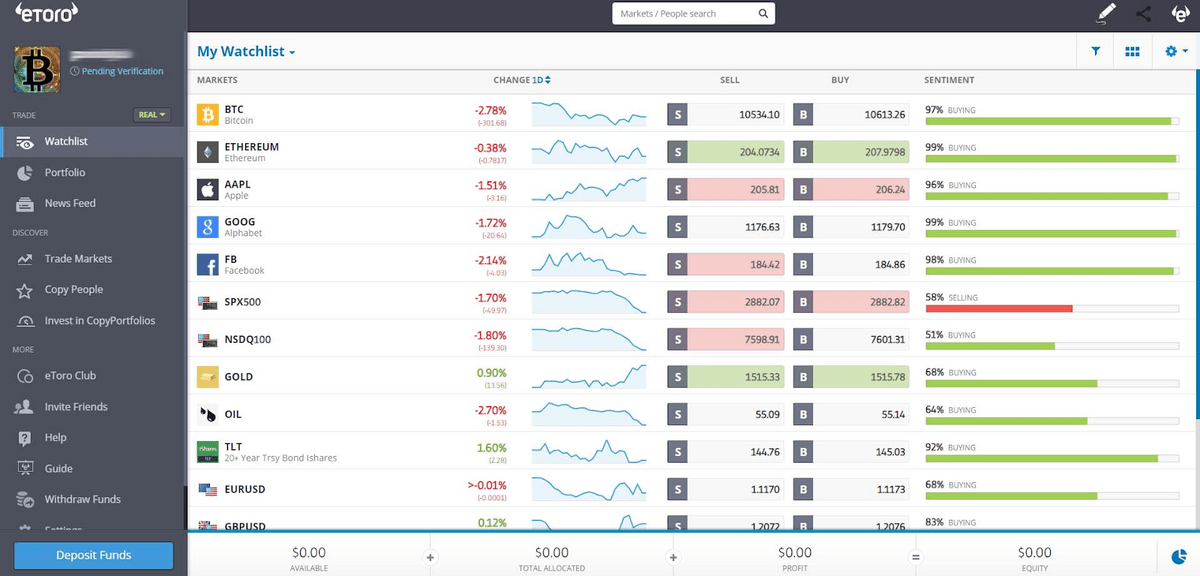 First, let's talk about eToro's CopyTrader. It lets you follow and copy (if you choose) experienced traders' trades. It's ideal for newbies who are still learning the ropes.
It also has an extremely accessible and user-friendly platform and zero-fee options trades.
But here's what it doesn't have: a lot of advanced research tools. Basic charting is available, but it's not rich in features.
BONUS: TradingView – The Best Charting Platform
Overall Rating: ⭐⭐⭐⭐⭐
Used and loved by tens of millions of investors and traders across the globe, TradingView is the go-to place for all your charting needs in 2023.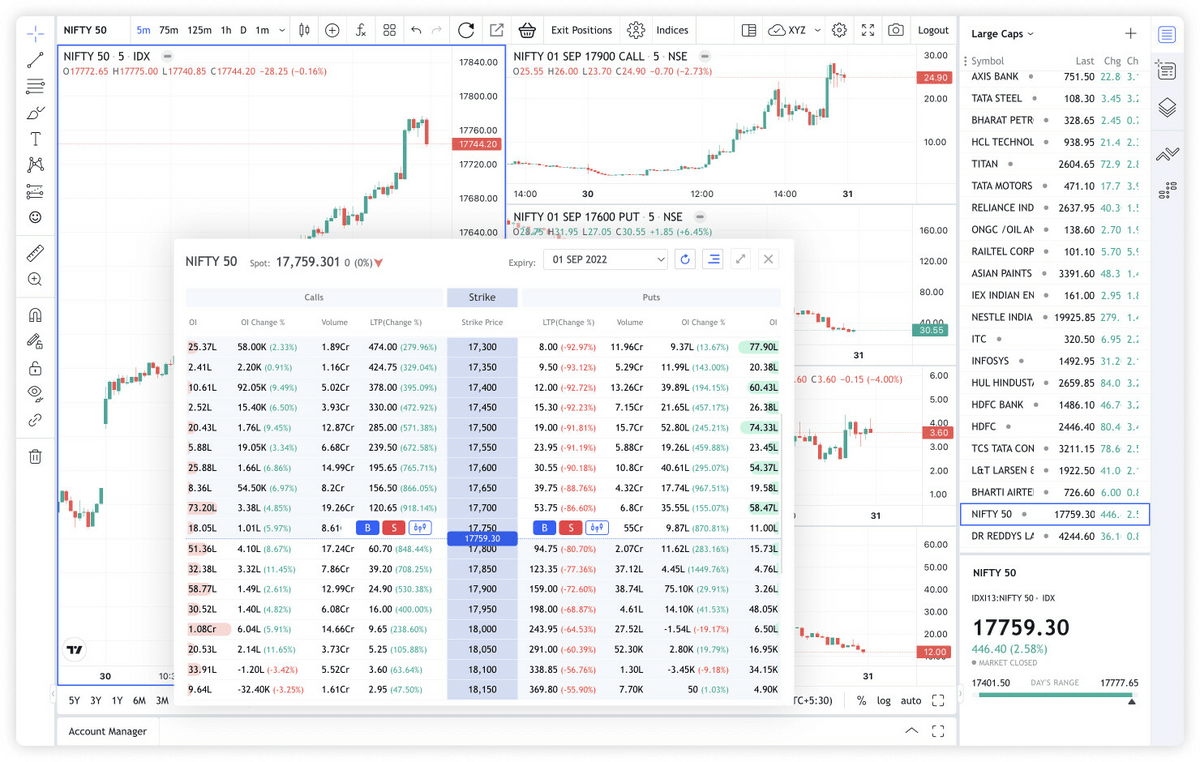 Do you like charts? Because boy does TradingView have charts for you.
Its highly versatile platform lets you get right in the thick of it and find the data you need no matter what you are looking to trade.
It offers a wide array of indicators, alerts, and analysis tools. It even works as a social network for traders and investors that want to share insights and ideas.
While offering a plethora of features for free, TradingView also has a paid version — TradingView Pro — which allows you to simultaneously use up to five indicators on any given chart, as well as to compare multiple assets.
TradingView also lets you set up alerts that will warn you of real-time price changes to help you make perfectly-timed trades.
While primarily an analysis and strategizing tool, you can trade directly through the Trading View interface thanks to its integration of various brokers.
Even if you are not prepared to use your real money, TradingView also lets you practice through Paper Trading so that you can later say "just like the simulations".
No matter your level of experience, TradingView simply lets you improve your game thanks to the wealth of data it delivers straight to your eyes making it some of the best options trading software out there—and some of the best software for investors and traders in general.
More amazing options resources:
Final Word: The Best Option Analysis Software
The hard truth is that even the best options trading tools don't work for everyone. The trick is to figure out which software helps you successfully execute your trading strategies.
If you want a jack-of-all-trades, you can't really go wrong with Fidelity. If you like being able to just experiment and not worry about the minutest details Robinhood is the one for you. On the flip side, an advanced trader might fall in love with Interactive Brokers.
Finally, no matter where you fit on the scale, having an accessible yet detailed tool like TradingView can help you always stay ahead of the curve.
---
FAQs:
What is the best options trading software?
The best options trading software for you will primarily depend on your personal preferences: Robinhood is among the best when it comes to low fees and accessibility, TD Ameritrade has excellent design and great customer service, while Interactive Brokers offers a large selection of advanced tools for experienced traders.
What platform should I use to trade options?
You should always choose an options trading platform based on your trading needs. Robinhood is a great choice for beginners due to its low fees and intuitive design, Interactive Brokers offers great tools for advanced traders, and Fidelity is widely considered an all-in-one platform that can meet most traders' needs.
Who is the most successful options trader?
Paul Tudor Jones is widely considered the most successful options trader. He made much of his fortune in the 1987 crash tripling his capital position on the infamous Black Monday. Jones is currently estimated at around $7.3 billion and is managing his $11.2 billion hedge fund.
Is there an options trading simulator?
Multiple options trading platforms offer so-called Paper Trading—simulations where you don't use real money. Two notable examples are Moomoo and TradingView which enable you to practice and test your strategies extensively before wagering any of your real money.
Where to Invest $1,000 Right Now?
Did you know that stocks rated as "Buy" by the Top Analysts in WallStreetZen's database beat the S&P500 by 98.4% last year?
Our September report reveals the 3 "Strong Buy" stocks that market-beating analysts predict will outperform over the next year.