Our editorial team uses a strict editorial review process to compile all reviews, research, and evaluations of any kind. Our company, WallStreetZen Limited, is supported by our user community and may receive a small commission when purchases are made through partner links. Commissions do not affect the opinions or evaluations of our editorial team.
On the one hand, Lear Capital is a well-known online precious metals dealer and self-directed IRA custodian that allows investors to open IRA accounts and invest in gold, silver, and platinum.
Then again … Lear Capital was also recently sued for deceptive practices and violating consumer-protection laws and recently filed for bankruptcy.
Right now, they're still in business and offering services to new and existing customers. And they've cleaned up their act in regard to fee disclosures.
But is Lear Capital worth doing business with amid all this controversy? We've dug into the details, read the Lear Capital reviews, and we've done plenty of research on what they offer, what their fees are, and more.
Looking for other gold IRA companies? Check out our favorites:
Is Lear Capital Legit and Worth it In 2023?
The bottom line: Lear Capital offers a precious metals marketplace as well as self-directed IRA accounts to invest in gold and other precious metals within a retirement account.
But Lear Capital was sued due to poor fee transparency and went into bankruptcy in 2022. This makes it hard to recommend doing business with them, even though they've published a more transparent fee schedule and additional consumer protections.
Lear Capital Lawsuits
Unfortunately, Lear Capital was involved in a lawsuit in 2021 due to undisclosed fees and was forced to pay $6 million in damages to investors in New York.
The lawsuit concluded that Lear Capital was involved in deceptive sales practices and failed to disclose millions in commissions to customers.
At the same time, the city of Los Angeles also sued the company and won $2.75 million for customers.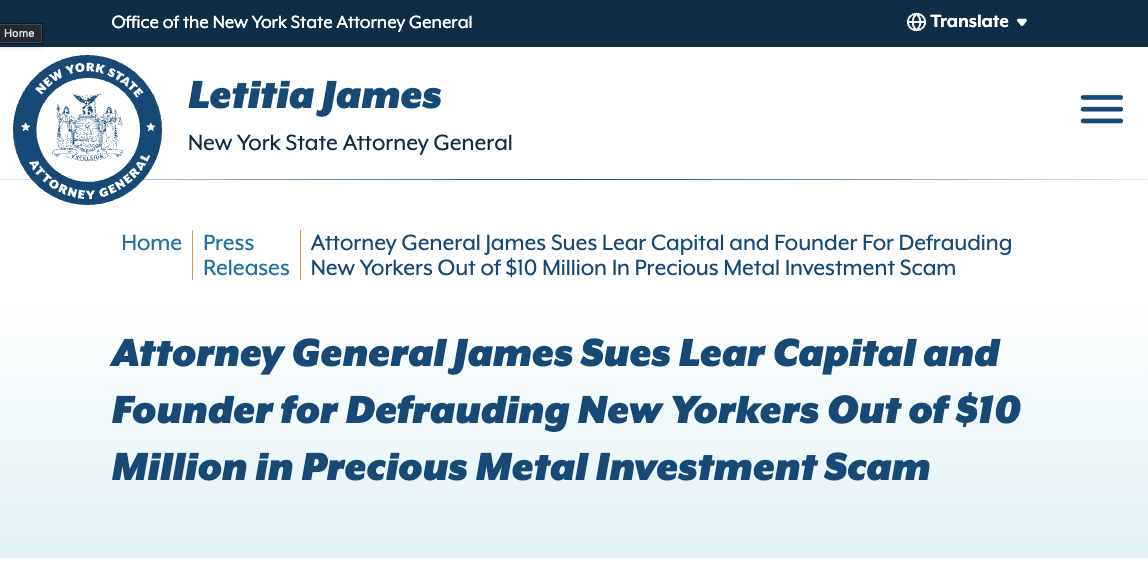 Lear Capital subsequently filed for bankruptcy in 2022 to avoid future litigation, but the case is ongoing.
The bottom line is that Lear Capital pushed investors to open accounts and make purchases without proper fee disclosures, and racked up millions of dollars at the customer's expense.
And many Lear Capital reviews show that customers were unaware of what they were paying for.
Lear Capital Alternatives
Given the lawsuit, you might be interested in alternatives to Lear Capital.
The best gold IRA companies on the market offer lower fees and haven't been sued by customers. Here are a few to consider:
iTrustCapital
Overall Rating: ⭐⭐⭐⭐⭐
Fees: 1% crypto trading fee, Gold is $50 over spot price (per ounce), Silver is $2.50 over spot price (per ounce)
Known for: Crypto + Precious Metals IRA
iTrustCapital is a crypto-focused self-directed IRA custodian that offers low fees and a low account minimum to invest in crypto or precious metals inside your retirement account.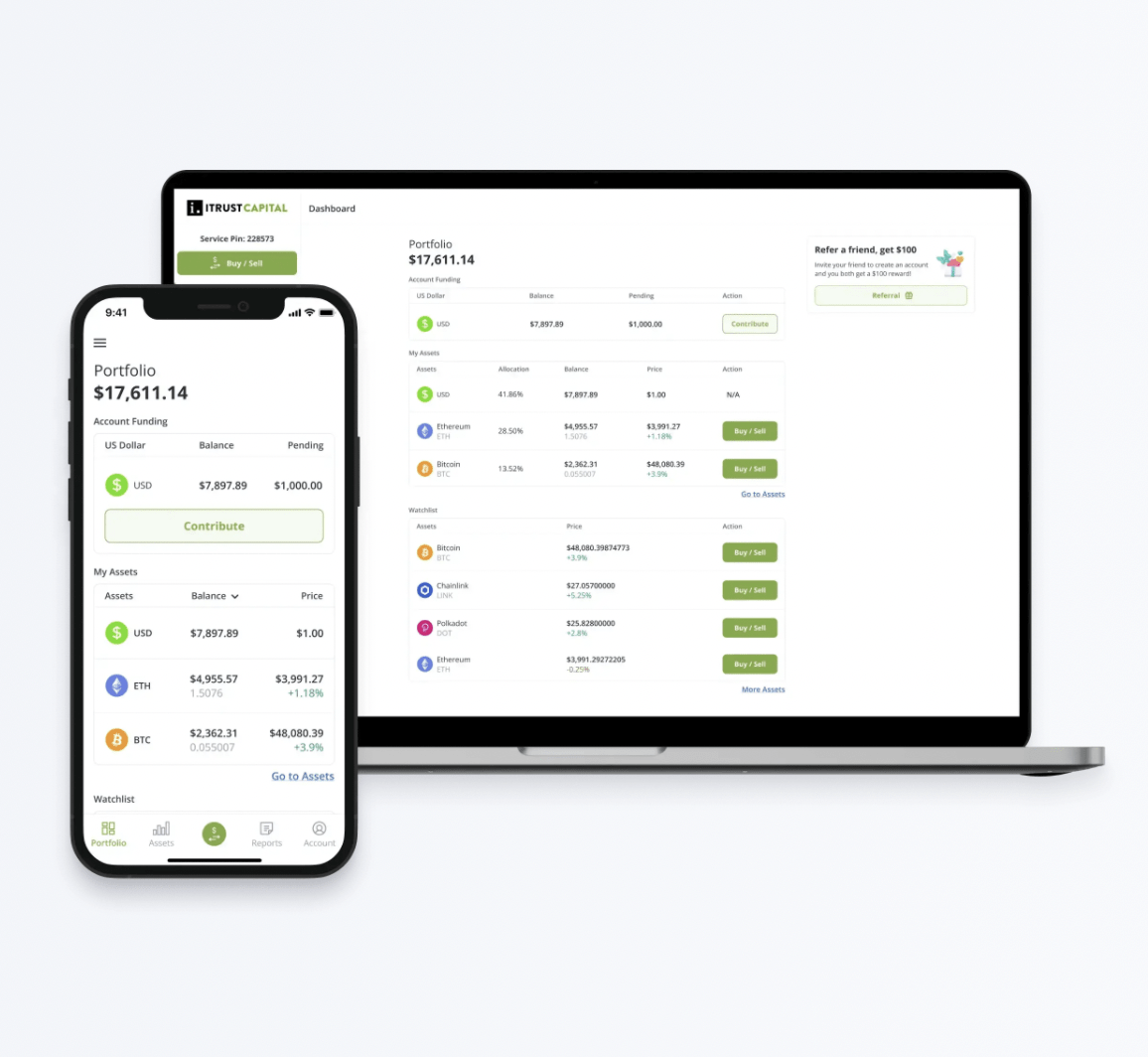 They only charge a 1% trading fee for crypto assets and support 30 different cryptocurrencies. You can also purchase physical gold or silver within the account, though the markups are quite high.
The big differentiator is there are no account fees, while most competitors charge annual fees for maintaining an SDIRA account.
Strata Trust
Overall Rating: ⭐⭐⭐⭐⭐
Fees: $50 setup fee, various trading and custody fees
Known for: Debt investments (structured notes, private debt, etc.)
Strata Trust is a wholly-owned subsidiary of Horizon Bank and offers SDIRA accounts with access to a wide range of investments, including crypto, real estate, precious metals, and even debt investments.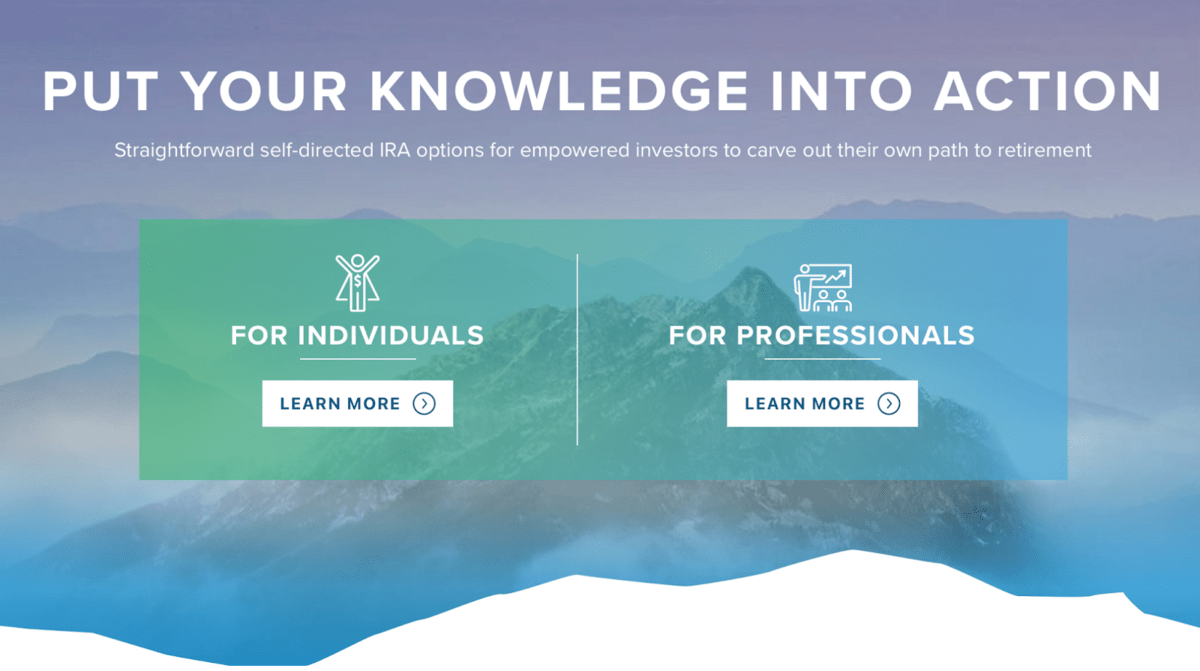 Strata Trust lets you buy physical gold and silver, and you can take custody of it (through withdrawals) once you are of retirement age. You can also invest in private debt for both corporate and real-estate-focused assets, collecting regular income within the account.
What is Lear Capital?
Lear Capital is a precious metals investment platform that offers a marketplace and a self-directed IRA service. While there is a limited selection of coins and bars you can buy on the online marketplace, their main business is IRA accounts.
Want to learn more about self-directed IRAs, including how they work and how to find the best ones? Check out our review of the best self-directed IRAs.
Lear Capital offers a white-glove service for onboarding and managing these "Gold IRA" accounts, assigning each new customer a representative to work with and answer any questions along the way. In addition to gold, Lear Capital offers silver and platinum investment options.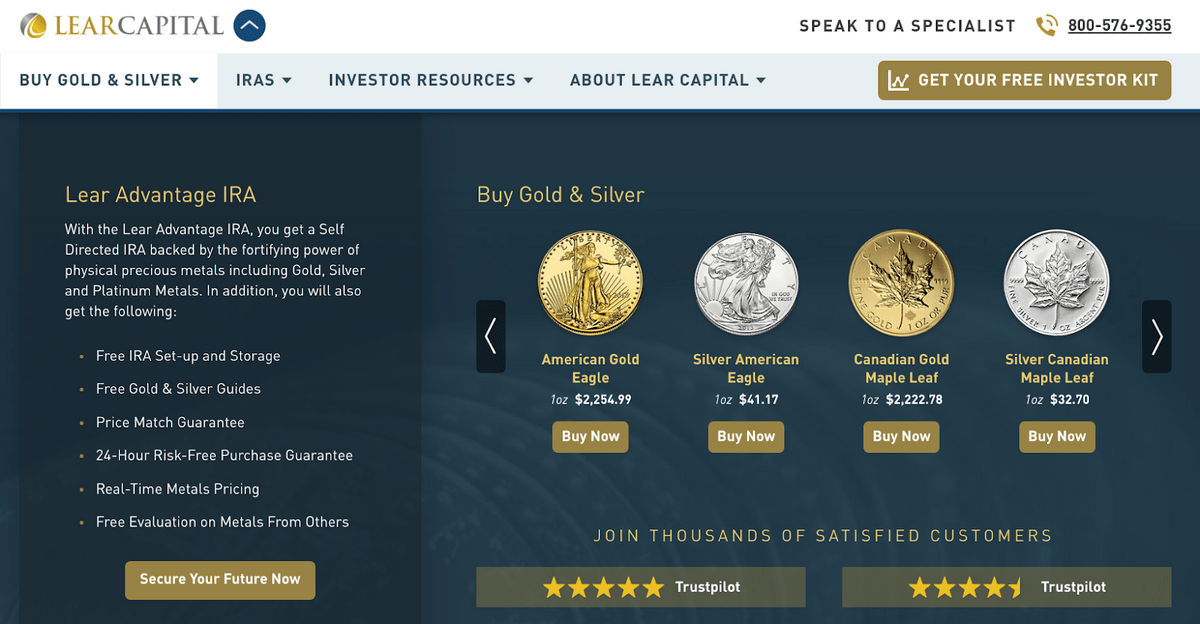 Lear Capital has been in business since 1997 and has transacted over $3 billion in precious metals volume since opening its doors. But the company has also been embroiled in controversy, losing a lawsuit and being forced into bankruptcy in 2022.
How Does Lear Capital Work?
Learn Capital has both an online precious metals marketplace, and a full-service self-directed IRA account for investing in precious metals. Here's how they work:
Investing in precious metal bars and coins
Lear Capital is an online precious metals marketplace that allows you to create an account and purchase precious metals bullion (gold, silver, and platinum) online. You can choose from coins, bars, or ingots (large bars) of precious metals.
Purchases can be shipped to you for custody, or you can elect to use Lear Capital's partner storage facility for storing and insuring your precious metals investment.
The Lear Capital silver prices tend to be marked above the spot price of silver itself. For example, while the spot price of silver is around $24, a one-ounce silver round is $29 on the website, which is a 17% markup.
The Lear Capital gold price is marked up above the spot price of gold by about 10%. For example, when the spot price of gold is around $1950, a one-ounce gold bar is priced around $2,200.
Investing in precious metals SDIRA
Minimums: Not publicly listed.
Rules and limitations: Cannot withdraw until retirement age (currently 59 ½), can only fund via wire transfer or paper check
Fees: $280 setup fee, $200 annual account fee. Transaction fees not listed.
Security: Precious metals stored in an IRS-approved vault in Delaware with insurance
The majority of what Lear Capital does is help investors set up and manage sel-direct IRA accounts (SDIRAs). This allows you to invest in alternative assets (in this case, precious metals) within a tax-advantaged retirement account.
You can open an SDIRA with Lear Capital by filling out a short form online, and then getting on a phone call with a sales representative. They will assist you in completing the application, choosing your investments, and funding the account.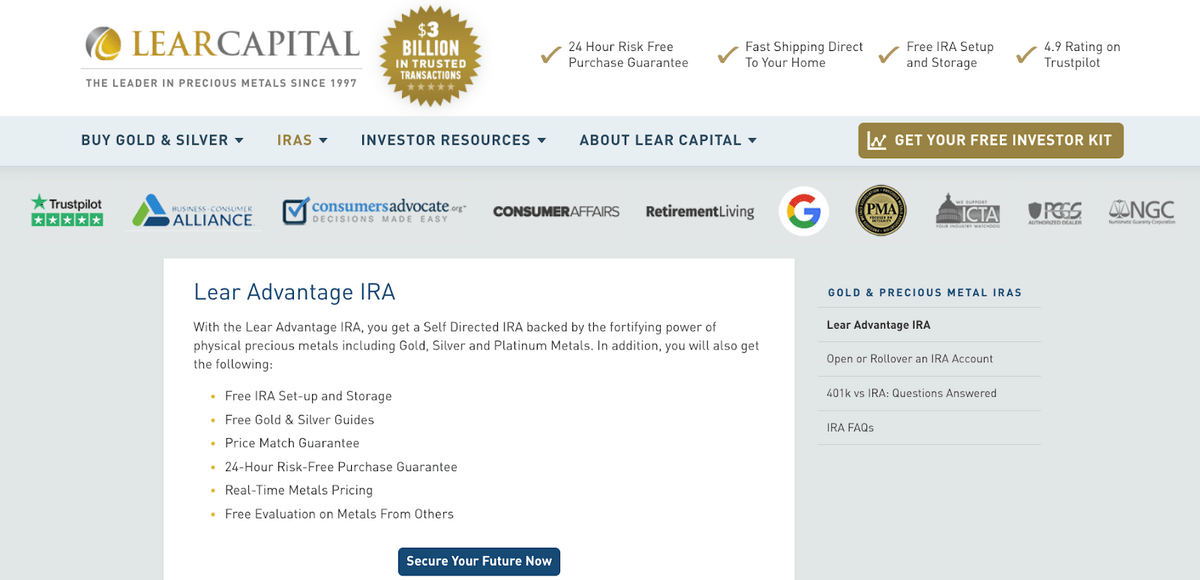 You can invest in physical Gold, Silver, or Platinum bullion, including coins, rounds, bars, and more. You can track your account performance within the customer dashboard, and can also set up automated investments.
Your account can only be funded with a bank wire transfer or paper check (certified, cashier's, money order).
Expected Returns With Lear Capital
Lear Capital does not provide public expected returns, but looking historically at the returns of gold can give you insight into how these investments perform.
Gold has been an investment for thousands of years, and in more recent economies, serves as a hedge against inflation, preserving the buying power of investors.
Over the past 100 years, Gold has averaged around 4.5% annual returns. This slightly outpaces inflation and stays true to gold acting as a hedge.
But investing with Lear Capital does come with fees, so you need to weigh in the expected returns of precious metals minus the fees to calculate how much you can expect in returns.
There's no way to predict the future pricing of precious metals, and it is highly dependent on your investing timelines and goals.
Lear Capital: Pricing + Fees
Lear Capital got in trouble in 2022 due to non-transparent fees, and has since offered a clear fee structure, price match guarantee, and a 24-hour money-back guarantee. Here's how the fees break down:
Gold, Silver, and Platinum Bullion Purchases: Markup + Shipping and Handling Fees
Self-Directed IRA Accounts: $280 one-time setup fee + $200 per year (after year one)
For SDIRA accounts, fees include storage, insurance, and account fees, plus access to a personal account representative.
You can get some fees waived in the SDIRA account by meeting certain minimum deposit amounts:
> $10K: $50 set-up fee covered
$25K – $50K: First-year fees free. Reimbursement check sent after first month in storage.
$50K – $75K: First/Second year fees free
$75K+: First/Second/Third year fees free
How to Get Started With Lear Capital
To open a Lear Capital SDIRA account, you can sign up online, but you will need to speak to a Lear Capital representative directly to complete the application process.
Lear Capital will help you open the account, choose the metals you wish to invest in, and rollover another IRA or 401(k) account to fund it.
But make no mistake, this is a sales call, and they are incentivized to have to open an account and invest as much as possible with them.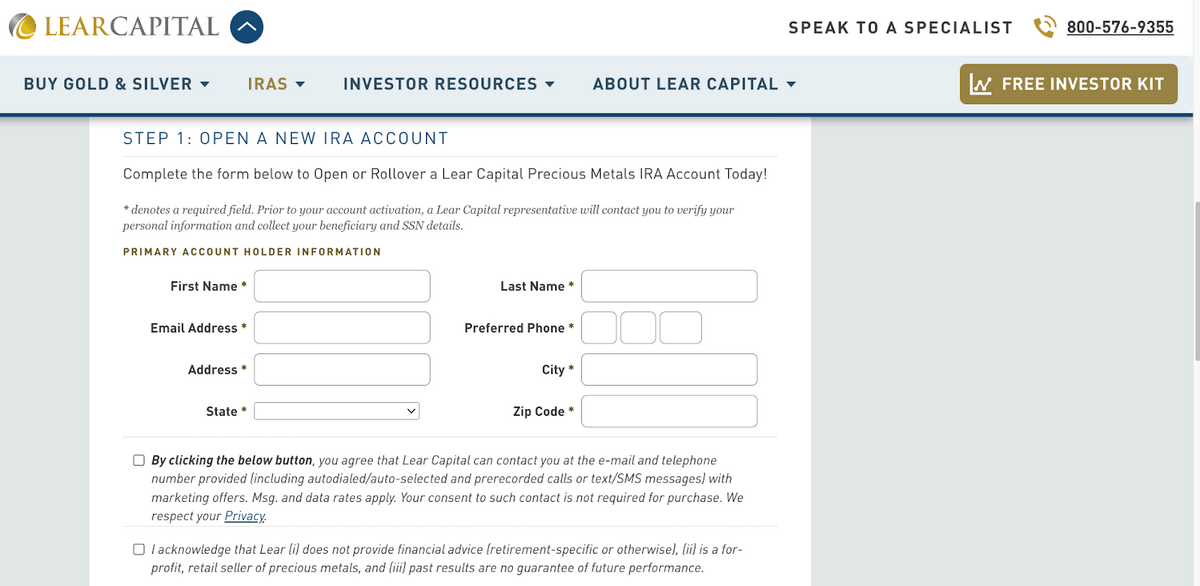 You can also fund your account directly via wire transfer, certified check, personal check, or money order. There is a minimum deposit required to open a Lear Capital IRA account, but it is not publicly stated.
If you want to simply use the Lear Capital marketplace to purchase precious metals, you can add items to your cart and checkout online. But you can't pay with a credit card or bank account. You must pay via wire transfer, certified check, personal check, or money order.
Lear Capital Reviews: Pros and Cons
| | |
| --- | --- |
| Pros | Cons |
| Access to precious metals marketplace | Was recently sued into bankruptcy (2022) |
| Can open an IRA to invest in Gold and other metals | No stated minimum deposit |
| Clear fee structure | Cannot fund account via bank transfer |
| | Must talk to a sales representative to open an account |
Lear Capital Reviews Final Word:
Lear Capital doesn't have the best reputation right now due to a recent lawsuit from customers and less-than-transparent business practices.
They also don't let you open an account online, and you can only make purchases via wire transfer or paper checks. This makes them a bit more difficult to work with over the competition.
They have stepped up their game since the lawsuit, and offer transparent fee structures and a price-match guarantee. They also let you return your purchases within 24 hours if you are not happy with the outcome.
But overall, Lear Capital needs more time to regain the confidence of the marketplace before investors should trust them again. If you're looking for alternatives, consider iTrustCapital or Strata Trust.
---
FAQs:
Is Lear Capital legitimate?
Lear Capital is a legitimate business, but with a history of shady business practices that caused them to be sued for $6 million by the state of New York and city of Los Angeles. This has hurt their credibility, but they are still in business. Lear Capital has since published transparent pricing and fee structures.
What are the complaints against Lear Capital?
There are many Lear Capital complaints that the company did not provide proper fee disclosures and collected millions of dollars in commissions without properly informing customers. This led to several lawsuits and over $8 million awarded to those affected.
Who owns Lear Capital?
Kevin DeMerritt is the founder and owner of Lear Capital.
What is the Lear Capital lawsuit?
Lear Capital was sued by the State of New York for deceptive business practices. The state Attorney General, Letitia James, alleged that Lear Capital took advantage of over 1,000 customers in New York. The suit was settled, with Lear Capital refunded $6 million to New York customers, and over $2 million to Los Angeles customers.
Has Lear Capital filed bankruptcies?
In 2022, Lear Capital filed for bankruptcy due to several lawsuits totaling over $8 million. The Chapter 11 bankruptcy was filed to protect the company from future claims against its deceptive business practices.
Where to Invest $1,000 Right Now?
Did you know that stocks rated as "Buy" by the Top Analysts in WallStreetZen's database beat the S&P500 by 98.4% last year?
Our June report reveals the 3 "Strong Buy" stocks that market-beating analysts predict will outperform over the next year.