Our editorial team uses a strict editorial review process to compile all reviews, research, and evaluations of any kind. Our company, WallStreetZen Limited, is supported by our user community and may receive a small commission when purchases are made through partner links. Commissions do not affect the opinions or evaluations of our editorial team.
Instacart is now a publicly-traded company. But did you know you could have invested before the company went public?
Equitybee gives accredited investors access to hundreds of private, VC-backed startups before they IPO.
Instacart was available on Equitybee before it went public. Don't miss your chance to invest in companies before they become tomorrow's hot IPOs.
Sign up with Equitybee and invest in private companies today.
Instacart (NASDAQ: CART) just went public. Why should you care?
For one, let's look at the numbers. In 2021 alone, Instacart made $1.8 billion in revenue.  
That's right, people spent $1.8B in a single year to have their groceries delivered to their homes. Based on its current trajectory, Instacart is showing no signs of slowing down.
It appears that Instacart has developed a novel, sustainable business model with massive demand.
So how can you get in on this? Can you buy Instacart stock?
The answer is yes. Instacart just went public. It's now on the stock exchange under NASDAQ: CART.
But did you know that you actually could have purchased the stock before it went public?
Accredited Investors Had Access to CART Before the IPO
Equitybee gives accredited investors access to hundreds of high-growth, VC-backed startups. You can become an investor in private companies like Instacart, Stripe, and Reddit.
By funding employee stock options, investors like you can own stakes in private companies at past valuations. In exchange for funding the options, you will receive a percentage of future proceeds from successful liquidity events.
Before Instacart went public, it was available on Equitybee: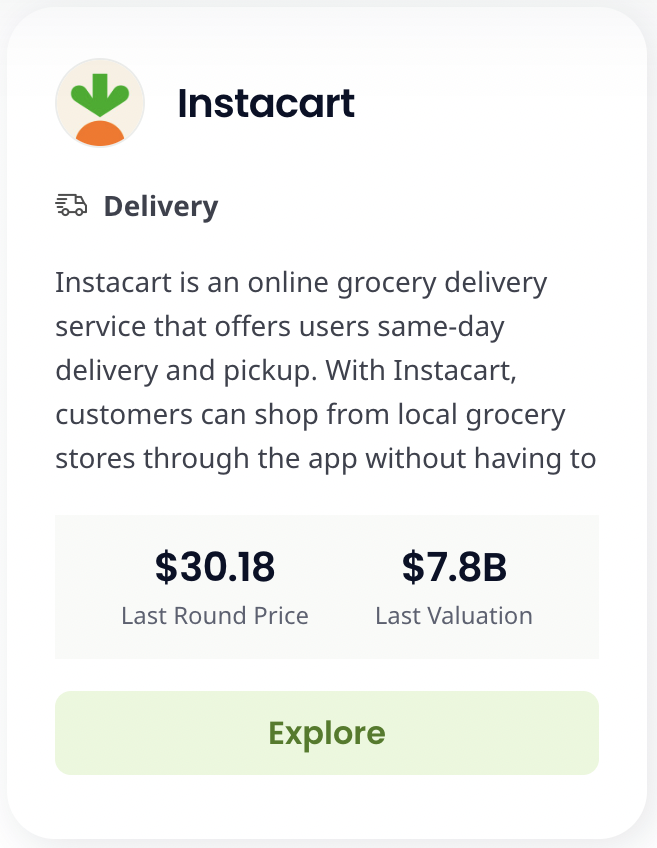 Start investing in hundreds of high-potential private companies on Equitybee.
Subject to availability.
Even if you're not an accredited investor, you can buy Instacart now.
Can You Buy Instacart Stock as a Retail Investor? Is Instacart Publicly Traded?
Yes. Instacart is now a public company, trading under the ticker NASDAQ: CART.
Who Owns Instacart?
Instacart was founded by Apoorva Mehta — up until recently, it was owned by Mehta and a handful of venture capital firms.  Notable investors include Andreessen Horowitz, Sequoia Capital, and T. Rowe Price Group. Now that the company is publicly traded, you too can purchase shares on the stock market through your broker.
Need a broker? We suggest eToro.
September 2023 Deal for U.S. Residents
eToro is one of the world's most popular investing platforms with over 28.5 million users.
As of September 28, 2023, eToro is offering a $10 bonus* for U.S. residents who open and fund a new account.
$10 bonus for a deposit of $100 or more. Only available to U.S. residents. Additional terms and conditions apply.
eToro securities trading is offered by eToro USA Securities, Inc. ("the BD"), member of FINRA and SIPC. Cryptocurrency is offered by eToro USA LLC ("the MSB") (NMLS: 1769299) and is not FDIC or SIPC insured. Investing involves risk, and content is provided for educational purposes only, does not imply a recommendation, and is not a guarantee of future performance. https://www.wallstreetzen.com is not an affiliate and may be compensated if you access certain products or services offered by the MSB and/or the BD.
Is Instacart Owned by DoorDash?
No, DoorDash is not an investor in Instacart. Rather, they are competitors in a similar industry. DoorDash primarily delivers meals from restaurants while Instacart is in the business of grocery deliveries.
That said, an investment in DoorDash (NYSE: DASH) also offers exposure to the broad food delivery/convenience industry.
How to Invest in Instacart Stock
Now, you can directly purchase shares of Instacart (NYSE: CART) on your favorite brokerage (once again, we suggest eToro).
But out of curiosity (and to give you ideas for how to approach other private companies in the future), how could you have invested before the company went public?
One way would have been to invest in T. Rowe Price (NASDAQ: TROW), an investor in Instacart.
Before Instacart went public and you could access the company directly, an investment in T. Rowe Price would have given you exposure to Instacart similar to investing in YouTube via Google stock or Instagram via Meta stock. While not a direct investment, it would have given you some exposure to Instacart's upside.
T. Rowe Price Group is an American investment management firm with over $1 trillion under management. They invested an undisclosed amount of capital in a venture round for Instacart.
You also could have invested in competitors to Instacart to gain a similar degree of exposure to the grocery delivery industry. Some examples? Amazon (NASDAQ: AMZN), Walmart (NYSE: WMT), and DoorDash (NYSE: DASH).
How to Buy the Instacart IPO
Instacart recently issued its initial public offering.
Here are the steps you will need to take to buy Instacart shares:
Create or login to your brokerage account (if you don't have one, we recommend eToro – it's free)
Search for Instacart
Select how many shares you want to buy
Place your order
Monitor your trade
Instacart Stock Price Chart
About a week into Instacart's reign on the stock market, the stock has dipped considerably since its IPO date. This is fairly common; IPOs are notoriously volatile. Often, investors wait to let the stock "prove itself" before investing.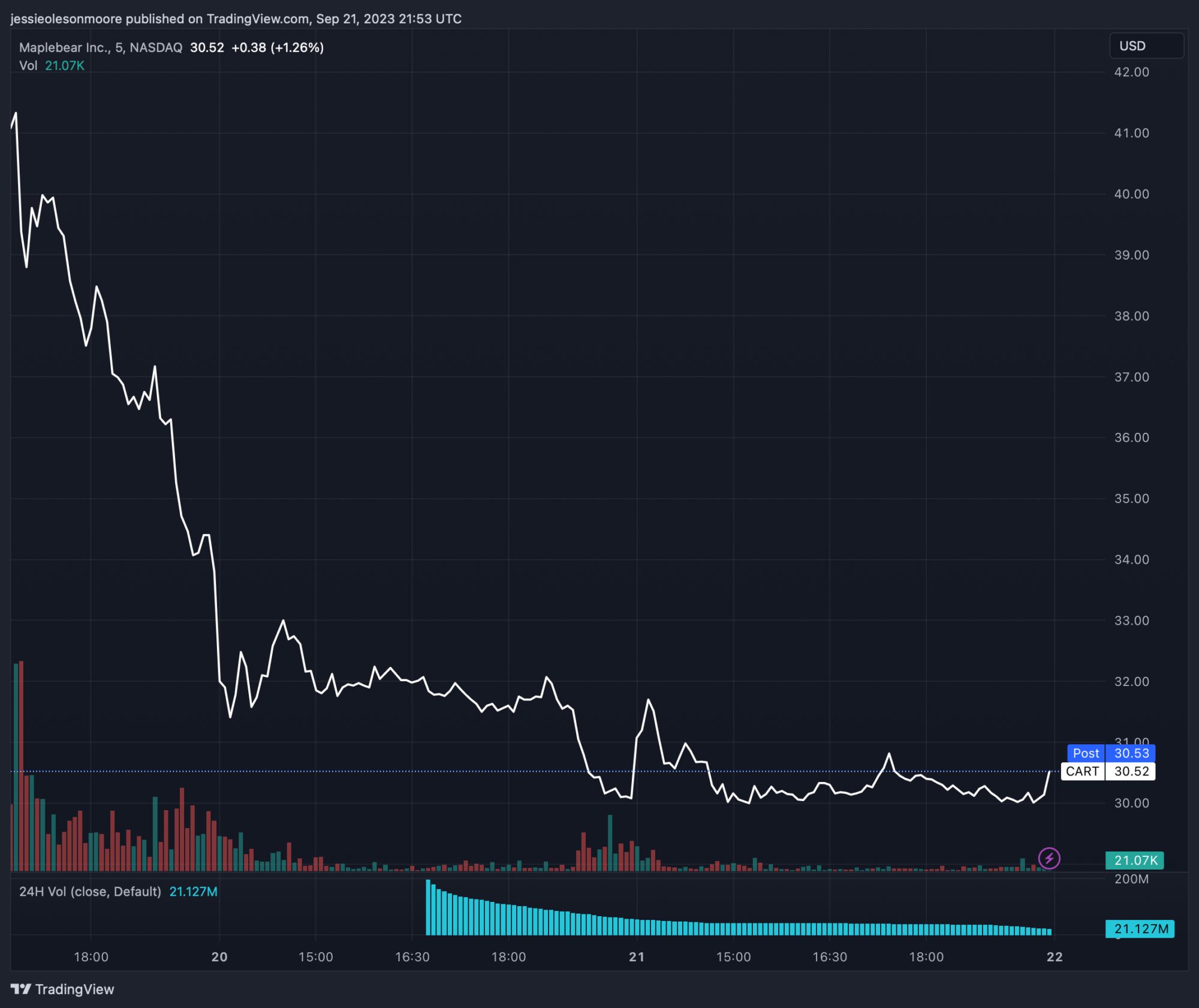 Read more: How to Buy Discord Stock
---
FAQs:
How to buy Instacart stock?
At this time, you cannot buy Instacart stock directly. However, you can own Instacart indirectly by purchasing shares in T. Rowe Price Group. Buying shares of TROW is the best way to gain exposure to Instacart at this time.
How much is Instacart stock?
There is no Instacart stock price yet, as it is not available on the stock exchange, but the most recent round of funding valued Instacart at $13 billion.
What is Instacart stock symbol?
Since Instacart is still privately owned, there is no Instacart stock symbol.
Who owns Instacart stock?
Instacart is owned by its founder, Apoorva Mehta, and a number of venture capital firms. T. Rowe Price has also invested an undisclosed amount in Instacart.
Where to Invest $1,000 Right Now?
Did you know that stocks rated as "Buy" by the Top Analysts in WallStreetZen's database beat the S&P500 by 98.4% last year?
Our September report reveals the 3 "Strong Buy" stocks that market-beating analysts predict will outperform over the next year.