Our editorial team uses a strict editorial review process to compile all reviews, research, and evaluations of any kind. Our company, WallStreetZen Limited, is supported by our user community and may receive a small commission when purchases are made through partner links. Commissions do not affect the opinions or evaluations of our editorial team.
Equitybee gives accredited investors access to hundreds of private, VC-backed startups before they IPO.
Sign up with Equitybee and invest in Airtable today.
If you could combine a database with a spreadsheet, put it on the cloud, and add collaboration features, you'd have a pretty good piece of project management software.
Guess what? It already exists — and it's called Airtable. The concept is obviously working, since more than 300,000 companies use the software. Investors have also taken note — the company has received more than $1.4 billion in funding since 2015.
Software like this provides intuitive, modular solutions for businesses and tasks of all shapes and sizes, so it's likely that demand is only going to continue to grow.
Want to find out how to buy Airtable stock? You've come to the right place — let's see how things stand.
Airtable: The Basics
Before we jump into how to buy Airtable stock, let's briefly summarize why the company is such a catch: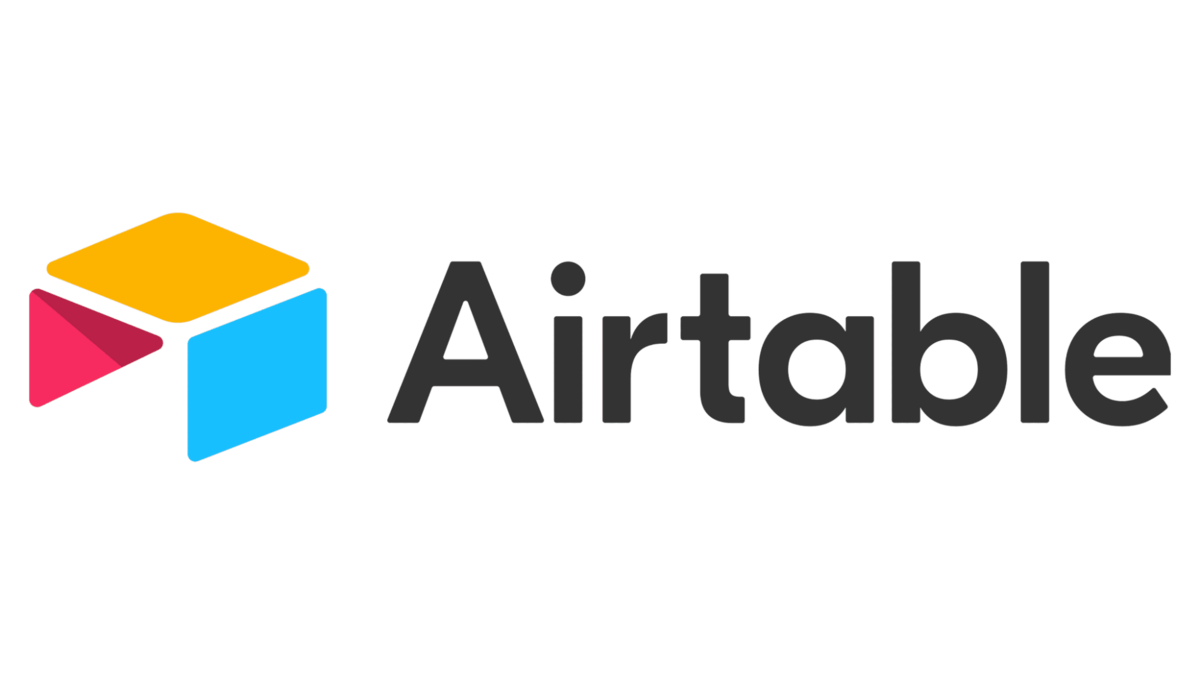 Airtable is used by more than 300,000 businesses.
Around 80% of Fortune 100 companies use the service.
In 2022, the company hit $142 million in revenue.
Airtable has raised $1.4 billion in funding.
According to the last valuation from 2021, the company is valued at $11.7 billion.
We here at Wallstreetzen use Airtable, and we're quite happy with it.
The company's blended freemium and subscription model has allowed it to capture a 6.77% market share, which is only expected to increase in the years to come.
Can You Buy Airtable Stock? Is Airtable Publicly Traded?
So, you want to know how to buy Airtable stock? Don't go looking for the Airtable stock symbol, cause you won't find it — the company isn't publicly traded.
The company will likely go public at some point, but the company's sizable funding rounds, rate of growth, and revenue all suggest that Airtable is in no rush when it comes to an IPO.
How to Buy Airtable as an Accredited Investor
Accredited investors, unlike regular retail investors, can invest in private companies. That's great — but it is slightly complicated by the fact that traditional methods like hedge funds and VC companies require large investments, in the area of $100,000.
As an answer to that issue, various specialized platforms for investing in private companies and startups have popped up. Our favorite is Equitybee — which allows you to fund employee stock options for as little as $10,000. In return, you get a slice of the profits whenever a liquidity event occurs.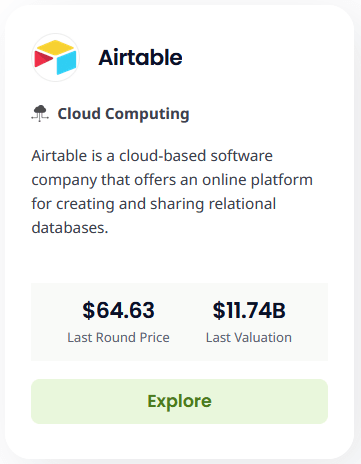 Airtable is available via the platform — but we really suggest you take a look at their website since they also offer access to various promising startups such as Flexport, Turo, and Juul.
How to Buy Airtable as a Retail Investor
The answer to the question of how to buy Airtable stock as a retail investor is that you can't — at least not right now. Airtable stock isn't publicly traded, and retail investors can't invest in private companies.
But don't run off in search of other opportunities just yet — there are a couple of options at your disposal. We'll get to them in a minute, just as soon as we go over some important info regarding Airtable.
Who Owns Airtable?
Airtable was founded by CEO Howie Liu, Andrew Ofstad, and Emmett Nicholas. The founders still run the company, with the rest of the ownership being shared between the board of directors, employees, and the private equity and venture capital companies that have invested in Airtable.
To date, the company has raised a staggering $1.4 billion in funding and is currently valued at $11 billion.
Some of the most notable investors include:
Charles River Ventures
Coatue Management
Thrive Capital
Greenoaks
XN
Franklin Templeton (NYSE: BEN)
D1 Capital Partners
T-Rowe Price (NASDAQ: TROW)
Does Ashton Kutcher Own Airtable?
Nope — although the actor, who has made millions investing in companies such as Airbnb, Uber, and Robinhood, did purchase a stake in the company way back in 2015.
As an angel investor, Kutcher participated in a $7.6 million funding round, but the size of the investment is far from one that would make him a majority owner. Other notable investors include famed angel investor Ron Conway, Joshua Schachter, and YouTube co-founder Jawed Karim.
How to Invest in Airtable Stock as a Retail Investor
Note: This article does not provide investment advice. The stocks listed should not be taken as recommendations. Your investments are solely your decisions.
Airtable stock cannot be directly purchased by retail investors — but there are a few ways to capture some of the company's growth, or recreate it. There are two options at your disposal.
Publicly-traded Private Equity and VC Companies
The first option is the most straightforward, but also the least effective. It isn't bad by any stretch, but I wanted to get that out of the way immediately.
By going upstream and investing in the private equity and VC companies that have funded Airtable, you can sort of achieve a similar effect to investing in Airtable stock.
These companies have stakes in Airtable, so you will be getting indirect exposure to the company. More than that, these investment groups had the good sense to invest in Airtable — so odds are that they have invested in other promising startups as well.
Here's the bad part — we don't know how large their stakes are, and Airtable represents a tiny sliver of their holdings, so it's very unlikely that the overall performance between the two will be similar.
Still, this isn't a bad avenue to take. If you evaluate these stocks on their own merits, you can find a couple of good opportunities. Publicly-traded companies that have invested in Airtable include:
According to top Wall Street Analysts featured on our site, only Salesforce and J.P. Morgan are currently rated "Buy." Of the two, Salesforce has had the better results looking at both YTD and a one-year period (+67% and +25% respectively as of the time of writing). Chart below courtesy of TradingView.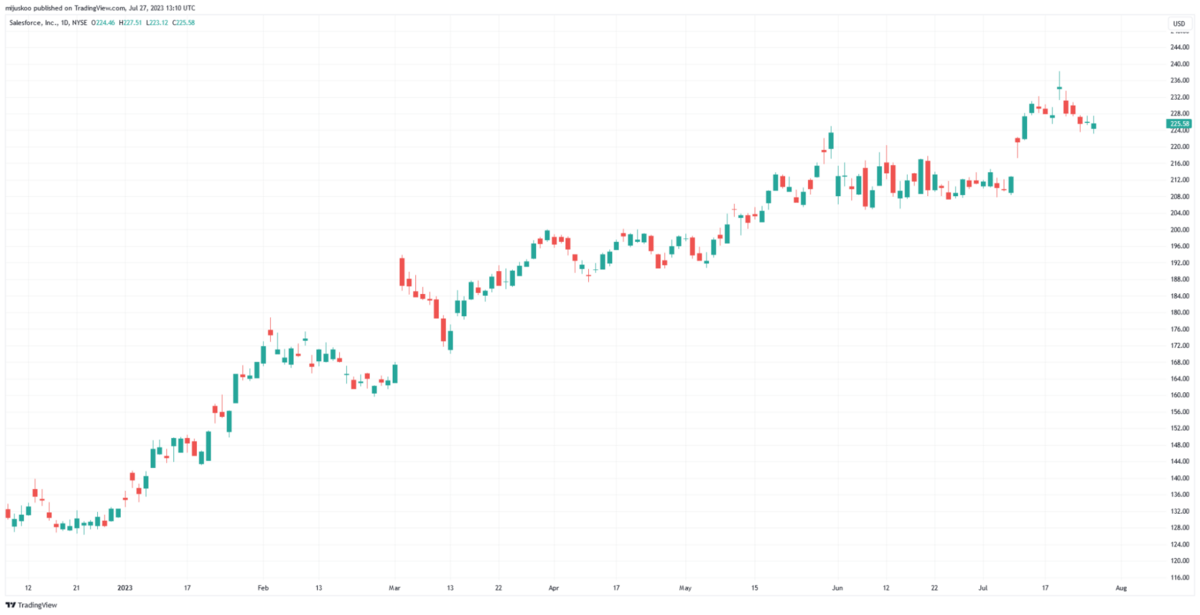 Want more great stock ideas? Subscribe to our new (and FREE) newsletter, WallStreetZen Daily. You'll gain access to Top Analyst ratings (normally a premium feature on our site) and much more. Subscribe now!
Airtable Competitors
The second option is to invest in companies that are competitors to Airtable. While the service itself is quite unique, blending the characteristics of a database and a spreadsheet, it fills the role of work management and collaboration software.
So — let's take a look at its biggest competitors.
Atlassian (NASDAQ: TEAM) is the biggest name in the industry — with two of its flagship products, Jira and Trello, holding a significant percentage of market share. Whereas Jira is more extensive and complex, offering a lot of customizability, Trello is simple and intuitive, making for a versatile offering from Atlassian.
Smartsheet (NYSE: SMAR) is another cloud-based platform for enterprises, which allows for planning, delegation, management, automation, and reporting, making it quite similar to Airtable.
Asana (NYSE: ASAN) is an application that allows workgroups to organize, keep track of, and manage their —yet another competitor to Airtable.
Of the three, the consensus among top Wall Street analysts is that Smartsheet is currently the best choice, with the average forecast being a +14.95% gain over the course of the next year. Yearly chart below, courtesy of TradingView.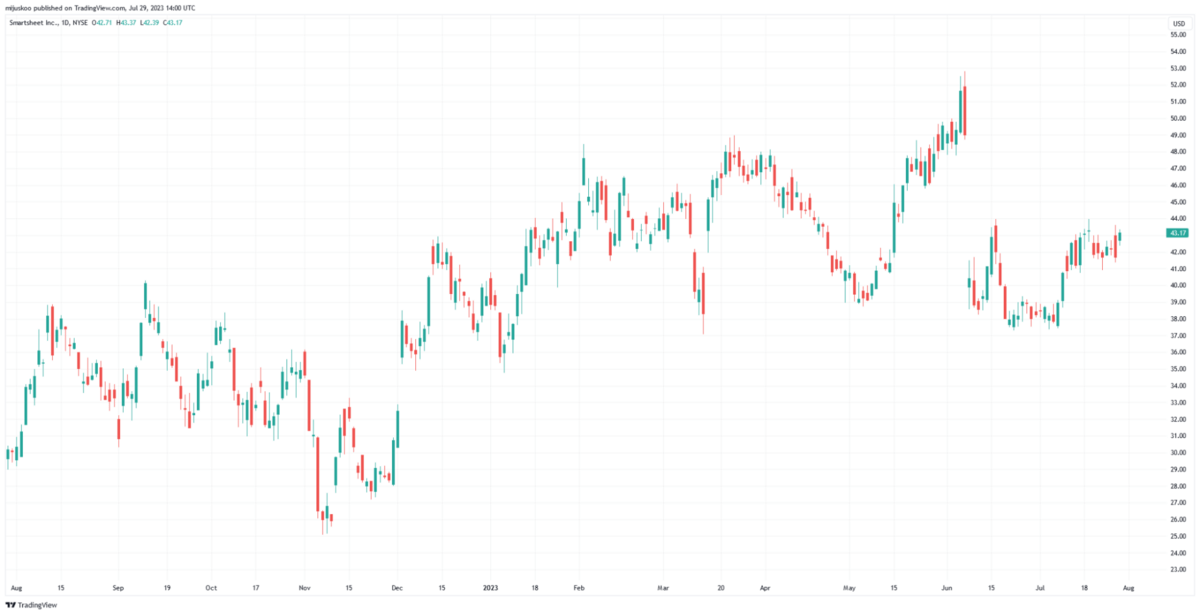 How to Buy the Airtable IPO
Here are the steps on how to buy Airtable stock if and when it becomes available:
Create or login to your brokerage account (if you don't have one, we recommend eToro – it's free)
Search for Airtable
Select how many shares you want to buy
Place your order
Monitor your trade
Airtable Stock Price Chart
Because shares of the company aren't traded, this means that there isn't an Airtable stock price — no stock price, no stock price chart.
But we won't leave you hanging — in the absence of a price chart, we can give you several informative charts and graphics illustrating how promising a company Airtable is.
First, a look at the wider industry. On track to more than triple overall market cap, cloud collaboration is slated to grow at a CAGR of 14% up to 2030. While other estimates are slightly lower, I haven't found an estimate under 11%. So, in short, the industry is gearing up for a massive expansion.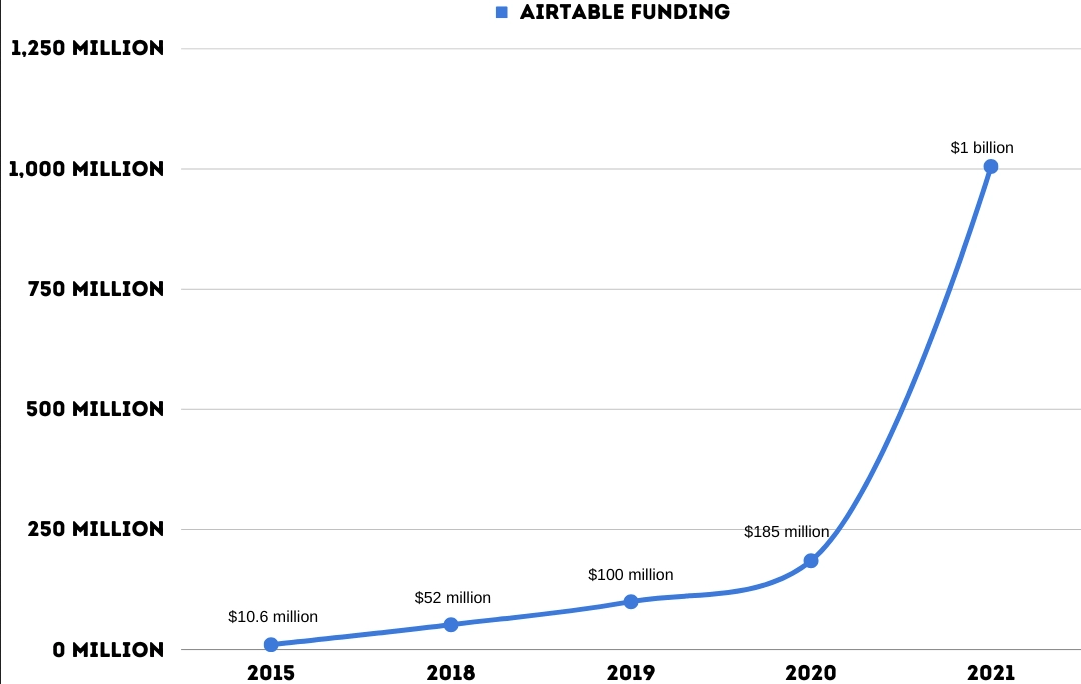 Although we've already covered funding, a chart helps put things into perspective. Airtable has raised a truly massive amount of money — coupled with the $142 million in annual revenue, and more than 300,000 businesses as clients, this seems like a recipe for capturing a lot of that expected growth in the industry — as well as a lot of market share from competitors.
If you're interested in investing directly in Airtable and you're an accredited investor, check out Equitybee. If not, consider researching some of the related sectors and stocks mentioned in this article.
---
FAQs:
How to buy Airtable stock?
Airtable is still a privately-held company, so its stock isn't available to the public. Accredited investors can use platforms like Equitybee to invest in the company by funding employee stock purchase plans, while retail investors can invest in competitors or companies that have funded Airtable.
How much is Airtable stock?
At this time, there is no way to accurately tell the worth of Airtable stock.
What is the Airtable stock symbol?
Since the company hasn't gone through an IPO yet, there is currently no Airtable stock symbol.
Who owns Airtable stock?
The founders of the company, Howie Liu, Andrew Ofstad, and Emmett Nicholas, own stock, as do several high-profile venture capital companies, private equity companies, and hedge funds, such as Charles River Ventures, Coatue Management, Thrive Capital, Greenoaks, XN, Franklin Templeton, D1 Capital Partners, and T Rowe Price.
Where to Invest $1,000 Right Now?
Did you know that stocks rated as "Buy" by the Top Analysts in WallStreetZen's database beat the S&P500 by 98.4% last year?
Our September report reveals the 3 "Strong Buy" stocks that market-beating analysts predict will outperform over the next year.