Our editorial team uses a strict editorial review process to compile all reviews, research, and evaluations of any kind. Our company, WallStreetZen Limited, is supported by our user community and may receive a small commission when purchases are made through partner links. Commissions do not affect the opinions or evaluations of our editorial team.
Plaid is not publicly traded.
Equitybee gives accredited investors access to hundreds of private, VC-backed startups before they IPO.
Sign up with Equitybee and invest in Plaid today.

The name Plaid may not ring a bell. But if you've ever used Acorns, Betterment, CashApp, Coinbase, Chime, Mint, Robinhood, or Venmo, then you've contributed to Plaid's growth.
Plaid is one of fintech's quietest and most unassuming success stories, with over $734 million raised in funding, 11,000 banks as clients, and a $13+ billion valuation.
Wondering how to buy Plaid stock? Plaid isn't a public company, but accredited investors may be able to access it through Equitybee — plus, there are alternate options for retail investors to explore, too. Keep reading…
What is Plaid?
Plaid connects your bank accounts and credit cards to various websites and applications. They help ensure a seamless transaction on your end by taking care of the behind-the-scenes work.
The company has wisely positioned itself as a middleman — in exchange for its services, companies pay a fee. However, they don't have to spend money or time creating their own financial infrastructure. Win-win!
Plaid's fees vary depending on the customer's needs. But clearly, they add up — as noted above, it was recently valued at around $13 billion.
Can You Buy Plaid Stock? Is Plaid Publicly Traded?
Since Plaid is still privately held, retail investors aren't able to purchase the company's stock. Don't waste your time looking for Plaid's stock symbol or Plaid's stock price chart — they're not on the menu yet.
However, that doesn't necessarily mean that you're out of options. Keep in mind that:
Plaid could IPO in the next couple of years
You could explore investing in Plaid's competition
If you're an accredited investor, you can invest in Plaid through Equitybee.
How to Buy Plaid as an Accredited Investor
If you're an accredited investor, you may have access to different ways to invest in private companies. Accredited investors investments can be highly rewarding, but they come with unique risks.
One of the best methods to get exposure to private companies like Plaid is to use a specialized platform like Equitybee, which gives investors the opportunity to fund employee stock options.
Once those stock options are funded, investors receive a percentage when successful liquidity events occur. Check out the current opportunities for investing in Plaid on Equitybee: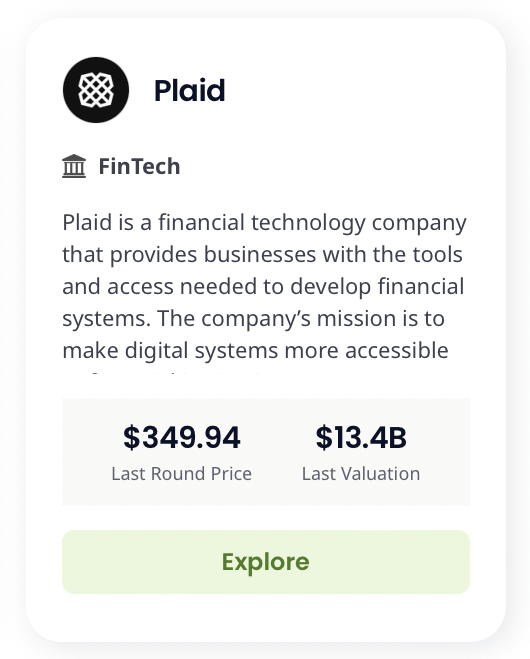 Accredited investors also have a couple of other methods at their disposal, such as angel investing, hedge funds, and venture capital.
However, these methods require either personal connections or a large sum of capital, so they're only accessible to a small sliver of the already small group of accredited investors.
Start investing in private companies on Equitybee.
Subject to availability.
How to Buy Plaid as a Retail Investor
Since Plaid hasn't gone public yet, retail investors cannot directly purchase the company's stock. So, since direct investing is a non-starter, what about indirect investing?
In the next few sections, I'll give you a couple of ideas for companies in the same sector as Plaid that you can check out. But first…
Ready to Invest? Limited-Time Deal for U.S. Residents!
eToro is one of the world's most popular investing platforms with over 28.5 million users.
Right now,  eToro is offering a $10 bonus* for U.S. residents who open and fund a new account.
$10 bonus for a deposit of $100 or more. *Only available to U.S. residents. Additional terms and conditions apply.
Who Owns Plaid?
Plaid was founded in 2013 by Zach Perret and William Hockey, who currently serve as its co-CEOs. They are the largest individual shareholders, owning an estimated 13% and 12% of Plaid stock, respectively.
Although this combines into a significant stake, the duo doesn't outright own the company — the other 75% of ownership is split between the VCs and hedge funds.
The majority of the company's ownership is split between the hedge funds, venture capital companies, and private equity companies that have participated in the five funding rounds up to this point.
They include:
Altimeter Capital
Goldman Sachs Investment Partners, which was founded by Goldman Sachs (NYSE: GS)
Index Ventures
Kleiner Perkins
New Enterprise Associates
Spark Capital
Does Visa Own Plaid?
No. Visa (NYSE: V) does not own Plaid. However, they almost did once.
In January of 2020, it was announced that a deal had been reached for Visa to purchase Plaid for $5.3 billion dollars.
But it never happened. In November of the same year, the DoJ filed a lawsuit to block the acquisition on the grounds of antitrust laws. Roughly two months later, Visa announced that they were backing out of the deal.
See below — the $5.3 billion funding dated 01/13/2020 pertains to Visa's failed takeover of the company…

How to Invest in Plaid Stock as a Retail Investor
Long story short — if you want to know how to buy Plaid stock as a retail investor, you can't.
Since the company is still private, there is no Plaid stock symbol to be found on any of the world's stock exchanges.
But there are alternatives to investing in Plaid.
Plaid's Investors
For instance, a couple of high-profile public companies do have private equity subsidiaries that have invested in the company, including:
We don't have the exact details regarding how much of a stake each of these companies has, and there are way too many investors overall to replicate the company's performance by investing in those who fund them.
However, this might not be such a bad thing, considering many of these companies' stocks, like Goldman Sachs, have grown a lot since Plaid was founded: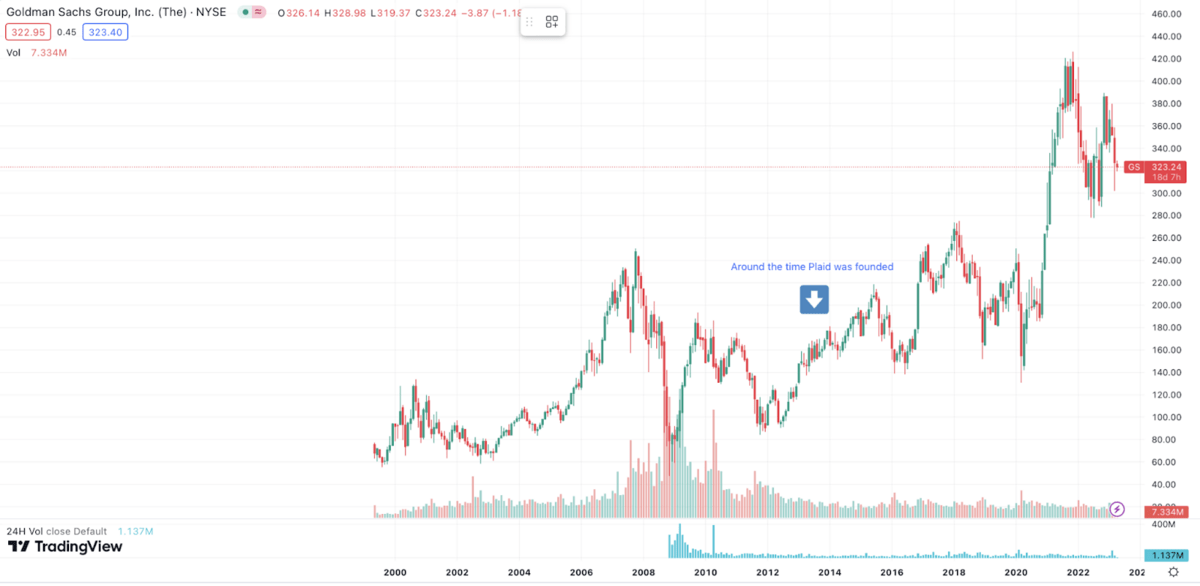 Plaid's Competitors
But that's not the only option. You could look to any of their numerous competitors in order to capture some of the fintech industry's growth.
On the more "startup" side of things, consider:
Block, Inc. (formerly Square) (NYSE: SQ) Jack Dorsey's financial services company
Buying Stripe stock — it's likely that this fintech company will IPO before Plaid, so keep an eye out!
However, there are also a lot of established financial services companies that are branching out into fintech, including:
How to Buy the Plaid IPO
The company's co-CEO, Zach Perett, doesn't believe that the market is favorable for a Plaid IPO right now. He may be right. Coupled with the fact that the company has been doing great in funding rounds (with more than four years of runway), Plaid is in no rush to go public.
However, things can change. If you want to know how to buy Plaid stock once it becomes public, here are the specific steps below:
Create or login to your brokerage account (if you don't have one, we recommend eToro – it's free)
Search for Plaid
Select how many shares you want to buy
Place your order
Monitor your trade
Your capital is at risk. Other fees apply. For more information, visit www.etoro.com/trading/fees.
Don't want to wait for the IPO? you can sign up with Equitybee for exclusive access to Plaid stock before its IPO.
Plaid Stock Price Chart
Unfortunately, I can't share a Plaid stock price chart with you. Plaid is a private company, so there's no Plaid stock symbol to look up on your favorite charting platform.
Still, let's not let a good section go to waste, and take a look at some other charts that provide valuable information about the company: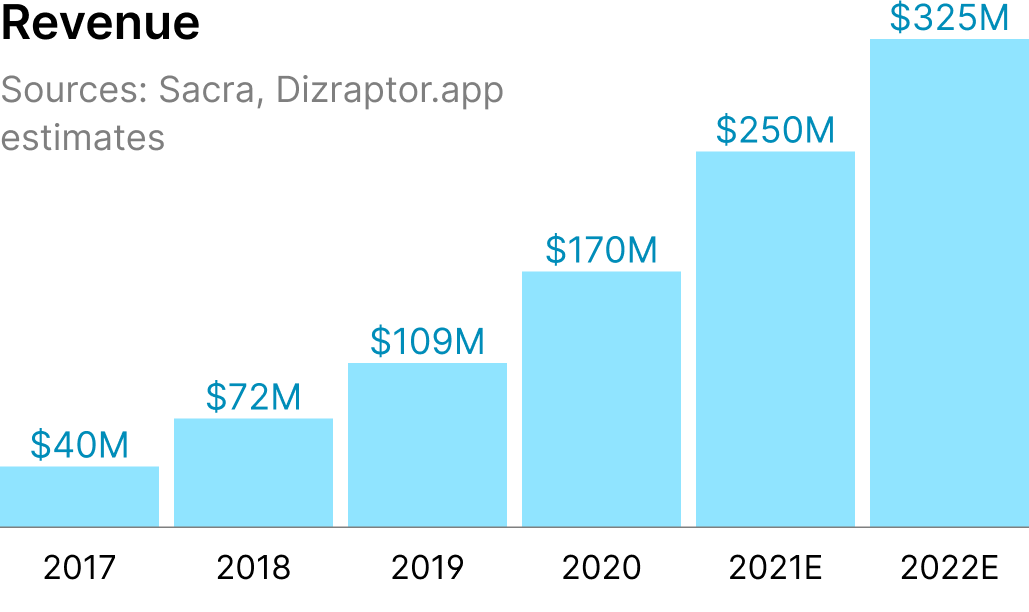 First, here we can see a consistent trend in the company's revenue growth.
An eightfold increase in revenue in just five years would do wonders for Plaid's stock price if it were publicly traded — and there's reason to believe that this growth pattern could hold in the years to come.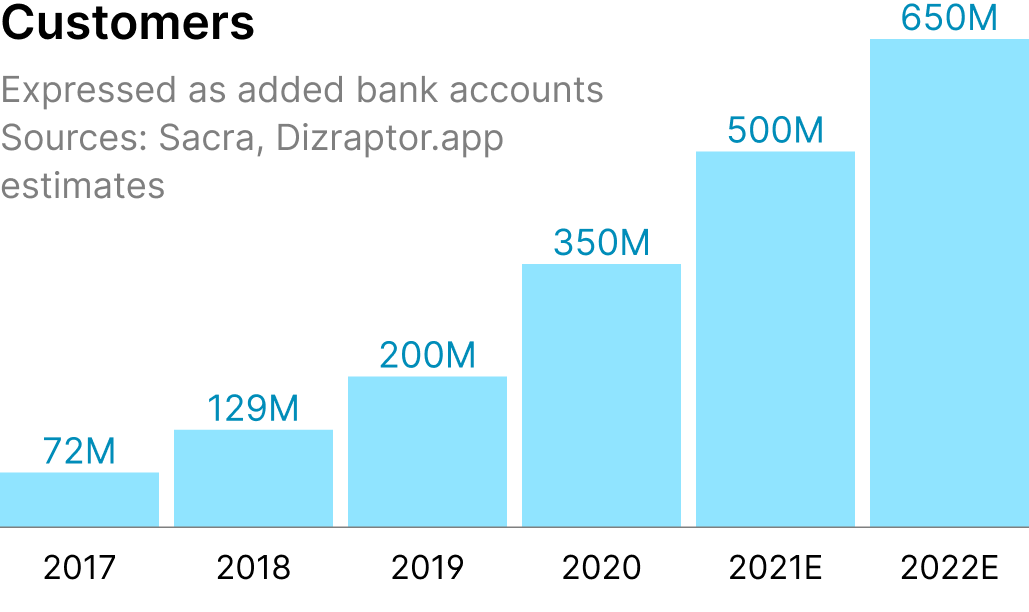 This second chart speaks further to this point. Plaid is positioning itself as a provider of software infrastructure for fintech services.
The company primarily makes money from fees billed to institutions that use its API. The fact that we've seen a ninefold increase in connected bank accounts is a pretty solid indication that the company has already secured a vast source of recurring revenue.
All in all, it's worth keeping an eye on Plaid. If you're an accredited investor, look into it on Equitybee — if you're a retail investor, you can wait for the IPO or explore the alternatives discussed in this article!
---
FAQs:
How to buy Plaid stock?
Plaid stock is not available to retail investors because the company is private. However, platforms like Equitybee allow those with accredited investor status to gain exposure to the company's growth.
How much is Plaid stock?
Since Plaid hasn't completed its IPO, the stock isn't listed and traded on exchanges. As such, there is no accurate way to tell what the stock is currently worth.
What is Plaid stock symbol?
Since Plaid hasn't gone public yet, there is no Plaid stock symbol.
Who owns Plaid stock?
Plaid co-founders Zach Perret and William Hockey are the largest individual shareholders, owning an estimated 13% and 12% of Plaid stock, respectively. The remaining 75% of ownership is split between the VCs and hedge funds including Goldman Sachs Investment Partners, Index Ventures, and Spark Capital.
Where to Invest $1,000 Right Now?
Did you know that stocks rated as "Buy" by the Top Analysts in WallStreetZen's database beat the S&P500 by 98.4% last year?
Our September report reveals the 3 "Strong Buy" stocks that market-beating analysts predict will outperform over the next year.