Our editorial team uses a strict editorial review process to compile all reviews, research, and evaluations of any kind. Our company, WallStreetZen Limited, is supported by our user community and may receive a small commission when purchases are made through partner links. Commissions do not affect the opinions or evaluations of our editorial team.
Robinhood is great for new investors who want an easy-to-use interface and a great mobile experience. However, it's severely limiting once you pass a certain hurdle of investing competence.
While it isn't the best long-term solution for building wealth, Robinhood's app made investing simple and free, which forced many other brokers to follow its example.
You can invest for free on the more robust Robinhood alternatives while still enjoying easy-to-use apps and desktop platforms. It's the best of both worlds.
Robinhood Overview
Before we dive into Robinhood's alternatives, let's quickly cover what Robinhood does best.
Robinhood is the easiest way for beginners to get started investing in stocks, ETFs, cryptocurrencies, and options from their phone. It has a sleek interface which makes its mobile app exceptionally simple to use.
However, it has many limitations.
Robinhood lacks sophisticated tools, retirement accounts, analysis, and asset classes that traders and intermediate – advanced investors need.
Additionally, despite being "on a mission to democratize finance for all", Robinhood has been known to restrict its users from trading. Most notably, Robinhood restricted trading during the GameStop short squeeze, which resulted in at least 50 federal lawsuits filed against the company.
So, what's better than Robinhood?
The 7 Best Robinhood Alternatives (7 Better Apps than Robinhood)
1. eToro
eToro vs. Robinhood: eToro is a modern and powerful brokerage and offers a one-of-a-kind social investing experience.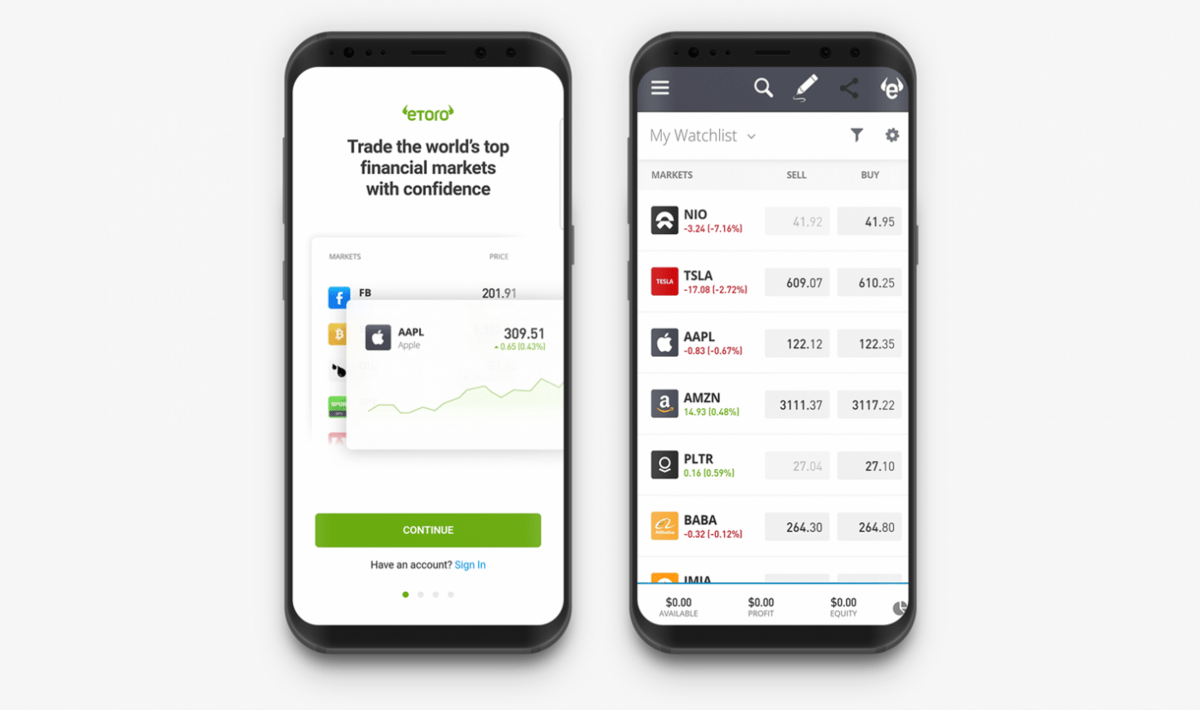 Who's it best for: eToro is a more robust version of Robinhood, which is why it's chosen by over 28.5 million users worldwide.
Pros:
Free trading for crypto, stocks, ETFs, and stocks
CopyTrader allows you to copy the trades of more experienced investors
Virtual portfolio allows you to test your skills risk free
Mobile and desktop platforms
Cons:
Slightly more complicated than Robinhood
eToro is best known for its emphasis on social investing, its combination of an investing app with social media. These features allow you to learn from, share strategies with, and trade alongside millions of other investors.
You can practice trading with a Demo Account or use CopyTrader for vetted trade ideas.
As of December 10, 2022, eToro is offering a bonus of up to $240* for U.S. residents who open and fund a new account.
*8-12% bonus, depending on deposit size. Only available to U.S. residents. Additional terms and conditions apply.
2. Webull
Webull vs. Robinhood: Webull is a stock app like Robinhood but provides more sophisticated trading tools, metrics, and functionality.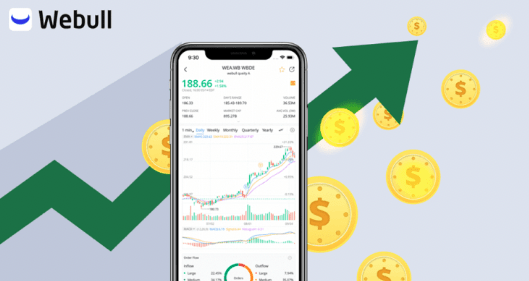 Who's it best for: Webull offers more sophisticated trading tools geared toward intermediate and advanced traders. If your investing style is headed toward active trading, you should switch to Webull.
Pros:
Free trading for stocks, ETFs, options, ADRs
Sleek mobile and desktop platforms
Enhanced trading metrics
Cons:
Its platform can be overwhelming for beginners
Lack of educational materials
When it comes to Robinhood alternatives, Webull stands out because of its in-depth tools, especially for traders. It offers news, analysis, and research from sources like NASDAQ, Dow Jones, and Morningstar along with dozens of technical indicators, advanced order tickets, and market data.
3. M1 Finance
M1 Finance vs. Robinhood: Whereas Robinhood is focused on getting people to start investing, M1 Finance is focused on helping people build long-term wealth.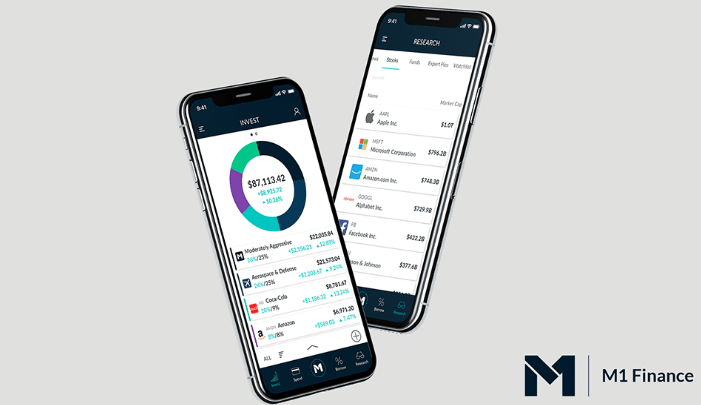 Who's it best for: M1 Finance is best for people who want to grow their net worth over the long run. It offers retirement accounts, tax-efficient automations, checking/saving accounts, and more. If Webull is the better Robinhood alternative for traders, M1 Finance is the better alternative for long-term investors.
Pros:
Offers a wide range of financial tools in addition to investing
Offers access to IRAs (Traditional, Roth, and SEP) and Trusts
A high-yield savings account that offers 4.5% APY (launching in 2023)
Cons:
M1 Finance is a holistic money management tool designed to build your long-term wealth. Its approach to investing allows you to focus on long-term returns, instead of short-term price fluctuations. M1 Finance also has many built-in automations for investing which save you time and money.
Plus, you can use its checking and savings accounts, credit cards, and more.
4. Stash
Stash vs. Robinhood: Stash's main platform focuses on automated investing that allows you to buy shares in its pre-built portfolios.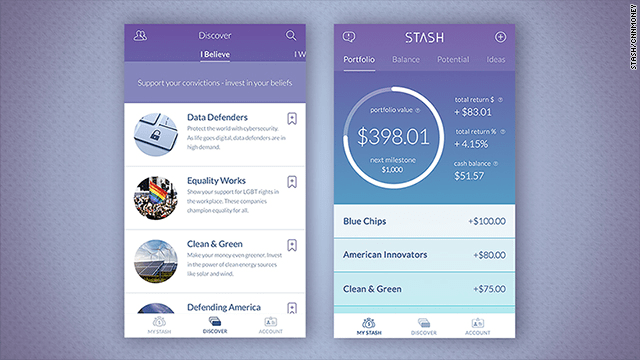 Who's it best for: Stash is the best app for someone looking for a stock app like Robinhood but wants to take a hands-off approach to their investing.
Pros:
Offers both automated investing as well as the ability to pick your own stocks
Very easy to get started with
Offers a debit card that rewards you with free stock
Cons:
Very limited platform if you want control over your investments
Stash costs $3 or $9 per month
Stash is a Robinhood competitor that focuses on automated investing. Its "Smart Portfolio" invests your money in a diversified fund once you've answered a few questions about your financial goals.
While it's different from Robinhood, I don't consider it a much better alternative from a "robustness" standpoint – Stash is still pretty limited, especially compared to the 3 alternatives listed above.
5. Acorns
Acorns vs. Robinhood: Acorns is a very similar to Stash. It invests very small sums into pre-created portfolios so you can start investing without noticing the money is gone.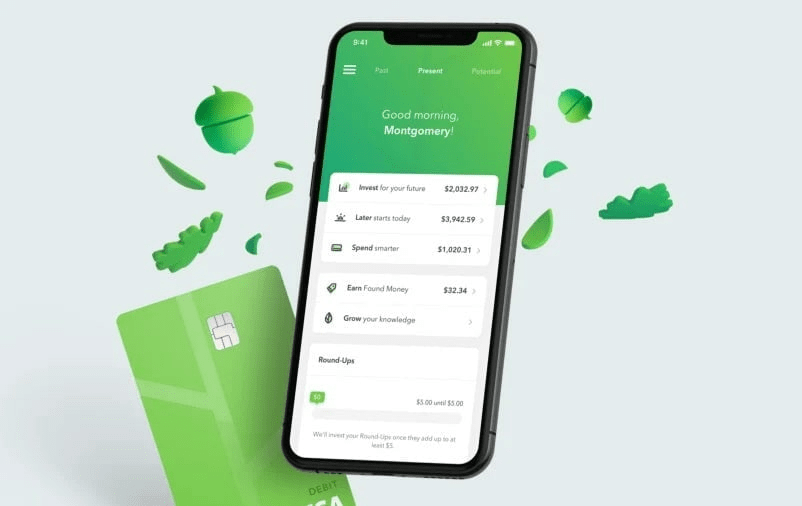 Who's it best for: Like Stash, Acorns is a stock app like Robinhood that makes your investing hands off.
Pros:
Great way for beginners to start investing
Acorns' Round Ups allow you to invest spare change
Allows you to separate investments for retirement or for your kids
Cons:
Does not let you buy individual assets
Very limited platform
Acorns costs $3 or $5 per month
Acorns is perhaps the best Robinhood alternative for people who just want to put their finances on autopilot and invest their spare change. It's also #2 on our list of the best money apps for teens.
It's a unique angle to start investing and allows you to buy stocks with a credit card, but you'll quickly advance beyond the app's capabilities.
Get a $10 new account bonus with the link below!
6. Public.com
Public.com vs. Robinhood: Public.com is one of the companies like Robinhood with a similar design but places an emphasis on alternative assets.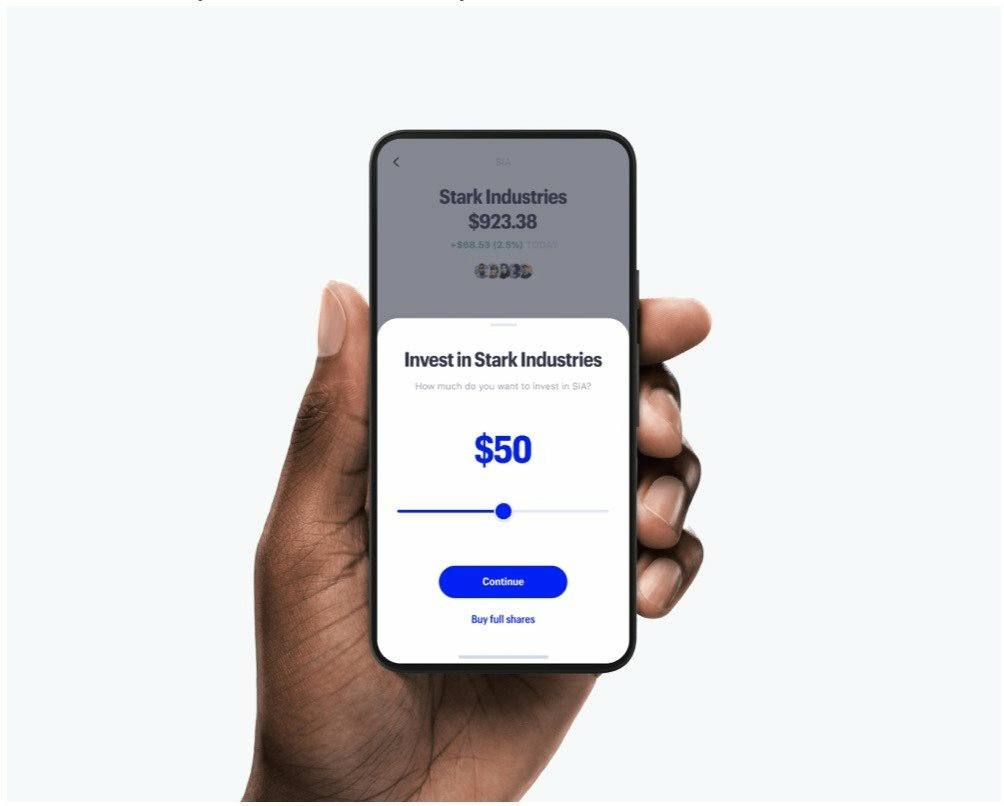 Who's it best for: Public is the best app for investors that want to buy alternative assets like art, NFTs, trading cards, real estate, and more alongside their stock, ETF, and cryptocurrency investments.
Pros:
Allows you to invest in stocks, crypto, ETFs, and alternative investments
Sends alerts as to why your investments are moving up/down
Cons:
Does not allow you to trade options, mutual funds, bonds, precious metals
No margin accounts
No IRAs
Public.com offers an impressive investment platform that lets you invest in alternative assets like luxury goods or fine arts along with your more standard investments in stocks, ETFs, and cryptocurrencies.
It's a unique offering and has a beautifully designed UI.
7. Fidelity
Fidelity vs. Robinhood: Fidelity is the legacy broker that most resembles the Robinhood experience but has a much more comprehensive set of features.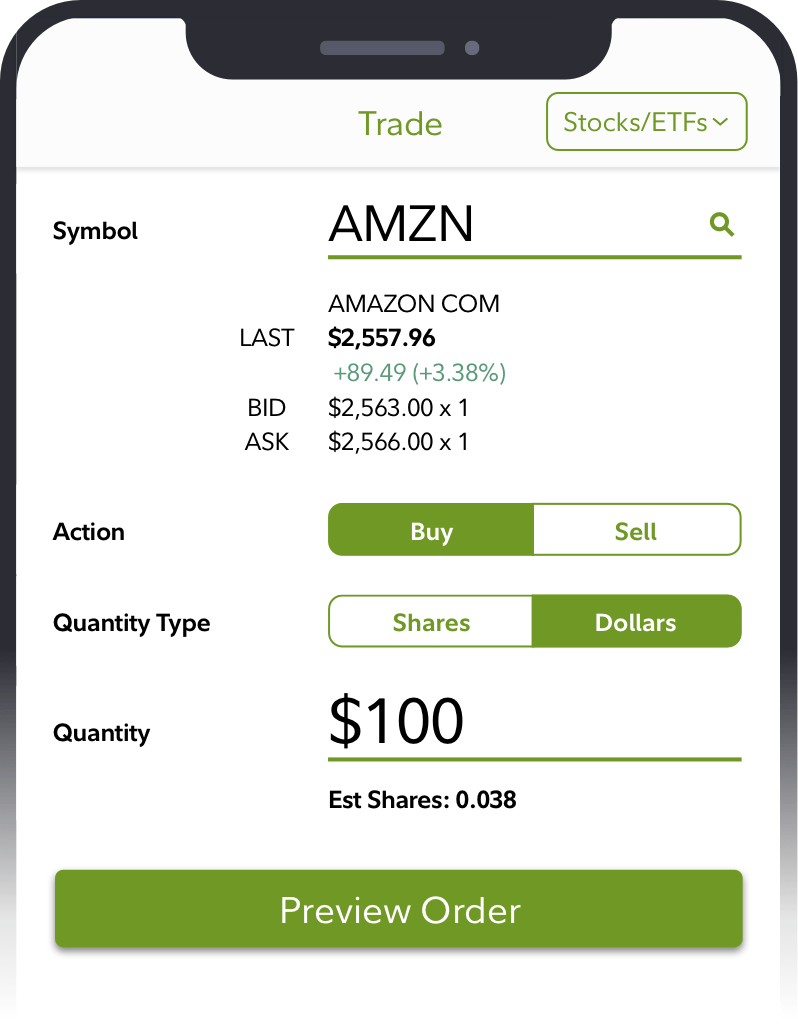 Who's it best for: If you want a well-rounded, legacy broker with a solid mobile experience, choose Fidelity.
Pros:
Access to stocks, ETFs, options, and fixed income
Advanced research
High-quality customer service
Both mobile and desktop trading platforms
Cons:
More complex mobile experience
No access to cryptocurrency
Fidelity is an established player in the brokerage world and has the largest set of features and investment options of any company on this list.
Fidelity was founded in 1946, while the other investment apps on this list were founded in the past 20 years. Fidelity has a degree of stability and robustness that the fintech companies on this list don't have.
Final Word: Robinhood Competitors
It's probably time you upgraded from Robinhood. While it's a great app to start investing, its limitations become apparent in a hurry.
There are plenty of brokerages to choose from. I hope I've made it clear which one is the best Robinhood alternative for you, based on your investment goals and situation.
I like eToro, Webull, and M1 Finance the most.
Remember, this is just a list of Robinhood alternatives. For a more comprehensive list, see our article on the best stock market apps.
You may also be interested in:
Regardless of the broker you choose, I can almost guarantee you'll be looking for extra analysis and research on the stocks you're considering.
WallStreetZen is a stock research tool designed to help part-time investors make better investment decisions in less time. We offer Wall Street-level analysis in an easy-to-digest format so you don't need a finance degree to understand it.
Open a brokerage account, then swing by WallStreetZen to start researching your favorite stocks.
Read more: How to Invest $50,000
---
FAQs:
What can I use instead of Robinhood?
You can use eToro, Webull, M1 Finance, or Fidelity instead of Robinhood.
You will need a more powerful investment app than Robinhood once you're no longer a beginner investor.
What's better than Robinhood?
eToro, Webull, M1 Finance, and Fidelity are better than Robinhood.
They're more robust platforms and will have all the functionality you need as an investor.
Is Robinhood only for U.S. citizens?
Yes, Robinhood is only for U.S. citizens.
Additionally, you must be 18 years or older, have a valid SSN, and have a legal U.S. residential address in the 50 states or Puerto Rico.
Where to Invest $1,000 Right Now?
Did you know that stocks rated as "Buy" by the Top Analysts in WallStreetZen's database beat the S&P500 by 98.4% last year?
Our December report reveals the 3 "Strong Buy" stocks that market-beating analysts predict will outperform over the next year.