Our editorial team uses a strict editorial review process to compile all reviews, research, and evaluations of any kind. Our company, WallStreetZen Limited, is supported by our user community and may receive a small commission when purchases are made through partner links. Commissions do not affect the opinions or evaluations of our editorial team.
There's a reason why cryptocurrency plays a crucial role in many alternative investment strategies. It adds diversity and the potential for incredible gains (though as you know, there are no guarantees in the market).
However, it can be complicated for newcomers and experienced traders alike, and it requires lightning reflexes to maximize your returns if you trade frequently.
But what if there was something that could handle the fast trading for you? There is — crypto trading bots.  
What's a crypto trading bot, and what's the best crypto trading bot? That's what we're here to discuss. Let's get to it:
Not ready for crypto trading bots quite yet? 
eToro's CopyTrader is a great alternative to crypto bots that lets you watch and learn.
Here's how it works: You follow successful traders at work and see their actual trades in action. It helps you see how they think — and how they trade. Want to know more? Read our full eTory Copy Trading review.
Whether you prefer to avoid algos or just want to expand your education, eToro's CopyTrader provides a great alternative.
What's the Best Crypto Trading Bot in 2023?
The bottom line: The best bot for one person might not be the best for another, though there is one for everyone.
Therefore, we want to focus on the best bot for different types of users.
There are a few bots, such as Stoic and Botsfolio, that stand out for larger groups of users, but ultimately the best crypto trading bot will depend on your needs.
8 Best Crypto Trading Bots in 2023
So what bot is right for your trading needs? Here are eight of my top recommendations, organized by best crypto trading bot in class.
1. Botsfolio – Best for Absolute Beginners
Rating: 3.5/5
Pricing: 0.5% yearly account value for accounts over $500; performance fee; $5-$20/mo.
Key Features: Risk management intelligence, beginner-friendly, full automation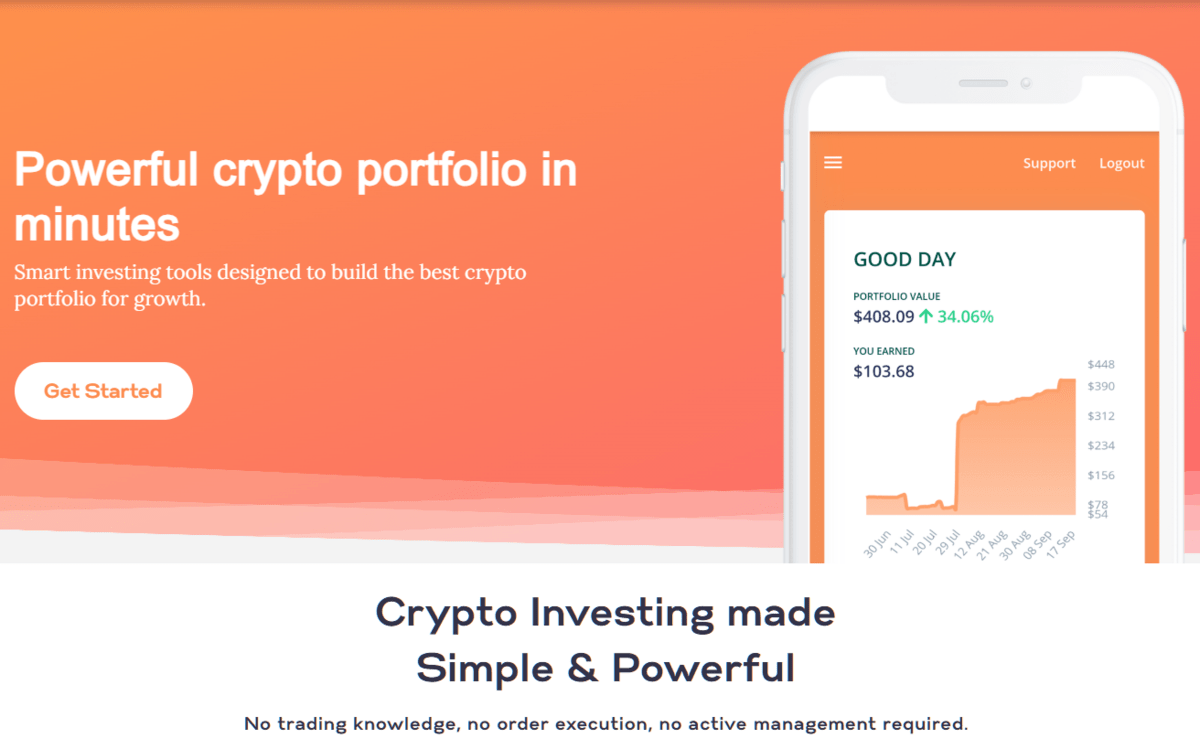 Out of the various bots I looked at, few were as aggressively beginner-friendly as Botfolio. It requires very little of your time to set up. You need to tell the bot your goals, and it will create a plan and automatically trade for you based on that plan.
Botsfolio has a set of pre-made portfolios you can work with, or you can work to create a custom portfolio with them. They also provide past performance data.
However, after users get more used to trading cryptocurrency and understand the market better, they might want to graduate to a different bot with more detailed options.
Crypto newbie?
Learn the rules before you break them (and potentially save yourself from crushing losses!).
Check out top-rated crypto course on Skillshare: Demystifying Cryptocurrency.
If you're bitcoin and blockchain, this course is a great starting point, featuring straightforward, accessible lessons about cryptocurrency — what it is, how it works, and where it's going next.
2. Coinigy Crypto Trading Bot – Best for Hands-on Enthusiasts
Rating: 3.5/5
Pricing: $21.95/mo.
Key Features: excellent security, many integration options, single interface

Coinigy might have a silly name, but that doesn't mean you shouldn't take its bots and platform seriously. It provides various charting options, real-time data on thousands of assets (on multiple exchanges), and a highly customizable charting and user interface.
It doesn't have the automated trading options of its competitors, focusing more on information.
The key feature is the number of integrations it has. It works with almost all major platforms and more than 5,000 cryptocurrencies.
Coinigy, with the information on hand, its customizable user interface, and many options, is best left to experienced cryptocurrency traders with time to explore the platform and set up an information flow that works for them.
Keep your crypto safe…
Online crypto hacks happen all the time. Keeping your crypto safe in a hardware wallet can help ward off would-be thieves.
SecuX is one of the leaders in crypto storage. The company is known for its security measures — notably, the Flash CC EAL5+ Secure Element chip that comes with most wallets in their lineup, a feature that helps protect your private key from potential threats.
(Fun fact: SecuX also created the first NFT hardware wallet in the world!)
3. CoinRule Crypto Trading Bot – Best for User-Friendliness
Rating: 4/5
Pricing: $29.99 – $449.99/mo.
Key Features: Excellent user interface, strong security, rule creation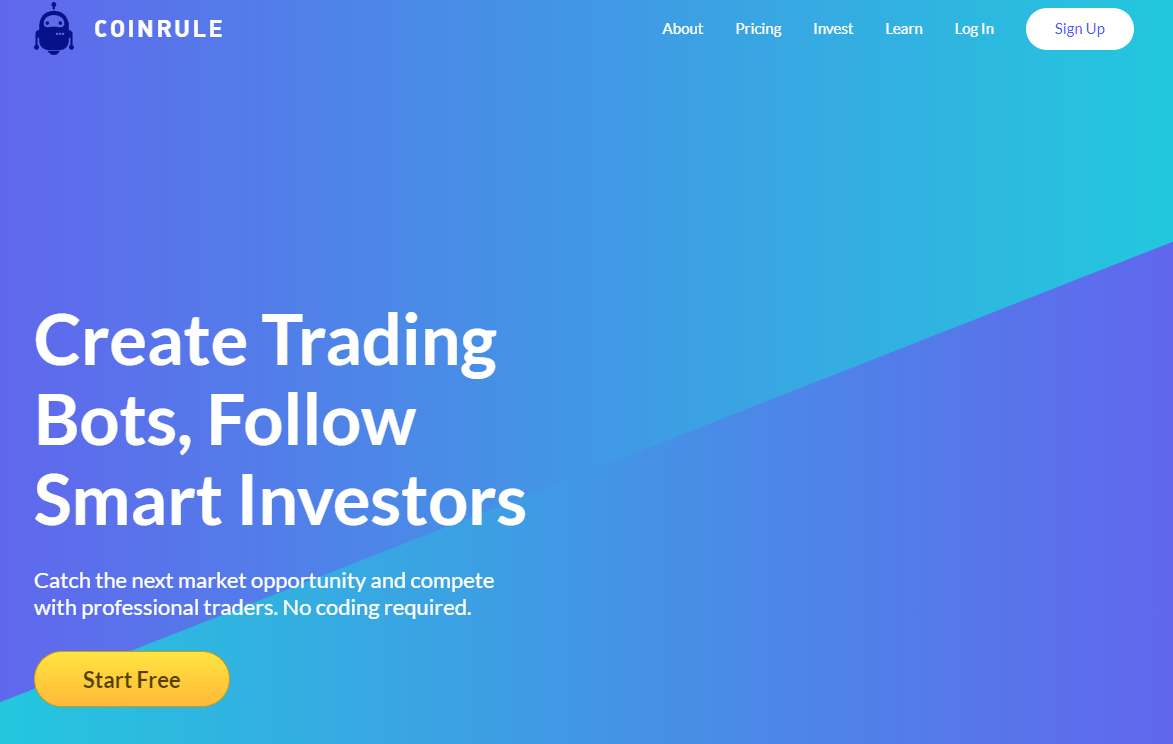 We talk about bitcoin trading bots and platforms for beginners, but that doesn't mean they're perfect from a UI perspective. CoinRule comes closest to that, making using the platform less of a chore.
Using CoinRule, you can set rules, templates, and instructions for the bot to follow. Nearly everything is in plain language, and the screens aren't filled to the brim to overwhelm you. There's just you, your screen, and your options.
The strategy editor best exemplifies this, allowing you to create an automated bot for trading that fits your needs, then test it out with the demo exchange option (paper trading, effectively).
It may not offer as much data as some platforms, but you will still be able to feel confident in your choices with CoinRule.
4. Pionex – Best Free Crypto Trading Bot
Rating: 4.5/5
Pricing: 0.05% trading fee
Key Features: Multiple trading bots, no monthly subscription fee, 300+ coins available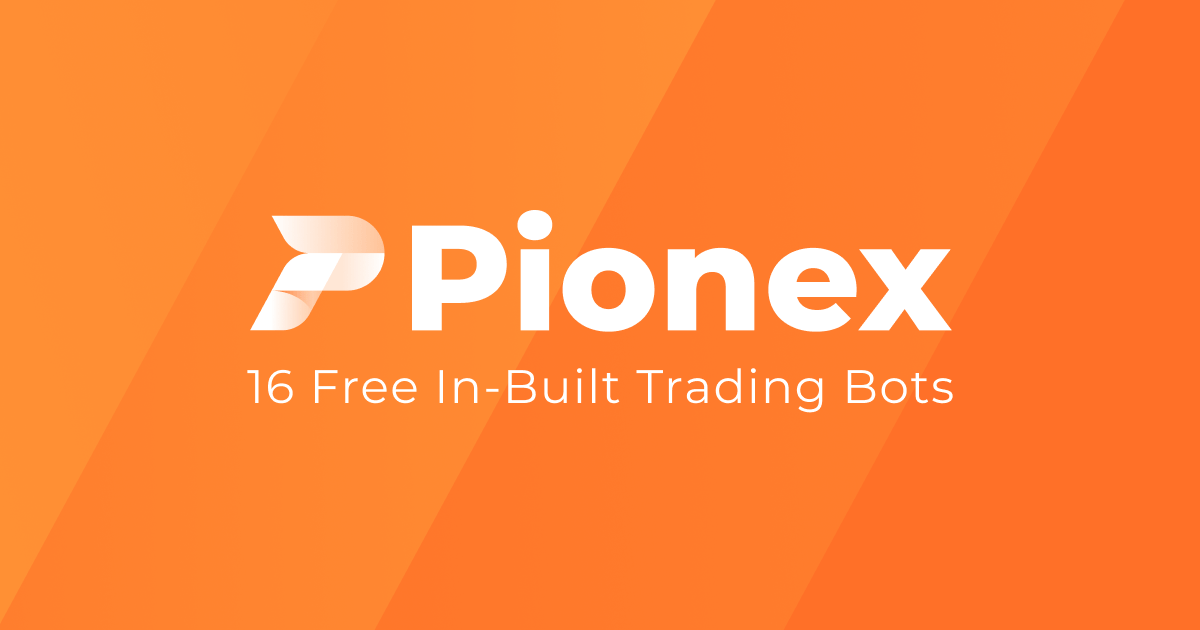 One of Pionex's key selling points is that it doesn't have a monthly subscription. Instead, it charges a very modest trading fee. Normally this means you shouldn't expect too much from a bitcoin robot, but Pionex is the exception.
It has 16 bots available for free, ranging from more aggressive to more conservative portfolios and trading plans. You can also manually configure trades if you'd like.
On top of this, the platform has a stronger community and set of resources than most. It might not have the best information or charting, but that's a small trade-off.
This means that Pionex might not be the long-term option you want if you are a serious trader, but if you're looking to dip your toe into the crypto water and want to try a bot to help you out, Pionex is the best free crypto trading bot.
5. 3Commas – Best for Experienced Traders
Rating: 4/5
Pricing: $29-$99/mo.
Key Features: Bot presets and customization, charting options, analytics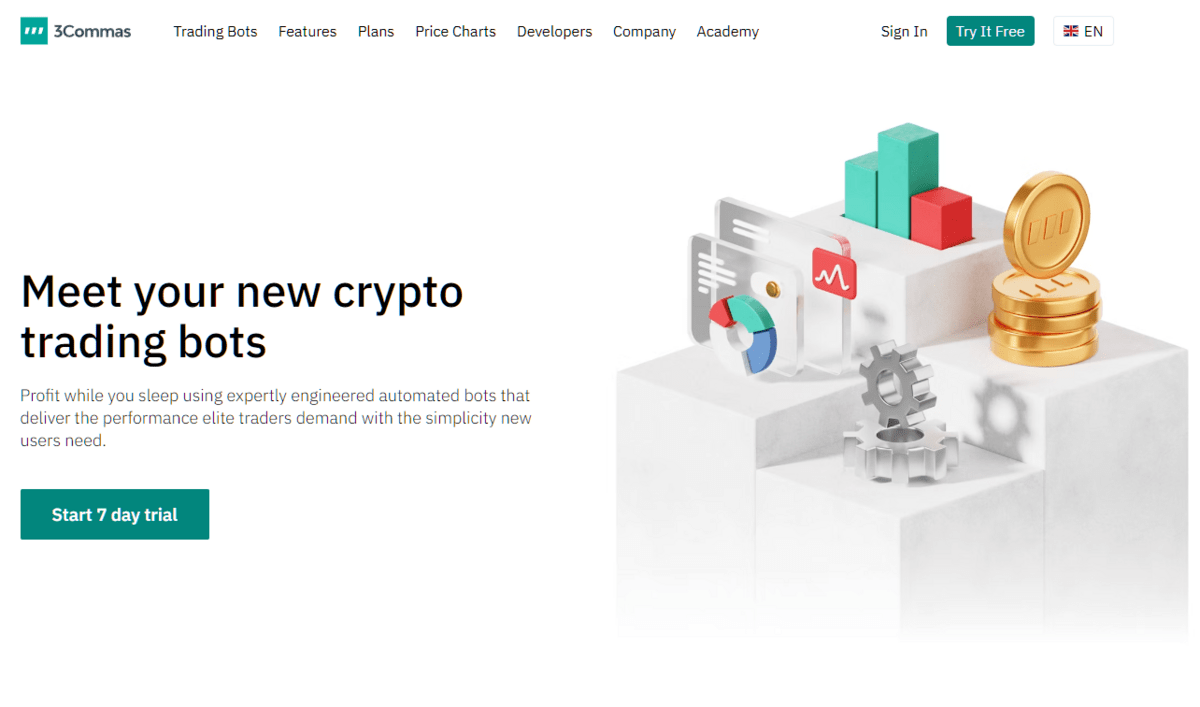 3Commas is a bot that prides itself on being able to tackle multiple markets and work to give traders all the information and options they need. And in their opinion, that's quite a bit.
There is also a free manual trading plan, but I wouldn't recommend it to anyone (other free options will be better).
The platform has bot presets, but you can set trades to work on specific triggers, integrate signals from expert traders into your bot, and do more customization based on incoming data and results.
This can come at a price, though: it is not great for inexperienced traders and can be costly for some users. 3Commas is for when you know cryptocurrency trading is a serious investment and interest for you.
6. Stoic – Best for Automation
Rating: 4.5/5
Pricing: $9-$25/mo for portfolios up to $10K; 5% annual fee for 10K+ portfolios
Key Features: clear strategies, automated trading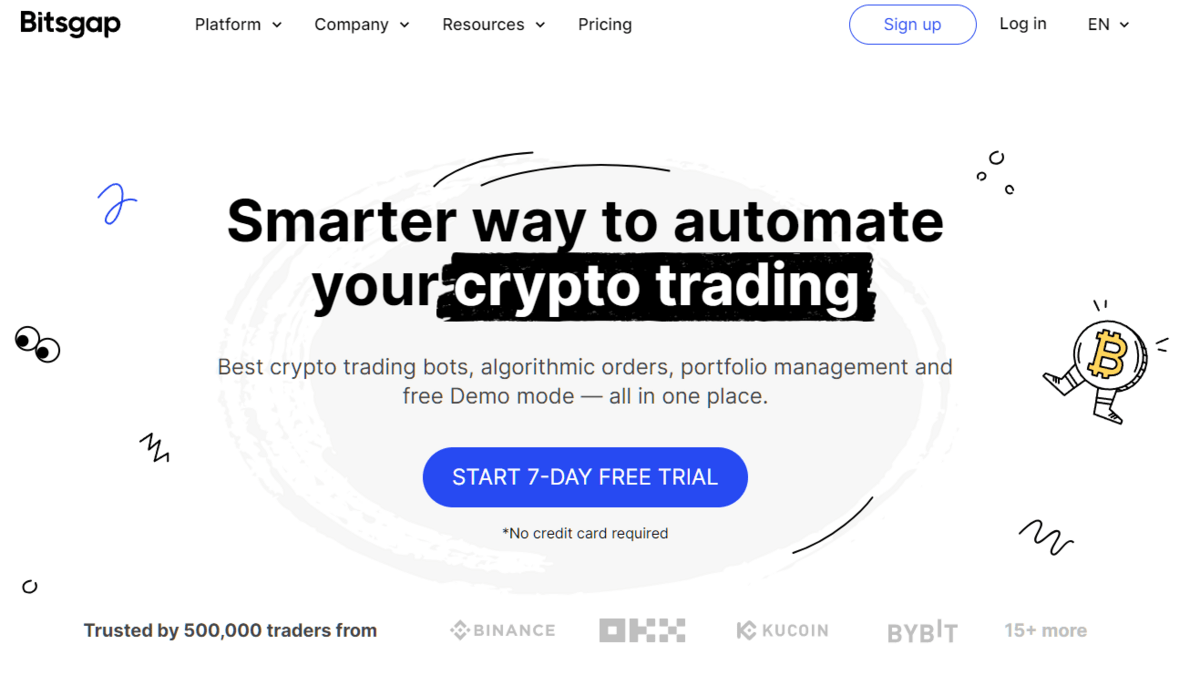 Stoic is an AI crypto trading bot that is one of the best for full automation and simply letting the bot take your portfolio in a direction (after you choose a direction). If you're nervous about all this, Stoic can help.
How so? Stoic's main goal is to allow trades to be made with minimal emotional input. Stoic's AI doesn't care about a major news event, at least not emotionally. It sees upturns and downturns as just numbers to be considered, nothing more.
You can choose one of three major trading strategies, and the bot will work from there. However, you can get more into the details if you'd like.
7. Bitsgap Trading Bot – Best for a Range of Bot Options
Rating: 4/5
Pricing: $29/mo – $149/mo.
Key Features: Automated trading, arbitrage features, portfolio tracking, secure trading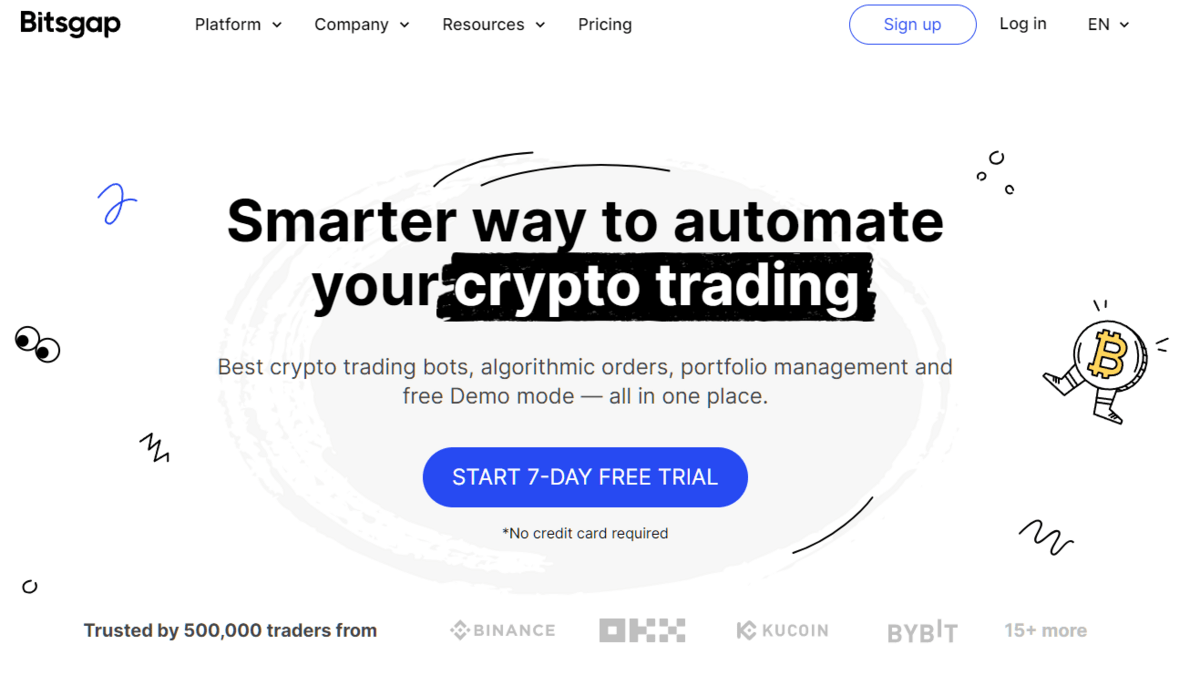 Established in 2017, Bitsgap has shown itself to be a leader in the crypto field. Its features make it a good choice for most traders, using multiple types of bots whether you're interested in long or short-term gains.
Being established in the market, Bitsgap has the features you'd expect from a crypto trading platform, including backtesting and bot customization features. You can expect the team to improve their product based on past performance.
While Bitsgap is a great option for traders looking for a simple automated system that can work privately for them, it loses some points for minimal customer support and not having a mobile app.
It partly makes up for this through a secure platform (it doesn't have access to your funds) and arbitrage trading features across multiple exchanges.
8. CryptoHopper – Best for Learning
Rating: 4/5
Pricing: $19 – $99/mo.
Key Features: paper trading, social trading, automatic trading

CryptoHopper is a highly customizable trading bot with automated features emphasizing testing, training, and strategy design.
Cryptohopper's AI will learn your personal trading patterns and then work based on those, adapting over time. Also, CryptoHopper will backtest your strategy, informing you of potential returns based on previous trends.
This makes Cryptohopper a good option if you want to learn more about trading, try things out, and become a better crypto trader. Social trading and paper trading can also get you more information, and there are plenty of tutorials and resources to get you on board.
Also, know that CryptoHopper is more than just a trading bot; you should consider its additional features as part of the greater package.
What is a Crypto Trading Bot?
A crypto trading bot is a program designed to automatically perform trades on the crypto market, analyze the market, and recommend potential trades, usually in real time.
They typically work by a set of rules to conduct their trades, though AI crypto trading bots may instead focus on a set of goals and greater paradigms, making internal rules from there.
There are plenty of different types of crypto trading bots, each with its intended user base. This means an exact definition outside the above can be hard to pin down.
How Does a Crypto Trading Bot Work?
Using AI or algorithms, a bitcoin robot or trading bot will analyze past trends, news reports, current market behavior, and other factors to determine the best move with various cryptocurrencies.
It then may automatically conduct trades with a pre-determined broker. The specific plans and strategies will depend on the bot.
More advanced bots and AIs will actively learn from changes in the market and their mistakes, adjusting course for future predictions and trades.
Less "intelligent" options will require human input to change the algorithms, but this method might better consider human elements and the incredible irrationality of the crypto market.
How to Choose the Best Crypto Trading Bot
Pricing: What do you want to pay for automating your trading? Most plans from most bots will be between $20 and $100 a month.
Any less, and you should question the extent of the service you're getting. Any more, and you can likely find better value. The exception to this is professional plans.
Intelligence and Algorithms: Do you agree with how the bot is programmed and aimed on a general level? Does the bot improve to keep up with the competition and learn from its mistakes?
Past Results: Past results are not necessarily indicative of future returns. However, seeing a failing crypto trading bot and thinking it will suddenly turn itself around now would be foolish.
Customer service: Things can go wrong with a trading bot or platform, and you need to know you can get support that you will fix your problem in a reasonable amount of time, and that the problem won't get worse.
UI and ease-of-use: A bot that is mentally taxing to use isn't going to be a bot you want to use. And if it's not a bot you want to use, what's the point?
Benefits of Automated Crypto Trading
Emotionless Trading: Crypto trading on the regular is not for the faint of heart, given how often fluctuations happen in the market. However, a bot sees more data and incorporates it into its algorithms and recommendations. If you're worried about making a bad move because of emotional factors, a crypto trading bot can greatly help.
Quick Reactions and Constant Trading: As fast as you think you are, a crypto trading bot is faster. You need to do human things like eat, sleep, blink, and use the restroom. A trading bot has none of those human weaknesses and can trade extremely quickly at any time.
Time-Saving: You might have better things to do or other responsibilities than sitting on your phone or at your computer all day, watching cryptocurrency prices go up and down. A bot doesn't have much better to do.
Analysis: While you have a better idea of exactly what to look at, it is impossible for a human being to analyze all of the data and information surrounding cryptocurrency generated daily.
A computer can quickly process a lot of data and decide if it's relevant (or leave that decision to you).
Alternative to Automated Crypto Trading – eToro's CopyTrader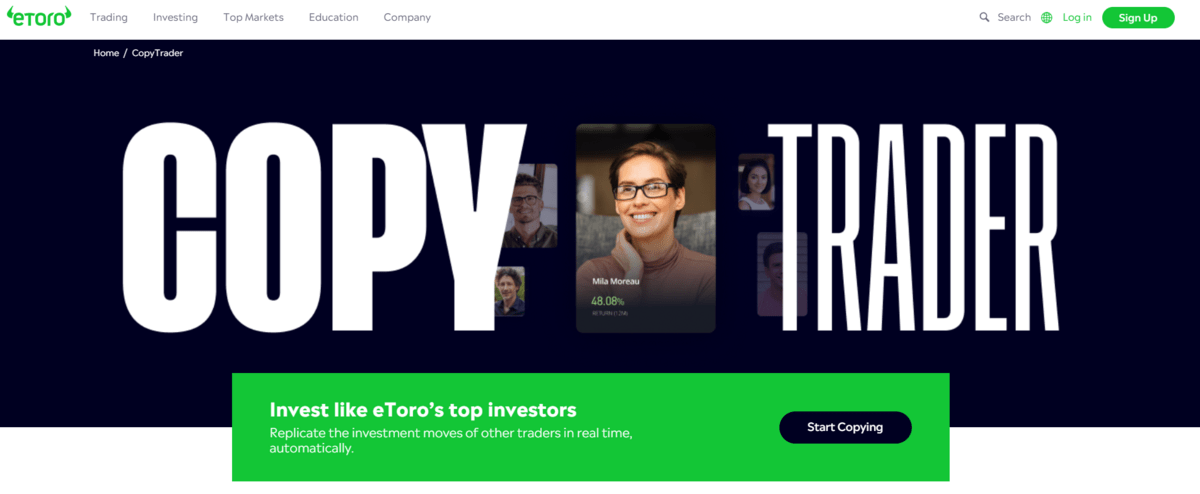 Working with bots and AI can be a big ask, especially if you don't believe they are ready to trust your money yet. However, automated trading based on educated predictions still has benefits.
For people interested in such an idea, I'd like to bring up a worthy alternative: eToro's CopyTrader. It is a platform that effectively automates your portfolio based on the trades and picks of an expert investor working with eToro. When that investor makes a change, so will your account.
While it might be previously best known for handling stock market picks, there are crypto trading options if you want to copy top traders in the field. It has all the convenience of a crypto trading bot but keeps that essential human element.
eToro has increased its focus on cryptocurrency as of late, so now might be a good time to see if there's a trader to follow that fits your investment goals.
eToro is a multi-asset platform which offers both investing in stocks and cryptoassets, as well as trading CFDs.
CFDs are complex instruments and come with a high risk of losing money rapidly due to leverage. 81% of retail investor accounts lose money when trading CFDs with this provider. You should consider whether you understand how CFDs work, and whether you can afford to take the high risk of losing your money.
Cryptoassets are highly volatile and unregulated in the UK. No consumer protection. Tax on profits may apply.
Copy Trading does not amount to investment advice. The value of your investments may go up or down. Your capital is at risk.
eToro USA LLC does not offer CFDs and neither does it represent or assume any responsibility for the accuracy or completeness of the content of this publication, prepared by WallStreetZen, as a partner, using information available and public and not specific to the eToro entity.
Final Word:
Crypto trading can be scary to those who haven't been doing it for a while, and its volatility doesn't help. However, cryptocurrency can be a strong growth-driven part of a portfolio when considered well and balanced with other investment opportunities.
You can enjoy high-level advice and automation thanks to modern technology and advancements in AI and trading algorithms. While I do not recommend you lean fully on a bitcoin trading bot, you can use them to learn and handle things daily.
Meanwhile, please learn as much about crypto trading and cryptocurrency as possible, so you can get the best returns for your cryptocurrency investments, whatever bot you're using.
---
FAQs:
Which bot is best for crypto?
There is no one best bot, only the best bot for your situation. Some will specialize in helping hobbyist traders who want to take their hands off the wheel a bit more, while others aim to provide you with as much information and justification for their choices as possible.
Do crypto trading bots actually work?
It depends on what you expect from them. If you hope they'll make you an overnight fortune, you'll be disappointed.
If you're hoping they'll make trading easier and remove some anxious decision-making from the equation, then the best options can help greatly.
How much does a good trading bot cost?
It varies greatly depending on the number of trades you do each year, what features you are looking for, and other factors.
However, you will find most of the best bots range in price between $20 a month for basic plans to $100 a month or much more for professional plans.
What is the best free crypto bot?
If you're interested in the technology and topic, Pionex has some good free trading bots, at least avoiding a monthly fee.
However, I would not recommend using a free crypto bot, especially if you trade frequently. No free bot will be able to match the best premium options, and you are usually paying the price in something other than money when you use a free product.
Where to Invest $1,000 Right Now?
Did you know that stocks rated as "Buy" by the Top Analysts in WallStreetZen's database beat the S&P500 by 98.4% last year?
Our September report reveals the 3 "Strong Buy" stocks that market-beating analysts predict will outperform over the next year.