Our editorial team uses a strict editorial review process to compile all reviews, research, and evaluations of any kind. Our company, WallStreetZen Limited, is supported by our user community and may receive a small commission when purchases are made through partner links. Commissions do not affect the opinions or evaluations of our editorial team.
Hulu is not publicly traded.
Equitybee gives accredited investors access to hundreds of private, VC-backed startups before they IPO.
Sign up with Equitybee and get notified if Hulu becomes available.
Hulu is a money-printing machine.
Its 47 million paying subscribers and in-show ads generated $9.6 billion in revenue in 2021.
The streaming business has become a $300 billion industry over the last 10 years. Netflix, Amazon, Apple, NBC, Disney, HBO – everybody has their own streaming platform.
Chances are you're a subscriber to at least one of the services mentioned above.
So, what's the best way to invest in this massive industry?
It seems like the money has already been made in the giants like Netflix, Amazon, and Apple, but what about Hulu? Could it become as big as the others?
Only time will tell.
Here's how to buy Hulu stock in 2023.
Can You Buy Hulu Stock? Is Hulu Publicly Traded?
For the time being, Hulu is not a publicly-traded company, meaning you can't invest in the company directly.
You can become an investor in private companies like Stripe, Reddit, and Instacart.
Equitybee gives accredited investors access to hundreds of high-growth, VC-backed startups. By funding employee stock options, investors like you can own stakes in private companies at past valuations. In exchange for funding the options, you will receive a percentage of future proceeds from successful liquidity events.
Hulu isn't yet on Equitybee, but you can sign up here and get notified if Hulu options become available.
Start investing in private companies on Equitybee.
Subject to availability.
But there is a way to invest indirectly…
Hulu was planning an IPO as early as 2010 but, so far, these plans have not materialized. While there's no Hulu stock symbol to find on your brokerage website or trading platform, there is a way to participate in the company's upside.
Here the process of how to buy Hulu stock indirectly:
Who Owns Hulu?
Hulu is structured as a joint-venture between Disney and Comcast.
Disney owns a 67% stake and Comcast owns the remaining 33%.
While these companies aren't planning on selling Hulu to the public via an IPO, both Disney and Comcast are publicly-traded companies. This means we can invest in these businesses and gain exposure to Hulu.
If Hulu's business continues to grow, that should be reflected in Disney's and Comcast's stock prices.
Only 1 of these companies, in my opinion, is the best way to invest in Hulu.
How to Invest in Hulu Stock
In 2019, Disney guaranteed to buy Comcast's stake in Hulu for a minimum of $9 billion in 2024. This would give Hulu a valuation of $27.5 billion, about 15% of Disney's current market capitalization ($170 billion).
In my opinion, the best way to gain exposure to Hulu is to purchase shares of Disney (NYSE: DIS). Disney owns 67% of Hulu and will likely own all of it by the end of 2024.
If Hulu grows, Disney will benefit.
Remember, Hulu represents less than 10% of Disney's valuation – don't buy shares of Disney unless you believe in the other 90% of its business, too.
If you're bullish on the future of streaming and want to make a more direct investment in the industry in general, consider Netflix (NASDAQ: NFLX).
September 2023 Deal for U.S. Residents
eToro is one of the world's most popular investing platforms with over 28.5 million users.
As of September 20, 2023, eToro is offering a $10 bonus* for U.S. residents who open and fund a new account.
$10 bonus for a deposit of $100 or more. Only available to U.S. residents. Additional terms and conditions apply.
How to Buy the Hulu IPO
As mentioned above, Hulu intended to go public many years ago, but backed out and was eventually bought by Disney and Comcast.
If Disney and Comcast decide to list it in the future, here are the steps you will need to take to buy shares of Hulu's IPO:
Create or login to your brokerage account (if you don't have one, we recommend eToro – it's free)
Search for Hulu
Select how many shares you want to buy
Place your order
Monitor your trade
If and when Hulu ends up going public, you'll be able to find the Hulu stock price chart and other relevant information on your platform of choice. Hulu stock is not yet available on the stock market – you cannot purchase it at this time.
If you don't want to wait until its IPO, you can sign up with Equitybee and get notified if Hulu options become available.
Equitybee gives accredited investors the opportunity to become an investor in private companies like Stripe, Reddit, and Instacart.
Register here and get the chance for exclusive access to Hulu stock before its IPO.
Subject to availability.
Hulu Stock Price Chart
Here's a look at Hulu's valuation history over time: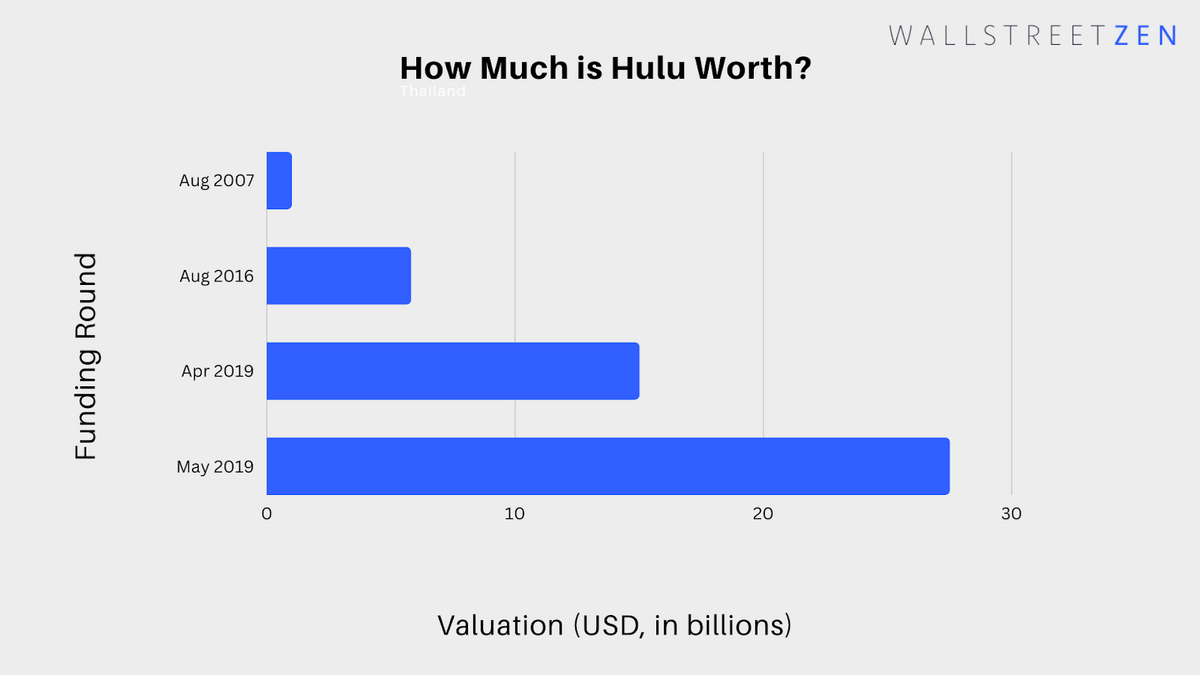 Remember, Disney has agreed to purchase Comcast's stake in 2024 at a valuation of at least $27.5 billion.
---
FAQs:
How to buy Hulu stock?
The best way to buy Hulu stock is via an investment in Disney.
Disney is the majority owner of Hulu, so buying its shares is a way to invest indirectly in the growth of Hulu.
How much is Hulu stock?
Hulu is currently valued at about $27 billion.
There is no Hulu stock price at this time, because they are a privately-owned company. If they go public, the stock price will be announced at that time.
What is Hulu stock symbol?
The Hulu stock symbol has not been determined, though if the company does go public, my guess is that they'd try to grab the ticker "HULU".
Who owns Hulu stock?
Hulu stock is owned by Disney and Comcast. Disney owns 67% of the company's shares and has agreed to buy Comcast's 33% stake in 2024.
Where to Invest $1,000 Right Now?
Did you know that stocks rated as "Buy" by the Top Analysts in WallStreetZen's database beat the S&P500 by 98.4% last year?
Our September report reveals the 3 "Strong Buy" stocks that market-beating analysts predict will outperform over the next year.