Our editorial team uses a strict editorial review process to compile all reviews, research, and evaluations of any kind. Our company, WallStreetZen Limited, is supported by our user community and may receive a small commission when purchases are made through partner links. Commissions do not affect the opinions or evaluations of our editorial team.
ByteDance is not publicly traded, but that doesn't mean you can't invest in it.
Equitybee gives accredited investors access to hundreds of private, VC-backed startups before they IPO.
Sign up with Equitybee and invest in ByteDance today.
Ever heard of TikTok, that little video-sharing platform with about 3 billion downloads?
It made $4.6 billion in revenue last year (146% YoY growth).
Its owner: ByteDance.
The relationship between ByteDance and TikTok is the same as Google and YouTube.
Here's what you may not know: TikTok is not ByteDance's only platform. They also own a popular AI-powered news platform called Toutaio and many others.
ByteDance seems like a great investment.
The question is: How to buy ByteDance stock?
It's a little harder than most companies, but certainly possible. We'll break it down based on whether or not you're an accredited investor.
How to Buy ByteDance Stock as an Accredited Investor
Equitybee gives accredited investors access to hundreds of high-growth, VC-backed startups. You can become an investor in private companies like ByteDance, Stripe, and Reddit.
By funding employee stock options, investors like you can own stakes in private companies at past valuations. In exchange for funding the options, you will receive a percentage of future proceeds from successful liquidity events.
Click on the image below to view ByteDance's current offerings on Equitybee: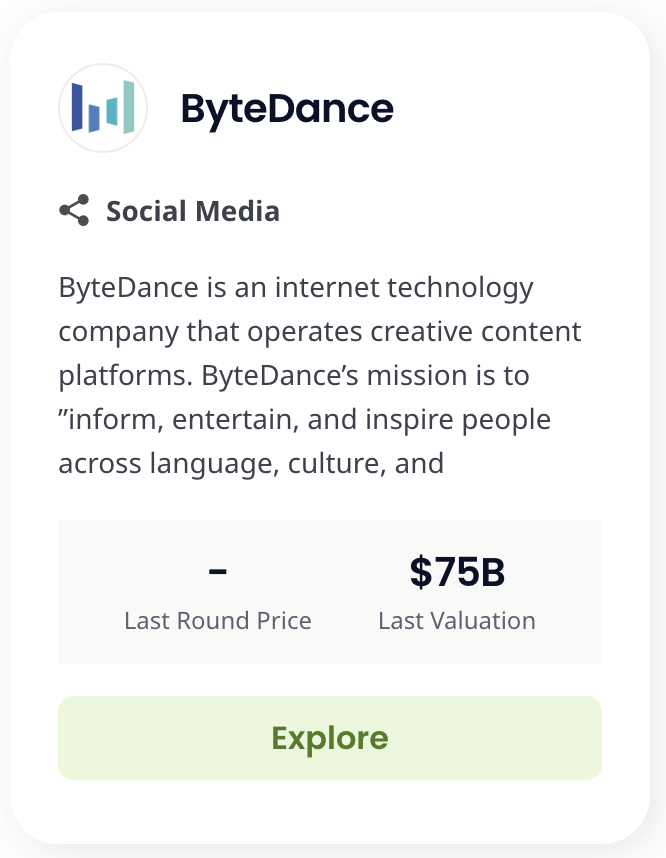 Start investing in ByteDance and hundreds of other private companies on Equitybee.
Subject to availability.
If you're not an accredited investor, keep reading to learn how you can gain exposure to ByteDances's upside…
Can You Buy ByteDance Stock as a Retail Trader? Is ByteDance Publicly Traded?
For now, ByteDance is a privately-owned company, meaning that ByteDance stock is not available on the stock market.
However, plans for an IPO have been in the works for some time. These plans were recently delayed while ByteDance deals with regulatory issues in China.
Its latest valuation was near $250 billion, meaning its IPO will be one of the largest ever.
You can still invest in the company even before its IPO, if you're willing to take a more roundabout approach.
December 2023 Deal for U.S. Residents
eToro is one of the world's most popular investing platforms with over 28.5 million users.
As of December 9, 2023, eToro is offering a $10 bonus* for U.S. residents who open and fund a new account.
$10 bonus for a deposit of $100 or more. Only available to U.S. residents. Additional terms and conditions apply.
Who Owns ByteDance?
ByteDance stock is owned by several banks and investment groups.
You should focus on 2: SoftBank Group Corporation and Kohlberg Kravis Roberts.
Since these 2 companies are publicly traded, you can make an indirect investment in ByteDance by buying either/both of these companies:
Kohlberg Kravis Roberts is a global investment firm headquartered in New York
SoftBank is one of the most active investors in technology companies and has held stock in Slack, NVIDIA, Uber, and many others.
Both of these private equity firms have an entire portfolio of investments of which ByteDance is just one. Perform your own due diligence and make sure you want to own the complete portfolio of companies before choosing to invest.
How to Buy the ByteDance IPO
Rumors that ByteDance will be going public have been circulating for years. As mentioned above, its IPO could be one of the largest ever.
Here are the steps you will need to take to buy shares of ByteDance when it becomes available:
Create or login to your brokerage account (if you don't have one, we recommend eToro – it's free)
Search for ByteDance
Select how many shares you want to buy
Place your order
Monitor your trade
To reiterate, ByteDance stock is not available on any exchange at this time. You'll have to wait until an IPO to invest directly into ByteDance.
If you don't want to wait for its IPO, register for Equitybee and invest in ByteDance today.
Subject to availability.
If you're interested in competitors to TikTok and ByteDance, check out how to buy Twitter stock.
ByteDance Stock Price Chart
According to the most recent sources, ByteDance is currently valued at $250 billion, though it has ranged between $35 billion and $460 billion.
A ByteDance stock price chart is not available and will likely not be available until the IPO.
---
FAQs:
How to buy ByteDance stock?
You can invest indirectly in ByteDance by buying shares of SoftBank Group or Kohlberg Kravis.
ByteDance is not a publicly traded company so you cannot buy its shares directly.
How much is ByteDance stock?
ByteDance is valued at $250 billion.
However, there is no ByteDance stock price available on trading platforms or brokerages. If and when there is an IPO, the ByteDance stock price will be determined by the valuation divided by the number of shares issued.
What is ByteDance stock symbol?
The ByteDance stock symbol has not been decided. If the company decides to go public in the future, the ticker symbol will be released in the filings.
Who owns ByteDance stock?
There are dozens of investors in ByteDance – primarily venture capital firms. Even companies like Goldman Sachs and Morgan Stanley have some exposure to ByteDance. Softbank Group may own a significant portion of ByteDance shares, and Kohlberg Kravis is a NYSE-listed investment firm which also owns a portion.
Where to Invest $1,000 Right Now?
Did you know that stocks rated as "Buy" by the Top Analysts in WallStreetZen's database beat the S&P500 by 98.4% last year?
Our December report reveals the 3 "Strong Buy" stocks that market-beating analysts predict will outperform over the next year.