Our editorial team uses a strict editorial review process to compile all reviews, research, and evaluations of any kind. Our company, WallStreetZen Limited, is supported by our user community and may receive a small commission when purchases are made through partner links. Commissions do not affect the opinions or evaluations of our editorial team.
With interest rates higher than they've been since the 80s, a recession looming, and the country staring down the barrel of an election year, everyone could use a little help figuring out where to invest their money right now. Possibly including you.
If you're looking for the best places to invest money right now, you've come to the right place. I've put together this list of my favorite ideas for investing money in the current economic climate — let's get to it!
What's the Best Way to Invest Money Right Now? The Bottom Line
The bottom line is that the best places to invest money right now add up to a diversified portfolio of loosely correlated assets. I don't just mean stocks. Putting your money in a variety of places is essential in uncertain economic environments so that you don't lose large sums of money when one asset is down.
11 Ideas: The Best Places to Invest Money Right Now
The table below provides a quick birds-eye view of the assets I cover in the following sections.
1. Fine Art – Best For Adding Upside
Let's start with something fun. Investing in fine art isn't just for people with monocles. In fact, it's a strong candidate for the best way to invest right now for anyone who wants to add potential upside with little correlation to the stock market to their portfolio.
Masterworks is an online platform that lets anyone invest in fine art — no need to be an accredited investor.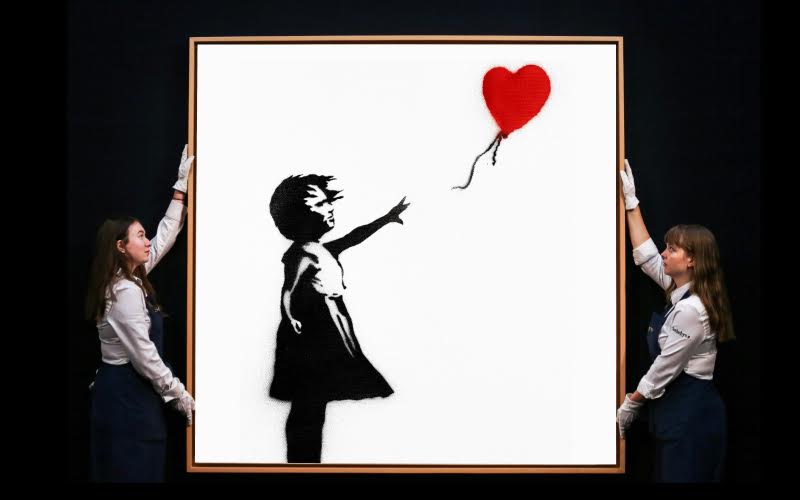 Here's how it works: You buy shares of fine art pieces. From there, you can either hold and potentially collect a portion of the proceeds when the piece sells, or sell your shares on a secondary market.
Masterworks' impressive $1 billion collection includes works by the likes of Picasso, Basquiat, and Warhol — and in the past few years, its investors have realized annualized net returns of 17.8%, 21.5%, 35%, and more from these opportunities.
Plus, as you can see in the below image, art has proven to perform well during periods of high inflation:
2. The Stock Market – Best for Long-term Growth
Ah, the stock market. Stocks are one of the best asset classes for growth, historically speaking. Stocks have consistently high risk-adjusted returns and are the core component of almost all growth-oriented portfolios.
Of course, investing in stocks when inflation is running wild is a bit risky, but a well-diversified basket of stocks — or just a boring old index fund that tracks the market as a whole — is always worth a sizable fraction of your investment money. The stock market is my pick for the best way to invest with $50,000 right now if you're in it for the long haul.
If you need a brokerage, I can't recommend eToro highly enough. It has all the tools you need to make smart investments and manage your money from the convenience of your mobile phone.
3. Automated Investing – Best for Hands-Off Investing
If you like the sound of investing in stocks but don't want to be bothered managing your investments yourself, you should consider automated investing. M1 Finance has my favorite automated investing tools for automatic rebalancing and dollar cost averaging, which, let's be honest, covers almost everything retail investors need.
Automated investing is just a better way to invest in stocks, so it's the best way to invest $50,000 right now if you want to invest in the stock market with the extra peace of mind that your portfolio will rebalance itself.
4. High-Yield Savings – Best for Risk-free Returns
High-yield savings accounts (HYSAs) are great in high-interest rate environments. They provide relatively high returns — typically around 4–5% — for virtually no risk since they're FDIC-insured up to $250,000.
If you compare 4-5% returns to the average savings account, which gives you back an average of 0.42%, it's a no-brainer.
Empower has one of the best HYSAs available right now, and I encourage you to check it out if you're looking for a safe place to park some money for a while.
If you're saving money for a downpayment or just looking to preserve your cash while you figure out what to do with it, a HYSA from Empower is the perfect place to put it.
Plus, Empower has a ton of other FREE tools on its impressive dashboard, ranging from a budgeting tool to an investment checkup tool to retirement planning tools.
5. Bonds – Best for Generating Income
There's a reason why bonds are a staple of fixed-income portfolios. Bonds generate steady income, which is what you need when you're done chasing gains in the stock market and are ready for some stability. Bonds come in two broad categories: government bonds and corporate bonds.
Government
Government bonds are a hot investment right now since basically, all terms have excellent rates at the moment. They're also among the safer investments since the only way you don't get paid is if the U.S. government can't pay its debts, and if that happens, you probably have bigger problems to deal with. U.S. Treasury bonds are my pick for the best way to invest $2,000 right now for people looking for a safe investment.
Corporate
Corporate bonds are similar to government bonds, but instead of buying the government's debt, you're buying a company's debt. Corporate bonds are riskier than government bonds
Interactive Brokers is one of the best online brokers for buying and selling bonds. Its Bond Marketplace gives you access to more than one million different bonds from around the world, all of which are easily searchable using the built-in Bond Search tool. I highly recommend it, especially if you're new to bonds.
6. Index Funds – Best for Dollar-Cost Averaging
Index funds are designed to make investing easier. They work by automatically tracking the major indexes, like the S&P 500, the Nasdaq, and the Dow Jones Industrial Average. That means that they're automatically diversified, so there's no rebalancing required on your end, as the companies that make up the index gain and lose value.
Index funds are becoming more popular every year, and they're the best way to invest $50,000 right now, in my opinion.
My brokerage of choice for index funds is eToro, which has access to all the index funds you could possibly want.
7. Collectibles – Best for Speculators
Ok, now that I covered a bunch of serious investments, it's time for another fun one. Who doesn't love collectibles? Lots of people have old toys, comic books, coins, and other relics from their past lying around, but not many people realize that some collectibles make for excellent investments. Even fewer people realize that you can invest in collectibles even if you don't have any physical items through the online platform, Public.
Public lets you invest in shares of collectibles. It's a great way to expose your portfolio to potentially big gains, although it is a bit riskier than more traditional investments. I don't recommend putting all of your cash into collectibles, but it's the best way to invest $1,000 right now for people who want to spice up their otherwise boring portfolio.
(Note: There's more to Public than just collectibles. You can also invest in stocks, crypto, and treasuries.)

8. Real Estate – Best for Hedging Against Inflation
Real estate is one of the best ways to generate wealth, but buying a property to rent requires a lot of capital. Thankfully, platforms like Yieldstreet make real estate investing more accessible through fractional real estate investing.
Now is a great time to get into real estate investing because real estate tends to hold value or even appreciate through inflationary periods.
Rental Property
The classic way to invest in real estate is to purchase a rental property. While there's a lot of upside to be had with rental properties, there's also a lot of work involved. You have to maintain the property, deal with tenants, and pay property taxes, all of which make traditional real estate investing more of a headache than most people are willing to endure.
Fractional Real Estate Investing
Enter fractional real estate investing. Instead of purchasing a property yourself, fractional real estate investing through companies like Yieldstreet lets you buy shares in an income-generating property, earning some of the money generated each month without the hassle of buying and maintaining your own property.
The real estate market is on fire right now, and Yieldstreet is the best way to get involved if you don't have enough time or money to buy a rental property right now.
9. Private Credit – Best for High-Yield Fixed Incomes
If you're looking for a high-risk, high-reward, fixed-income investment, private credit is what you want. Most fixed-income investments — like government bonds and HYSA — offer relatively low returns, typically in the 1%–5% range.
Private credit has the potential for much higher returns. For instance, the highly-rated platform Percent boasts a historical weighted average APY of 12.83%.
Percent is by far the best online platform for investing in private credit for accredited investors. The company makes private credit investing as easy as buying stocks from your broker.
It's free to sign up, and Percent's easy-to-use platform is simple to understand, even for people who haven't invested in private credit before.
10. Private Companies – Best for Big Investments
The best way to invest $1 million right now, without a doubt, is through backing private companies. Investing in private companies has the potential for tremendous gains but also comes with more risk. The easiest way to invest in companies that aren't publicly traded is to use a platform like Equitybee.
Equitybee gives you access to high-growth startups and pre-IPO companies so you can get your foot in the door before most of the population, giving you a big advantage. Unfortunately, you have to be an accredited investor to invest in private companies with Equitybee, which poses a barrier to people with less money to throw around.
11. Gold – Best for Diversification
Gold is one of the best investments you can make in uncertain times like these. It is the classic inflation hedge — although it's not quite as good at that as it used to be — and it's only loosely correlated to stocks, which helps smooth out your returns.
One of my favorite ways to invest in gold is through the Birch Gold Group, a company that specializes in precious metal investments in retirement accounts.
If you're interested in adding inflation protection to your IRA and are thinking about buying some gold, I highly recommend you check out Birch Gold Group. Gold is the best place to invest money right now, with inflation being as high as it is.
Check out more of our favorite gold IRA companies:
Bonus: Crypto – Best for Risk Takers
No list of the best places to invest money is complete without cryptocurrencies these days. Crypto is still a wildcard investment, but it's becoming more mainstream with every passing year.
Luckily, eToro now offers crypto trading, so you can stack your satoshis right next to your traditional stock investments.
I have to mention that crypto's potential for outsized gains comes with an equally large potential for big losses. Even "safe" cryptocurrencies like Bitcoin and Ethereum are way more volatile than even the wildest stocks.
If you're going to include crypto in your portfolio, I recommend playing it safe and only allocating a small amount relative to other asset classes.
Questions to Ask Before You Invest
Here are some things to ask yourself before you make any decisions about where to put your money.
What's My Risk Tolerance?
The best investments for someone saving money to buy a house are very different from the best investments for someone with money to burn.
What Are My Goals?
Are you looking for growth or stability? Are you chasing big gains or looking for steady income? These are essential questions to ask that will color your entire investment strategy.
Stocks are great for growth and chasing big gains, but they're less suitable for risk-averse investors looking to preserve capital. Bonds, on the other hand, are useful for keeping your money safe and generating small amounts of income, but they're not going to help you grow your portfolio much.
What is My Account Size?
The best way to invest $1 million right now is not the same as the best way to invest $1,000 or $2,000 right now. If you have a lot of money to play with, you can consider purchasing your own rental property, while people with less capital will have to stick to smaller investments.
I always recommend getting into stock investing early in your investing career since it's a great way to learn about risk and reward, and online brokers like eToro make it easy to jump in and get your feet wet.
How Can I Diversify?
There are a lot of ways to diversify an investment portfolio. The easiest way is to buy shares of a broad market index fund. These funds are automatically diversified, so you don't have to worry about picking individual stocks or spreading your money around in different sectors.
You should also consider including some less common asset classes like fine art and private credit in your portfolio for further diversification.
Final Word: Best Way to Invest Money Right Now
There you have it! The eleven best ways to invest your money right now, in my opinion. I hope you found this article helpful and are now ready to make some money with a well-diversified collection of assets. Keep in mind that there is no one best place to invest money right now for everyone since everyone's goals are different.
---