Our editorial team uses a strict editorial review process to compile all reviews, research, and evaluations of any kind. Our company, WallStreetZen Limited, is supported by our user community and may receive a small commission when purchases are made through partner links. Commissions do not affect the opinions or evaluations of our editorial team.
Lightspeed Trading's claim to be the most reliable platform has traders' interest piqued.
In today's lightning-fast world of stock trading, staying ahead of the competition means making quicker decisions on a reliable platform. If your platform's not up to speed, it can lead to a lot of frustration — and potential losses.
That's why I took the time to create this Lightspeed Trading review post so you could peek behind the curtains BEFORE you buy.
Let's dive in.
At-a-glance: Lightspeed alternatives
Lightspeed Trading has a lot to offer, but it's not the only high-powered brokerage out there. Here are some alternatives to consider (keep reading to learn more)…
The bottom line:
Lightspeed Trading is lightning-fast and definitely worth the price.
Investors get access to ultra-low commissions, fast execution speeds of up to 4.5 microseconds, and a whole suite of advanced trading tools.
As a bonus, their platform is both desktop and mobile-friendly, making on-the-go trading even easier.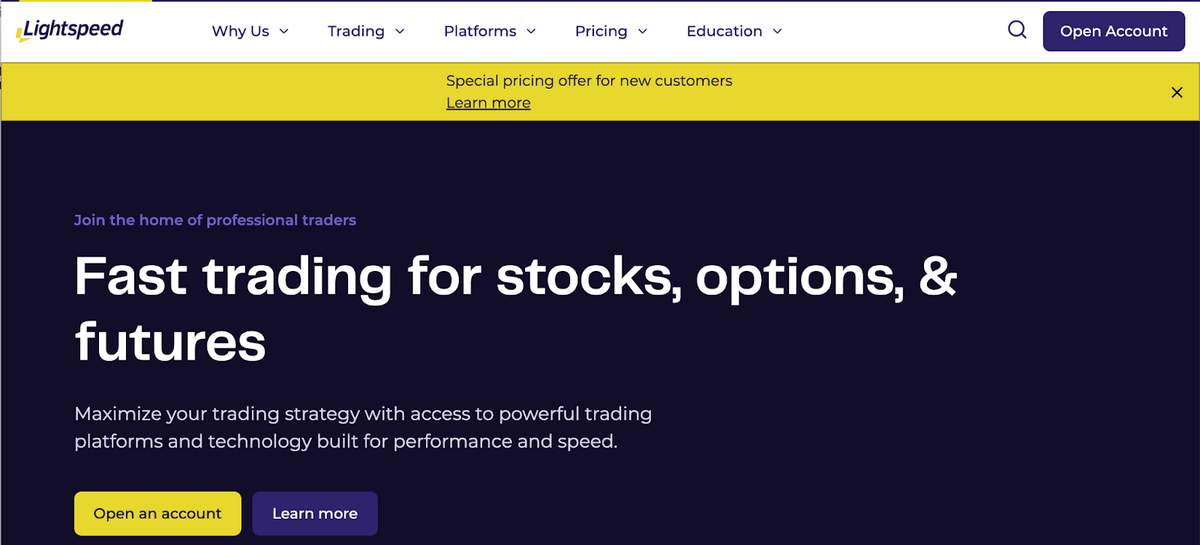 Who is the Lightspeed Trading Platform Good For?
The Lightspeed Trading platform is a good choice for both active traders and long-term investors who want a low-commission platform, access to advanced trading tools, and faster execution speeds.
Lightspeed Trading Review
Rating: 4.5/5
Lightspeed Trading reviews on the company website praise the customer service and lack of lag time with orders.
Overall, I give the platform four and a half stars. My Lightspeed Trading review takes a lot of things into consideration, but I ultimately graded the platform based on its performance deliverability and value compared to its price.
Let's go over what exactly that is.
Lightspeed Platforms
Lightspeed offers a variety of advanced trading platforms and features catering to an array of investor needs and preferences. This is nice because it doesn't matter if you're a new investor, a global investor, or a long-term stock investor; there's something for everyone.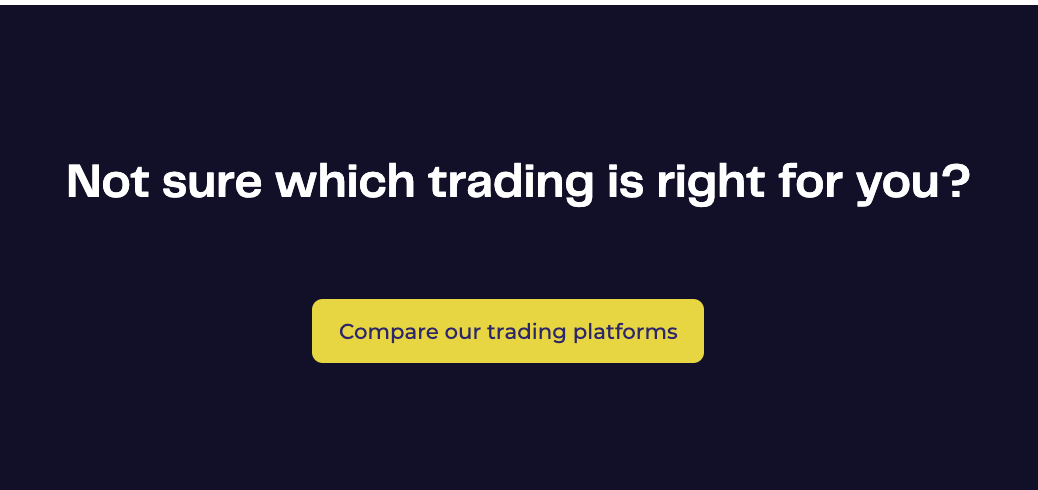 Platforms offered
Lightspeed Trader: This Lightspeed platform is actually their flagship product designed for active traders, offering advanced features such as customizable layouts, HotKeys, and advanced charting capabilities.
Sterling Trader Pro: This platform is a professional-grade trading platform designed for institutions and high-frequency traders. It offers real-time level II market data, advanced order entry, risk management, and algorithmic trading capabilities that are more complex than most individuals need.
Sterling Vol Trader: This next-gen platform has advanced options trading capability and sophisticated analytic tools, including risk analysis indicators.
Eze EMS Pro (formerly RealTick): This is a comprehensive trading platform that provides advanced analytics, multi-asset trading, and sophisticated risk management tools for both professional traders and hedge funds.
Eze EMS Express: A value alternative to Eze EMS Pro, this platform can trade options, futures, and equities using HotKeys and has advanced charts, analytics, news streaming, and scanning tools.
Silexx Oems: This platform is ideal for active and professional traders. This cloud-based and on-premise platform offers multi-asset trading capabilities and was crafted for maximum trade efficiency.
Wex: Designed for derivatives, its real-time data provides a deep look into options and the marketplace.
Account types
Investors can choose to link cash accounts, margin accounts, and IRA accounts.
User experience
Lightspeed excels with its user experience. The sleek interface and easy-to-use tools make managing portfolios easier and more efficient.
Technology
I love the tech behind this company. I like how they provide relatively complex and customizable options while making it easy to use. The company designed the user interface to be fluid and seamless for those who have high-frequency stock and options traders and who need minimal latency.
The platforms operate on Microsoft Windows and Intel technology, making any in-house integrations fairly straightforward.
Assets available
Lightspeed's platform allows investors to trade in stocks, options, ETFs, and futures. Crypto is under a separate platform called Lightspeed Crypto.
Order types
I love the customization that comes with this feature. You can opt to buy at a certain price (Buy Order type), limit how much you will pay (Limit Order type), hold your buy until a certain price (Stop Limit Order type), and many other options.
You can choose order types based on market conditions, the asset's liquidity, and price and execute trades more efficiently.
Other features
With Lightspeed, you can access data from 50+ exchanges and brokers.
They also offer direct market access (DMA), a feature that allows you to trade directly on the order books of multiple exchanges, reducing latency and giving you more control over your trades. With this direct access, you get real-time access to market data and analytics.
Tools + Resources
A wide array of market research features helps investors stay ahead of the curve and make quick, confident decisions.
Screeners
Lightspeed's Screeners feature is an absolute game-changer for most investors. It provides a quick and easy way to find the right stocks for your portfolio or trading strategy.
Whether you're looking for stocks that have increased dividends in the past year or ones with high volume and low volatility, the intuitive platform makes finding these criteria fast and simple.
Charts
Lightspeed's charting tools are better than most of their competition. They allow both real-time runs and historical data + analysis.
They also offer an extensive list of 150+ customizable technical indicators.
Tools + Calculators
Lightspeed offers a wide range of calculators, something both unique and useful. They offer an option pricing and margin calculator, which compares different strategies, and a decision tree calculator which provides risk/reward scenarios when considering trades.
Trading ideas
I especially like Lightspeed Trading Ideas. Using their extensive access to data and analytics, they identify trends for you. They also give alerts to market movements.
Research tools
I love that you can easily access comprehensive market data, news, and streaming quotes — all in one place. It makes it a lot easier to track investments and identify new opportunities with greater speed and accuracy.
Need a leg up?
One of the biggest questions traders and investors have is this:
How do I find stocks to trade?
Seeking Alpha can help speed up your learning curve. Unlike Lightspeed, it's not a brokerage — it's a powerful resource for research, news, and community.
Check out our Seeking Alpha review here — if you like what you see, try out Seeking Alpha today!
Education
Lightspeed features an extensive library of educational materials for investors, including tutorials, webinars, detailed Q&As, and more.
They are unique in that these materials can be useful for both novice and experienced investors, allowing room and support for growth. Many platforms focus only on beginner investors with their educational materials.
Customer service
Lightspeed's customer service department is open from 8:00 am to 11:00 pm EST, seven days a week via chat or email.
Lightspeed Cost
Lightspeed costs are comparable to other platforms – lower than many, though the minimum account balance is considerably higher than some of the other platforms I have reviewed.
Curious about a few of the platforms that don't have as high a minimum balance requirement and $0 commissions? Check out our best discount broker roundup.
Account minimum:
Lightspeed Commissions:
Lightspeed Commissions Range From $.0001-$2.5/ Share (Depending on the Asset & Platform)
Other Fees: Additional Misc. Nominal Fees May Apply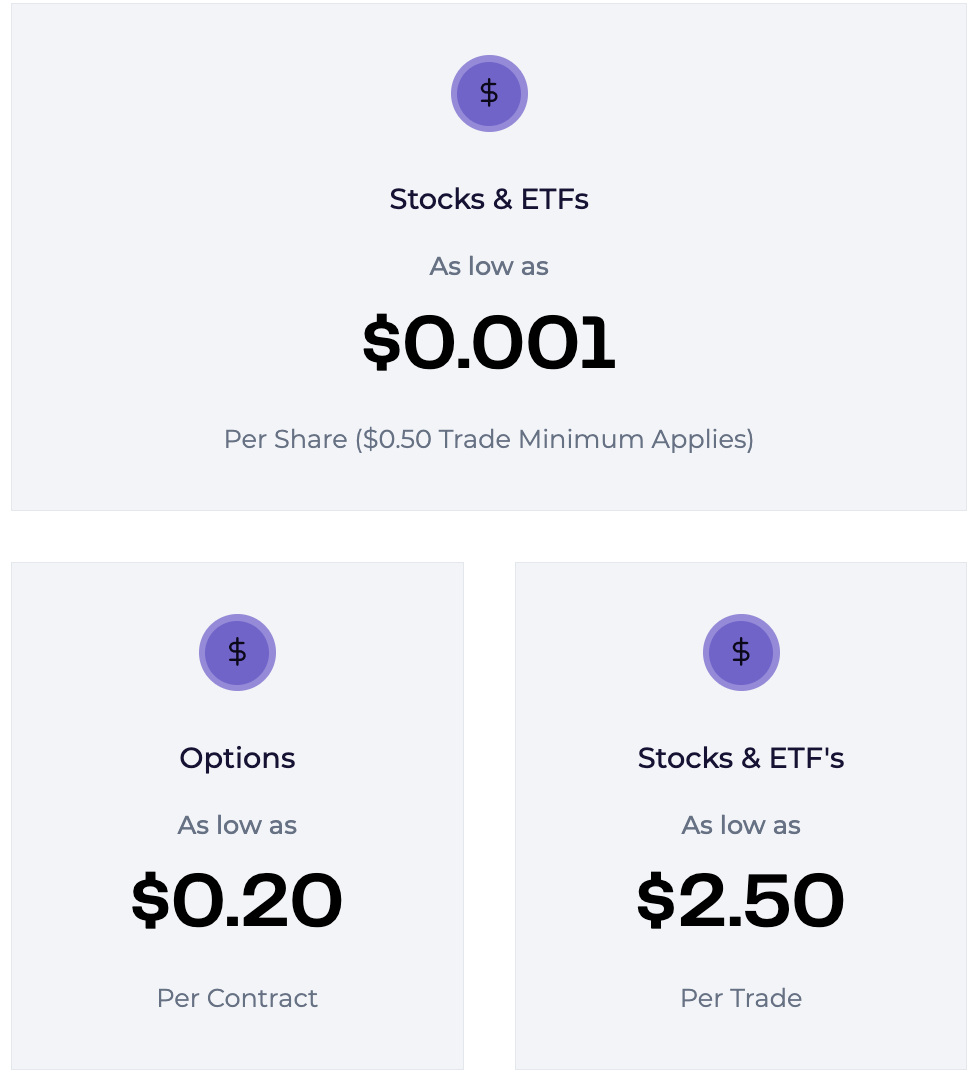 How Lightspeed Makes Money
Lightspeed makes money by charging commissions and fees for trading activities. Their commission rates are highly competitive. They also provide rebates on trades when you add liquidity to the market.
Is Lightspeed Safe?
Lightspeed has been in business for nearly 20 years and is an incredibly safe platform to invest with. They have a comprehensive set of security protocols and use 2 step data encryption. In addition, they automatically insure each account up to $25,500,000.
Pros and Cons of Lightspeed
| | |
| --- | --- |
| Pros | Cons |
| Great for both active and professional traders | Limited range of asset classes |
| Low commissions, fees, and margin rates | High minimum account balance |
| High-speed execution | Complicated trading platforms may have a steep learning curve for new traders |
| Backtesting tools to analyze stock performance | |
| Smart routing algorithms and algorithmic trading systems | |
| Advanced charting tools and technical analysis indicators | |
| Extended customer service support hours | |
| Access to global markets | |
How to Open an Account on Lightspeed
Opening an account on Lightspeed only takes a few clicks to complete the process.
Step 1:
To get started, head to their website.
Once you're there, click on "Open Account" in the upper-right corner of your screen. You'll then be asked to fill out your information, choose your account types, and provide some documentation for verification.
Step 2:
Once set up, you can track the markets in real-time, set up customized alerts, and automate trades. You can also research stocks, analyze data, and create watchlists to monitor your investments.
Thinking about day trading?
Get access to the best tools and resources — check out my guide to the best day trading software.
Lightspeed Trading Alternatives
My Lightspeed Trading review wouldn't be complete if I didn't provide you with some solid alternatives.
TradeStation
Rating: ⭐️⭐️⭐️⭐️
Commissions: $0 Commission- All Assets Except Crypto (Fee Range From $.35%-$.025%)
Other Fees: Small Transaction Fees, Inactivity Fees, Data Fees, Paper Statements And Margin Interest May Apply
Minimum Account Balance: $0 Minimum
How It Compares To Lightspeed: While both platforms offer a variety of features such as advanced charting tools, market data feeds, and order routing capabilities, TradeStation stands out by offering more customizable options and additional features like pre-set strategies, portfolios, and watchlists.
Additionally, TradeStation allows a $0 account minimum, which is a significant difference from Lightspeed's $25,000 requirement.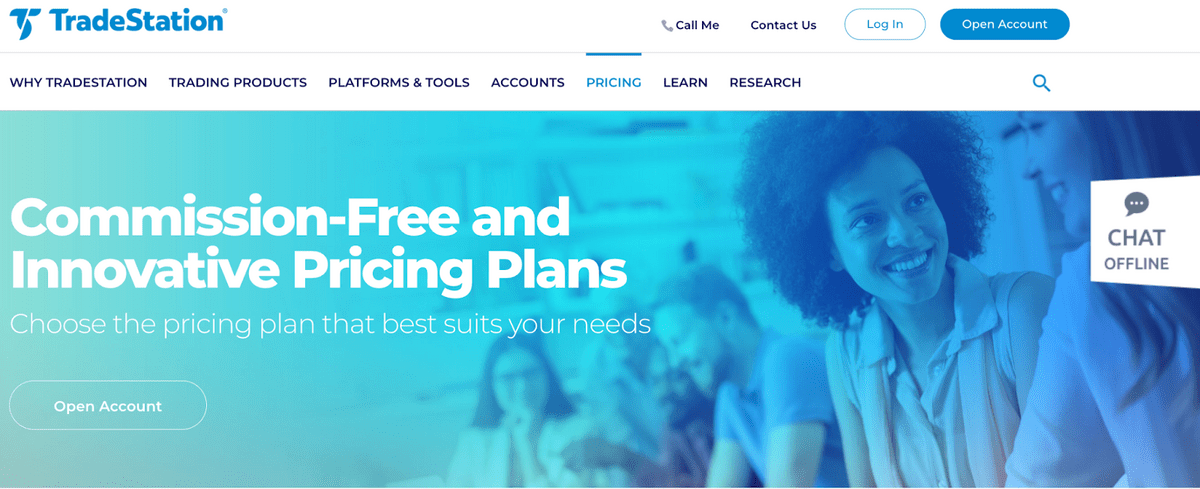 TradeZero
Rating:⭐️⭐️⭐️
Commissions: Commission-Free Trades On Stock Orders Greater Than 200 Shares
Other Fees: $59/Month For ZeroPro + Nominal Real-Time Market Data Fees, Clearing, Settlement, And Routing Fees
Minimum Account Balance: $500.00
How It Compares To Lightspeed: While similar to Lightspeed in terms of its ability to provide speedy executions, TradeZero provides unique advantages, such as commission-free trades and a lower account minimum.
For those interested in shorting, TradeZero stands out due to its short-side specialty tools and resources such as real-time news and alerts, advanced chart indicators, 6:1 trade leveraging, and free limit orders.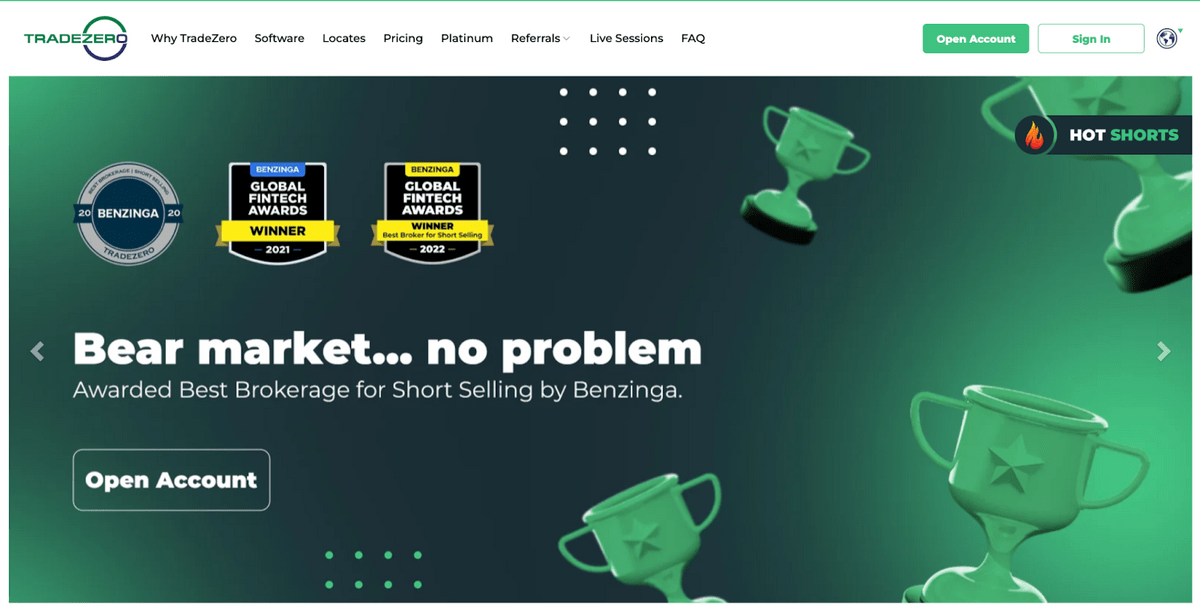 Interactive Brokers
Rating:⭐️⭐️⭐️⭐️
Commissions: $0 Commission on Stocks, $.15- $.85 per contract on Futures, ETFs, Options, Bonds, And CDs.
Other Fees: Inactivity Fees And Other Miscellaneous Fees May Apply.
Minimum Account Balance: $0 Minimum
How It Compares To Lightspeed: Interactive Brokers minimum opening deposit is lower than Lightspeed's. Lightspeed is ideal for high-frequency traders because of its comprehensive selection of charting tools and low latency.
One thing that sets Interactive Brokers apart is the free trial. Sign up and get $1M in simulated trading income, then use their tools. It's a handy way to get to know their system, risking no money.
They have over 100 different order types and 200 free and premium news and research tools. Combined with its low cost, Interactive Brokers is a great alternative for advanced traders who need sophisticated analytic tools.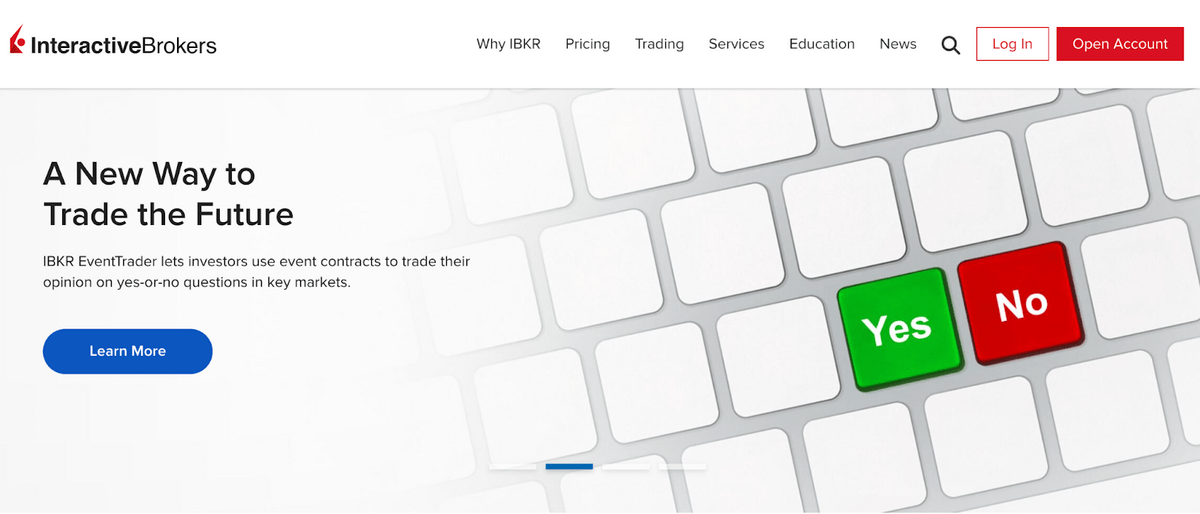 Final Word: Lightspeed Trading Review
For someone brand new at investing, the learning curve and minimum account balance requirement make Lightspeed less accessible.
But, overall, Lightspeed Trading is a great platform for active, professional, and long-term investors who are looking for both speed and accuracy. I love the fast order execution and user-friendly interface.
For those with a bit of experience under the belt, Lightspeed gets a definite thumbs up from me!
---
FAQs:
Is Lightspeed trading worth it?
Yes, Lightspeed Trading is worth it. It offers some of the most advanced, customizable features in the industry. That, along with its low fees and user-friendly interface, Lightspeed is a good option, especially for experienced traders.
How much margin do you need to be a Lightspeed Trader?
Lightspeed Trading requires you to have at least $25,000 for your margin account balance. However, the minimum amount may vary depending on the type of account that you open and the trading activity that takes place in it.
What is the minimum balance for Lightspeed trading?
Lightspeed Trading requires you to have at least $25,000 for your margin account balance.
How much does it cost to open a Lightspeed account?
It typically costs $0-$50 to open an account with Lightspeed Trading. This fee depends on the type of account you're opening, such as Cash, Margin or IRA accounts. In addition, there are additional fees related to your trading activity.
Where to Invest $1,000 Right Now?
Did you know that stocks rated as "Buy" by the Top Analysts in WallStreetZen's database beat the S&P500 by 98.4% last year?
Our June report reveals the 3 "Strong Buy" stocks that market-beating analysts predict will outperform over the next year.