Our editorial team uses a strict editorial review process to compile all reviews, research, and evaluations of any kind. Our company, WallStreetZen Limited, is supported by our user community and may receive a small commission when purchases are made through partner links. Commissions do not affect the opinions or evaluations of our editorial team.
If you're looking for a more robust and advanced futures trading platform, NinjaTrader may fit the bill. Designed with advanced traders in mind, NinjaTrader offers a fully-customizable trading experience, while charging a fraction of the cost of other major brokers for futures contracts.
But is it the right brokerage for you? That's what I'll answer in my NinjaTrader review.
In this article, I dive into the features and tools of NinjaTrader to find out if this trading platform is worth the price tag. I reviewed the tradable assets, platform features, costs, and security to see if NinjaTrader lives up to the hype as one of the best advanced trading platforms around.
For all that and more, here's my full NinjaTrader review.
NinjaTrader Review: Brokerage, Customer Service, Commission, Fees
The Bottom Line: NinjaTrader is one of the best futures trading platforms in the U.S.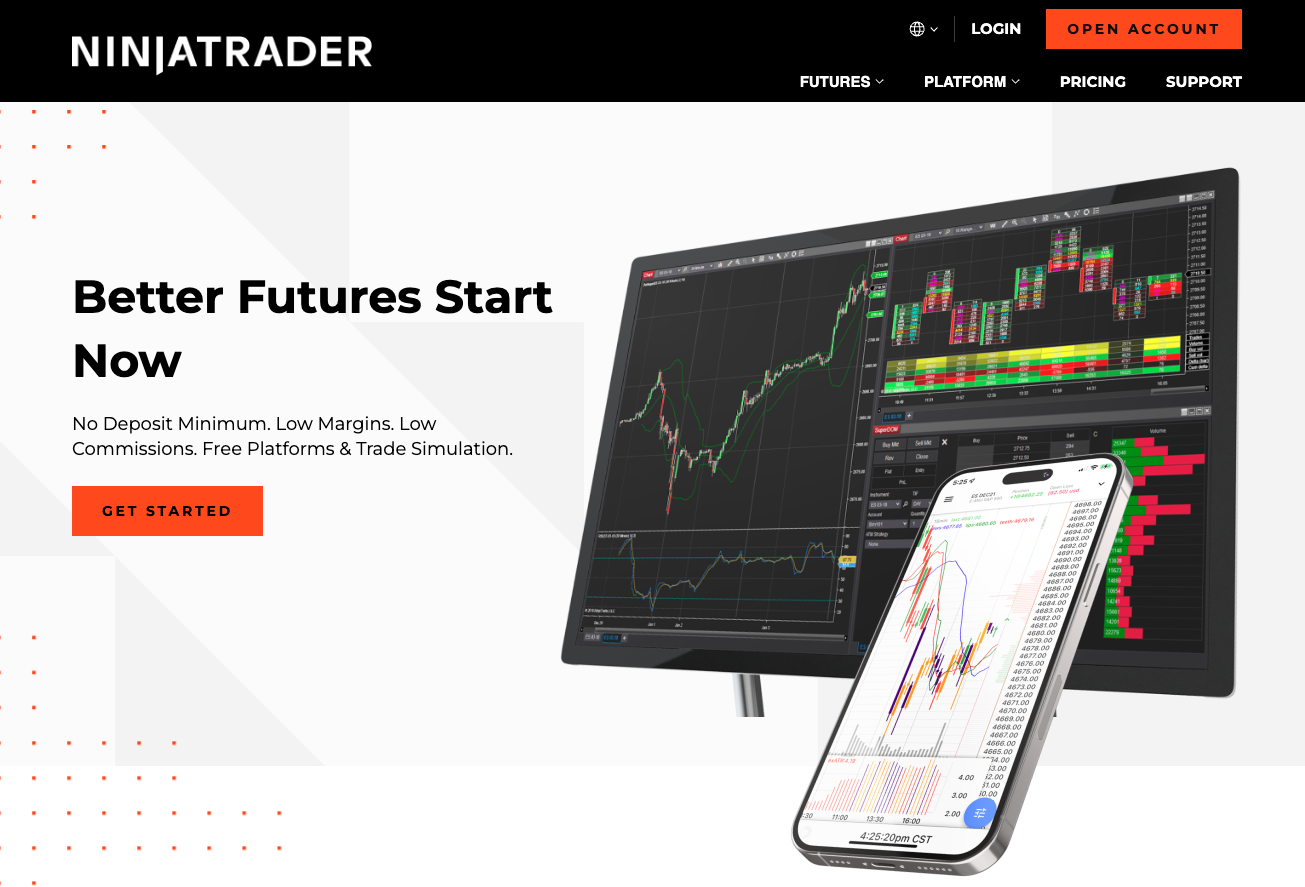 It's an exceptionally low-cost brokerage for trading futures, giving its clients the ability to purchase contracts for 1/10th of the price of most brokers. NinjaTrader also offers fully customizable and programmable trading tools, making it one of the most advanced futures brokers.
New futures traders should avoid NinjaTrader, as the charting and trading interface is too complicated for beginners. But if you are an advanced or professional trader interested in futures trading, it's hard to beat the value of the NinjaTrader platform.
Who is NinjaTrader Best For?
Futures Traders
NinjaTrader caters to futures traders that want access to low-cost trades, advanced charting, and a host of automation tools. The Micro and Nano futures contracts offered by NinjaTrader are much smaller than a standard futures contract, so trading costs 90% less than other brokers.
NinjaTrader is also an add-on platform to futures traders that utilize other brokers. You can use their API to connect to brokers like TD Ameritrade to execute trades for assets NinjaTrader doesn't carry (such as stocks and Forex), or bring in third-party data for more informed trading.
Active Traders
You won't find a simpler, faster order form than on NinjaTrader, as the entire platform is designed with active traders in mind. It's not the place to dollar-cost average into the market or create a retirement plan, but you can create advanced trade strategies and automate your trading setups to quickly execute multiple trades at once.
With deep market research and data feeds, integrations with third-party brokers, thousands of third-party apps and add-ons, and an emergency 24-hour trade desk, NinjaTrader is a good option for day traders.
NinjaTrader Brokerage Review:
Futures
NinjaTrader is a unique futures trading platform that offers micro futures contracts which allows users to trade futures for 1/10th the cost of a normal futures contract. With $50 margins, NinjaTrader makes trading futures more accessible than other platforms.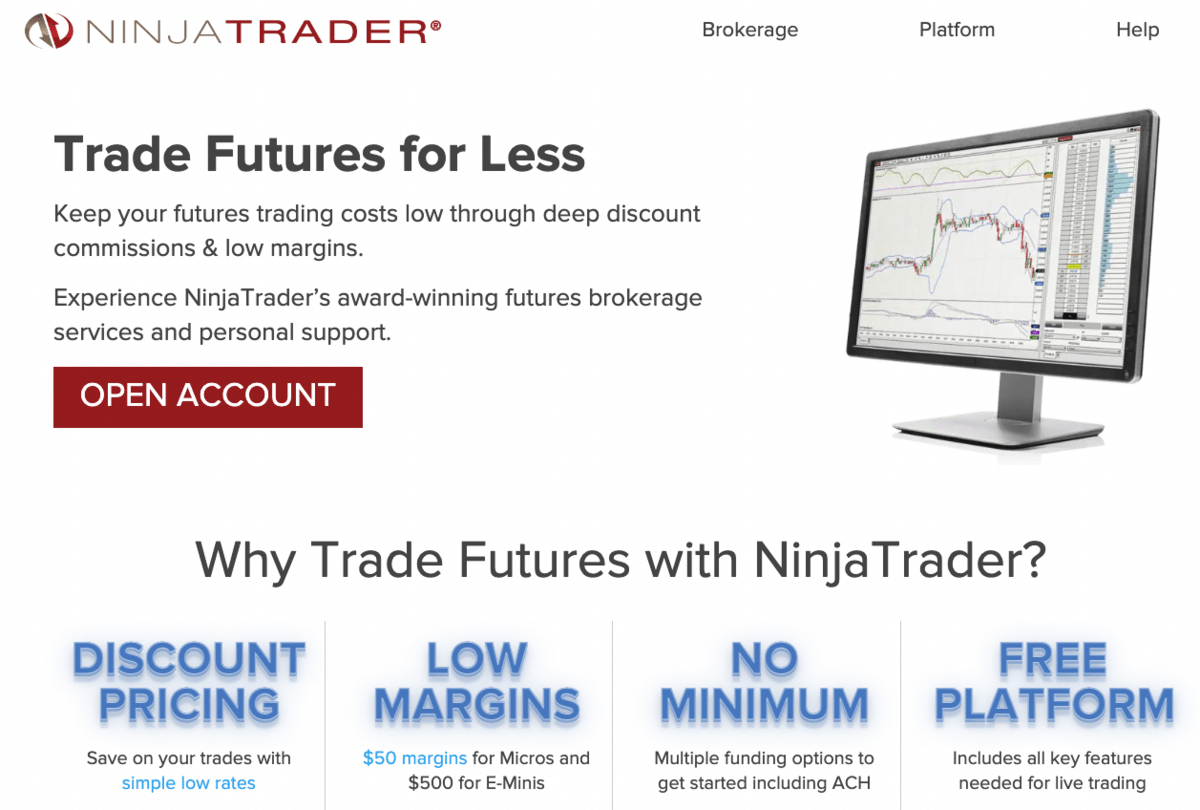 There are over 70 futures markets available, including equity indexes, agricultures, Forex, metals, energies, crypto, and more. And the Nano Bitcoin offering lets you trade Bitcoin Futures with no commissions and $25 margins. Coinbase Derivatives provides the data, and contracts are 1/100th the price of a Bitcoin.
Overall, NinjaTrader is ideal for active traders that are interested in futures trading without the high starting costs required. That said, despite the low cost barrier, NinjaTrader is too complex for new futures traders.
Forex, CFDs, & Stocks
If you want access to other assets, such as Forex, contract for difference (CFDs), or stocks, you will need to connect NinjaTrader to a third-party broker, such as Interactive Brokers. This integration allows you to use NinjaTrader's tools while trading assets through a trusted broker.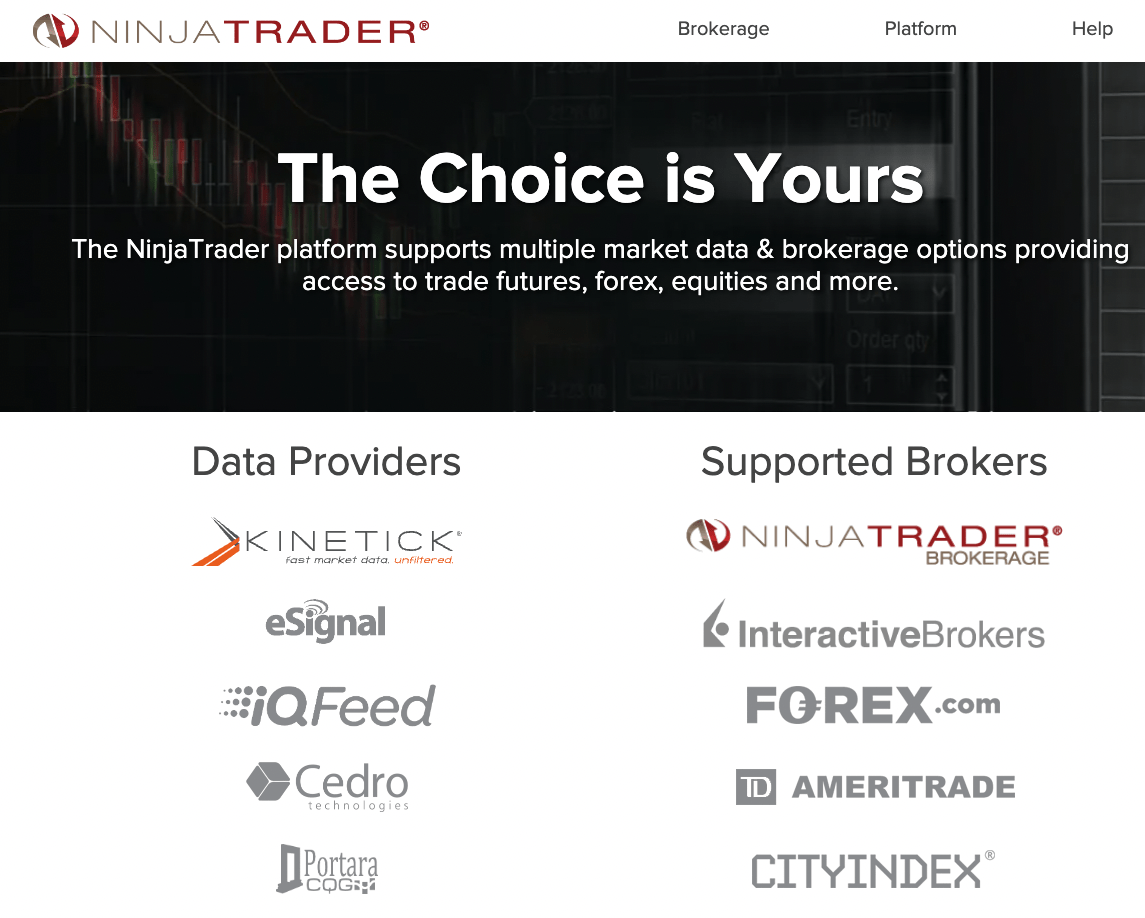 While there are standard trading fees, the Ninja Trader platform itself has a free version, so there is no extra cost to integrate with a supported broker. You just may end up paying an additional trading fee through the third-party broker, in addition to Ninja Trader fees.
NinjaTrader Platform:
Chart
NinjaTrader has a proprietary charting platform that lets you analyze, mark up, and execute trades, right within the chart itself. There are hundreds or pre-loaded indicators, and you can even import custom charting from third-party developers.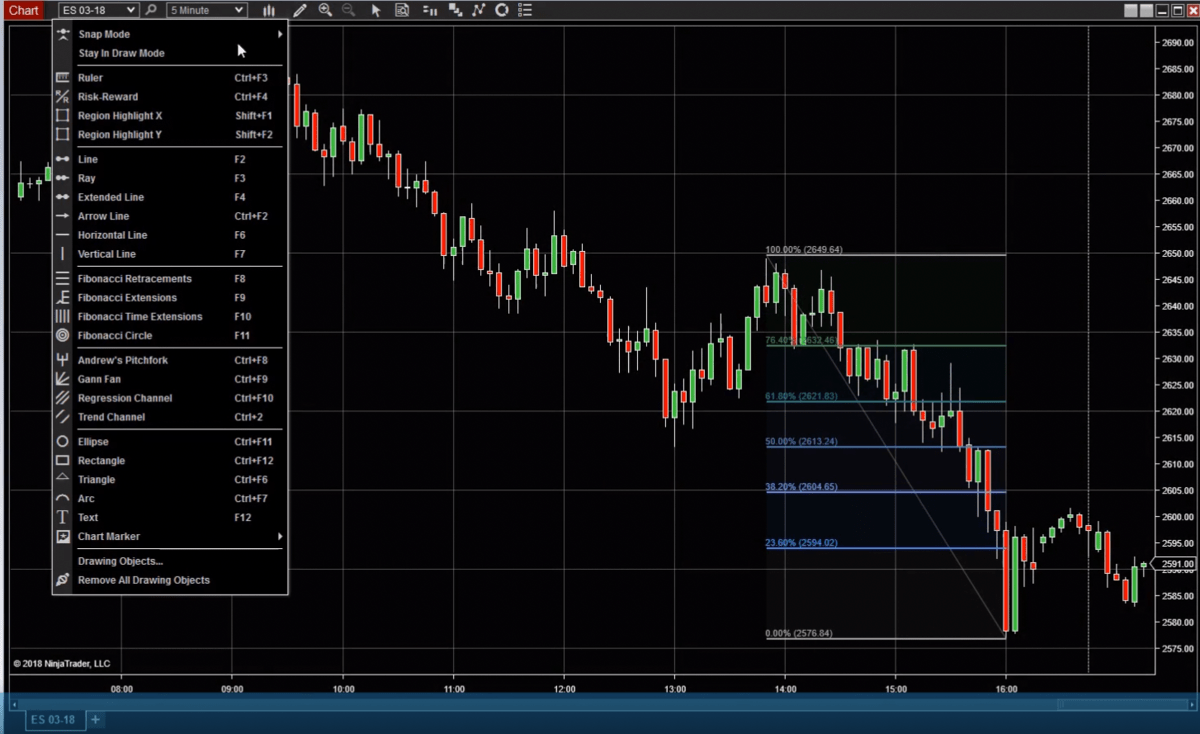 You can also set up custom alerts within the charting software based on indicator values, P&L, risk management, price or time data, and more. This is a fully customizable builder that allows you to build complex alerting systems for more advanced trading.
Additionally, you can trigger orders within the charting software by attached parameters for indicators to execute orders automatically.
Overall, NinjaTrader charting is ideal for experienced traders and those using complex trading setups.
Trade
NinjaTrader offers trade management through simple and advanced order types, automated trading tools, and programmable trading. The order form offers the following order types:
Market
Limit
Stop Limit
Stop-Loss
Market-if-Touched (MIT)
Good-Til-Canceled (GTC)
Good-Til-Date (GTD)
The Advanced Trade Management (ATM) system offers a wide range of programmable trade strategies, with the ability to trigger multiple orders in quick succession. You can also save ATM templates for future use.
There are multiple trade interfaces available, and you can place trades through the chart itself, using the "Super DOM" (order book trading), or through the "FX Board" for trading Forex. And each interface is customizable to your ideal trading style.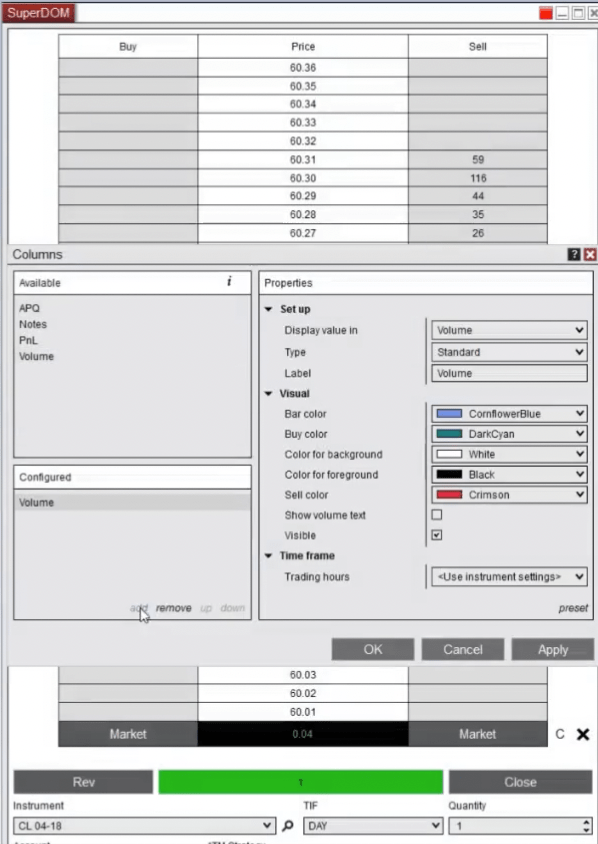 If you are new to trading, the platform can be very overwhelming, but advanced traders will benefit from the huge amount of customization available.
Develop & Personalize
While NinjaTrader can't do it all, they partner with over a dozen trusted broker and data companies to bring you the most up-to-date information and trade execution services. You can connect to your favorite market data source to have access to professional real-time and historic data.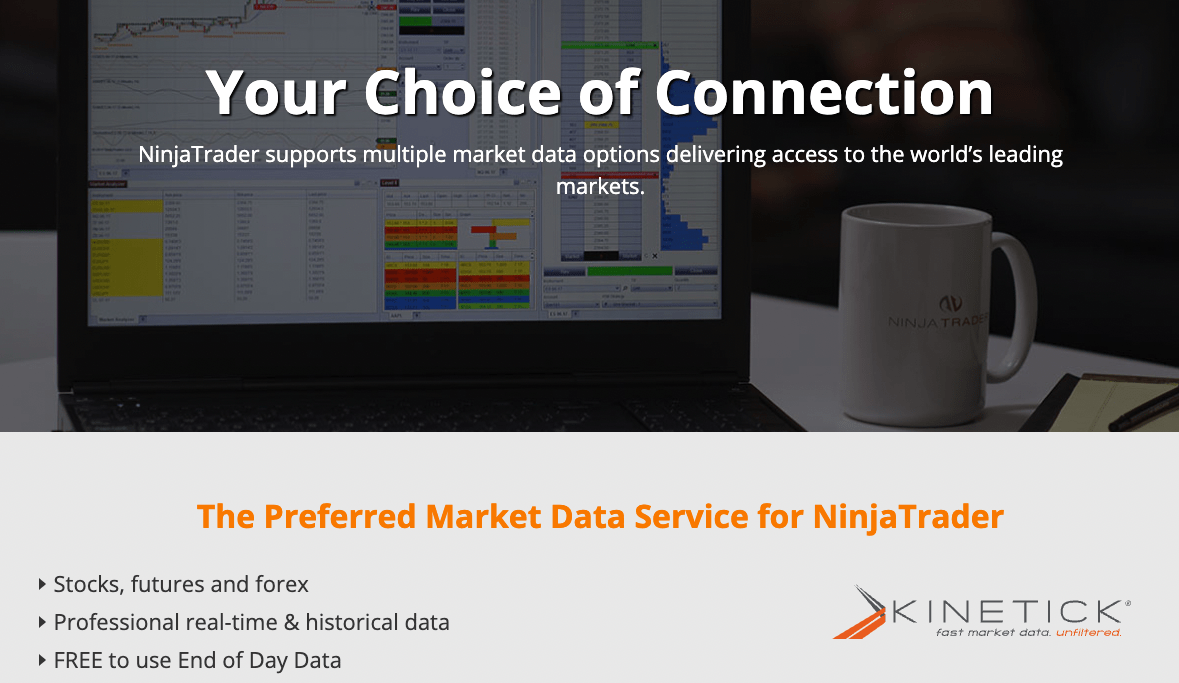 NinjaTrader also integrated with several popular brokers for trade execution and access to assets they don't support on their own platform, such as stocks, focus, and crypto. And there are thousands of apps & add-ons available to customize your trading experience as well.
And if you are a programmer, you can develop right inside the platform, creating custom indicators, chart styles, trading apps, and more. Overall, NinjaTrader is one of the best customizable trading platforms around.
Simulate
If you want to learn a new trading skill but don't want to risk your own money, NinjaTrader offers a trading simulator. You can execute trades using historical market data, and can even play it back in real-time, tick-by-tick.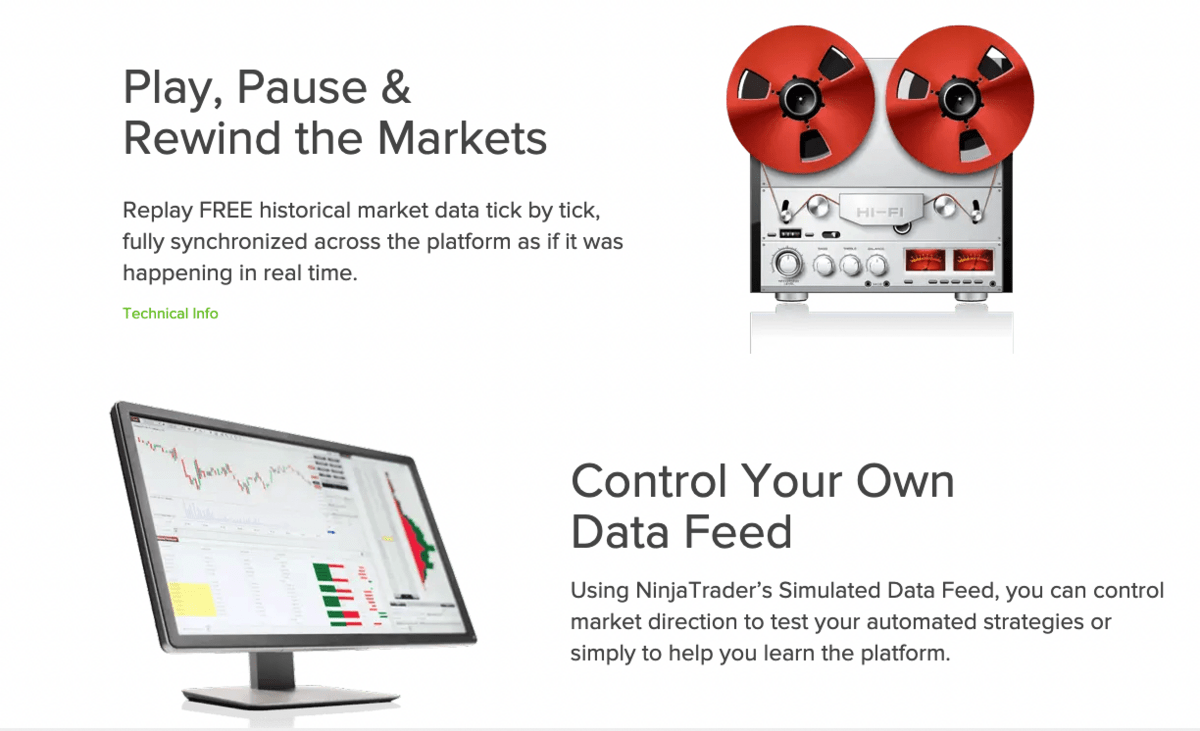 This allows for a very realistic trading experience using real market data and can help you get familiar with the trading tools on the platform. But if you want to simulate market data, you can control where it goes as well, playing out different trading scenarios to practice on.
Oh, and this feature is 100% free.
Education
NinjaTrader hosts a huge library of training materials for active traders that want a deeper understanding of how to trade futures and other assets. Almost every function on the platform has a quick training video included, and there's also an entire futures trading training program available.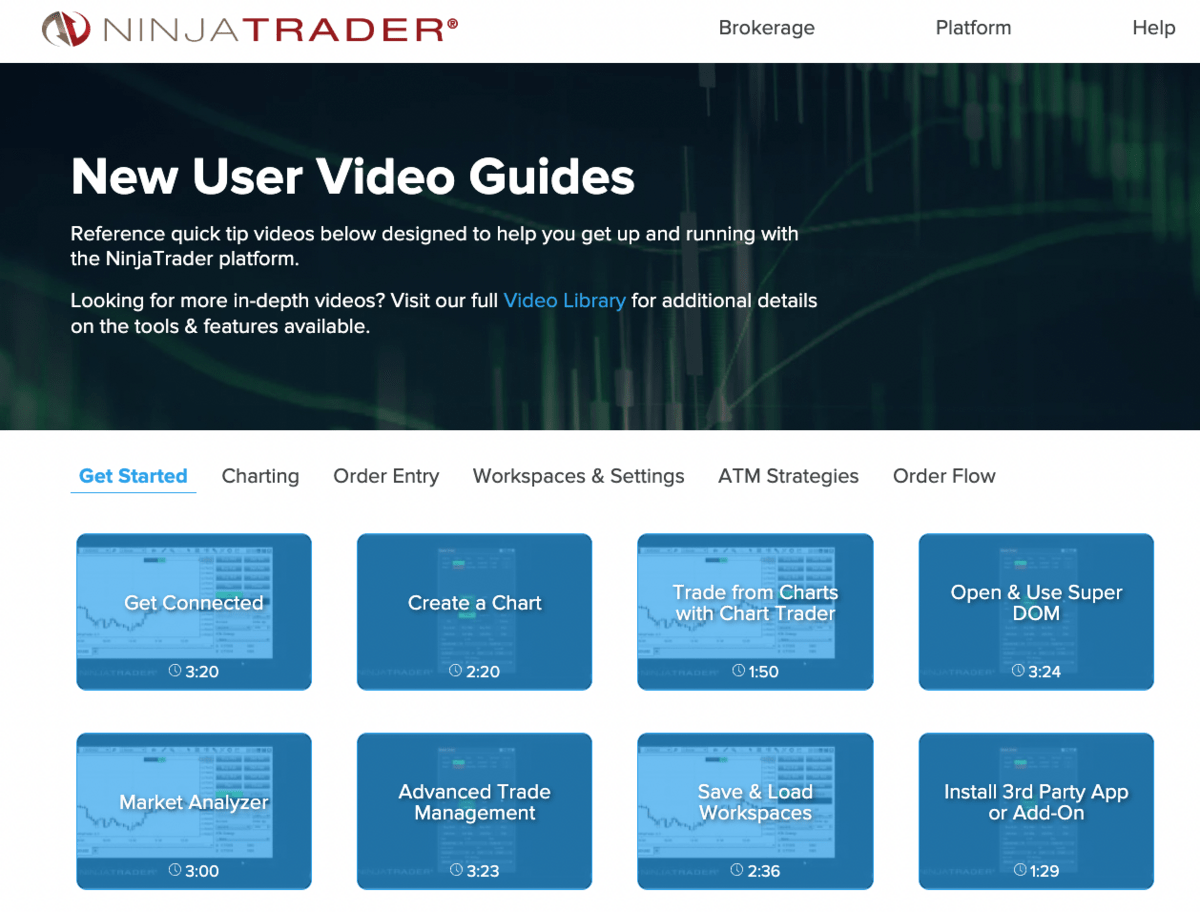 If you can't find a video training for your specific needs, there's a massive help section with hundreds of articles explaining the technical aspects of the platform and a community forum to get your question answered by other traders.
NinjaTrader Customer Service
NinjaTrader offers 24/5 customer support and an emergency trade desk without additional trade fees. Support is available via email or phone, and technical support is even available via email on weekends.
While support is available on the phone, NinjaTrader customer service does specify that this is reserved for emergency trade support only.
Overall, NinjaTrader offers better support than many discount brokers, especially if you are actively trading.
Ninja Trader Commissions & Fees
NinjaTrader has various commissions and fees for using the platform, including platform fees, trading fees, margin interest, order routing fees, and withdrawal fees.
Fees also differ by the type of platform license you are using. Overall, the platform charges low fees for futures and Forex trading, with a low per-contract fee assessed.
But withdrawals by wire transfer may be expensive (up to $30 for domestic wire), and there is a $25 monthly inactivity fee assessed if you don't place a buy and sell trade within the month.
Here's a breakdown of the primary Ninja Trader fees and Ninja Trader commissions:
| | |
| --- | --- |
| Account Minimum | $400 for futures; $50 for Forex |
| Futures | Standard – Starting at $0.25 per contract Micro – Starting at $0.09 per contract |
| Forex | Spread fee varies |
| Third-party Integrations | Additional $0.05 to $0.25 per contract$10/month usage fee may apply |
| Deposit / Withdrawal Fees | $0 deposit / up to $30 withdrawal |
| Platform Fees | Free Plan – $0Lease Plan – $720/yearLifetime Plan – $1,099 one-time fee |
There are various fees for different types of products and services on the platform. A full list of Ninja Trader fees can be found here.
Is NinjaTrader Safe?
NinjaTrader is a safe and secure platform that adheres to online best practices, with SSL encryption on its website. The desktop application is also encrypted, securing your personal and financial information.
While NinjaTrader is not a broker itself, it is licensed by the National Futures Association (NFA) to provide introducing broker services through partners like Phillip Capital and Doorman Trading. Its partners are where your cash and contracts are actually held.
Phillip Capital and Doorman are registered brokers and regulated by the NFA and CFTC. Cash deposits are all FDIC insured (up to $250,000 per person), and securities are SIPC insured.
Yes, NinjaTrader is a legit platform for futures and Forex trading.
Pros and Cons of NinjaTrader
| | |
| --- | --- |
| Pros | Cons |
| Low fees on futures contracts | Windows desktop only (no web, Mac or mobile) |
| Completely customizable trading | Need third-party broker for more than just futures |
| Tons of educational videos and articles | Free plan offers limited data and tools |
How to Open an Account on NinjaTrader
To open a NinjaTrader account, you can sign up for free with your name and email address. You will need to create an online account, and then download the desktop software for trading.
To sign up, you will follow these steps:
Submit and verify your email address
Create a username/password
Select an asset to trade (Futures, Options, Forex)
Choose an account (third-party broker to connect to)
Choose a plan (Free, Lease, or Lifetime)
Complete identity verification (name, address, financial and personal info)
Wait
Due to compliance requirements, account approval may take a few days.
Once approved, you will need to deposit a minimum of $400 to begin trading, or you can use the free simulator.
Final Word: NinjaTrader Review
Bottom Line: NinjaTrader is a great trading platform for advanced and professional traders that want fully-customizable tools and access to low fees. The platform also offers smaller futures contracts, allowing you to trade at 1/10th or 1/100th of the size of a normal futures trade.
NinjaTrader is ideal for futures traders, and those that desire customization, but if you want to trade stocks or other assets you're better off using another broker.
NinjaTrader will overwhelm new traders, and the charting and trading tools are best suited for those that have been trading for a while. That said, there is a huge library of training videos for users committed to learning futures trading.
---
FAQs:
Is NinjaTrader worth buying?
Yes, if you are looking for a completely customizable trading program that offers low-cost futures trading, NinjaTrader is worth it. And while the free plan gives you some access to the platform, you won't have access to the advanced market data, wide range of order types, and ability to customize your trading experience.
If you like the platform, or have spent time developing custom tools to use on NinjaTrader, the Lifetime plan ($1,099) is the best option.
Is NinjaTrader really free?
NinjaTrader offers a free account which gives you access to advanced charting, some market analysis, and a trading simulator. But in order to use the free account, you do need to make a minimum deposit of $400.
And to unlock more features (advanced orders, automation, market research, etc), you will need to upgrade to a paid account.
How much does it cost to use NinjaTrader?
The basic functions of NinjaTrader are free, but to unlock more features, you will need to sign up for a paid account. The Lease Plan is $720/year or you can buy the Lifetime Plan for a one-time cost of $1,099.
Is NinjaTrader better than thinkorswim?
It depends on what assets you want to trade. NinjaTrader is better for trading futures and Forex contracts, while thinkorswim is better for trading stocks, options, bonds, and ETFs.
NinjaTrader is ideal for traders looking to create customized and automated trading strategies, and who want access to lower future trading costs. thinkorswim is ideal for trading stocks and options, and for users that want access to web trading or a mobile app.
Where to Invest $1,000 Right Now?
Did you know that stocks rated as "Buy" by the Top Analysts in WallStreetZen's database beat the S&P500 by 98.4% last year?
Our March report reveals the 3 "Strong Buy" stocks that market-beating analysts predict will outperform over the next year.