Our editorial team uses a strict editorial review process to compile all reviews, research, and evaluations of any kind. Our company, WallStreetZen Limited, is supported by our user community and may receive a small commission when purchases are made through partner links. Commissions do not affect the opinions or evaluations of our editorial team.
Day trading has typically been the domain for those with larger risk appetites. Sound like you?
If so, you're probably champing at the bit to learn how to pick a stock to day trade.
Good news: In this article, we'll explore just that — how to find stock to day trade.
But as you learn how to pick a stock to day trade, it's critical to understand this — despite the easy entry and abundance of low-cost brokers, day trading is risky … And the process of how to find stock to day trade and how to successfully day trade isn't always straightforward.
Don't worry. I'll break it all down. In this guide to day trading, I'll outline the art and science of how to find stock for day trading and the best way to day trade.
Let's begin!
What do day traders want?
Massive price moves.
How do they find them? With the right charting software.
Hands down, our top charting platform is TradingView. We've tested them all. TradingView's comprehensive features, ease of use, extensive coverage, speed, reliability, and affordability (both free and low-cost membership tiers) make it our top pick for both new and experienced traders.
How to Find Stocks to Day Trade: The Bottom Line
There are several tried-and-true processes that successful traders use to find stocks to day trade. In this article, you'll learn several of them.
But an important note before we begin: As you learn how to pick a stock to day trade, avoid becoming emotionally attached to any particular company or ticker. It may not be possible to trade like a machine, but try to focus on data rather than gut feelings.
As much as possible, as you learn how to day trade, stick to a consistent filtering and analysis process, and be prepared to change your outlook as conditions evolve.
1. How to Pick a Stock to Day Trade: Use a Stock Screener
Stock screeners are an excellent tool to leverage as you learn how to pick a stock to day trade. They allow you to filter for names that meet specific criteria. You can use as few or as many filters as you'd like. The more you apply, the smaller the pool of names you'll be left with.
For example, here are some common criteria a day trader might use when screening:
Only provide stocks with market caps exceeding $5 billion.
Only provide stocks with a price-to-earnings ratio below the industry average.
Only provide stocks within the biotechnology industry.
WallStreetZen's screener makes this filtering process dead simple. Let's walk through how you would achieve the filter above.
1. Visit the WSZ Stock Screener page.
2. Choose your first filter. In our case, we'll select "Market Cap" from the drop-down and specify a minimum value of $5 billion. Note how the list of companies is substantially reduced after applying the filter.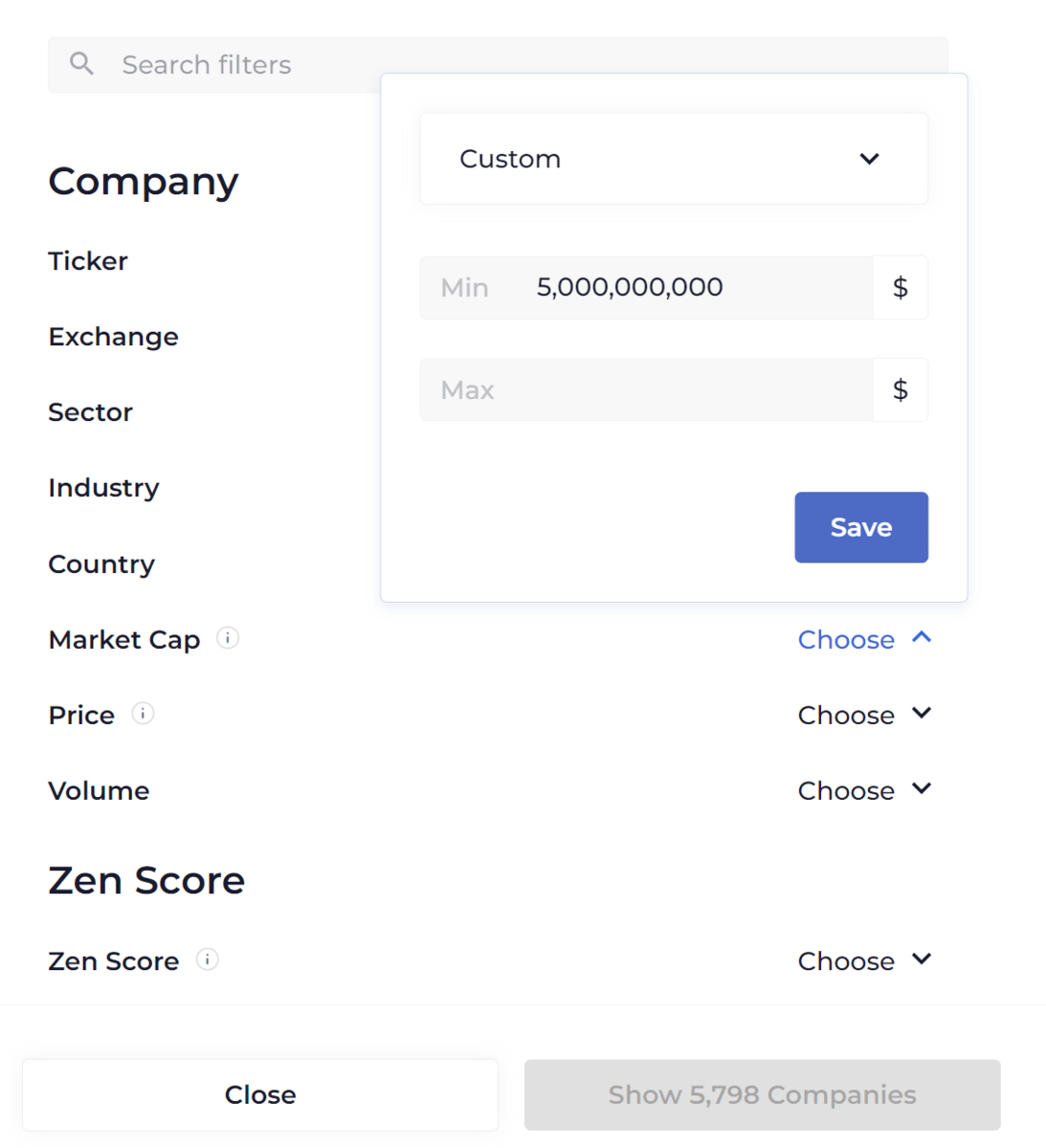 3. Click the P/E vs. Industry filter and select "Pass." This will remove any stocks that did not have P/E ratios below the industry average.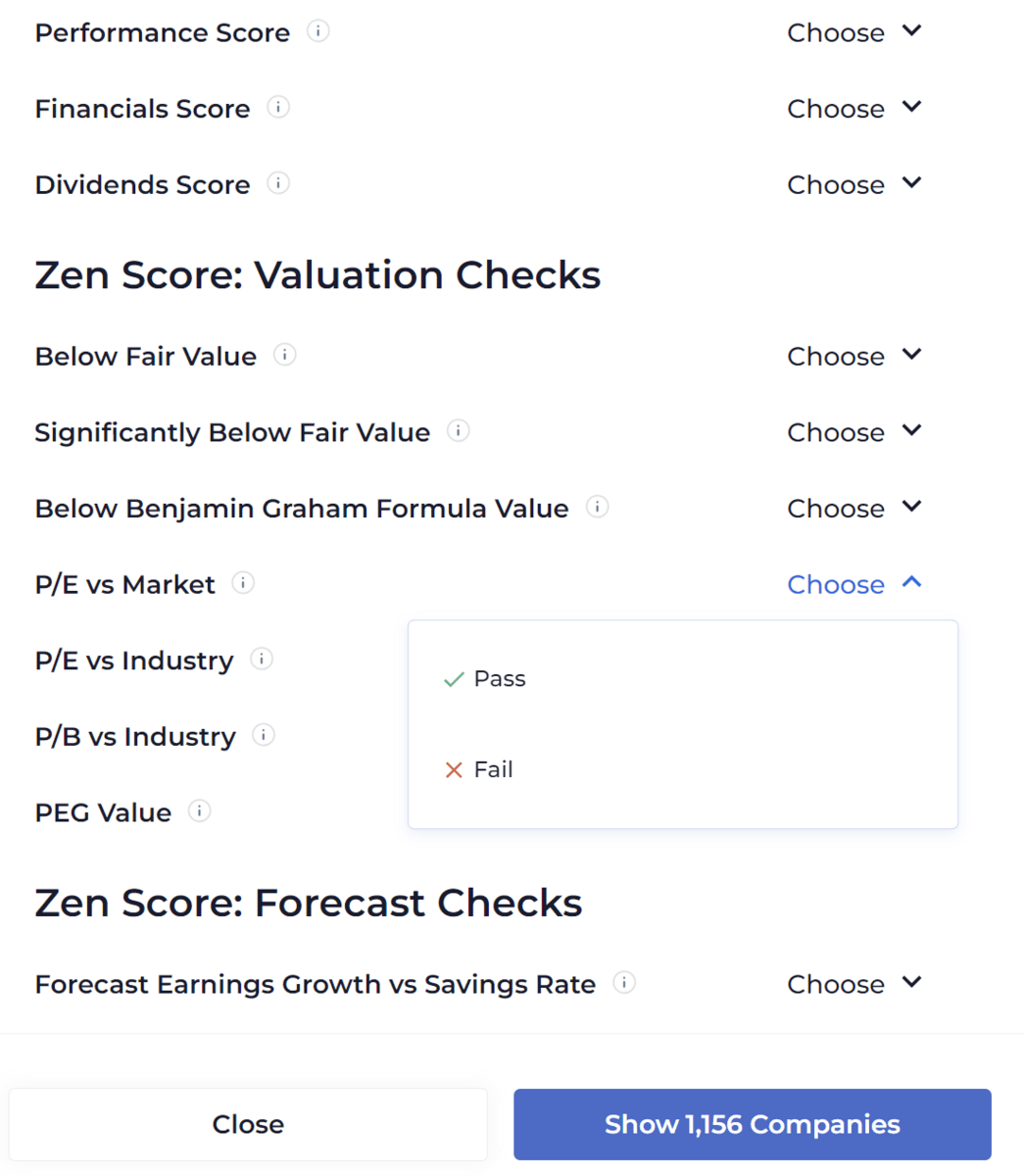 4. Add the final filter to display only the names in the biotechnology industry.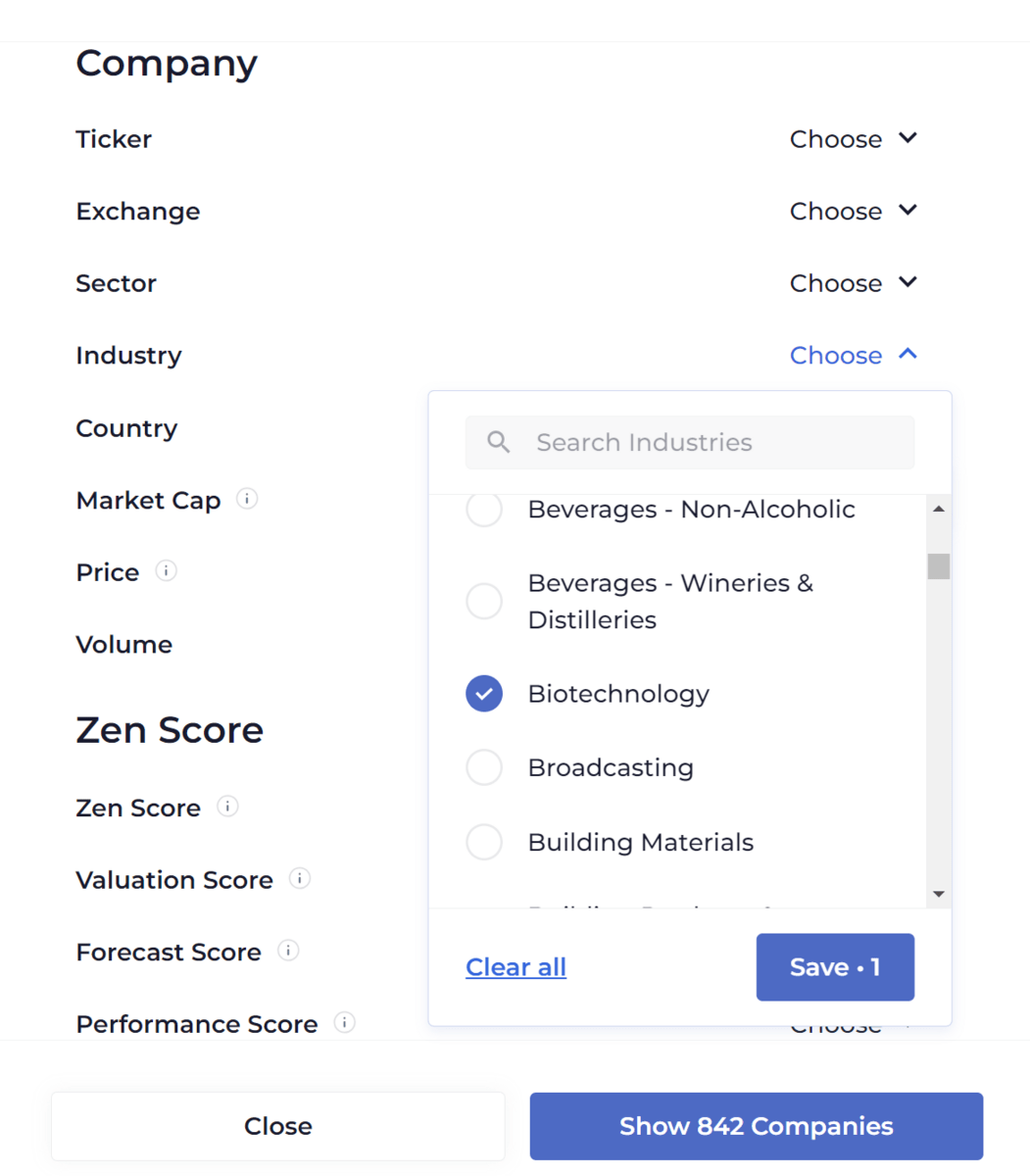 5. With the three filters applied, you can click "Show X companies." At writing, 11 stocks met the criteria defined above. As you can see, that's a much more manageable list than 5K+ options. WSZ's stock screener is an excellent tool as you learn how to pick a stock to day trade and beyond.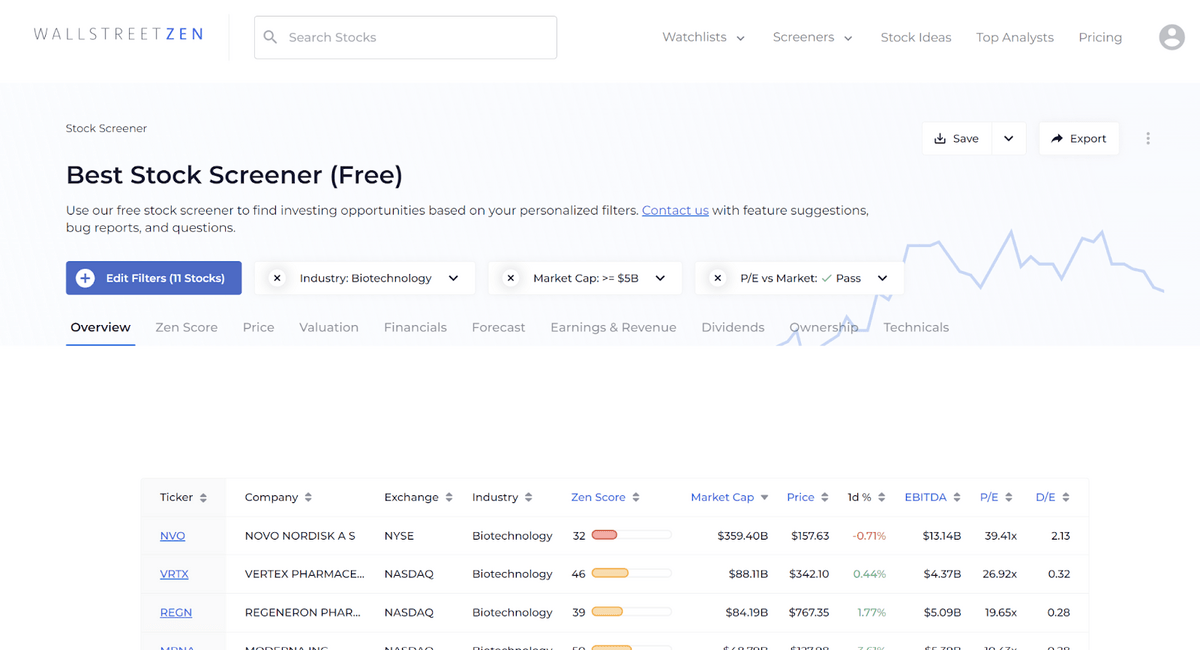 2. How to Pick a Stock to Day Trade: Trading News Catalysts
Learning how to pick a stock to day trade doesn't end with screeners.
To learn how to pick stocks for day trading, you need to consult the news.
Following current events can give you a big edge when picking a stock to trade. Breaking news can result in substantial intraday movements, potentially providing lucrative opportunities for a trader. But these movements can be fast, so you need to be on top of it.
One of our favorite sources of timely market news is Seeking Alpha. When it comes to a comprehensive source of market insight, perhaps no other platform beats it.
Here's why.
Companies sometimes reveal extensive updates, like earnings calls, that can drive large price swings.
For example, perhaps you expect a company might produce better than expected earnings results. Armed with this conviction, you might purchase shares in the company ahead of its earnings announcement. Hopefully, once the earnings are released (i.e., announced in the media), the share price will increase after surprising the market.
Seeking Alpha is on top of these events — which can prove invaluable as you learn how to find day trade stocks.

There are never guarantees in the market. But history has shown that news events, whether positive or negative, can make stocks move. Staying on top of the relevant news can help improve your overall performance.
3. How to Pick a Stock to Day Trade: Make Use of Key Metrics
As you learn how to find stocks for day trading, there are countless factors you can assess. Here are some typical metrics that successful traders track:
Volume
Traders often want to identify stocks with high volume. On average, the higher the volume, the more liquid the security.
Liquidity means the stock can be bought and sold at its current market value without substantially impacting the price. When you're day trading, it's crucial to have substantial volume to execute your trade decisions quickly and effectively.
Volatility
For some investors, volatility is not welcome. It stresses them out seeing the price of their beloved stocks moving wildly. For day traders, however, volatility is viewed as a potential harbinger of huge price swings.
To profit off a stock's movement intraday, the price must move. If you're directionally correct on your trade decision, likely, you want that swing to be as large as possible to generate the most profit.
Although volatility provides more opportunities to execute profitable trades, it also allows for more substantial losses. The bigger the risk, the bigger the reward.
4. How to Pick a Stock to Day Trade: Technical Analysis
Now let's look at how to find stocks for day trading using technical analysis (TA).
Technical analysis is often the key component of a day trader's arsenal. Countless proven technical analysis strategies are leveraged every day to produce profitable trades. While the details of all these strategies are beyond the scope of this article, let's talk about some of the high-level tools used in TA.
Gaps:
These are substantial jumps in a stock's price over a period with little to no trading.
The most common example is when a stock opens the next morning substantially higher or lower than the price it closed the day before. While no trading took place overnight, it's quite possible significant news was released.
For example, perhaps a company announced poor earnings after the closing bell. The stock price will likely experience downward pressure, opening down the following day.
Traders can take advantage of these gaps. Specific gap characteristics can lead to particular trade decisions.
Typically, a day trader will look for evidence of a strong move up or down during the first hour of trading. These signals can prompt the trader to buy or sell the stock anticipating the momentum to persist. Gap trades are very much unique to day trading, given the fleeting nature of their existence.
Traders often use candlestick charts to identify gaps, and some platforms even help highlight the gaps.
Take the example of Electronic Arts (NASDAQ: EA). Using a candlestick chart on TradingView and their gaps identification tool, the software can highlight the gaps as they appear, using whatever criteria you want.
To say charting software has come a long way is an understatement!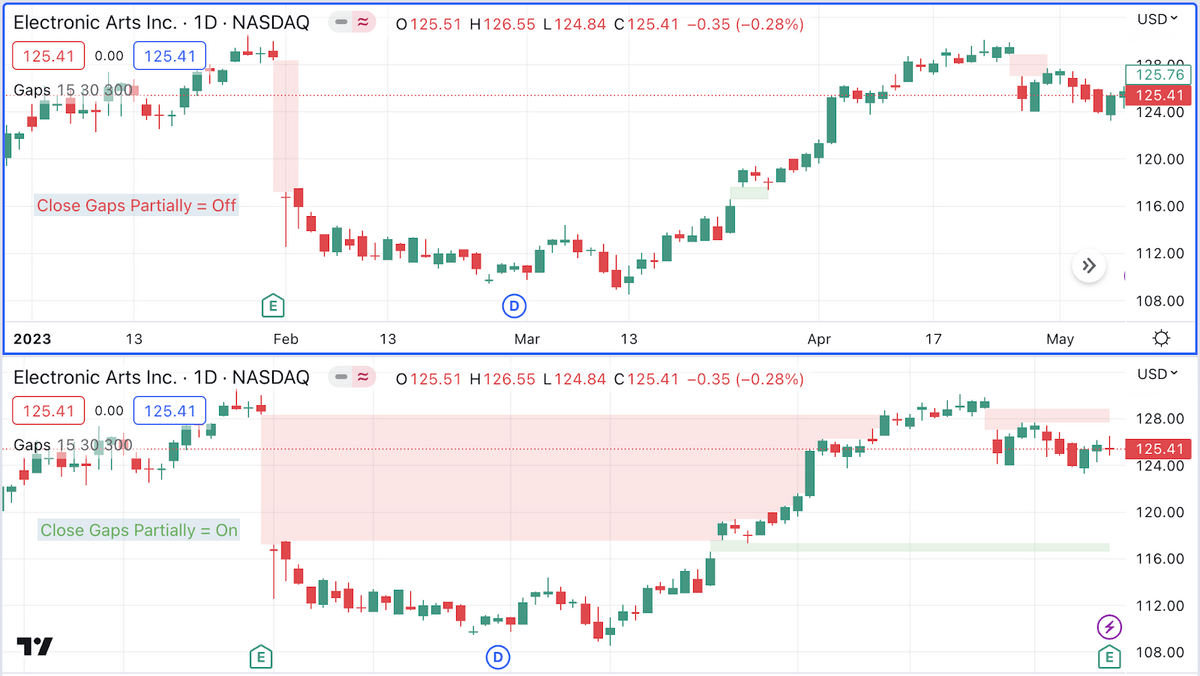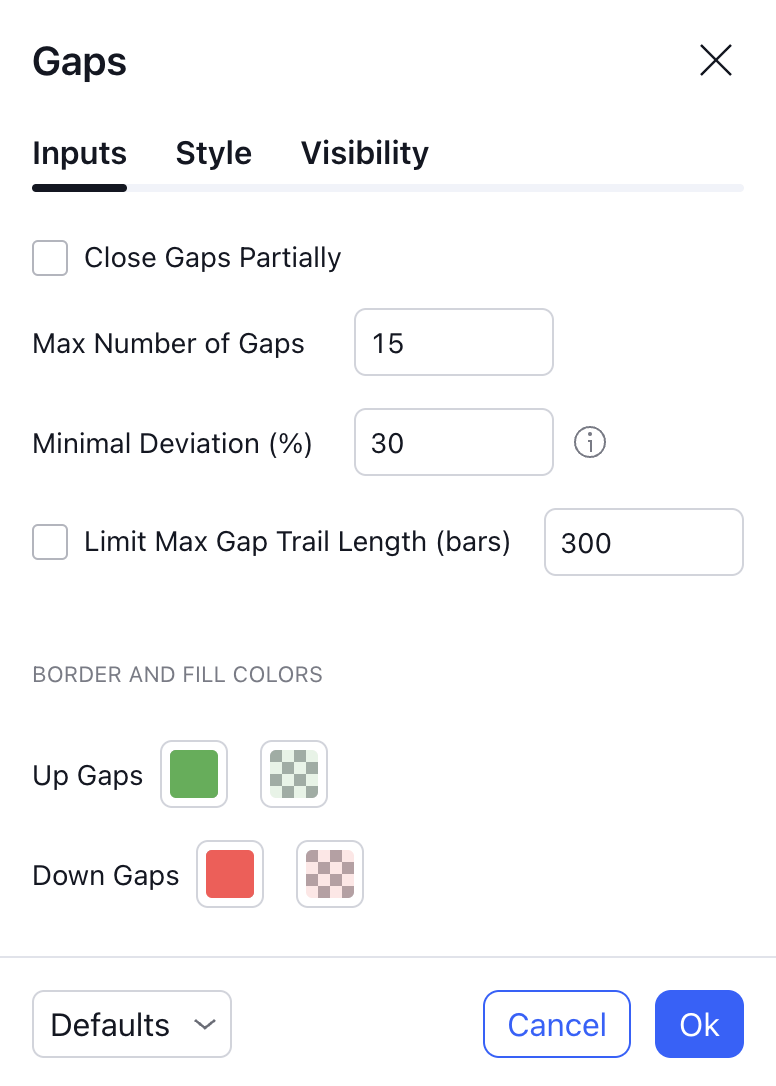 Gaps aren't the only thing day traders look for in a chart. If you're interesting in this type of technical analysis, we have articles on the head and shoulders trading pattern, the triple bottom pattern, and many other chart formations.
Indicators
Technical analysts also frequently leverage indicators when day trading.
So, what's the best way to day trade using indicators?
First, you have to identify which indicators you're going to follow. In many cases, it's best to use multiple indicators to validate a trade decision.
There are numerous indicators to choose from. Let's pick a few popular ones and see how to day trade using them.
Moving Average Convergence Divergence (MACD)
The MACD indicator can help highlight buy and sell signals. It combines two moving averages of varying lengths: a MACD line and a signal line.
When the MACD line breaches the signal line from below (crosses above the signal line), it implies the price is rising, potentially prompting the trader to buy shares of the stock.
In specific charting platforms, like TradingView shown below, you can have the lines produced automatically!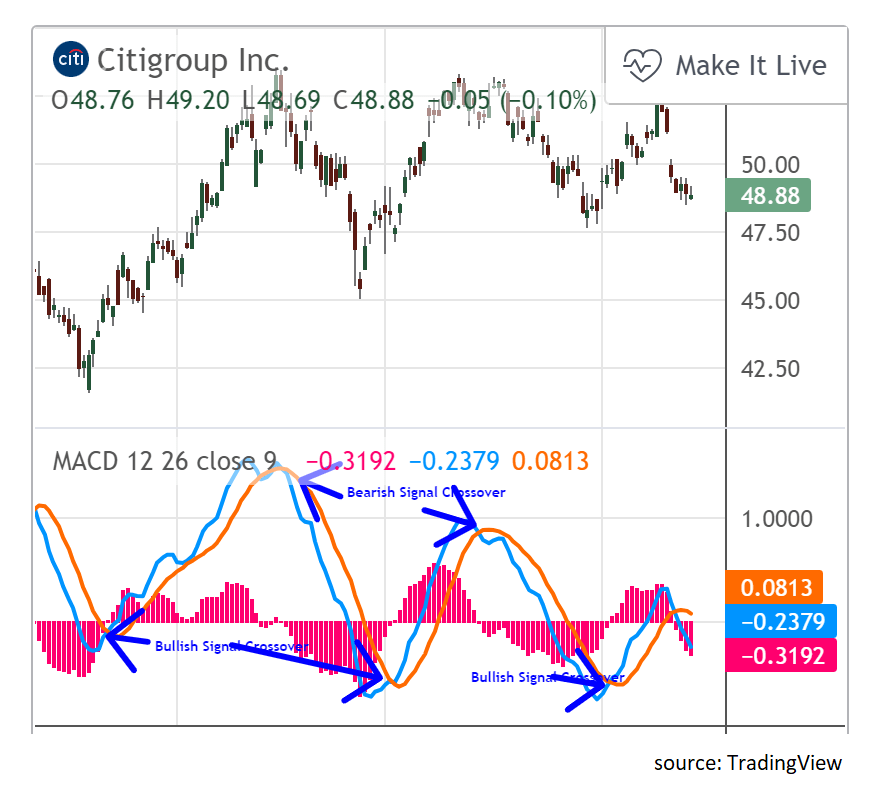 On-Balance Volume (OBV)
The on-balance volume indicator helps assess a particular security's positive and negative volume flow.
It measures a running total of up volume (i.e., how much volume was present on a day the stock price appreciated) and down volume (how much volume was present on a day the stock price dropped).
Volume is either added or subtracted from the indicator on each date depending on if the price closed higher or closed lower.
When OBV is rising, it implies upwards momentum; buyers are pushing the price higher – a buy signal.
When OBV is falling, it implies downward momentum; sellers are pushing the price lower – a sell signal.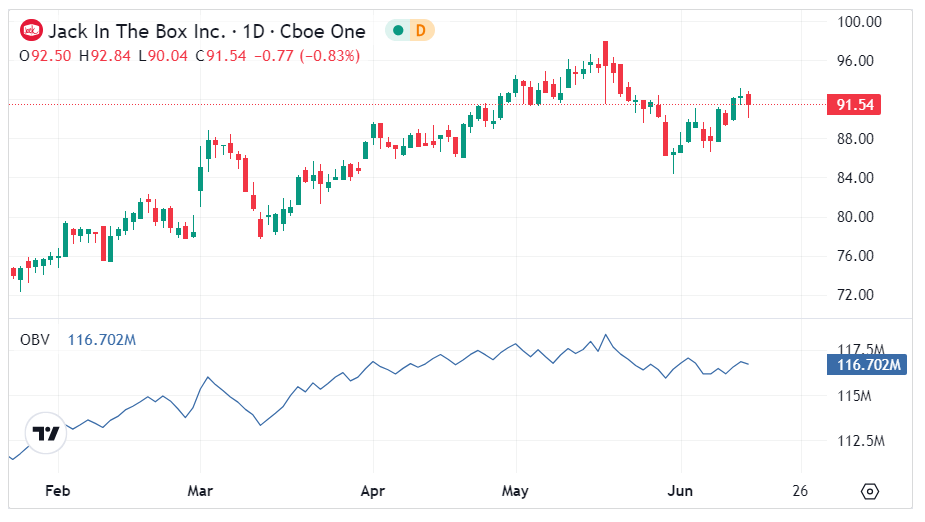 Accumulation/Distribution Line (A/D Line)
This indicator tells a trader where money flows in and out of a particular security. It's like the on-balance volume indicator but goes one step further.
Like the OBV, the A/D line accounts for the stock's closing price, but unlike the OBV, the A/D line also assesses the trading range for the period and where the close price lands in relation to it.
When a stock closes near its high, more weight is allocated to the volume compared to closing at the midpoint.
When the A/D line is trending up, it implies buyers are pushing the stock higher since it's closing above the range's midway point; a potential buy signal.
Alternatively, when the A/D line is trending down, it means the stock price is closing in the bottom half of its daily range; a potential sell signal.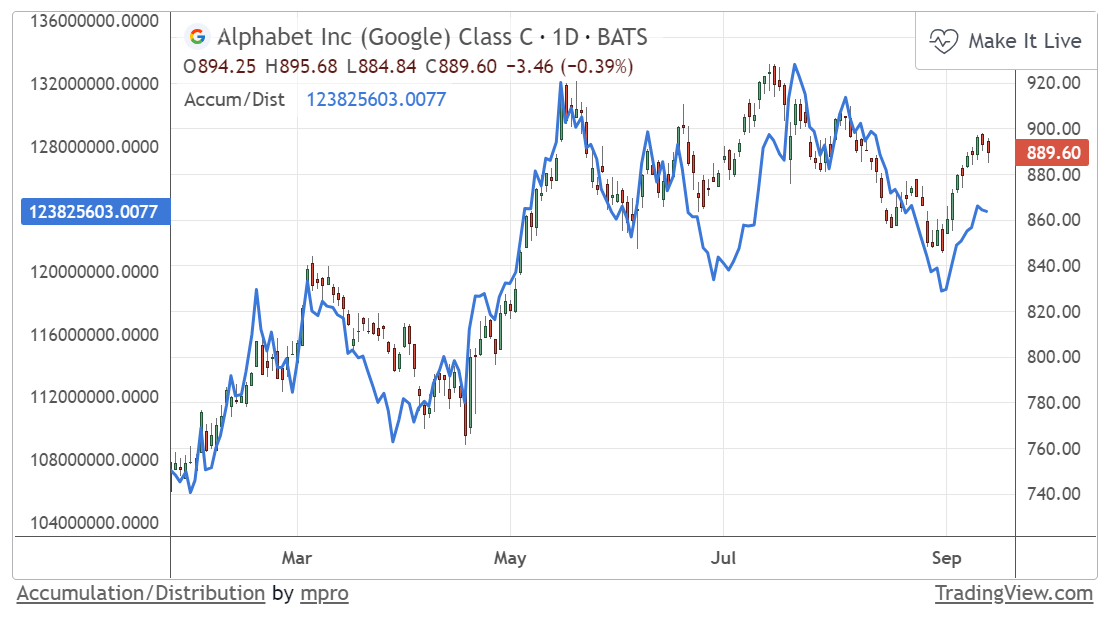 5. How to Pick a Stock to Day Trade: Social Media
Social media can provide an exceptional edge when day trading. Many top stories first break on Twitter before they end up on any mainstream news publication, like Bloomberg or MSNBC.
Think about it — virtually any person in the world can go viral with the right post. In some instances, these viral posts may be related to meaningful news that could affect a company's future prospects and, therefore, their share price.
In other words, social media may provide serendipitous opportunities, identifying potential stocks worth buying or selling.
Of course, with social media, you must be careful what and who you believe. For example, some people abuse it by trying to pump and dump certain stocks. Try to follow only accounts you trust and verify details prudently.
How to Day Trade Successfully
When learning how to successfully day trade, there are two key elements to focus on: study and practice.
Study: Studying high-quality and engaging educational material. There's no point wasting time on unclear and unengaging learning resources. Instead, it's best to focus on those that will increase your trading knowledge as quickly and effectively as possible.
At the end of the day, you want to begin executing profitable trades as soon as possible, not just learn about trading for weeks on end.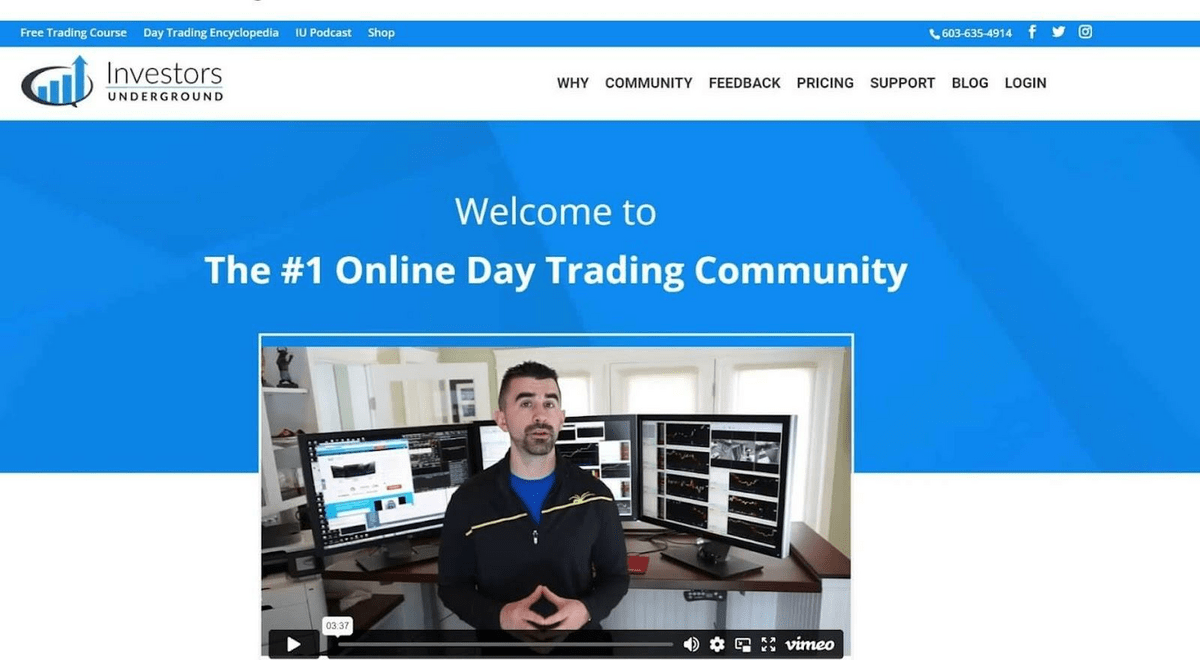 In terms of learning the ins and outs of day trading, our favorite platform is Investors Underground. With Investors Underground, you'll find a comprehensive suite of trading resources:
Over 700 video lessons
Over 20 hours of premium video courses
Group webinars
An active chat room where users (including expert traders) share trade alerts in real-time
Daily watch lists of recommended stocks
Practice: Using what you've learned in a practical setting. This doesn't necessarily mean using real money (though the sting of loss is a potent teacher).
Make use of paper trading accounts. Try your hand at day trading in a risk-free environment. Can you successfully use charts, indicators, social media, and the like to produce profits over time?
Whether for practice or real money, our favorite brokerage for trading is, without a doubt, eToro.
eToro offers competitive pricing, an exceptional user interface, and unique features, like the ability to copy the trades of established, expert traders.
On your quest to learn how to day trade successfully, eToro is an excellent choice.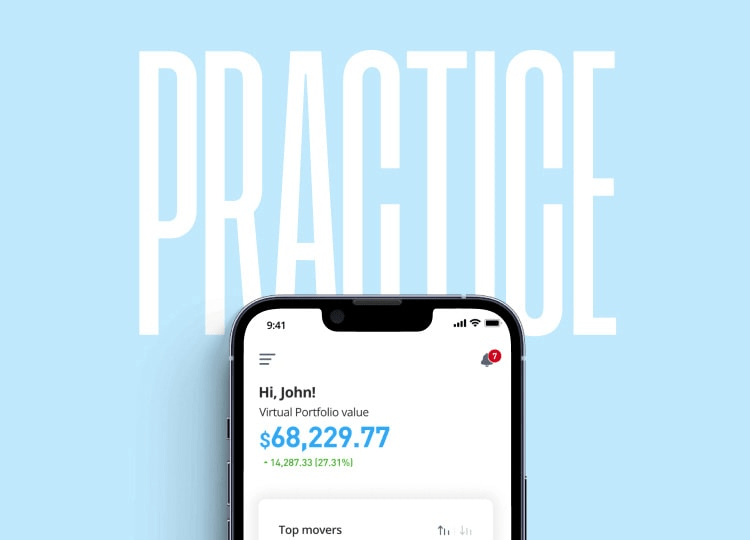 Final Word:
If you're learning how to day trade stocks, there's no reason to make it harder than needs to While there is no best way to day trade, there are specific actions and strategies you can implement to help improve your chances of success.
be. There are numerous tools you have at your disposal for identifying the best stocks to trade — use them!
Why not take action today? The methods and resources in this guide offer a powerful step toward refining and improving your overall performance as a day trader.
FAQs:
Is $1000 enough to day trade?
Yes, $1000 is enough to day trade. Many brokerages permit you to open accounts with little to no minimum balance. Moreover, you can even buy partial shares on some platforms, allowing for minimal trade values if desired.
What makes a stock good for day trading?
Typically, a good stock for day trading is one which moves substantially (volatile), has sufficient liquidity, and, most importantly, is a name you believe you can confidently predict the direction of most of the time.  
How to day trade stocks without $25,000?
To day trade stocks without $25,000, you simply need to access a brokerage platform with a lower minimum required account balance. In fact, many brokerages allow you to open trading accounts with little to no balance and permit fractional share purchases, allowing for small-value trades if required. In other words, you can day trade stocks with as little as $100, perhaps even less.
How much money do you need in order to day trade?
You can begin day trading with as little as $100, even less. Many brokerages do not require a minimum balance. Moreover, many offer the ability to trade fractional shares, so even stocks with very high prices can be traded with little capital.
Where to Invest $1,000 Right Now?
Did you know that stocks rated as "Buy" by the Top Analysts in WallStreetZen's database beat the S&P500 by 98.4% last year?
Our September report reveals the 3 "Strong Buy" stocks that market-beating analysts predict will outperform over the next year.