Our editorial team uses a strict editorial review process to compile all reviews, research, and evaluations of any kind. Our company, WallStreetZen Limited, is supported by our user community and may receive a small commission when purchases are made through partner links. Commissions do not affect the opinions or evaluations of our editorial team.
Ripple (as a company) is not publicly traded.
Equitybee gives accredited investors access to hundreds of private, VC-backed startups before they IPO.
Sign up with Equitybee and get notified if Ripple becomes available.
With a market cap of over $19 billion and a highly-publicized lawsuit with the SEC, Ripple has been making waves in the world of crypto.
It's easy to see why Ripple draws such interest – with a demonstrated use-case basis tied to financial settlement, faster and less energy-intensive transactions than Bitcoin, and a fixed supply (meaning no mining), Ripple is pretty unique.
If you're here, you're probably a bit more practical-minded, and you're asking yourself the same thing I am: can I get in on the action?
Let's go over how you can invest in Ripple as a retail investor or an accredited investor.
Can You Buy Ripple Stock? Is Ripple Publicly Traded?
Ripple Labs is still a private company, meaning that retail investors cannot yet purchase stock in the company. Its shares are not publicly traded on exchanges, there is no Ripple stock price, or Ripple stock symbol.
However, Ripple's leadership has been clear in their intentions to take the company public – and since odds are that the SEC court case will be concluded in 2023, that can happen sooner than you would expect.
How to Buy Ripple Stock as an Accredited Investor
You can become an investor in private companies like Stripe, Reddit, and Instacart.
Equitybee gives accredited investors access to hundreds of high-growth, VC-backed startups. By funding employee stock options, investors like you can own stakes in private companies at past valuations. In exchange for funding the options, you will receive a percentage of future proceeds from successful liquidity events.
Start investing in private companies on Equitybee.
Subject to availability.
Apart from specialized platforms such as EquityBee, accredited investors also have access to a couple of other approaches that retail investors do not:
venture capital
angel investing
hedge funds
directly purchasing private equity
However, both venture capital, angel investing, and hedge funds require a lot of capital (even for accredited investor standards), and thus necessitate much larger positions – making for a risky and less appealing proposition.
How to Buy Ripple Stock as a Retail Investor
Since buying Ripple Labs stock is a no-go for now, the best way to capture some of the company's anticipated growth is through their product – in this case, the Ripple crypto token, XRP.
However, this isn't as straightforward as investing in some other crypto tokens, on account of the whole SEC business. Several US-based exchanges, notably Coinbase, have delisted the cryptocurrency.
However, it can still be bought and traded on other exchanges, such as Binance, as well as via several stock brokers such as eToro.
Google Ventures also made an investment in Ripple, though the amount was likely nominal. So while investing in Google Ventures' parent company, Alphabet (NASDAQ: GOOGL), would allow you to absorb some of the growth, I would recommend against it.
Plus, there are a lot of more important factors that affect Alphabet's stock price than the investments that Google Ventures is making, so you're unlikely to see a similar performance between Ripple and Google.
Who Owns Ripple?
Ripple Labs is a private company, so it isn't required to publicly disclose its exact ownership structure.
However, we do know from previous funding rounds that investment groups and hedge funds such as:
Pantera Capital
Seagate Technology
Blockchain Capital
Siam Commercial Bank
Westpac Banking Corporation
have contributed to the company's financing, and are likely to have an ownership stake as well.
Does Chris Larsen Own Ripple?
Chris Larsen is the largest single stakeholder in the company, owning a 17% stake in the venture. After him, current CEO Brad Garlinghouse is the second-largest stakeholder, with a 6.3% share.
Both Larsen and Garlinghouse also own large amounts of XRP tokens, together with the ownership stake in the underlying company.
How to Invest in Ripple Stock as a Retail Investor
Investing in XRP, Ripple's token, is the most straightforward way for retail investors to capture some of the businesses' growth. Retail access to Ripple's stock is nonexistent – however, that's not always going to be the case, as you'll see in the next section.
How to Buy the Ripple IPO
Ripple has had its eyes set on an IPO for a while now – with that intention first being stated by CEO Garlinghouse at the WEF in Davos in 2020. While the SEC court case has delayed those plans, Garlinghouse is still committed to that course.
If you don't want to wait until its IPO, you can sign up with Equitybee and get notified if Ripple options become available.
Equitybee gives accredited investors the opportunity to become an investor in private companies like Stripe, Reddit, and Instacart.
Register here and get the chance for exclusive access to Ripple stock before its IPO.
Subject to availability.
Here are the steps on how to buy Ripple stock if and when it becomes available:
Create or login to your brokerage account (if you don't have one, we recommend eToro – it's free)
Search for Ripple
Select how many shares you want to buy
Place your order
Monitor your trade
Remember – as of right now, you still cannot buy Ripple stock, and it does not have a ticker symbol – but keep an eye out for news regarding the company's IPO.
Ripple Stock Price Chart
Because Ripple isn't a publicly traded company, I can't provide you with a stock chart. I can, however, point toward the fact that the company has raised a total of $293 million in 14 funding rounds as to at least give you some idea about their financials.
Those $293 million came from
Google Ventures
Andreessen Horowitz
Santander InnoVentures
Accenture
along with close to 40 other investors, hedge funds, and venture capital companies.
You can, however, take a look at this chart of Ripple's cryptocurrency, XRP, to get a feel for the buzz around Ripple.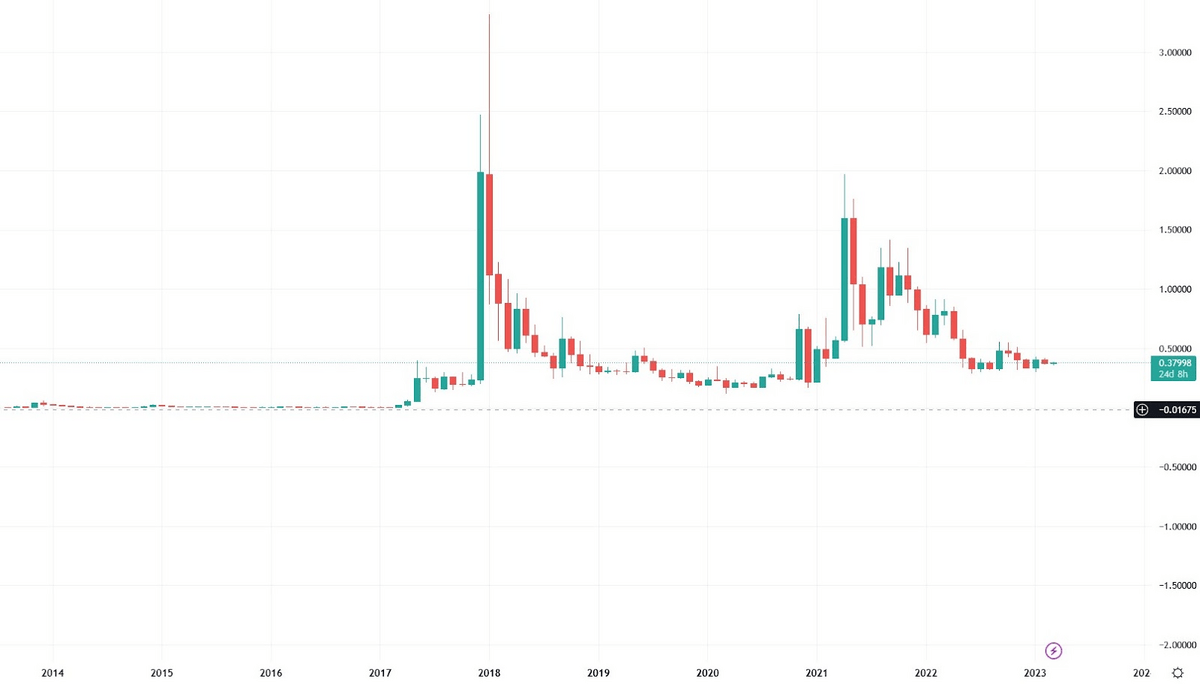 ---
FAQs:
How to buy Ripple stock?
Until Ripple goes public and the court case filed by the SEC is resolved, the only way to buy Ripple stock is by being an accredited investor - investing in a hedge fund or using a sp
How much is Ripple stock?
Ripple is still a private company as of Q1 2023 - so there is currently no way to gauge its stock price with any reasonable degree of accuracy.
What is the Ripple stock symbol?
Ripple hasn't gone public yet, as of March 2023, so it does not have stock symbol. The cryptocurrency itself, however, is traded under the symbol XRP
Who owns Ripple stock?
Ripple stock is owned by previous CEO and co-founder Chris Larsen (17%), current CEO Brad Garlinghouse (6.3%) - the rest of the company's ownership structure is unclear.
Where to Invest $1,000 Right Now?
Did you know that stocks rated as "Buy" by the Top Analysts in WallStreetZen's database beat the S&P500 by 98.4% last year?
Our March report reveals the 3 "Strong Buy" stocks that market-beating analysts predict will outperform over the next year.