Our editorial team uses a strict editorial review process to compile all reviews, research, and evaluations of any kind. Our company, WallStreetZen Limited, is supported by our user community and may receive a small commission when purchases are made through partner links. Commissions do not affect the opinions or evaluations of our editorial team.
Trade wars, natural disasters, and escalating tensions between the US and China mar the 2023 economic landscape. These things could have a serious impact on the US — and your investment portfolio.
In reaction to the volatile market, some investors are turning to stock research aids such as Capitalist Exploits to help them make higher-conviction decisions. But with a price point that gives most people a punch-in-the-gut feeling, many are wondering … Is Capitalist Exploits worth it?
I created this in-depth Capitalist Exploits review to help answer that question before you buy.
Let's dive in!
Is Capitalist Exploits Worth it in 2023?
The bottom line:
The cost is high, but for many investors, the $2499/year Capitalist Exploits Insider membership and the $35/month paid newsletter are worth it.
Their stock screener and industry-leading alerts are excellent, but that is only a fraction of what the membership will get you. I expand on this in more detail later in the Capitalist Exploits review.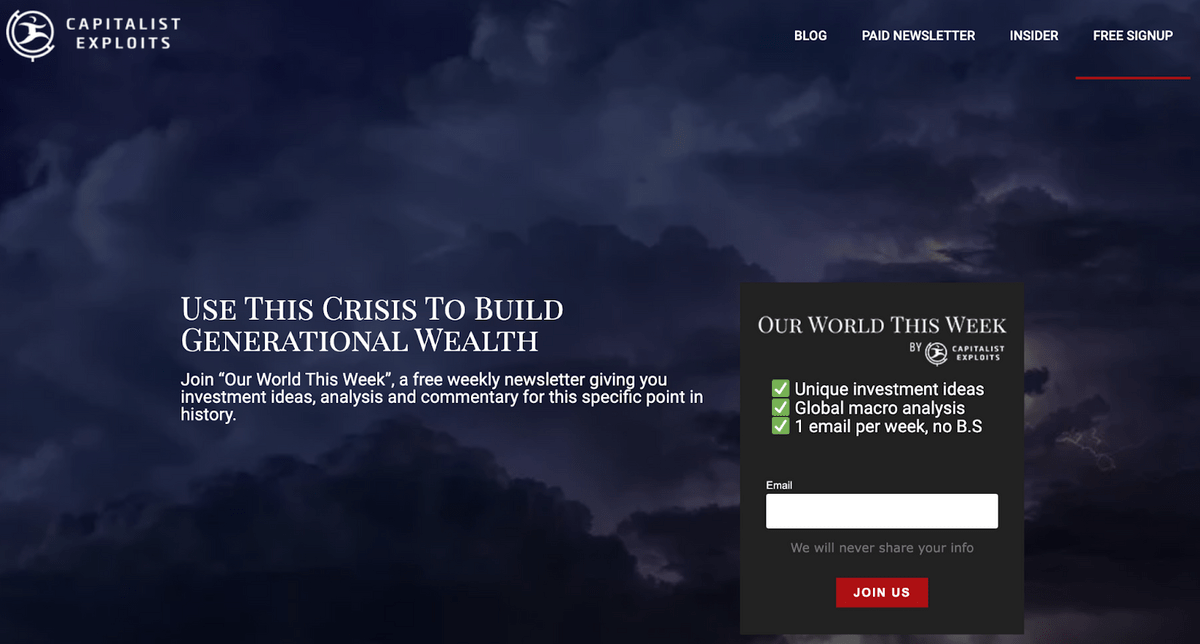 What is Capitalist Exploits?
Capitalist Exploits is an exclusive investor network that provides its members with timely, actionable, and profitable insights into the stock market. They offer information through a blog, paid newsletter, and a premium service.
Obviously, the Capitalist Exploits costs go up with the premium service, but there is a lot you can enjoy with the premium tier.
Members have access to the company's proprietary research, detailed analysis of global markets, interviews with industry experts, stock screener tools, and other valuable resources that can help you make informed decisions about your investments.
Capitalist Exploits: Products and Services
Capitalist Exploits offers a range of products and services to help you make smarter decisions and potentially maximize your profits.
Insider Newsletter
With the Capitalist Exploits Insider Newsletter, you get access to exclusive market insights and trade picks. This newsletter doesn't just drop the latest news, but it dives into why each event, shift, or trend could affect the stock market.
In short, it helps keep you informed AND AHEAD of the market.
The subscription fee for the Insider Newsletter is $35 per month after a $1, one-month trial period. Let's unpack these features a bit more.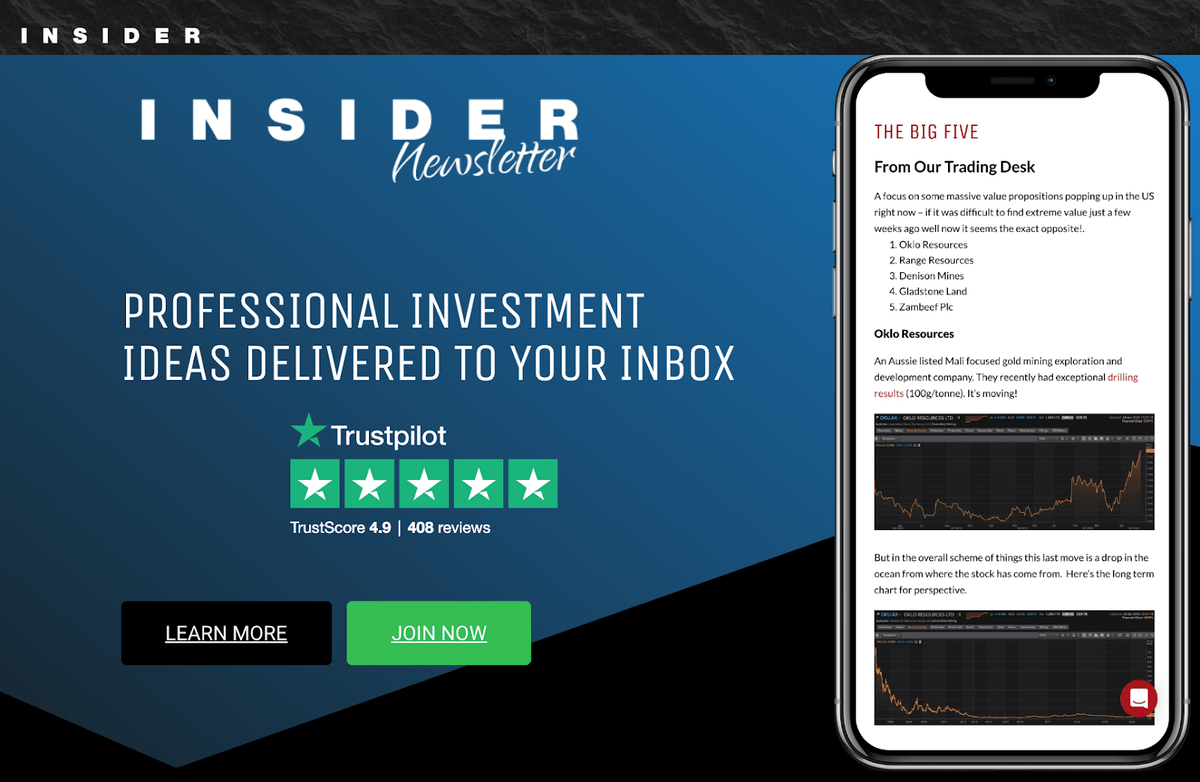 Features
The newsletter gives curated investment tips and ideas sent to your inbox every week. This includes "big five" stock investment ideas, Macro investing suggestions, and well-researched insights gathered by a team with over 50+ years of experience.
Stocks With Deep Value
The company offers exclusive insights into undervalued stocks that show a potential for significant growth.
Macro Commentary
Members get a unique and expert analysis of global market trends and events. This covers a comprehensive overview of the global economy and can help you learn what actually goes into evaluating a stock.
CapEx Insider Membership
The CapEx Insider is Capitalist Exploits' premium service.
This membership costs $2,499 per year. With a price point like that, it's important to really understand what you're getting. Thankfully, there is a $1, one-month trial that allows you to explore all the premium features to see if it's a good fit for you.
In the meantime, let's look at what's included.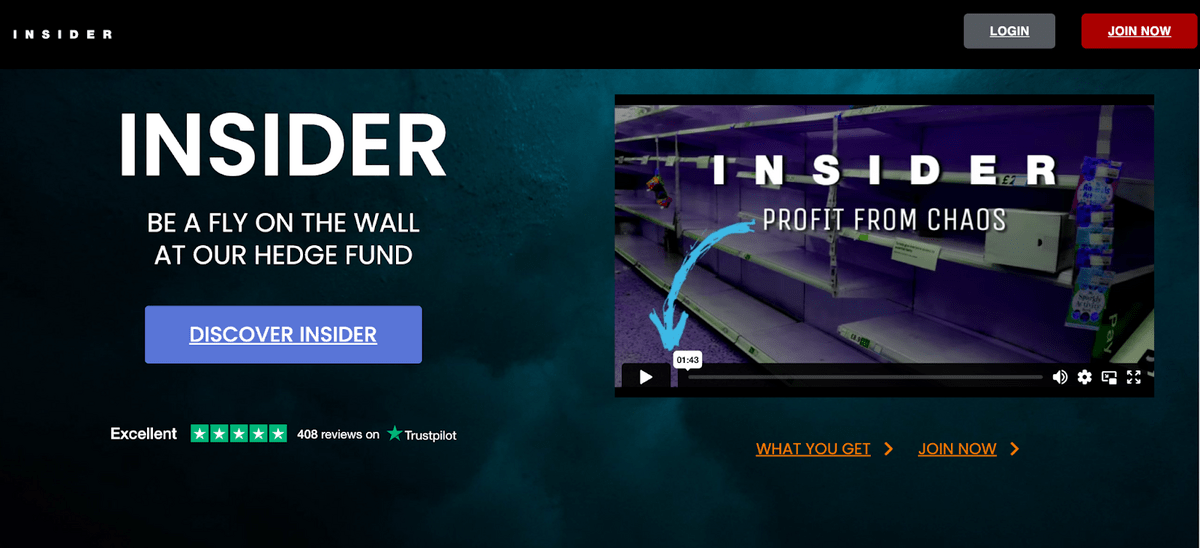 Alerts
Members get access to timely alerts about global market trends, stocks, and events that could highly impact your portfolio.
Insider Community Forum
Capitalist Exploits sets itself apart with its active community. I love that investors can connect with others to pick their brains and learn from their experiences.
Q&A Sessions
Capitalist Exploits hosts monthly Q&A sessions, which give members an opportunity to interview seasoned investors.
Simply listening to the questions other investors ask can help widen your expertise and prompt you to consider angles you've never considered before. Attendees walk away with actionable data and advice after every session.
Education
New to investing? No problem! An educational video series helps you learn the basics of investing so that you can start with confidence.
Mentorship
When you have the basics under your belt but still have questions about building a solid strategy or simply want to make decisions with confidence, the mentorship program is an excellent feature.
Capital Exploits Portfolio Access
One of CapEx's most valuable features? The Capitalist Exploits Portfolio, which gives you a peek into the brains of expert investors.
The portfolio contains a group of investments that the team at Capitalist Exploits has meticulously researched and handpicked.
The portfolio provides investors with an easy way to gain exposure to potential and proven high-growth opportunities, without having to conduct the research and analysis themselves.
Portfolio Strategy Support
Capitalist Exploits helps you build your portfolio. They give options depending on your preference. With their help, you can make your portfolio simplified, diversified, or international-focused.
Since they offer full guidance on buying and selling, you can also opt to fully customize your portfolio.
Blog
Even if you decide against joining Capitalist Exploits' premium services, look at the blog. Don't let the sassy headlines fool you. They put the same time, effort, and meticulously researched details into their free blog as they do the rest of their premium features. The premium services will dive further into each topic, but you can gain a lot from reading the blog.
Who Founded Capitalist Exploits?
Capitalist Exploits was created and founded by Chris MacIntosh as a way to help people become more successful in their investments, especially those without a lot of time on their hands.
How Capitalist Exploits Works: Investing Strategy
At its core, Capitalist Exploits is a tool to help you invest better. How you use the tool to accomplish this goal is up to you.
The company has a lot of high-quality, free resources. Many opt to use them, subscribing to their weekly newsletter, which announces their stock picks for the week along with some commentary and analysis.
If you join the paid newsletter, Capitalist Exploits will send you 5 stock ideas with each issue as well as provide professional guidance on global investments. You also get access to their educational video series.
The premium membership offers much more. With this, you get personalized stock suggestions, portfolio strategy recommendations, and more.
With all analysis, free or paid, you get recommendations that are unique, high-reward, low-risk investment opportunities that have been vetted by their investment team.
Knowledge is power!
Stock ideas are great. But ultimately, investing puts your money on the line. So it can pay to have a strong foundation of knowledge, so you can back up stock picks with your own conviction and research.
Want to get smart about investing? Here are some of our favorite ways to learn:
Plus, check out our article on the best stock trading courses
Is Capital Exploits Legit?
Bottom line: Yes. Not only is Capitalist Exploits legit, it is a service with an impressive track record. Customers seem to be big fans, giving the service an average of 4.5 rating on Trustpilot.
Even if you opt out of the subscription fee and all of its premium features, you still get a lot of value from its free newsletter and blog.
Capital Exploits Performance
Since its inception, Capital Exploits has produced an impressive return on investments.
They have achieved over a 14% average annualized return — nearly double the national average of 8.7% for macro stocks.
Over the last 5 years, their portfolio compounding rate averaged 13.5%. Besides these strong returns, they also boast low-risk indicators.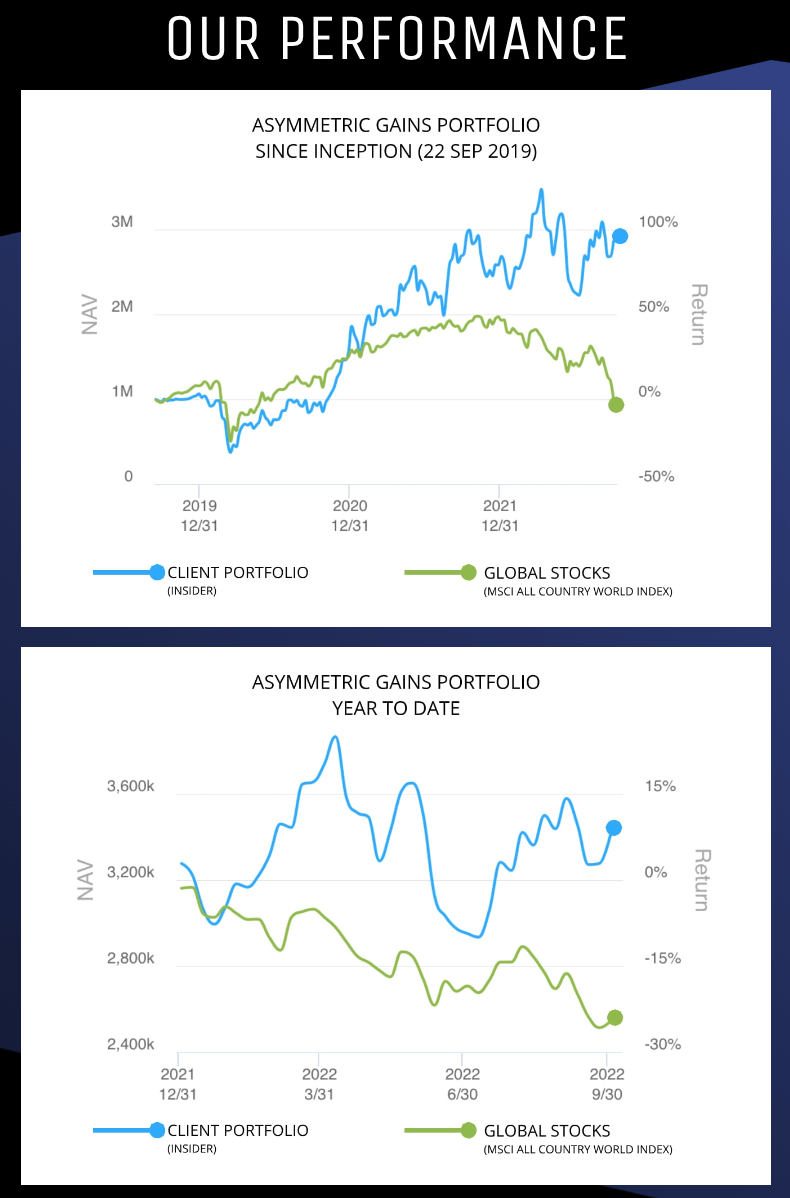 Capital Exploits Reviews
The Capital Exploits reviews are overwhelmingly positive, especially from users on Trustpilot, with most ratings being 5 stars. The reviews highlight their ability to produce strong returns and great customer service.
I loved that many of the customers writing their Capitalist Exploits review praised the company's transparency and low-risk recommendations — something that is very important when choosing a stock research and analysis company.
In fact, Capitalist Exploits boasts they present facts and analysis without filtering to be politically correct. It seems they do this in a non-offensive way — opting to leave politics out of the equation (except where specifically relevant to the analysis).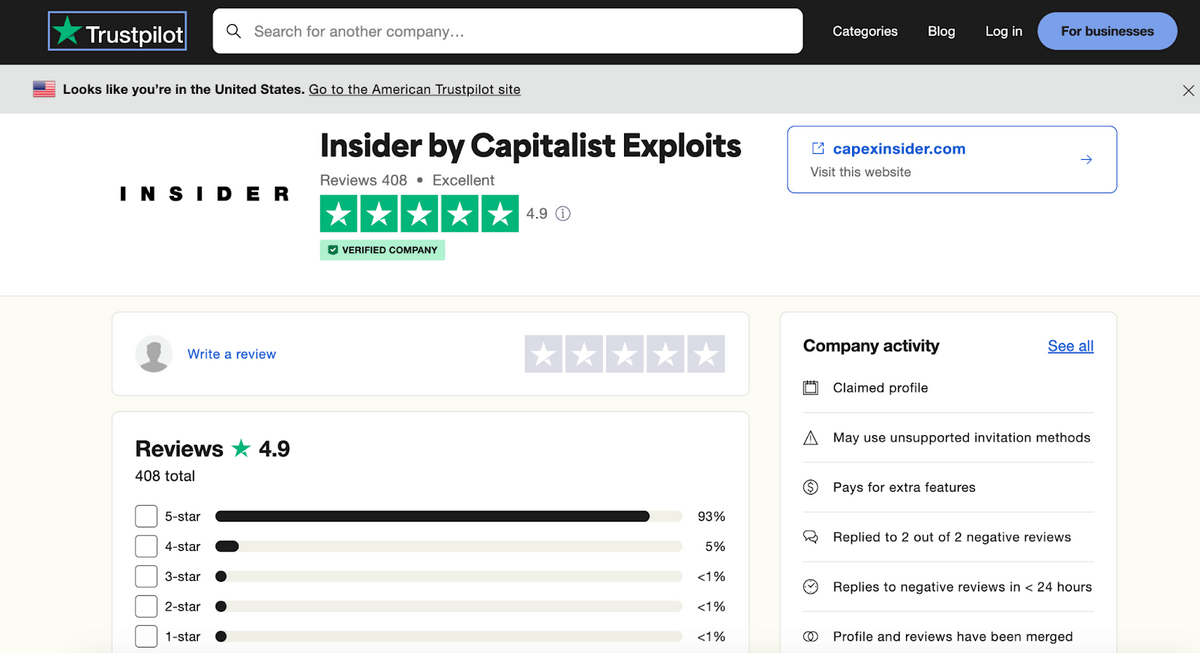 Capital Exploits Pros and Cons
| | |
| --- | --- |
| Pros | Cons |
| Consistently high returns | May be too technical for novice investors |
| Low-risk recommendations (Good Sharpe ratios) | Fees are higher than other stock research and analysis companies |
| Excellent customer service from knowledgeable staff | No access to live trading capabilities on the site |
| Comprehensive research and analysis of stocks, commodities, currencies and ETFs | Not available in all countries around the world |
| Easy-to-use user interface with mobile app capabilities | |
| They offer education courses & mentorship | |
| Transparent recommendations | |
| They have an active & engaged community | |
| They offer a money-back guarantee | |
| They have a $1 30-day trial | |
How to Get Started With Capitalist Exploits – (and How to Get the Most Out of Your Membership!)
Step 1:
Visit the Capitalist Exploits' website and choose either the Paid Newsletter, Insider, or Free Signup from the home screen menu. Scroll down and select "Getting Started".
Step 2:
Enter your account details and payment details (if relevant) and select "Activate" to start your free trial.
Step 3:
You will be emailed the current issue as soon as you join. If you choose an Insider Membership, take advantage of Capitalist Exploits' reports and portfolio analysis tools.
Step 4:
Join their online community of investors to discuss strategies, share experiences, exchange ideas, and make connections with like-minded individuals.
Step 5:
Don't ignore the free resources! Start exploring the site and all of its features, including Capitalist Exploits' reviews on their top picks, analysis reports, blog posts, podcasts, and videos.
Capital Exploits: Fees and Costs
The subscription fee for the Insider Newsletter is $35 per month after a $1 Capitalist Exploits discount trial period.
Capitalist Exploits also offers an annual membership program called CapEx Insider. This membership costs $2,499 per year.
Compared to taking an investing course at a typical traditional college, it is less expensive and comes with more benefits (education, mentorship, a community, handpicked stock recommendations, and more).
That being said, when compared to other investment news and analysis platforms, such as Alpha Picks ($99/year) or Motley Fool Stock Advisor ($199/year), Capitalist Exploits is quite a bit more expensive.
Refund Policy
If you're not ready to commit to the full membership, you can start with the $1 30-day subscription to Capitalist Exploit's premium accounts. This will give you a good overview of what the company offers.
However, if it doesn't work out, the company offers a no-questions-asked 30-day money-back guarantee.
Is Capital Exploits Worth It?
For investors with a moderate amount of experience under their belt, Capitalist Exploits is a great option. In particular, for those who are looking to get in-depth analysis on low-risk, macro stocks, and high-return investment strategies, as well as access to a community and expert investors, Capitalist Exploits is definitely worth it.
If you are new to investing, they do offer courses, blog posts, and podcasts to help you learn, but the premium membership may be an expensive way to begin your investment journey. This also may not be a good fit if you are looking for high-risk investments, crypto, or alternative investment recommendations.
Final Word:
Despite the heavy price tag, I really like Capitalist Exploits for most investors — particularly for savvier, part-time investors. It's time-saving, since Capitalist Exploits does a lot of the hard analysis and research for you. Plus, the $1, one-month trial and a money-back guarantee make it easy to take a test drive.
That, plus their low-risk strategy, top-notch portfolio access, monthly Q+A, and the mentorship program, this investment certainly holds its value!
---
FAQs:
Is Capital Exploits legit?
Yes, Capitalist Exploits is a legitimate investment service that provides investors with long-term, low-risk stock recommendations and gives access to the insights of professional investors. The team responsible for Insider manages over $200 million in client capital and invests in markets most people know little about worldwide.
How much is Insider weekly?
Insider Weekly, also known as "Our World This Week", is a free weekly newsletter from Capitalist Exploits that provides readers with unique investment ideas, a global macro analysis, and commentary.
How much does Insider newsletter cost?
The Insider Newsletter costs $35 per month after a $1, one month trial. Members get access to advice delivered by professional investors responsible for managing hundreds of millions of dollars.
What is the Insider newsletter?
Created by Chris MacIntosh of Capitalist Exploits, the Insider Newsletter is a top-notch resource for investors with a long-term focus. It provides subscribers with access to the insights and strategies of experienced professionals who manage hundreds of millions of dollars in investments.
Where to Invest $1,000 Right Now?
Did you know that stocks rated as "Buy" by the Top Analysts in WallStreetZen's database beat the S&P500 by 98.4% last year?
Our June report reveals the 3 "Strong Buy" stocks that market-beating analysts predict will outperform over the next year.