Our editorial team uses a strict editorial review process to compile all reviews, research, and evaluations of any kind. Our company, WallStreetZen Limited, is supported by our user community and may receive a small commission when purchases are made through partner links. Commissions do not affect the opinions or evaluations of our editorial team.
Few things seem more liberating than being your own boss while earning a lot of money doing something you love.
This brings us to today's big question — can you make money trading options?
The sad truth is that for many people, the answer is no.
In the scheme of things, relatively few options traders are profitable. For those who are, success usually comes after years of hard work and experience.
However, for those who take the time to master their craft, options trading can be a job that lets you work at your own pace and allows for a very free and financially comfortable lifestyle.
In this article, I'll share how most traders (including myself) approach trading, what challenges come with this profession, and what you really need to do to generate good income trading options. Let's get straight to it.
Can You Trade Options for a Living?
So, can you make money trading options? Yes, but it's complicated.
First, to make a living, you have to be able to average a decent monthly return.

This means being skilled and experienced enough to be consistent — averaging good monthly returns year after year is the mark of a skilled trader.

Even then, the markets can be surprisingly brutal. Even professionals suffer big losses from time to time. Losses are simply a part of trading and should be factored into your average returns.
Second, your monthly returns will depend on your trading capital. With a lot of capital, an experienced trader can guarantee certain results — but with too little starting capital, generating a living wage each month is improbable.

Third, you need a system — a strategy you can repeat over and over, refine, and use to grow your portfolio steadily. This also includes a certain mindset befitting a great trader.
Let's examine all of these requirements starting with the most obvious one — how much money do you need to trade options for a living?
The Math
There is a pretty standard methodology that most traders use — the goal is to increase your portfolio by 1% per week (on average).
There are about 50 trading weeks in a year, so this would amount to a solid annual return of 50%.
Important to note: while averaging 1% per week is considered a reasonable price target, 0.5% might be more realistic for beginners until they gain more skill and confidence. The learning curve with options is very steep, and it is only wise to set a moderate profit target if you are a beginner.
Here is a breakdown of how much you need in your trading balance to generate the returns you want:
| | | | | |
| --- | --- | --- | --- | --- |
| | 0.5% average weekly return | 0.5% average weekly return | 1% average weekly return | 1% average weekly return |
| Initial trading capital | Weekly income | Monthly income | Weekly income | Monthly income |
| $2,000 | $10 | $40 | $20 | $80 |
| $5,000 | $25 | $100 | $50 | $200 |
| $10,000 | $50 | $200 | $100 | $400 |
| $25,000 | $125 | $500 | $250 | $1,000 |
| $50,000 | $250 | $1,000 | $500 | $2,000 |
| $100,000 | $500 | $2,000 | $1,000 | $4,000 |
Pro tip: All income generated trading equity options is taxed according to IRS' 60/40 rule. This rule means that 60% of your net profit will be taxed at the long-term capital gains rate, and 40% at the short-term capital gains rate.
As you can see, if you stick to the generally recommended weekly price targets, you still need a lot of money to earn a decent salary through options — even before factoring in taxes.
However, keep compounding interest in mind. Hypothetically, if you stick to this formula, each month you can make more money than the previous one — and that can add up eventually.
The snowball effect is real. That's a key reason why pro options traders are able to make so much money and sit on sizable trading balances.
For example…
If you start with $10,000 and consistently make 1% per week, and reinvest everything you make, you will have around $16,446 one year later (taxes not included).
If you keep doing the same thing for 4 more years, you could end up with over $120,000.
Taxes + trading proceeds = huge headache
Learn how to navigate capital gains taxes — and avoid paying what you don't have to!
Check out the top-rated Udemy course How to Avoid Capital Gains Taxes.
What are the Benefits of Options Trading?
Compared to trading stocks, options trading has the following benefits:
| | |
| --- | --- |
| Better cost-efficiency | Options give traders exposure to 1,000 shares for a premium that is always dramatically cheaper than the shares themselves. |
| Can be less risky than stocks | The maximum loss you can experience if you buy an option is the price of the premium. |
| Many different trading strategies | You can combine different call and put options to create all kinds of hedged trades. |
| Very high return potential | Paying for an affordable premium to get exposure to 1,000 shares of a stock can be extremely profitable. |
| Lower taxes | Trading equities directly will always incur the short-term capital gain tax, which is higher than taxes on income from stock options. |
How to Be a Successful Options Trader
Aside from capital, every options trader needs to have a few crucial traits:
1. Skill and Knowledge
Before everything else, a trader has to know the basics.
That means understanding options trading lingo and technical analysis.
The terminology is the easy part — even though it might seem like quantum physics at first glance. Any good options trading course will cover the lingo in depth.
The technical analysis aspect is a bit more complex. It involves reading charts and predicting the markets based on various price movement patterns and trading indicators.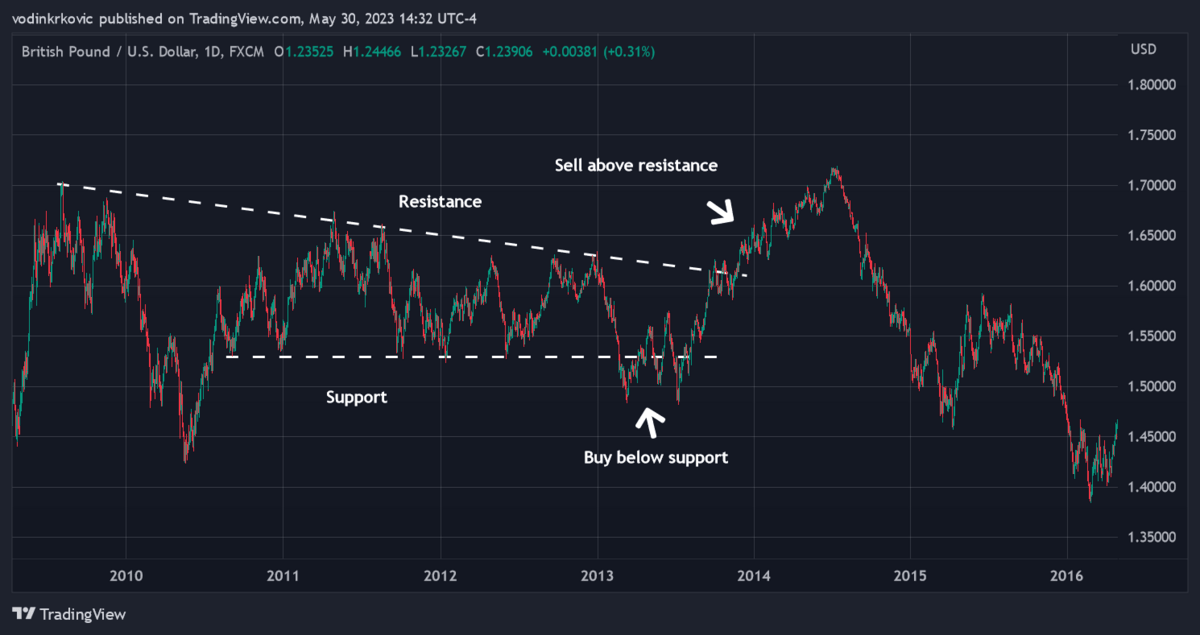 Above, you'll see a very simple example of technical analysis from TradingView. Finding trends and drawing support and resistance levels is the foundation of any trade based on technical analysis and charting.
Mastering this skill set is not easy, and most of the online education you'll come across is often very superficial and can be misleading. That's why I recommend enrolling in one of the best options trading courses on the market — all of which are lauded by their students and boast lively trading communities.
2. Trading Mentality
One of the key secrets to trading options full time? Having the right mindset.
Anyone can learn the skills needed for trading, but very few people can use them properly.
Here is what I mean exactly:
Trading is stressful and anxiety-inducing because it involves betting real money on unpredictable market movements.
Because of this emotional toll, most traders react emotionally and change their strategies and decisions on the fly, leading to a chaotic trading methodology.
If your methodology is chaotic and subject to emotional reactions to the markets, you are more likely to lose money and have inconsistent returns.
If you lose money and then try to get it back by trading emotionally, you are likely to lose more.
If this repeats, it can create a loop where you keep losing money and you don't learn anything because your trading method is based on emotional reactions instead of conscious, rational efforts.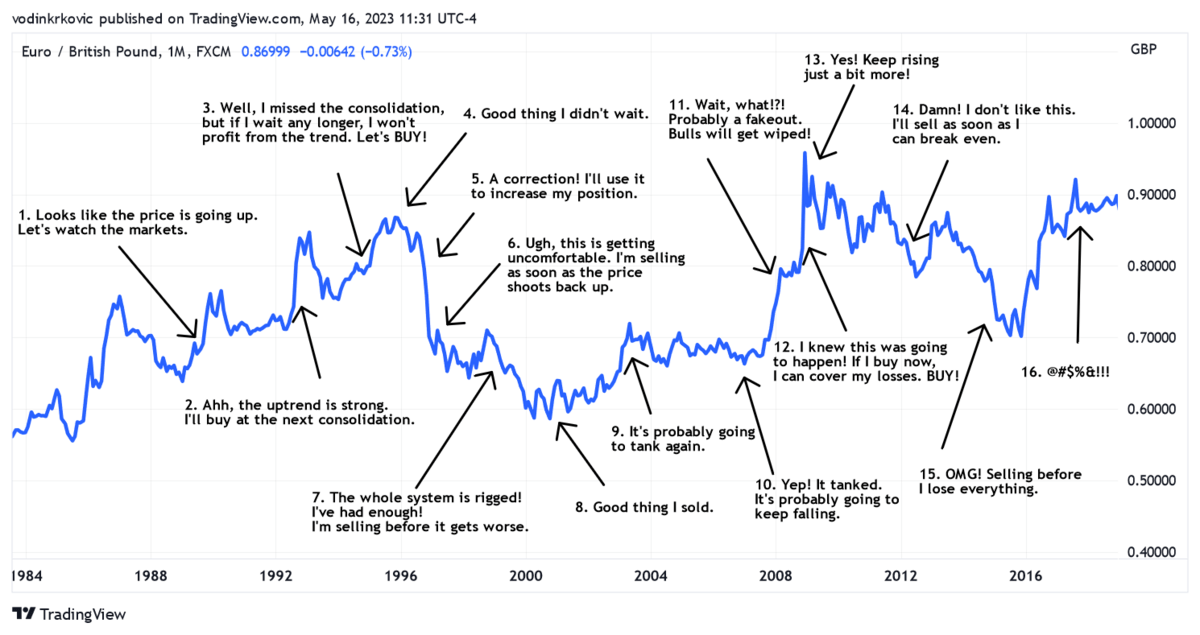 This illustration from TradingView shows how a trader's thought process might lead them to consecutive bad decisions — hence the need to trade rationally and without emotion.
That's why it is absolutely necessary to approach trading through pure logic and cold rationality. Any good options trading course will cover this area thoroughly because mindset is arguably more important than knowledge and trading skill.
3. Recording and Improving Strategies
Most successful traders keep trading records.
Want to mimic their methodology? Here's how:
You learn a new strategy and start using it as intended with full focus.
A month later, when you look at your returns, it turns out that the strategy did not work as intended.
To solve this issue, you start recording each trade and writing down your rationale behind every bet you made. After another month of trading, you look back at your trading diary to find potential problems with your strategy.
After you've done this a bunch of times, you correct your errors — hopefully, your returns become more consistent.
How to Get Started Trading Options Full Time
Ready to get started? Here's a basic checklist of what you need to trade options for a living:
| | |
| --- | --- |
| Enough starting capital | Your monthly income needs to exceed your expenses. That requires enough trading capital to make a sufficient monthly income realistic (ex: 25x your monthly expenses). |
| Education | The knowledge and wisdom you can get from a good trading course can speed up your learning curve. |
| Experience and time | Anecdotally, 1 to 3 years of experience are required to become a profitable trader. This is because most learning happens through trial and error. Luckily, after hours options trading is allowed, so you don't need to quit your day job. |
| Good work environment | Most day traders strive to improve their work environment as much as possible. A good day trading setup is important for anyone who trades for a living. |
| Specialized broker for options trading | Professionals use brokers specialized for options trading because only they offer cheap (or even free) trading with the addition of all the research tools an options trader needs. (Learn more about the best options trading platforms.) |
Is Day Trading Options for You?
Day trading options for a living isn't for everyone.
First, becoming an expert trader who can rely on his skill to make money each month usually takes one to three years. If you don't have the luxury of risking money in the meantime in order to learn, becoming a pro can be very difficult.
Second, day trading is a very rational and analytical type of work. Pro traders are mostly people who like these kinds of challenges and are able to control their emotions even when there is a lot of money involved.
Third — risk tolerance. Unlike a regular job, trading cannot guarantee an income. Plus, you can lose everything. Options traders should only trade with money they can afford to lose.
Day trading options for a living is very difficult unless you make it a lifestyle, so that should be in your mind if you're considering this profession.
What's the best options trading broker?
One that we really like is eToro. It has a number of features designed to help traders learn and grow, including eToro's CopyTrader, which allows you to follow experienced traders' trades.
Overall, it's an extremely accessible and user-friendly platform — and zero-fee options trades don't hurt!
Your capital is at risk. Other fees apply. For more information, visit www.etoro.com/trading/fees.
Advice for the Beginning Options Trader
Here are a few tips that can make a new options trader's journey easier and more fruitful:
Use good charting software. Long story short, most brokers have charting software that is very outdated and overly complicated.

Try using modern charting software like TradingView (which has free account options), compare it to your broker's platform, and you'll likely see the stark difference in quality and ease of use.

Consider using trading alerts. Finding really good trading opportunities is probably the hardest part of the job—especially for beginners who just finished basic training.

If you want to become profitable earlier on and learn how to find good trades, consider using one of the best options trading alerts services that notify you whenever they find a good trade entry. Our top pick? Benzinga Options.

Keep a very detailed trading journal. The only way to become good is to correct your mistakes and double down on what works — you need a trading journal for this.

Try to record every trade you make in MS Excel (or something similar) and include as much detail as possible—this will help you figure out what strategies work and why.
Looking to uplevel your options trading?
Benzinga's option alert service is the best way to trade and learn about options.
This top-notch options alert service is led by options trader and mentor Nic Chahine.
Chahine not only shares his high-conviction and highly profitable options trades, but he also provides thorough analysis so you can learn as you trade. Here's what you get:
High-probability option trades
Transparent access to trade explanations and analysis
Market analysis
Education
Plus, for a limited time, you can get free access to the next Benzinga Boot Camp to learn how to trade stocks and options like a pro.
Final Word: Trade Options for a Living
Trading options full time requires a certain lifestyle.

You need to be able to always act rationally, learn from your mistakes, and refine your strategies over time. Plus, it can be very demanding financially, especially in the beginning.
Even though successful options trading can be immensely profitable and financially liberating, you need to set your life up so you can afford to get good at trading without worrying about money and stress. It is possible, but trading is not a way to get rich quickly or without effort.
---
FAQs:
Is it Possible to Trade Options for a Living?
Yes. However, reliably generating income through options trading requires a substantial trading balance and a comprehensive trading skill set. Moreover, the great majority of options traders lose money due to the challenging nature of this profession, while only a small minority can make a reliable income trading options for a living.
Can You Realistically Make Money Trading Options?
If you're interested in trading options for a living, you should know that only about 5% of options traders make money. Therefore, to make money with options, you need to become one of the 5% by having the right trading skill, knowledge, temperament, and financial risk tolerance. This is possible, but not probable for the average person.
Can You Make $500 a Day Trading Options?
Yes. However, to make $500 a day trading options while keeping to generally recommended risk management practices — where your daily profit target is between 0.5% and 1% of your portfolio per day — you should have a trading balance ranging from $50,000 to $100,000.
How Much Do Option Traders Make a Year?
The estimated average salary for an options trader in the U.S. ranges from $65,000 to $185,000. However, retail traders using their own capital may earn more or less (or even lose money) depending on their trading proficiency and trading capital.
Where to Invest $1,000 Right Now?
Did you know that stocks rated as "Buy" by the Top Analysts in WallStreetZen's database beat the S&P500 by 98.4% last year?
Our September report reveals the 3 "Strong Buy" stocks that market-beating analysts predict will outperform over the next year.