Our editorial team uses a strict editorial review process to compile all reviews, research, and evaluations of any kind. Our company, WallStreetZen Limited, is supported by our user community and may receive a small commission when purchases are made through partner links. Commissions do not affect the opinions or evaluations of our editorial team.
Databricks is not publicly traded.
Equitybee gives accredited investors access to hundreds of private, VC-backed startups before they IPO.
Sign up with Equitybee and invest in Databricks today.
Big tech companies are like ravenous data beasts — always hungry for more information to feast on. And in today's data-driven world, there's no shortage of food on the table.
When it's time to digest that data to fuel further growth during the AI boom, no one is better equipped to meet tech companies' needs than Databricks.
Databricks is an industry-leading platform that lets engineers and analysts train AIs, encrypt information, and perform advanced data analytics. Its big-name partners include Amazon (NASDAQ: AMZN), Google (NASDAQ: GOOGL), and Microsoft (NASDAQ: MSFT).
Wondering how to buy Databricks stock? The company's not public, so there's no Databricks stock symbol to search for yet. However, accredited investors can still own a share of Databricks.
Keep reading to find out how…
Can You Buy Databricks Stock? Is Databricks Publicly Traded?
Databricks is still a private company, so direct investment opportunities for retail investors are still off the table.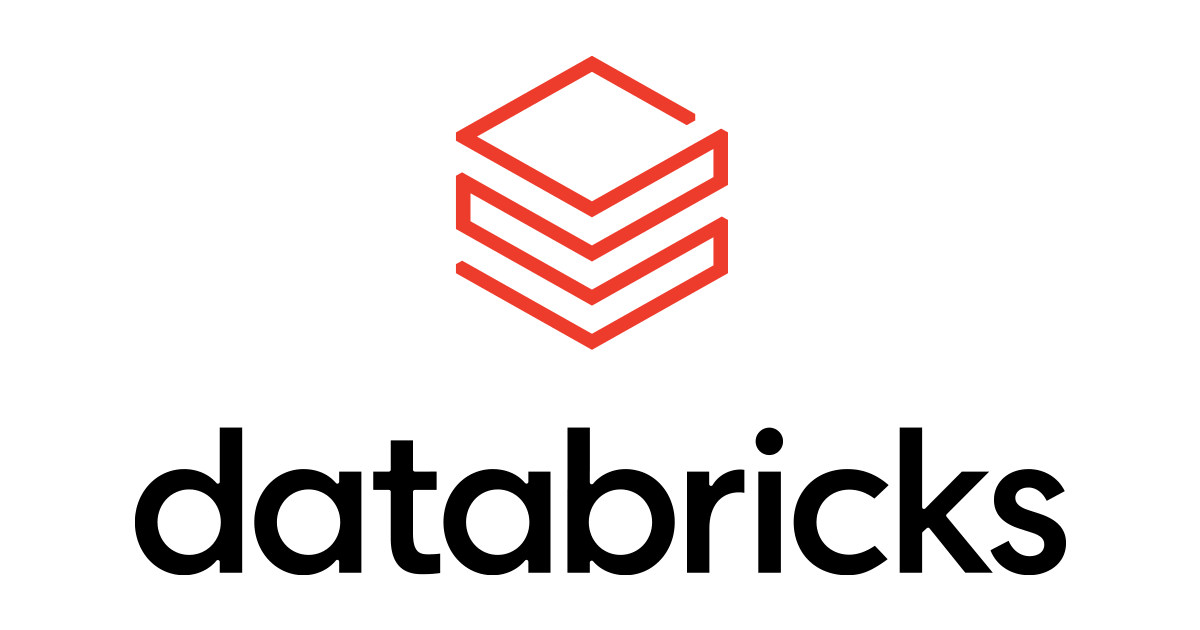 It's not listed on the stock exchange, so there's currently no Databricks stock price chart or Databricks stock symbol.
But here are three things to keep in mind:
Databricks could IPO at some point in the future
You could invest in Databricks competitors or companies that could benefit from Databricks' growth
You could qualify to buy Databricks stock as an accredited investor
Let's dig a little further into that last point…
How to Buy Databricks as an Accredited Investor
The term "accredited investor" can be confusing. The full definition is listed here, but here are some examples:
Your annual income exceeds $200,000, or $300,000 with a spouse, and there's a reasonable expectation of maintaining these levels year-to-year.
You have a net worth of $1 million, excluding the value of your primary residence.
As an accredited investor, you can invest in private companies like Databricks, OpenAI, and Waymo. Here's how…
With Equitybee, accredited investors gain access to hundreds of high-growth, VC-backed startups.
It works like this: You fund employee stock options. That gives you a stake in private companies at past valuations. As an investor, you'll receive a percentage of proceeds from future successful liquidity events.
If you are an accredited investor, you can browse the current Databricks offerings on Equitybee: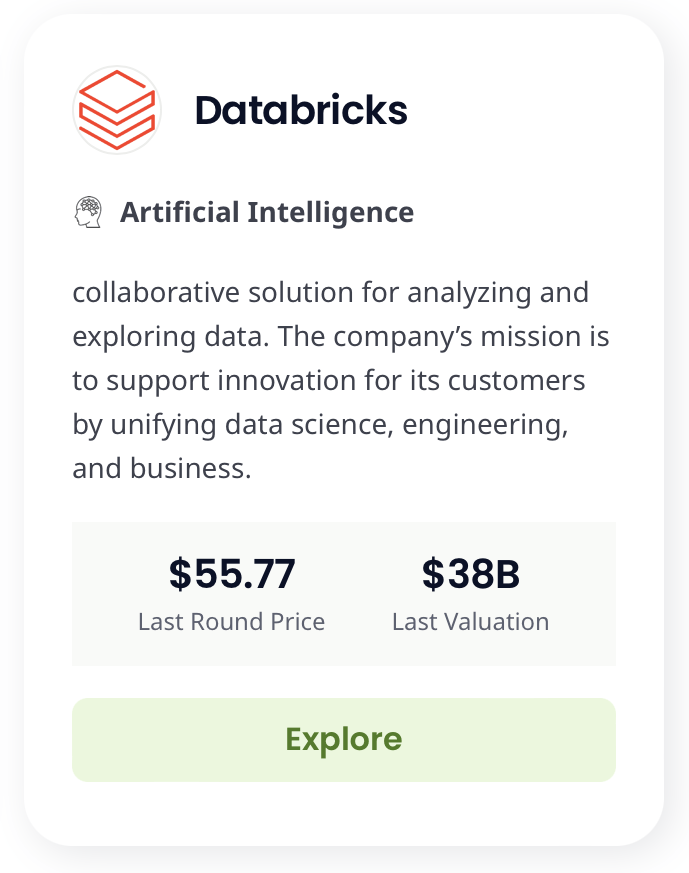 There are other ways for accredited investors to invest in private businesses like Databricks, such as angel investing, venture capital, or hedge funds. However, These approaches require industry connections or large investments, so they're not as widely accessible as Equitybee.
Start investing in Databricks and hundreds of other private companies on Equitybee.
Subject to availability.
How to Buy Databricks as a Retail Investor
Since the company isn't public, there isn't a direct way for retail investors to invest in Databricks stock.
A number of prominent companies have invested in Databricks, including:
But buying the aforementioned stocks to gain indirect exposure to Databricks' growth might not be as appealing as you think.
Why?
This is a company with over $3.5 billion in private funding from more than 40 investors — replicating its performance by going upstream simply isn't viable. There are simply too many investors in the mix for you to get real exposure by going through them.
To illustrate this point, consider the three big-name investors I just mentioned.
First, we don't know the exact amounts these companies have invested in Databricks, so we don't know how much of a stake each one has.
Plus, the price of these stocks depends on hundreds of criteria that have nothing to do with Databricks. So investing in them is a very indirect way to get exposure to Databricks.
However, this doesn't mean you're out of options. Keep reading, because I'll detail some like-minded options in the AI sector below. But first…
Who Owns Databricks?
Ali Ghodsi is the CEO and one of the company's founders (as well as the face of the business). However, there is no information available as to the exact extent of his ownership stake. The company's co-founders include:
Andy Konwinski
Arsalan Tavakoli-Shiraji
Ion Stoica
Matei Zaharia
Patrick Wendell
Reynold Xin
Additionally, over 40 private equity companies, hedge funds, and VC firms have invested in Databricks. Some of the more recognizable names in that list include:
Andreessen Horowitz
Coatue Management
Counterpoint Global
Greenoaks Capital
New Enterprise Associates
Tiger Global Management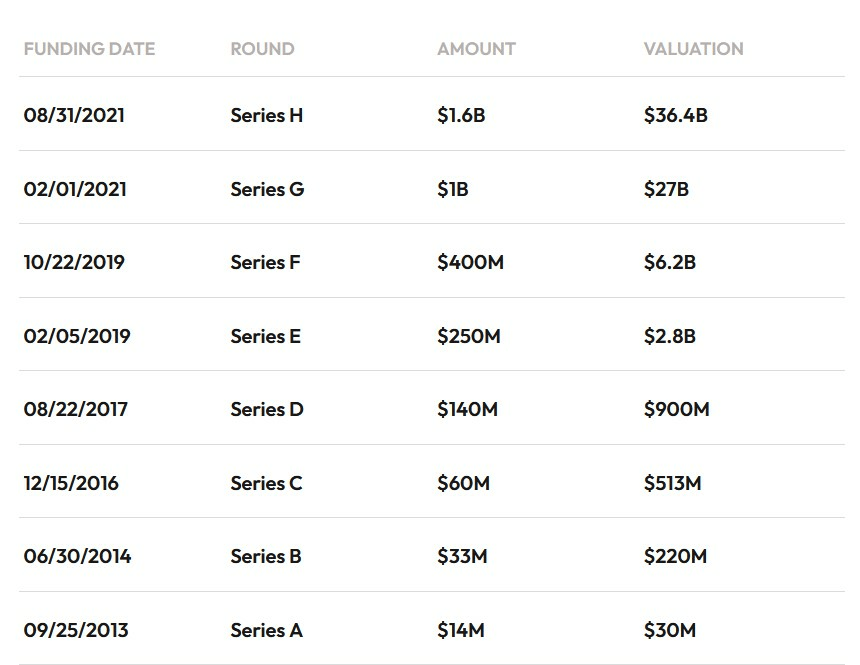 All of these companies have some degree of ownership over the business. However, exact details are scarce since private businesses are not required to share financial information with the public.
The rest of the company is split between the founders, board of directors, and employees.
Does Microsoft Own Databricks?
Nope. Microsoft (NASDAQ: MSFT) is a big-name investor in the company, but its stake is unknown.
As noted above, the founders and investors all have some ownership of the company, although the exact details are not available to the public.
How to Invest in Databricks Stock as a Retail Investor
I can't give you instructions for how to buy Databricks stock on major exchanges because there is no Databricks stock. As of Q1 2023, the company is still private, and there's no Databricks stock symbol.
However, there is an alternative to buying Databricks stock.
As a retail investor, you can gain exposure to the "big data" and AI sectors by investing in Databricks competitors that are publicly traded, including: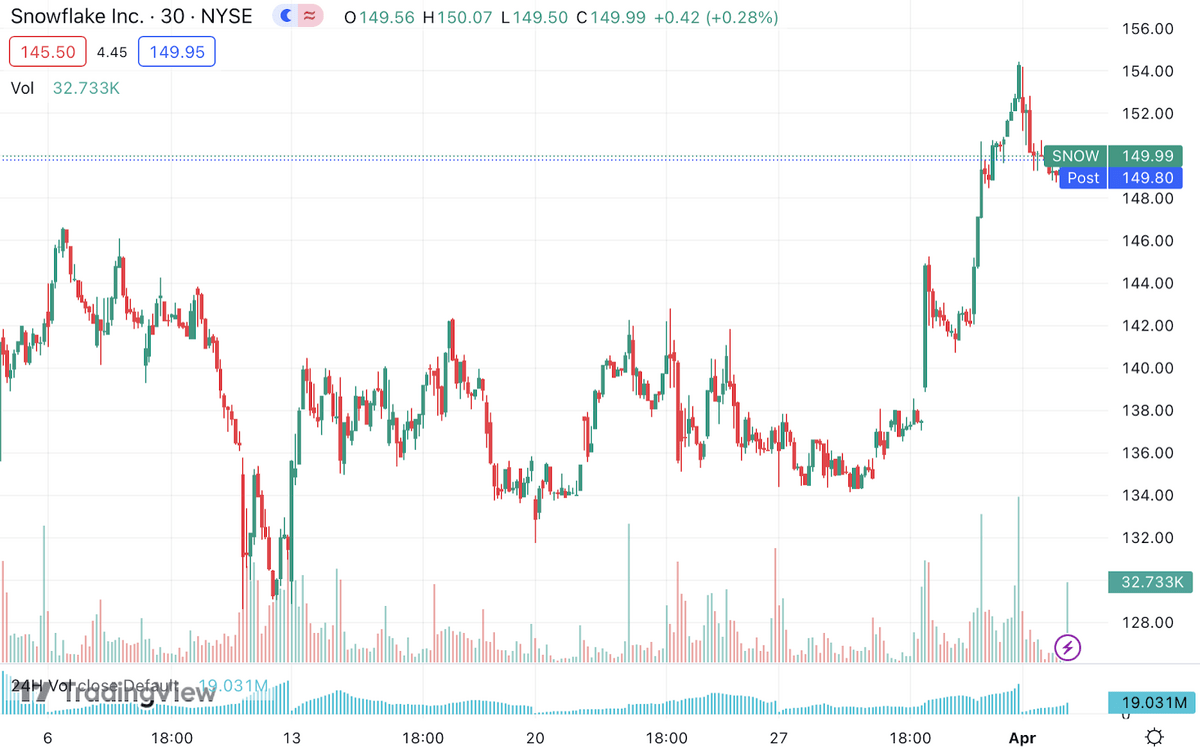 Alternatively, you could wait for the IPO…
How to Buy the Databricks IPO
Databricks' leadership has been clear about their intent to take the company public.
In a January article in the Wall Street Journal's Pro Venture Capital newsletter, Databricks CIO Naveen Zutshi stated that the company was installing software for financial reporting.
This is typically done several months to a year before an IPO, so many industry analysts predict that the company is on track for an IPO in late 2023 or early 2024.
Here are the steps on how to buy Databricks stock if and when it becomes available:
Create or log in to your brokerage account (if you don't have one, we recommend eToro – it's free)
Search for Databricks
Select how many shares you want to buy
Place your order
Monitor your trade
If you're an accredited investor and don't want to wait until the IPO, you can sign up with Equitybee and invest in Databricks.
Equitybee gives accredited investors the opportunity to become an investor in private companies like Stripe, Reddit, and Instacart.
Register here and get the chance for exclusive access to Databricks stock before its IPO.
Databricks Stock Price Chart
Since the company hasn't gone public yet, I can't provide you with a Databricks stock price chart. However, let's take a look at several charts illustrating both the growth and future growth potential of the company.
As you can see in the below chart, the growth of the company's annual recurring revenue is both rapid and significant.
The company has also reported an annual run rate of $1 billion in 2023.

That's backed up by the chart below, which demonstrates sizable growth in the number of Databricks employees. Estimates for 2023 are in the ballpark of around 4,500 employees: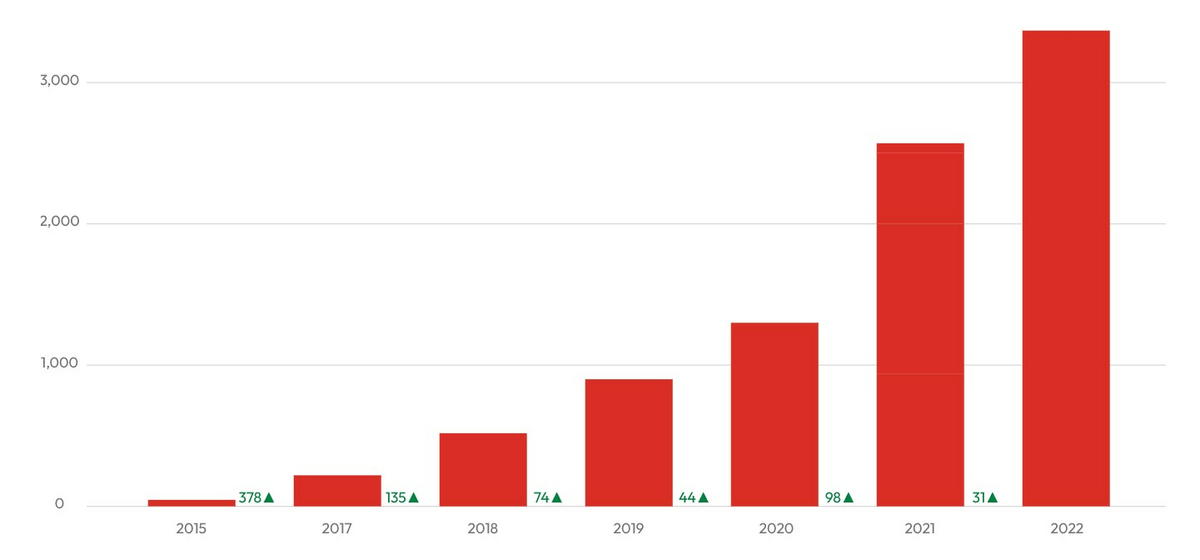 All in all, it's worth exploring Databricks. If you're an accredited investor, check out the opportunities on Equitybee. If you're a retail investor, check out the stocks mentioned in this post and stay tuned for the IPO.
---
FAQs:
How to buy Databricks stock?
As of early 2023, Databricks is a private company. Retail investors can invest in competitors or other companies in the sector or wait for the IPO. Accredited investors can also invest directly in Databricks through platforms like EquityBee.
How much is Databricks stock?
Databricks hasn't gone public as of the first quarter of 2023, so there is no Databricks stock price.
What is Databricks stock symbol?
Since Databricks hasn't yet filed for or completed its IPO, there is no Databricks stock symbol.
Who owns Databricks stock?
Apart from the company's core team of founders, various venture capital firms and hedge funds such as Andreessen Horowitz, Franklin Templeton Investments, Counterpoint Global (Morgan Stanley), as well as Google, Amazon, and Microsoft's venture capital arms, likely have a stake in the business.
Where to Invest $1,000 Right Now?
Did you know that stocks rated as "Buy" by the Top Analysts in WallStreetZen's database beat the S&P500 by 98.4% last year?
Our September report reveals the 3 "Strong Buy" stocks that market-beating analysts predict will outperform over the next year.