Our editorial team uses a strict editorial review process to compile all reviews, research, and evaluations of any kind. Our company, WallStreetZen Limited, is supported by our user community and may receive a small commission when purchases are made through partner links. Commissions do not affect the opinions or evaluations of our editorial team.
Dapper Labs is not publicly traded.
Equitybee gives accredited investors access to hundreds of private, VC-backed startups before they IPO.
Sign up with Equitybee and invest in Dapper Labs today.
Any NFT company that's still in business is impressive. But Dapper Labs has yet another claim to fame — it nearly managed to almost grind the Ethereum blockchain to a halt.
How? Thanks to pictures of cute cats. Dapper Labs' CryptoKitties project created a sixfold increase in network requests.
This viral effect wasn't a one-hit-wonder. Since then, the company has secured lucrative partnerships with the NBA, UFC, NFL, Ticketmaster, and many others. On top of that, they've also developed their own blockchain called Flow.
Interested in how to buy Dapper Labs stock? Keep reading to find out everything you need to know.
Dapper Labs: The Basics
We'll get into how to buy Dapper Labs stock in a minute. First, let's sum up some of the most important points for potential investors: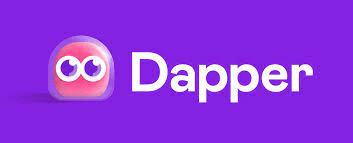 Dapper Labs has raised $613 million through 7 funding rounds
The company's latest valuation was $7.6 billion
Dapper Labs' crypto token, Flow, has a market cap of $541 million
In 2022, the company generated $135 million in top-line sales
Through Flow, the company and its funders have also launched a $725 million ecosystem fund designed to drive innovation and development
Can You Buy Dapper Labs Stock? Is Dapper Labs Publicly Traded?
Sorry … If you want to know how to buy Dapper Labs stock, the truth is that you can't, at least not at the moment. Dapper Labs stock isn't currently traded on any exchange.
The company is still private, and there haven't been any serious discussions of an IPO, so it probably won't happen any time soon. As a result, there's currently no way to gauge the Dapper Labs stock price, and there is no Dapper Labs stock symbol.
That doesn't mean that you're entirely out of options, however. Keep reading…
How to Buy Dapper Labs as an Accredited Investor
If you're in the roughly 10% of US citizens who qualify as accredited investors, you're in luck.
Accredited investors have access to all sorts of cool investments — find out more about the best investments for accredited investors.
One of the coolest opportunities? You can invest in private, pre-IPO companies like Dapper Labs through Equitybee.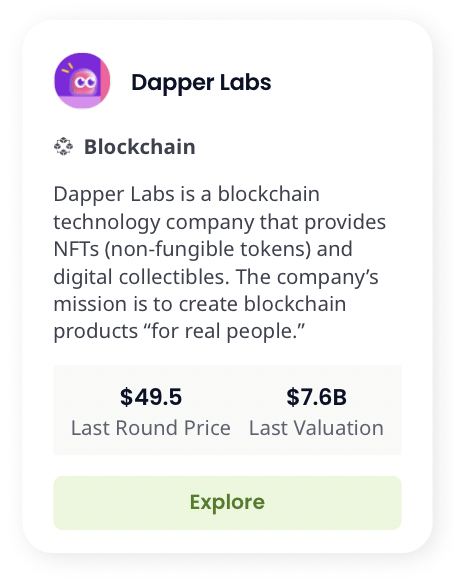 Equitybee is a platform tailor-made for accredited investors who want to invest in companies before they do an IPO.
"Can't I just invest in private companies without Equitybee?", you might be thinking.
Technically, you can, but this usually entails investing huge sums of money in one place, which is beyond the risk tolerance of most investors.
Equitybee works around this fact by allowing you to fund employee stock options. With a minimum investment of $10,000 (compared to $100,000 for most hedge funds), you get a stake in the company, and in the case of a successful liquidity event, you get paid a percentage of the profits.
As you can see in the screenshot above, Dapper Labs is available via Equitybee, as are various promising startups and private companies such as Flexport, Waymo, and Juul.
How to Buy Dapper Labs as a Retail Investor
As we've mentioned before, if you're wondering how to buy Dapper Labs stock, the answer is very unsatisfactory. Dapper Labs stock isn't available to retail investors yet, and there haven't been any serious discussions regarding the company's IPO.
That doesn't mean that you can't potentially profit from the NFT space. We'll discuss the most practical alternatives in a couple of minutes, but let's run through some important details first…
Who Owns Dapper Labs?
The company was founded by Roham Gharegozlou, Dieter Shirley, and Mack Flavelle, all of whom likely have a significant stake in the company.
But they're not the only stakeholders. Dapper Labs has raised $613 million across 7 funding rounds, and the company's latest valuation sits at $7.6 billion.
Some of the main investors who've helped raise the aforementioned $613 million include:
Coatue
Andreessen Horowitz
Union Square Ventures
Venrock
GIC
North West Quadrant Ventures
Does Google Own Dapper Labs?
Nope. While the VC arm of Alphabet, AKA Google (NASDAQ: GOOGL), Google Ventures, did participate in the company's series A and series D funding rounds, this is a far cry from majority ownership.
Dapper Labs has also enjoyed investments from various athletes and celebrities, including Will Smith, Ashton Kutcher, Michael Jordan, Kevin Durant, and many others.
To offer more context regarding Google's stake in the company, the series A funding round raised $12.9 million, and it had 29 investors, while the series D round raised $250 million through 10 investors. We're not privy to the exact details, but it is unlikely Google has a large stake.

How to Invest in Dapper Labs Stock as a Retail Investor
Note: This article does not provide investment advice. The stocks listed should not be taken as recommendations. Your investments are solely your decisions.
Dapper Labs Partners
The most high-profile partners of Dapper Labs are Warner Music Group (NASDAQ: WMG) and Ubisoft, listed on Euronext Paris. While WMG is currently a buy according to analysts on our websites, it's a stretch to say that investing in it will replicate the success of Dapper Labs.
Beyond that, there are two companies to also consider: Nvidia (NASDAQ: NVDA) and AMD (NASDAQ: AMD). Both of these companies produce hardware necessary for the infrastructure of blockchain, graphics processing units needed for gaming, and both companies have made investments in the blockchain space.
Although both of these are great companies, as of July 2023, AMD is the better buy, due to a variety of more favorable metrics. Chart below courtesy of TradingView.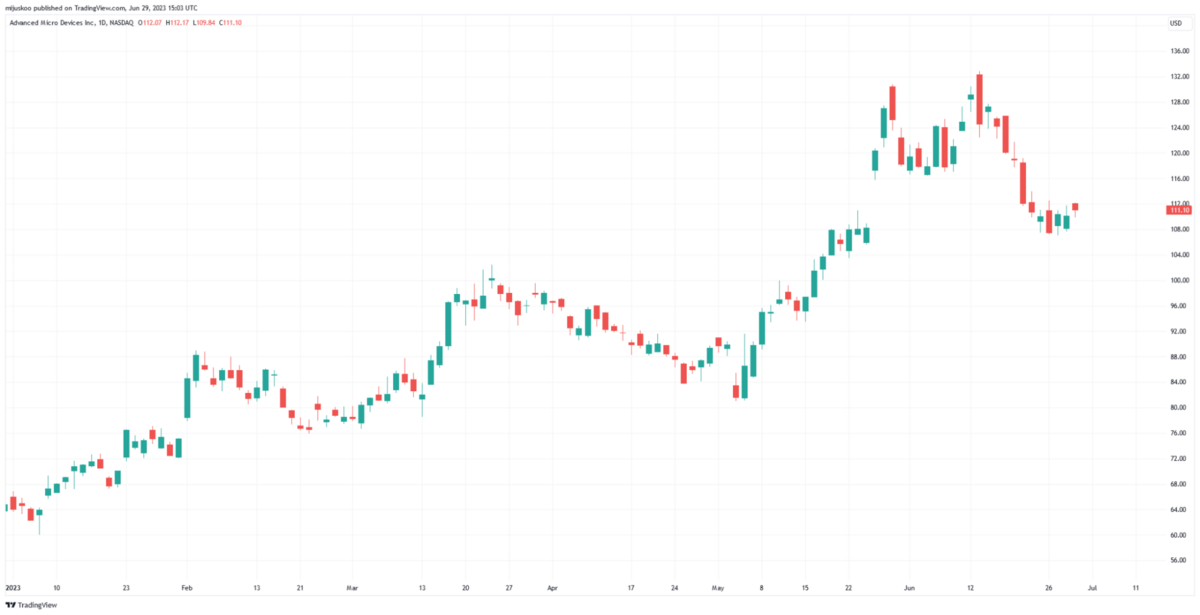 NFT Companies
The second option is to invest in other NFT companies. Although Dapper Labs has several unique advantages, this is still quite a young, dynamic field, so growth isn't concentrated in a few companies.
eBay (NASDAQ: EBAY) might be a name you haven't heard in a while. Not only is the online marketplace still in business, but they're apparently keeping up with new trends.
The online-commerce giant acquired NFT marketplace KnownOrigin in 2022 and is still hiring Web3 developers — a potential sign of continued expansion in this direction. eBay has even started launching its own exclusive NFT collections.
As an added bonus, eBay has previously signaled that they are interested in cryptocurrency integration, though there's no specific timeframe.
DraftKings (NASDAQ: DKNG) is America's largest sports-betting company. The company has also recently purchased Scarcity Labs and entered the NFT space with a marketplace of its own based on the Ethereum blockchain.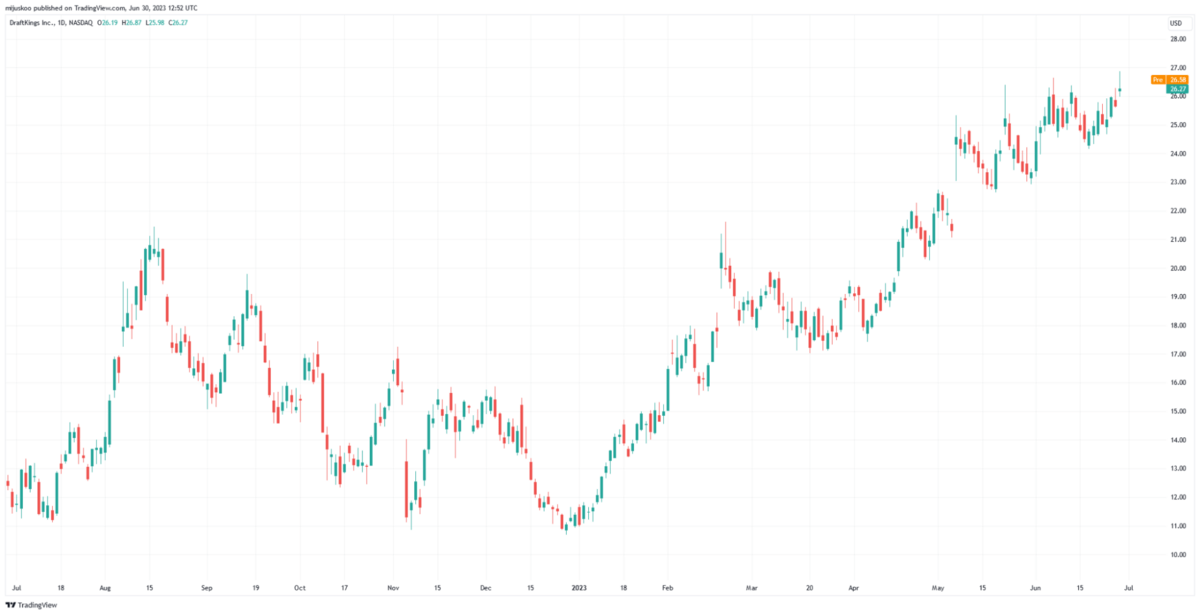 With a popular subject matter, brand-name recognition, and plenty of exclusive partnerships, you should definitely keep your eye out on DraftKings. As you can see in the chart above, courtesy of TradingView, the stock is up more than 100% this year.
How to Buy the Dapper Labs IPO
Here are the steps on how to buy Dapper Labs stock if and when it becomes available:
Create or login to your brokerage account (if you don't have one, we recommend eToro – it's free)
Search for Dapper Labs
Select how many shares you want to buy
Place your order
Monitor your trade
Your capital is at risk. Other fees apply. For more information, visit www.etoro.com/trading/fees.
Dapper Labs Stock Price Chart
Since Dapper Labs is still a private company, I can't give you a Dapper Labs stock price chart. But I won't leave you hanging. Here's some eye candy: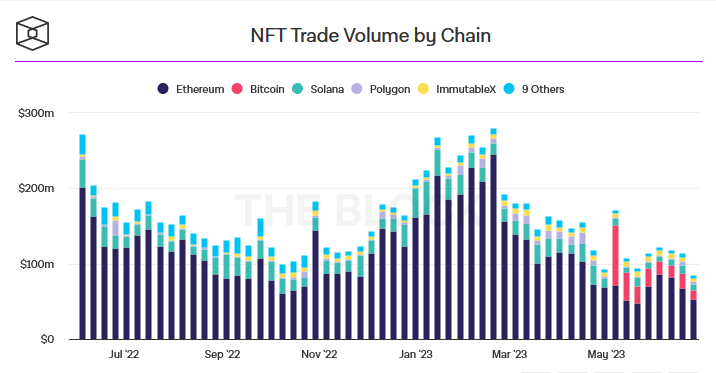 Although it's clear that the NFT space had its 15 minutes of fame and immediately entered a crisis, data would suggest that things aren't all that dire after all.
Although trade volume does vary, as you can see in the chart above, we're still talking about tradable assets that rarely see less than $100 million in trading volume

Here we have a chart showing the trading volume of Dapper Labs' most successful project as of right now — NBA top shot. Although these figures are still a far cry from the peaks NFTs experienced, sales have exceeded $150,000 on numerous occasions in the last couple of months.
It all boils down to this – with plentiful funding, experience in the space, and projects that still put up impressive numbers, if NFTs are something you'd like to invest in, Dapper Labs deserves consideration.
The bottom line? Dapper Labs has interesting potential. If you're an accredited investor, consider checking out Dapper Labs on Equitybee. If you're a retail investor, wait for the IPO — or consider some of the other approaches mentioned in this article.
---
FAQs:
How to buy Dapper Labs stock?
Currently, there is no way for retail investors to buy Dapper Labs stock. However, accredited investors can use Equitybee to fund employee stock option plans.
How much is Dapper Labs stock?
Since Dapper Labs isn't currently publicly traded, there is no way to tell how much the stock is worth.
What is Dapper Labs stock symbol?
There isn't a Dapper Labs stock symbol as of yet, since the company still hasn't gone public.
Who owns Dapper Labs stock?
Apart from the founders (Roham Gharegozlou, Dieter Shirley, and Mack Flavelle), companies who have invested in Dapper Labs and own stock in it include Coatue, Andreessen Horowitz, Union Square Ventures, Venrock, GIC, North West Quadrant Ventures, and Google Ventures.
Where to Invest $1,000 Right Now?
Did you know that stocks rated as "Buy" by the Top Analysts in WallStreetZen's database beat the S&P500 by 98.4% last year?
Our September report reveals the 3 "Strong Buy" stocks that market-beating analysts predict will outperform over the next year.