Our editorial team uses a strict editorial review process to compile all reviews, research, and evaluations of any kind. Our company, WallStreetZen Limited, is supported by our user community and may receive a small commission when purchases are made through partner links. Commissions do not affect the opinions or evaluations of our editorial team.
Hardware wallets are the best way to keep your crypto private keys safe. Here's the main reason:
They don't live on the internet — or on an internet-connected device, in most cases. So someone would have to steal your physical hardware wallet to steal your crypto. That makes hardware wallets (also called cold wallets) harder to hack and helps keep your money safe.
(Note: If you're new to crypto, all of that might sound confusing. If you want to learn more about crypto in general before you take the plunge into hardware wallet research, check out this Bitcoin for beginners article or this one about cryptocurrency fundamentals. Don't worry; I'll be waiting here when you get back.)
But if you've already been around the blockchain a time or two, let's jump in and take a look at my six favorite hardware wallets.
Just getting started with crypto?
If you're not ready to deal with a hardware wallet, consider trading crypto through an online broker like eToro. The broker lets you trade crypto without having to worry about setting up a wallet, which makes it more convenient for people just getting into crypto.

Ready to explore the best hardware wallets? Hands down, my #1 pick is…
1. SecuX V20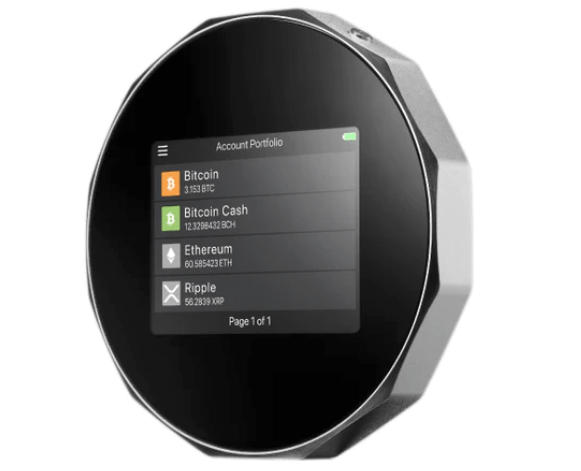 Price: $139.00
Cryptocurrencies Supported: 10,000+
Features: Bluetooth, touchscreen, Web-based app
The SecuX V20 is a great first wallet and my pick for the best crypto hardware wallet overall. It's easy to use thanks to its built-in touchscreen display and can connect to your computer or mobile device using Bluetooth or USB-C.
It also has support for over 10,000 different cryptocurrencies, so you'll be hard-pressed to find a token you can't use with it.
One of my favorite things about the SecuX V20 is that you can connect it to a MetaMask account via QR codes. This is an excellent feature that makes it easier for people who haven't used a physical crypto wallet before. It speeds up your wallet setup time and helps avoid having to find and input long verification codes.
Another great thing about the SecuX V20 is that you can view your coins right on the device without having to connect it to your computer first.
One of the major drawbacks of most hardware wallets is the need to jump through hoops just to see your balances. SecuX V20 removes this barrier, making it easy to keep track of your gains right on the device.
Overall, I think the SecuX V20 is the best hardware wallet for people looking to transition to a cold wallet. It's easy to set up and use and extremely beginner friendly.
2. Coolwallet Pro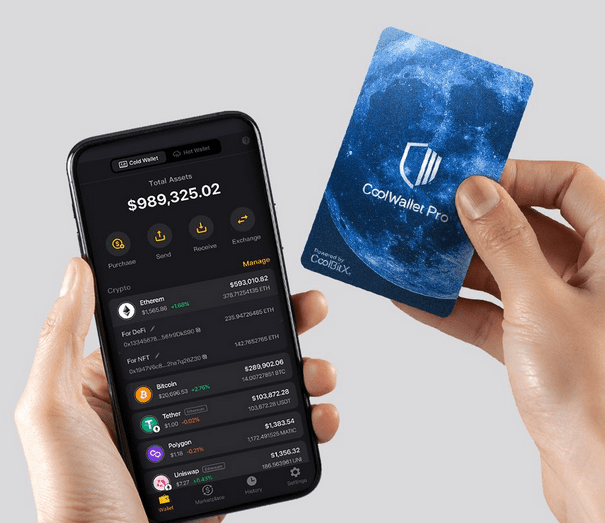 Price: $149.00
Cryptocurrencies Supported: 12,000+
Features: Ultra-thin design, Staking, Bluetooth
The Coolwallet Pro is, well, cool! It has a super sleek design that resembles a traditional credit card and weighs just six grams. This is hands down the best hardware wallet for people who want access to their crypto on the go.
You can check your assets on the Coolwallet Pro, but it doesn't have a fancy hi-res screen, so you're usually better off using the companion app on your phone.
Don't let the Coolwallet Pro's size fool you. This little physical crypto wallet packs tons of great features into its small footprint, including built-in staking, support for more than 20 different blockchain networks, and access to decentralized finance (Defi) and NFTs.
One of the biggest selling points of the Coolwallet Pro, in my opinion, is its upgraded chipset. It uses the latest EAL6+ SE, making it one of the most secure hardware wallet options on the market today.
The only downside is the price. It isn't the most expensive wallet available, but it's also not a budget-friendly option.
If you know that you're only going to use a physical crypto wallet to HODL Bitcoin, you probably don't need all the bells and whistles of the Coolwallet Pro.
3. Trezor Model T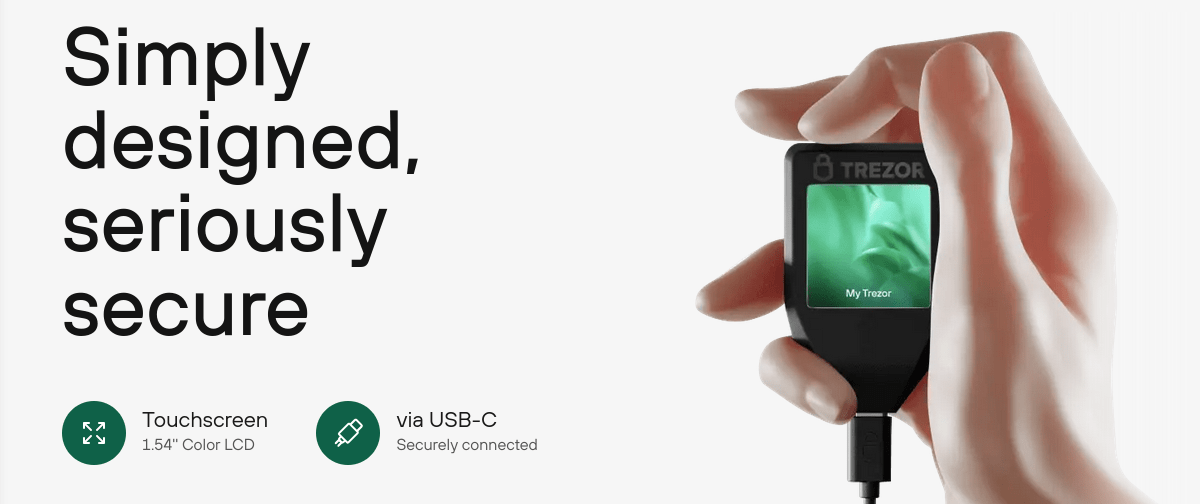 Price: $219.00
Cryptocurrencies Supported: 1,000+
Features: Touchscreen, Shamir Backup, Includes a Dock
Trezor is one of the biggest names in the hardware wallet space. The company helped create the recovery seed system, so to say it knows a thing or two about crypto security is an understatement, and the Trezor Model T makes a strong case for being the most secure hardware wallet the company offers.
The Trezor Model T doesn't connect to the internet and can only verify crypto transactions by plugging it into your computer via the included USB-A to USB-C cable. That means that your keys never leave your wallet, making it extremely safe and secure to use.
Another feature I love about the Trezor Model T is that it comes with Trezor's Shamir Backup service. You can always recover your keys using your passphrase if you lose your wallet or if it dies, but the Shamir Backup service gives the option of creating backup recovery shares that make it even easier to recover your private keys.
Unfortunately, the Trezor Model T is even more expensive than the Coolwallet Pro, so it's not the best choice for everyone. However, If you want the best security available and are willing to pay for it, the Model T is worth a look.
4. Ledger Nano X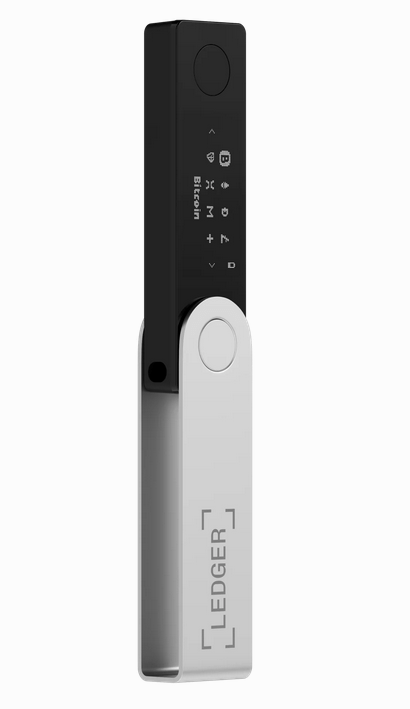 Price: $149.00
Cryptocurrencies Supported: 5,000+
Features: Bluetooth, NFTs, Portable
The second biggest name in hardware wallets is Ledger. Like Trezor, Ledger has been around for a while and has a solid reputation. The company's Nano X hardware wallet is its most popular model, and I have to agree with the masses; it's pretty great.
First of all, the Nano X is the size of a USB drive, making it easy to take with you for on-the-go access to your crypto. That means you can use it to verify crypto purchases and sales in the more than 5,000 supported cryptocurrencies anywhere you like.
I'm going to dock some points from the Nano X for only offering Bluetooth connections. It's questionable whether Bluetooth is actually less secure than a wired connection or QR code, but it's not something you want to find out the hard way.
The Nano X is on the expensive side, although it is significantly more affordable than the Trezor Model T. I view the Nano X as a product targeted mainly to people who trade crypto relatively frequently and want the portability and convenience of a small physical crypto wallet.
5. NGRAVE ZERO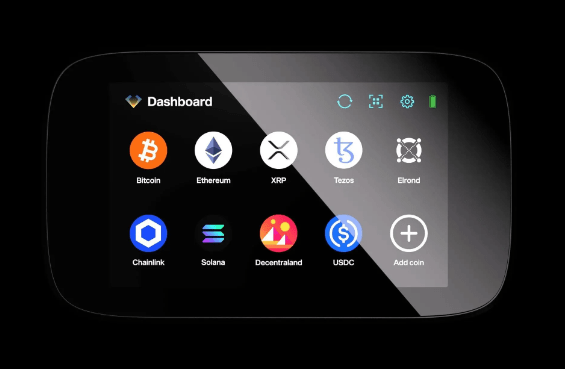 Price: $389.00
Cryptocurrencies Supported: 16
Features: EAL7, Optional Graphene storage system, Touchscreen
The NGRAVE ZERO is unlike any of the other hardware wallets on this list. For starters, it's a staggering $389! It also only supports 16 cryptocurrencies as of this writing, so why is it so expensive?
The ZERO uses EAL7, which is the highest security rating for the Common Criteria security standards. That means that it can actually claim that it's the most secure hardware wallet, and no one can really argue.
It also doesn't have Bluetooth, Wifi, or USB. The only way to use it to sign your transactions is by QR code and the LIQUID app.
NGRAVE also makes a key storage system called Graphene. Unlike virtually all other wallets that give you paper sheets to record your recovery phrase, NGRAVE makes a stainless steel punch card system that's waterproof, shock-resistant, and fireproof — basically indestructible.
Graphene has two parts, a grid of holes labeled with letters and an unlabeled steel sheet with divots in it. To crack the code, you need to line both parts up. Frankly, the system is very clever, and I am impressed.
However, purchasing a ZERO and a Graphene will run you almost $500, so I think it's safe to say that it's only a reasonable option for the most paranoid crypto users.
6. Ellipal Titan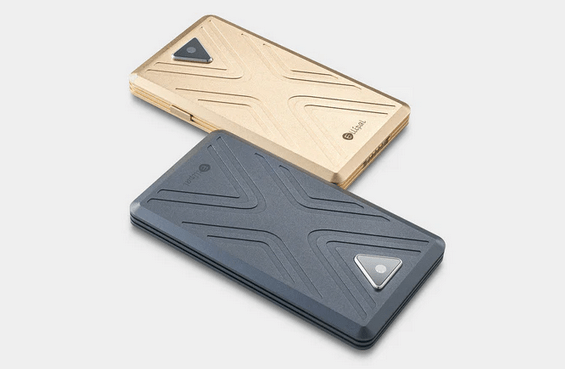 Price: $139.00
Cryptocurrencies Supported: 10,000+
Features: USB-C connection, Tamper-proof, NFTs
Before I tell you anything else about the Ellipal Titan, we have to talk about the auto-self-destruct feature it has. Oh, I'm serious.
The Titan comes with a tamper-proof mechanism that will automatically reset the wallet to its factory settings if someone physically tampers with it. How cool is that? Even if you lose your Titan, your keys are safe.
With that out of the way, let's talk about the Titan's main features. It supports more than 10,000 cryptocurrencies and NFTs, has a large touchscreen like a phone, and can only be connected to other devices by using the included USB-C cable.
Wifi and Bluetooth connectivity are convenient, but the Titan opts to go without them in the name of security.
I actually don't love the Titan's form factor. If I'm going to carry it with me, it's like having two phones in my pocket. I guess it's ok if you plan on leaving it at home all the time, but that makes it unsuitable for active crypto traders.
Whether that's a dealbreaker is up to you, but it's something to consider before you buy.
Hardware Wallets vs. Online Wallets
Hardware wallets are more secure and better for people who know they're going to hold their crypto for a long time. If you're a more active trader and don't want to fiddle around with a hardware wallet every time you want to buy or sell, you should consider an online wallet instead.
Here's a quick summary table I whipped up to give you some insight into the main differences between hot and cold wallets:
| | | |
| --- | --- | --- |
| | Hardware Wallets | Online Wallets |
| Ease of Use | Quite a steep learning curve | Get set up in minutes |
| Security | High | Medium, low |
| Cost | Expensive $99–$200+ | Free |
| Features | Staking, NFTs, Defi, and more | Staking, NFTs, Defi, and more |
| Portability | Have to physically carry the device with you | Access from any computer with your login credentials for web-based hot wallets |
Online wallets — or hot wallets — are less secure than hardware wallets because they're connected to the internet. Bad actors on the internet can access your private key if they get access to your account information.
The risk of this kind of attack is about the same as any other online account, but the anonymous and untraceable nature of cryptocurrency makes online wallets a far more popular target for hackers than, say, your bank account.
Another issue that online wallets have are viruses that specifically target software wallets. Clipboard exploits alter wallet addresses when you copy and paste them, substituting your wallet's information for the attacker's.
If you're not careful, you may inadvertently send someone else your tokens when you try to move your crypto to your wallet from an exchange.
It's not all bad news, though. As long as you're careful and practice common sense internet safety, online wallets are much more convenient to use than hardware wallets.
Final Word: Best Hardware Wallet
If you're new to hardware wallets, I encourage you to make your life easy and just go with the SecuX V20. It's the best crypto hardware wallet, in my opinion, because it's very easy to set up and use and won't make your head spin like more advanced options.
The Coolwallet Pro is also an excellent first wallet, with the added bonus that it easily fits in your actual wallet since it's about the size of a credit card. It is a bit more expensive than the SecuX V20 and doesn't have a fancy touchscreen, but it's impossible to beat its form factor and portability.
---
FAQs:
What is the best crypto wallet hardware?
The best hardware crypto wallet, in my opinion, is the SecuX V20. It supports more than 10,000 cryptocurrencies, has a high-resolution color touchscreen that makes it easy to use, and lets you view your crypto assets right on the device without connecting it to a mobile app or desktop.
What is the safest hardware wallet for crypto?
Trezor is known for making secure hardware wallets, and the company literally wrote the book on passphrase recovery. The company's Model T is a serious contender for being the most secure hardware wallet, and it's one of the best hardware wallets available, period. However, it's expensive, and whether or not its lack of Bluetooth and advanced Shamir Backups are necessary or not is questionable.
Is a hardware wallet really necessary?
It depends on what you mean by "necessary." On the one hand, many people use the online wallets provided by major exchanges like Coinbase and never experience any issues. On the other hand, using a hot wallet is inarguably more risky than storing your keys in a cold wallet.
Hot wallets are connected to the internet, which makes them vulnerable to bad actors looking to steal your private keys and take your crypto. Cold wallets store your keys on the device and never transfer them onto your computer or mobile device, so they are safer. Whether that additional layer of security is necessary or not comes down to personal preference.
Where to Invest $1,000 Right Now?
Did you know that stocks rated as "Buy" by the Top Analysts in WallStreetZen's database beat the S&P500 by 98.4% last year?
Our September report reveals the 3 "Strong Buy" stocks that market-beating analysts predict will outperform over the next year.