Our editorial team uses a strict editorial review process to compile all reviews, research, and evaluations of any kind. Our company, WallStreetZen Limited, is supported by our user community and may receive a small commission when purchases are made through partner links. Commissions do not affect the opinions or evaluations of our editorial team.
Nobody wants to be hacked. If you're an Ethereum investor, given the importance of your digital assets, you probably want to find the best Ethereum wallet available.
But what is the best and safest Ethereum wallet available?
Let's explore. In this article, I'll tell you what I like (and don't like) about 7 of the best Ethereum wallets out there. Depending on what you value, there's something for everyone in this list. (Need more basics on crypto wallets? Scroll to the bottom of the post.)
What's the Best Ethereum Wallet in 2023?
The bottom line: SecuX is my favorite all-around Ethereum wallet. This award-winning Taiwanese blockchain security company has been active since 2018 and boasts many cold storage options.
As the world's first cross-platform crypto wallet, SecuX is a pioneer in the cold storage space, making it one of the best Ethereum wallets available today.
Looking for a crypto platform?
eToro is one of the most well-respected names in finance. The platform has great features to help simplify the sometimes tumultuous crypto world.
There are a lot of great things about eToro — but in terms of crypto, it stands out as one of the few platforms that makes it easy for crypto newbies to track and analyze coins without sacrificing more advanced tools for experienced investors.
Another nice feature? The flat 1% fee for crypto. Many competitors have complicated fee structures. I like the simplicity of a flat fee (even though it may not be the lowest out there).
Most importantly, eToro has all the coins you probably want to trade, from BTC and ETH to up-and-comers like ADA and SOL.

7 Top Ethereum Wallets — Safest Wallets in 2023
1. SecuX – Best All-Around Ethereum Wallet
Price: Range from $39 to $332.31
Type of wallet: Cold wallet
Availability: Worldwide
Experience level: Beginner
Coins supported: Over 1,000 coins supported
Security features: Secure element chips, offline storage, PIN code, 2-factor authentication, passphrase support, and firmware updates
Supported interface(s): USB, Bluetooth
Customer support: SecuX is known for responsive customers service
SecuX is a leader in cryptocurrency security, having been crowned the "Most Innovative Blockchain Security Company 2021" and "Most Secure Vault Protection Hardware Wallet: SecuX V20." With a proven track record and numerous supported coins, SecuX is one of the best Ethereum wallets.
| | |
| --- | --- |
| Pros | Cons |
| Unparalleled security | Some models are pricier than some competitors |
| Cross-platform compatibility (iOS, Android, Linux, Windows, MacOS) | Some users find the hardware is bulkier than some alternatives |
| Broad digital coin support | |
| User-friendly interface | |
| Durable (SecuX V20 is a diamond-shaped aluminum frame) | |
2. CoolWallet – Best for Simplicity
Price: $99
Type of wallet: Cold wallet
Availability: Worldwide
Experience level: Suitable for all user types, from beginner to advanced
Coins supported: Wide range of supported coins, like Ethereum, Bitcoin, and Ripple
Security features: Secure element technology, two-factor authentication, biometric authentication (fingerprint or face ID), and private key encryption
Supported interface(s): Can be accessed using a mobile app on iOS and Android devices using Bluetooth
Customer support: Email, online documentation, and support ticket system available for customers
CoolWallet stands out as a no-frills, simple, and user-friendly Ethereum wallet that is great for beginners and advanced users alike. With biometric identification, Bluetooth connectivity, and a broad spectrum of supported digital coins, it's easily one of the top Ethereum wallets.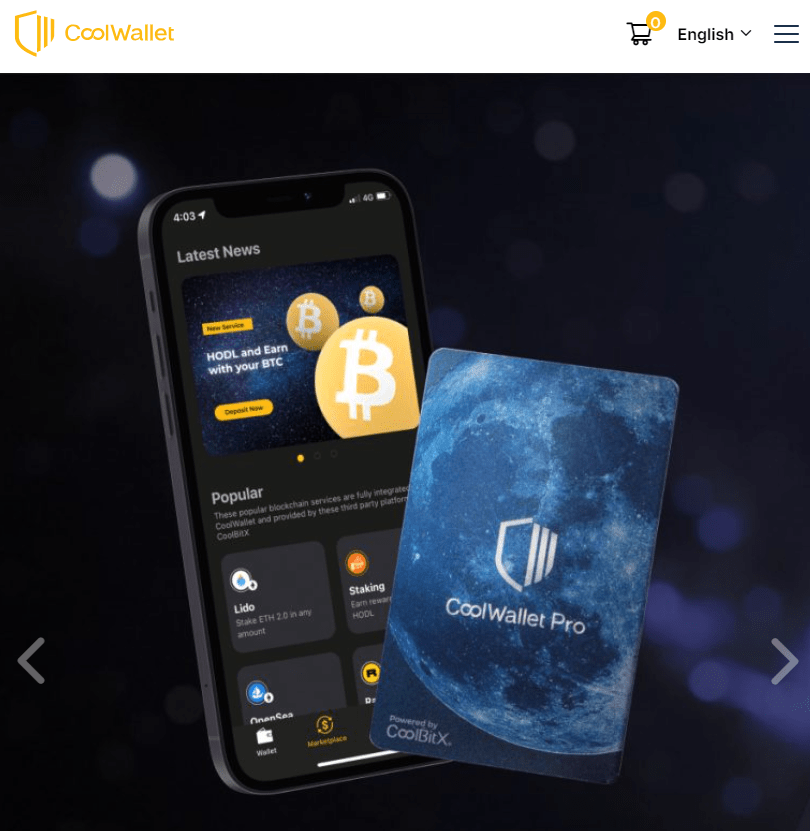 | | |
| --- | --- |
| Pros | Cons |
| Portable: small credit-card-sized device | Depends on a smartphone |
| Simple and user-friendly | Limited storage capacity versus alternatives |
| Bluetooth connectivity | |
3. MetaMask – Best for Beginners
Price: Free to use, but additional fees apply to use certain services on the platform.
Type of wallet: Hot wallet
Availability: Worldwide
Experience level: The user-friendly interface makes MetaMask an excellent solution for beginners
Coins supported: Primarily Ethereum
Security features: Generates and manages secure private keys locally and encrypts sensitive user data
Supported interface(s): Accessed via a browser extension for Chrome, Firefox, Brave, and Edge or via an app on iOS and Android
Customer support: Community forum, FAQs, and social media
MetaMask shines in its ability to simplify the often complex blockchain technology. Its exceptional interface helps new users avoid frustration and use their wallets quickly. Its robust security measures also make MetaMask an excellent option for users looking for top-notch asset safety.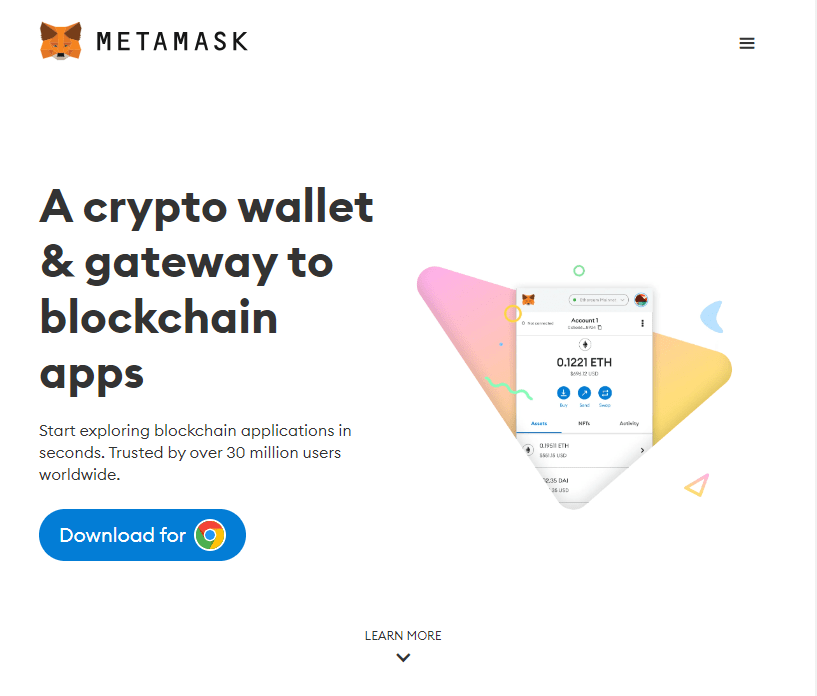 | | |
| --- | --- |
| Pros | Cons |
| User-friendly, great for beginners | Limited to the Ethereum ecosystem |
| Convenient: can be accessed via a web browser | |
| Integration with numerous Ethereum-based dApps without running a full Ethereum node | |
4. Trust Wallet – Best for Versatility
Price: Free to use, though fees may apply for certain in-app transactions
Type of wallet: Hot wallet
Availability: Worldwide, though certain features may be limited in certain jurisdictions
Experience level: Great for beginners, but also includes features suitable for advanced users.
Coins supported: Supports a wide range of coins, including Ethereum and Bitcoin.
Security features: Includes pin codes, biometric authentication, and backup facility for easy recovery
Supported interface(s): Mobile-based wallet that works with Android and iOS.
Customer support: Help center with articles and guides, community forums, email help, and social media assistance.
As a non-custodial wallet, users of Trust Wallet maintain complete control of their funds, with private keys exclusively stored on a user's device. Trust Wallet is a versatile platform that even permits users to stake certain cryptocurrencies directly within the wallet itself.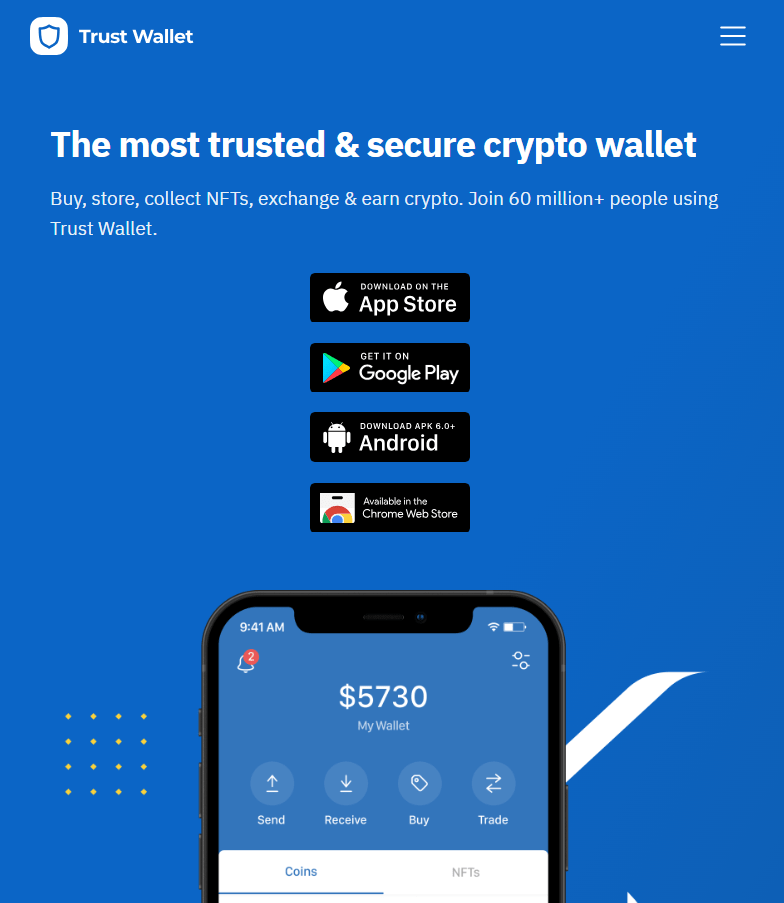 | | |
| --- | --- |
| Pros | Cons |
| Support for a wide variety of cryptocurrencies | Lacking any substantial customer support |
| Ability to stake cryptocurrencies directly in the wallet | |
| Built-in DApp browser: Web3 browser gives users the ability to interact directly with DApps from the app | |
5. Myetherwallet (MEW) – Best for Smart Contracts
Price: Free to use, though fees may apply for certain transactions
Type of wallet: Hot wallet
Availability: Worldwide
Experience level: Intermediate to advanced
Coins supported: Primarily Ethereum and ERC-20 tokens
Security features: Allows users to generate and control their private keys and offers two-factor authentification
Supported interface(s): Web browser and mobile app (iOS and Android)
Customer support: Customer support is predominantly in the form of documentation. They also have an active community forum.
MyEtherWallet is an Ethereum-focused platform that excels at producing smart contracts. MEW enjoys extensive support for Ethereum and a broad range of ERC-20 tokens, making the platform an excellent choice for users looking to engage in ICOs and decentralized finance (DeFi).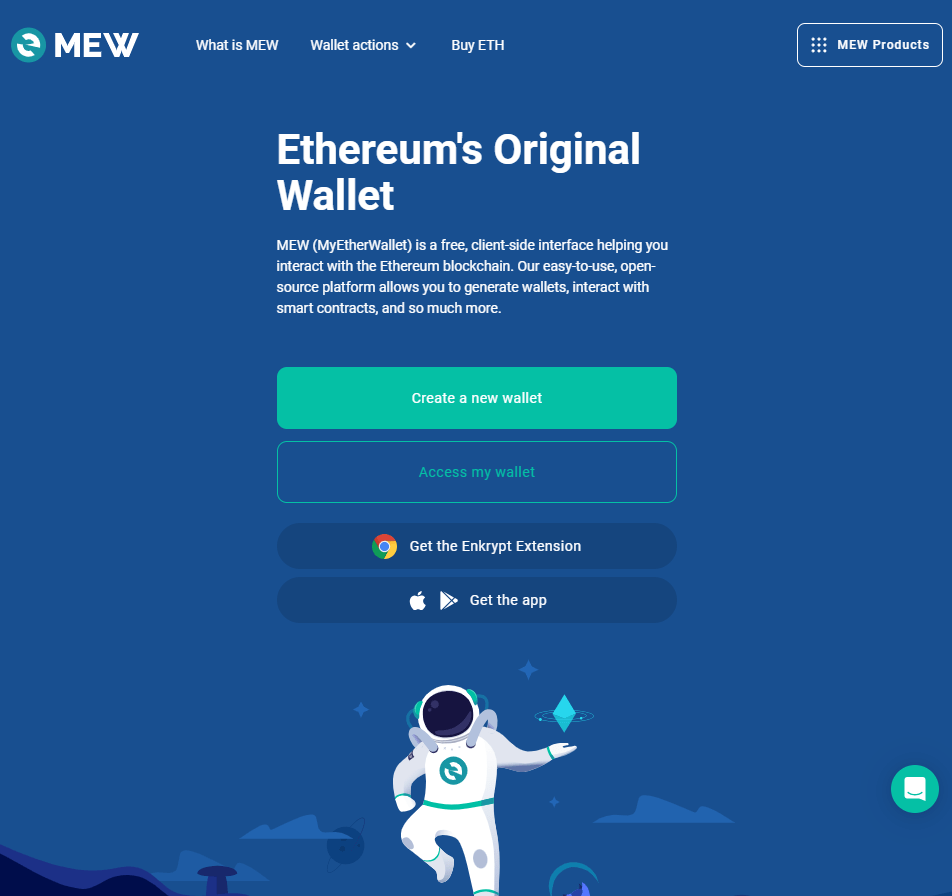 | | |
| --- | --- |
| Pros | Cons |
| Support for Ethereum and a wide range of ERC-20 tokens | No direct customer support services |
| Control over private keys | Not suitable for beginners. Requires knowledge of interacting with the Ethereum network. |
| Compatible with multiple popular hardware wallets | |
6. Trezor – Best Budget Hardware Wallet
Price: $69 for the Model One and $219 for the Model T
Type of wallet: Cold storage
Availability: Worldwide
Experience level: Beginners will appreciate the simple user interface of what I consider the best Ethereum hardware wallet. Not only that, savvy users will value the advanced features, like the ability to connect with third-party wallet interfaces.
Coins supported: Ethereum, Bitcoin, Litecoin, and numerous ERC-20 tokens, among others.
Security features: PIN protection and passphrase protection
Supported interface(s): Trezor suite software works on Windows, Mac, and Linux operating systems.
Customer support: Online knowledge base, user community support, and email support.
The Trezor Model One offers one of the best-value Ethereum wallets you can buy. While beginners will appreciate the simple user interface, more seasoned users can use more advanced functionality.
Its exceptional security and novel features, like the ability to integrate with third-party wallet interfaces, rank Trezor devices as my favorite budget hardware wallet.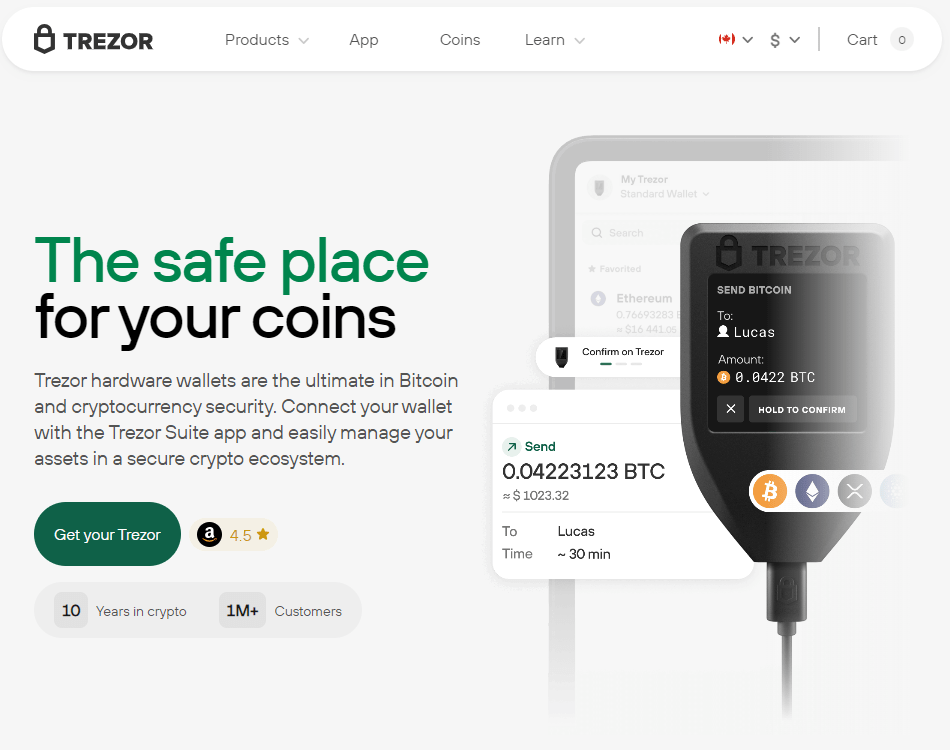 | | |
| --- | --- |
| Pros | Cons |
| Secure: Private keys remain offline and off the internet. Trezor also requires PIN access and offers users optional passphrases. | Email support response time can be slow. |
| Recovery options using Trezor's recovery seed. | Limited coin support. |
| Transparent, open-source, community audited. | Dependent on a computer or another device with a USB port. |
7. Safe (Previously Gnosis Safe) – Best Multi-Sig Ethereum Wallet
Price: Free to download and install, but requires a small 0.005 ETH deployment fee
Type of wallet: Hot wallet
Availability: Worldwide
Experience level: Best suited for more advanced users
Coins supported: ETH, ERC20, ERC721, and ERC1155 tokens
Security features: Multisig functionality, spending limits, and the option to manage access rights. It's hands down one of the safest Ethereum wallets available.
Supported interface(s): A web browser and Android and iOS app
Customer support: Email and social media customer outreach, guides, and resources on their website.
Safe (previously known as Gnosis Safe) is a multisig crypto wallet that allows users to protect their assets with up to three signatures.
This feature makes Safe an excellent choice for organizations, ensuring multiple parties sign off on crypto transactions. In my opinion, Safe is the best crypto wallet for Ethereum security, because of this unique feature.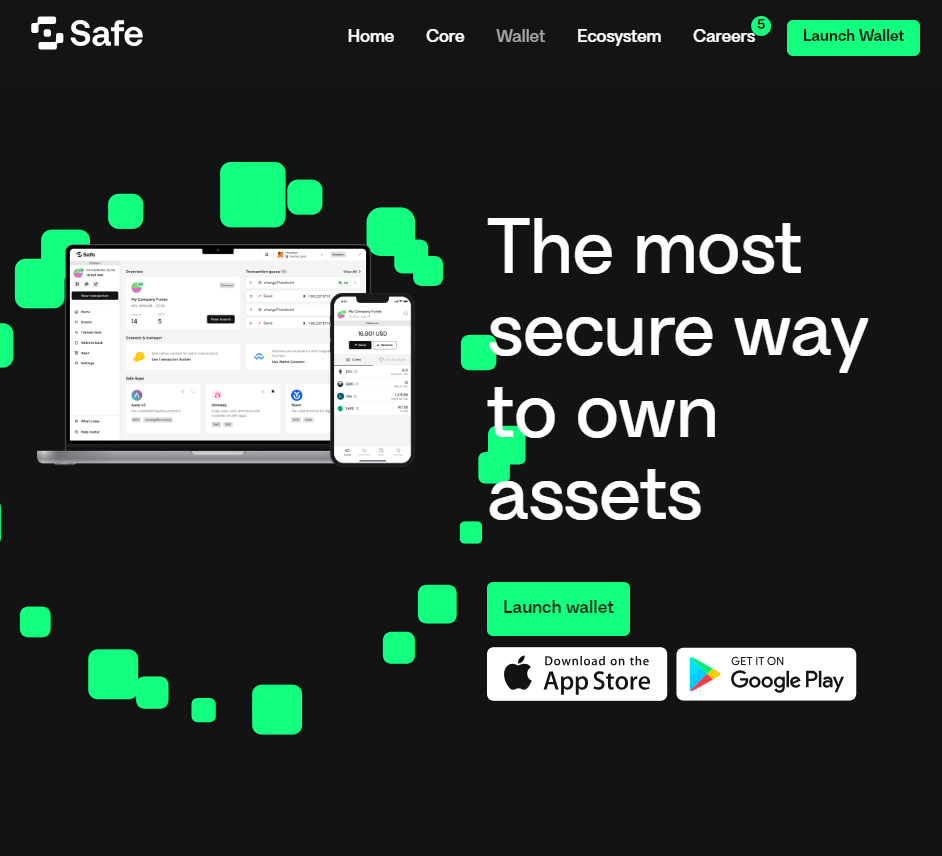 | | |
| --- | --- |
| Pros | Cons |
| Multisig provides users added protection should their private key be compromised. | Added security features add to the complexity of the platform, making it a better option for more advanced users. |
| It provides users the ability to interact directly with Ethereum smart contracts. | Transaction costs can be higher to facilitate multisig transactions, |
| Broad Ethereum support, including Ether (ETH) and any ERC20, ERC721, and ERC1155 tokens. | |
Hot vs. Cold Wallets: What's the Difference?
| | | |
| --- | --- | --- |
| | Hot Wallets | Cold Wallets |
| Connection | Hot wallets are connected to the internet, allowing users to quickly and easily transact with their funds. This makes them more suitable for daily use. | Cold wallets are not connected to the internet. Cold wallets act as an offline store for a user's private key. |
| Accessibility | With proper credentials and an internet connection, hot wallets can be accessed worldwide. | Since cold wallets are offline, they are less convenient to access on the fly. |
| Vulnerability | The convenience of a constant internet connection makes hot wallets more vulnerable to theft, hacking, and cyber attacks. | Can't be hacked. Theft would require someone to access the cold wallet physically. However, you could lose the wallet. |
Top Ethereum Wallets: Key Criteria
Security: When selecting an Ethereum wallet, security should be the highest priority. Features like robust encryption and two-factor authentication help protect your assets from hackers and theft. For many people, identifying the safest Ethereum wallet will be the top priority.
Compatibility: It's crucial to ensure the Ethereum wallet you choose works with your devices and operating systems, like Linux, iOS, Windows, or Android.
Ease of Use: Some Ethereum wallets are more complex than others. If you're new to crypto wallets, simpler interfaces are likely more suitable. For others, wallets with advanced features may be desirable.
Customer Support: Not all wallet platforms offer direct customer service. If this is important to you, ensuring this feature is present before committing to a wallet is critical.
Cost: Many hot wallets are free to use but may come with added fees for certain transactions. Most cold wallets typically require an upfront cost to purchase the hardware.
Privacy: For some users, privacy is paramount. If that's you, consider choosing a wallet with enhanced privacy features, like coin mixing.
Community Support: Active communities can provide valuable assistance when questions or issues arise.
Types of Ethereum Wallets
Desktop Wallets: These wallets are downloaded on your desktop, like Windows or iOS.
Hardware Wallets: These wallets are physical devices that store private keys. Hardware wallets are considered cold storage since private keys are kept offline.
Paper Wallets: Paper wallets are physical documents that record your private and public keys. Like hardware wallets, paper wallets are considered cold storage.
Web Wallets: These wallets use web browsers to obtain access to your assets.
Mobile Wallets: Mobile wallets leverage your mobile device – like a smartphone or tablet – to access your crypto assets. Mobile wallets are one of the most convenient ways to access and manage your cryptocurrency.
Final Word: Best Crypto Wallet for Ethereum
While I stand by all the wallets listed above, the particular wallet suited for you will depend on your preferences and needs.
Regardless of the platform or hardware you choose, it's prudent to vet the offering and ensure it meets your needs. Consider the security protocols, accessibility, and cost, among other items, before committing to secure storage for your assets.
---
FAQs:
Are Ethereum wallets free?
Most Ethereum software wallets (hot wallets) are free to use, though there may be fees associated with transactions. Most hardware wallets (cold wallets) require a one-time purchase to obtain the physical storage device.
Where is the safest place to keep ETH?
The safest place to keep ETH is cold storage hardware wallets that are kept offline.
Who are the top 1 Ethereum holders?
One of the founders of Ethereum, Vitalik Buterin, is the largest holder, with over 240,000 ETH registered at his address.
Is MetaMask a good Ethereum wallet?
Yes, MetaMask is one of the most popular Ethereum wallets, recognized for its user-friendly interface and integration with DApps.
Where to Invest $1,000 Right Now?
Did you know that stocks rated as "Buy" by the Top Analysts in WallStreetZen's database beat the S&P500 by 98.4% last year?
Our September report reveals the 3 "Strong Buy" stocks that market-beating analysts predict will outperform over the next year.