Our editorial team uses a strict editorial review process to compile all reviews, research, and evaluations of any kind. Our company, WallStreetZen Limited, is supported by our user community and may receive a small commission when purchases are made through partner links. Commissions do not affect the opinions or evaluations of our editorial team.
When there is talk of a recession and the decline of the U.S. dollar, investments like stocks and Treasury bonds can seem very risky — especially for retirement accounts.
During times like these, investors frequently turn to gold. Here's why:
Over the long term, precious metals tend to grow at the same pace as stocks; plus, they are historically considered a relatively safe option during recessions, high inflation, and market crashes.
Sound good? It gets even better: You can actually build a tax-advantaged retirement account with precious metals, and it's as easy to create as a regular stock IRA.
If you're exploring different gold sellers and IRA providers, Patriot Gold Group is a prime choice. They've been winning awards for the best gold IRA dealer since 2016 and offer low fees, as well as free legal advice and administrative help.
Keep reading for a comprehensive Patriot Gold Group review where I lay out both the good and not-so-good features with both their IRAs and Patriot gold and silver so you can decide whether or not it's the right platform for you.
Plus, check out some other high-rated options below:
Is Patriot Gold Group Legit and Worth it In 2023?
The bottom line: Patriot Gold Group stands as a reputable investment firm, providing precious metals SDIRAs and garnering positive reviews. However, it has fairly limited offerings, which could be a problem for some investors.
What is Patriot Gold Group?
Patriot Gold Group has been helping clients invest in gold and silver since 2016. The company is led by Jack Hanney, a veteran of 20 years in the precious metals investing space, and a team with decades of combined experience in the industry.
In addition to coins and bars, the company also offers self-directed IRA accounts.
The self-directed gold IRA lets investors build their retirement portfolio with physical precious metals, which offers some tax benefits.
Patriot Gold Group Reviews and Complaints
Rating on BCA: AAA
Complaints on BCA: No
Rating on BBB: A+
Complaints on BBB: No
Rating on Trustpilot: 4.9/5
Rating on Consumer Affairs: 5/5
Rating on Google: 4.8/5
Patriot Gold Group reviews are very high across all major rating platforms. Considering how quick people are to express negative opinions on the internet, these Patriot Gold Group reviews are pretty impressive.
Patriot Gold Group Products and Services
Here's what Patriot Gold Group has to offer:
Gold IRAs
Before we talk about Patriot Gold Group's specific offerings, a few basics…
What is a Gold IRA?
A Gold IRA is a self-directed IRA (or SDIRA) that allows you to invest your retirement money in physical gold.
To establish a Gold IRA, you need to work with an IRS-approved custodian specializing in precious metals. They will handle the logistics of storing the gold and ensure compliance with IRS regulations.
Your Gold IRA can include gold coins and bars that meet certain purity standards. Popular choices include American Gold Eagles, Canadian Maple Leafs, and bars from reputable mints — investment-grade gold with a certificate, essentially.
Why Invest in a Gold IRA?
If you look at it long-term, historically gold doesn't lose value. Plus, on average, it grows as quickly as the S&P 500. Here's a brief list of advantages that gold can bring to your portfolio:
Diversification: Gold's historically low correlation with other asset classes can protect your portfolio, even if everything else is crashing.
Inflation Hedge: Gold has long been considered a hedge against inflation. When the value of fiat currencies is eroding, gold commonly preserves its purchasing power and acts as a store of value.
Potential for Capital Appreciation: Gold has shown the potential for long-term capital appreciation. While its price can fluctuate in the short term, over the years, gold generally grows as quickly as the stock market.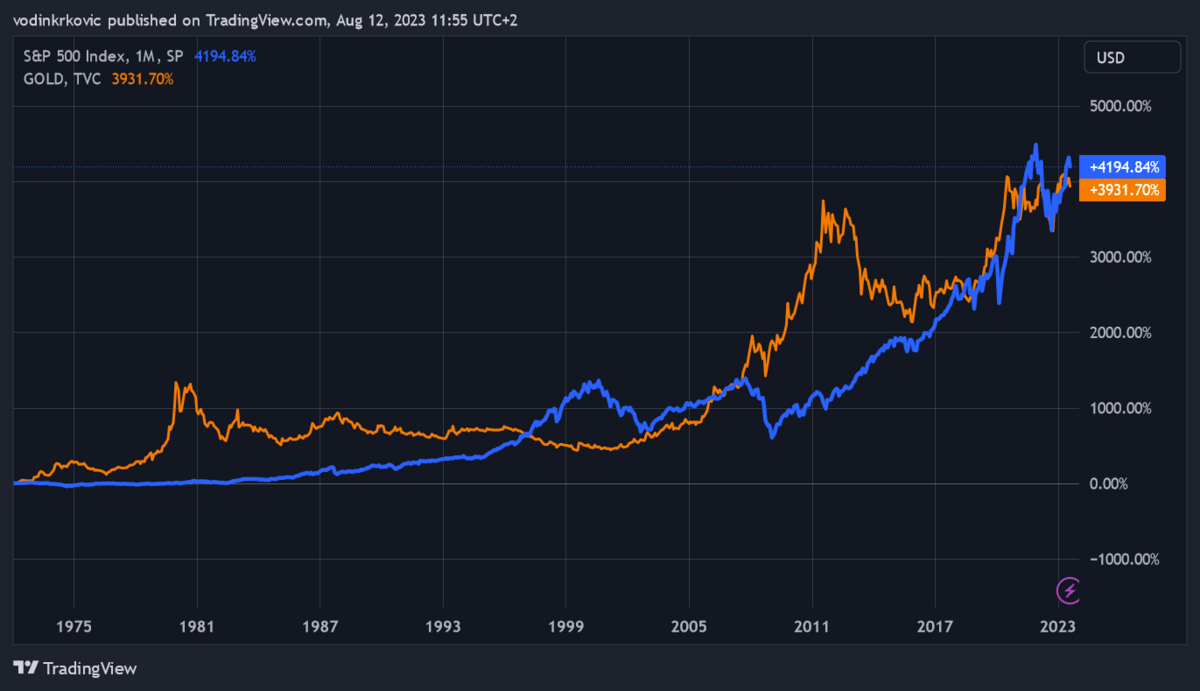 As you can see in the above chart generated on TradingView, Gold and the S&P 500 have been oppositely correlated in the past 50 years — but they have both appreciated to a similar extent.
Safe Haven Asset: Gold is often viewed as a safe haven during times of economic and geopolitical instability. When stock markets are experiencing turbulence or currencies are under pressure, gold is there to keep things in balance.
Tax Advantages: You can make tax-free contributions to your Gold IRA as you would in a regular IRA.
How to Open and Invest in a Patriot Gold Group IRA
To create a precious metals IRA with Patriot Gold Group, get started by filling out the application on their website.
The application requires your contact and personal details, including your Social Security number and bank account information — a pretty standard stuff. It shouldn't take more than 10 minutes to fill out.
If you wish to roll over an existing retirement account, their 401(k) and IRA Rollover department is available to facilitate the transfer.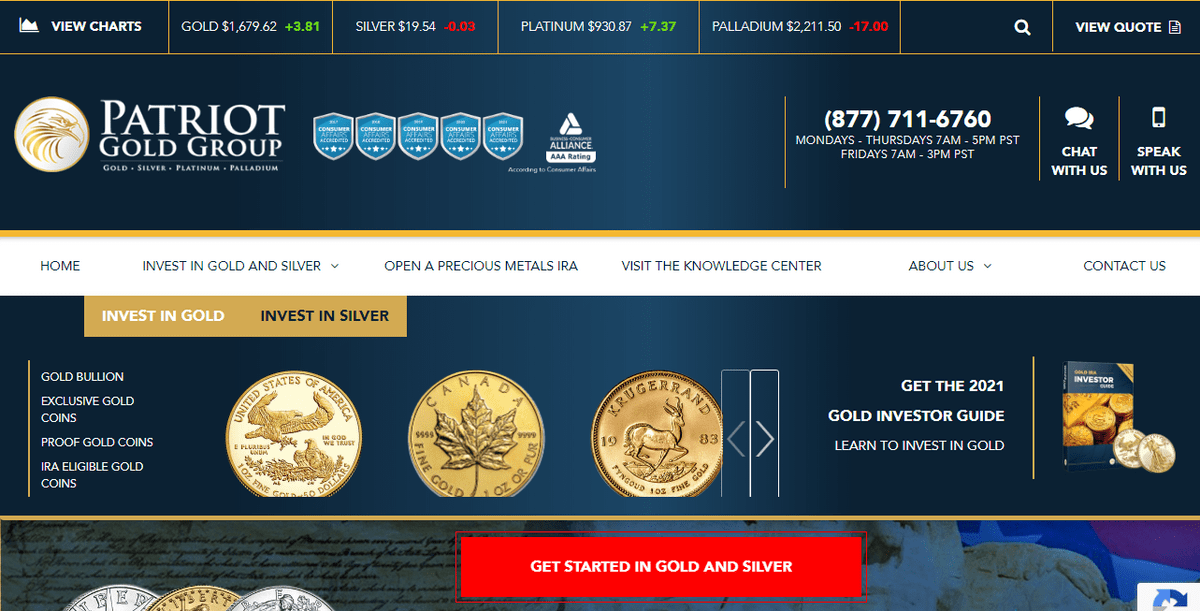 Gold and Silver Coins
Before we get to Patriot gold and silver offerings, a few more basics:
Why Buy Gold and Silver Coins?
Portability and Divisibility: Coins are easy to transport and store. They also come in various denominations, making them divisible assets that can be exchanged or sold in smaller units if needed.
Global Acceptance: Gold and silver coins have universal appeal and acceptance. They can be easily bought, sold, or traded worldwide.
How to Buy Gold and Silver Coins With Patriot Gold Group
Whether buying precious metals for personal use or funding an IRA, you first have to contact the Patriot Gold Group representatives who'll guide you through the buying process.
This usually entails agreeing on the price, signing a contract, sending them the money via your bank, and waiting to get the gold if they don't have it on hand.
Here's a list of precious metals available with PGG:
Gold Selection: Royal Mint U.S./U.K. United States Mint Gold American Eagle, United States Mint Gold American Buffalo, Austrian Mint, and more.
Silver Selection: Silver Buffalo Rounds, The Royal Mint, the Royal Canadian Mint, and more.
Other Services
Education Center
Patriot Gold Group provides educational content about the relationship between the U.S. dollar and precious metals.
The company also provides an RMD (Required Minimal Distribution) calculator.
This tool can help you calculate how much money you can take out of your IRA each year, and how much that will impact the growth of your portfolio.

To use the RMD calculator just enter your IRA balance in the calculator and then select the age at which you would like to pull your money out. This can help you stay on track as you continue to grow your account.
Customer Service
Clients can contact Patriot Gold Group in 4 ways:
For quick inquiries, customers can use the live chat on their website. Just have in mind that response times may vary during business hours.
You can also directly contact the company via telephone at 877-711-6641 for immediate help.
For more complex inquiries, you can contact them via email at info@patriotgoldgroup.com — they usually respond within 24 hours.
If you prefer to discuss money matters face-to-face, their HQ is in Seal Beach, California, 3010 Old Ranch Parkway, Suite 350.
Patriot Gold Group Prices
Patriot Gold Group prices vary depending on your account balance. Here's a brief breakdown:
| | | |
| --- | --- | --- |
| Balance | Years of waived fees | Annual fee |
| Under $50,000 | 1 | $180 |
| $50,000 – $99,999 | 2 | $180 |
| $100,000+ | All | $0 |
Patriot Gold Group offers two investment packages that include:
1. Basic "Inflation Protection" — No Fee For Life (Qualifying rollover amount: $100,000):
Initial set-up fee, custodial fee & ongoing storage/insurance costs at depository are covered.
Waived administrative & rollover fee.
Registered and insured shipping to depository.
Livetime SDIRA storage & insurance at depository.
SDIRA custodial fees covered.
2. Platinum "Inflation Protection" – No Fee For Life (Qualifying Rollover Amount: $250,000):
All benefits of the Basic package are included.
Additionally, non-qualified storage accounts at depository and all shipping costs related to distribution are covered.
It is also worth noting that Patriot Gold Group offers a buyback policy with zero commissions — this allows you to sell your precious metals back to the company without incurring a loss if the spot price hasn't dropped.
How to Get Started With Patriot Gold Group
Starting your investment journey with Patriot Gold Group is a straightforward process. Here's a short step-by-step guide:
Reach out: Give them a call or fill out a contact form on their website.
Set up your self-directed IRA: By setting up a Self-Directed IRA, you can establish a trust that can hold hard assets such as physical gold & silver and even real estate in your retirement account. Notably, all assets stored within this investment vehicle are insured, offering an added layer of protection.
Take guidance from the IRA department: Patriot Gold Group's dedicated IRA department will guide you through each step of the process. They can assist in filling out the application and transfer forms, which will be sent to you for your signature. Note, that they won't take any action without your explicit permission.
Note: A transfer or a rollover from one type of IRA to another is tax- and penalty-free.
Patriot Gold Group: Pros and Cons
| | |
| --- | --- |
| Pros | Cons |
| No fees for a $100,000+ account | Palladium and platinum unavailable for IRA |
| Very positive customer ratings | Lack of transparency with fees on the company's website |
| Good customer service | |
PROS EXPLAINED
No fees for accounts over $100,000 is a big deal for long-term investors — the waived fees let your capital compound much more quickly.
Moreover, the company has a zero-commission buyback policy which makes it much easier to sell your precious metals quickly and without incurring needless losses if need be.
Setting up a retirement portfolio can be complicated, but PGG has very responsive customer services as well as in-house tax and legal experts who can hold your hand through the entire process.
But most importantly, Patriot Gold Group has an excellent track record and exceptional customer reviews across all platforms. Trust is the most precious quality any wealth management company can have, and PGG seems very strong on this front.
CONS EXPLAINED
Investors who want palladium and platinum will not find them with PGG.
A lack of transparency in fee structures on the company website may divert investors — but we quickly got clear and comprehensive pricing info upon contacting PGG's customer support via email.
Patriot Gold Group Alternatives
iTrustCapital
Overall Rating: ⭐⭐⭐⭐⭐
Fees: 1% Transaction Fee for crypto, $50 over spot per ounce for Gold, $2.50 over spot per ounce of Silver
Known for: Offering both precious metals AND crypto
iTrustCapital is a top-rated platform that lets you invest in both crypto and gold and silver. With reasonable fees like a 1% Transaction Fee for crypto and competitive rates for precious metals, plus the aforementioned diversification, it's a standout choice. To learn more about the platform, check out our extensive iTrustCapital review.
Lear Capital
Overall Rating: ⭐⭐⭐⭐
Fees: One payment of $280 for the first year and $200 annually thereafter
Known for: Long track record, good customer service
Lear Capital boasts a solid 4 out of 5 rating. They only offer gold and silver but their price structure is better suited for clients who want a large part of their portfolio in precious metals.
It is worth noting that Lear got hit by a lawsuit for overcharging their clients in 2021.
The settlement cost the company about $6 million, after which Lear restructured. They have continued operating without any legal incidents.
For more information and to explore Lear Capital in greater detail, check out our Lear Capital Review.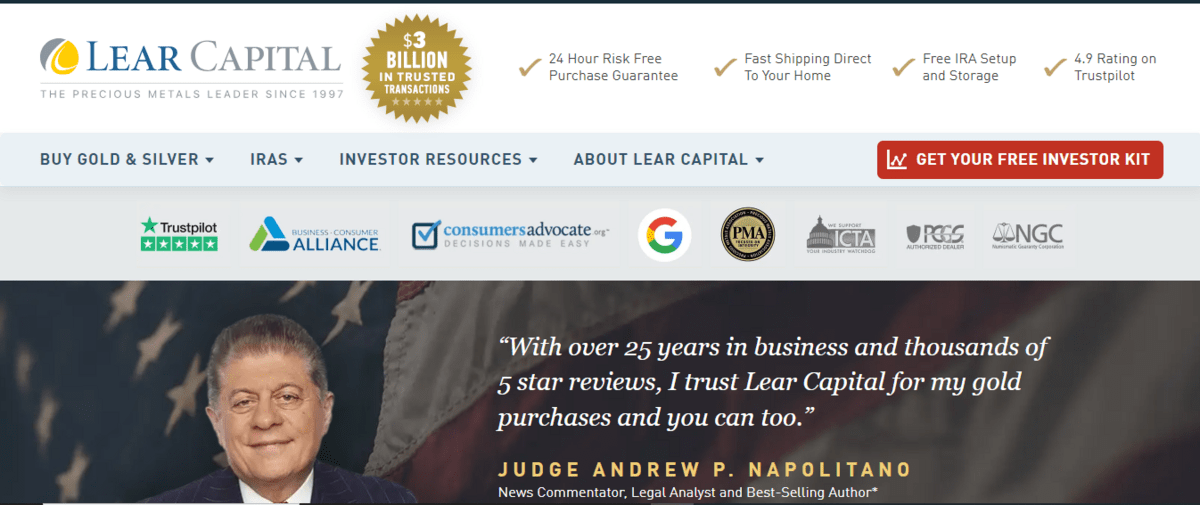 Final Word:
The most notable feature of Patriot Gold Group is the provision of self-directed Individual Retirement Accounts (SDIRAs). This allows the company to create a tax-optimized precious metals portfolio for their clients.
Moreover, this portfolio is very safe and insured — so it's unsurprising that PGG has a history of stellar customer reviews.
True, there are more extensive services that offer palladium, platinum, crypto, and other alternative retirement investments. While PGG focuses on the basics (gold and silver), its offerings are solid and extensive, making them a premium option if you're considering investing in gold and silver.
---
FAQs:
Is Patriot Gold Group Legitimate?
Yes. Patriot Gold Group boasts near-perfect ratings on rating platforms like Trustpilot, BBB, and BCA. They also won Consumer Affairs' "#1 Gold IRA Dealer" award for 5 years in a row from 2016 through 2020.
What Are the Complaints Against Patriot Gold Group?
Patriot Gold Group received no public complaints regarding their work and there are no recorded scandals in which the company was involved since its founding.
What Precious Metals Can You Buy Through Patriot Gold Group?
Precious metals investors can only buy gold and silver through Patriot Gold Group, while palladium and platinum are unavailable.
Who Owns Patriot Gold Group?
Patriot Gold Group is owned by a company called American Gold Exchange, Inc. (AGE). AGE is a precious metals dealer based in Los Angeles, California.
Has Patriot Gold Group Filed Bankruptcies?
No, the company doesn't have any bankruptcy filings in its track record.
Where to Invest $1,000 Right Now?
Did you know that stocks rated as "Buy" by the Top Analysts in WallStreetZen's database beat the S&P500 by 98.4% last year?
Our September report reveals the 3 "Strong Buy" stocks that market-beating analysts predict will outperform over the next year.