Our editorial team uses a strict editorial review process to compile all reviews, research, and evaluations of any kind. Our company, WallStreetZen Limited, is supported by our user community and may receive a small commission when purchases are made through partner links. Commissions do not affect the opinions or evaluations of our editorial team.
Copy Trading, a subcategory of social trading, allows you to copy top stock traders and replicate their returns.
At least, that's the theory.
The reality is, successful copy trading can be as hard as regular trading.
But there are ways to stack the deck in your favor.
The first step to becoming profitable while copy trading is finding the best copy trading platform. As traders, we need every advantage we can get – never forget that you are in the market against other market participants.
Not everybody can win.
Here's my list of the 7 best copy trading platforms and brokers that will enable you to fully utilize the power of social investing.
Note before we start: eToro is the clear-cut winner. Nobody competes with its CopyTrader – the other 6 are only beneficial for tiny subsets of traders.
The 7 Best Copy Trading Platforms in 2023
1. eToro – The Best Copy Trading Platform Overall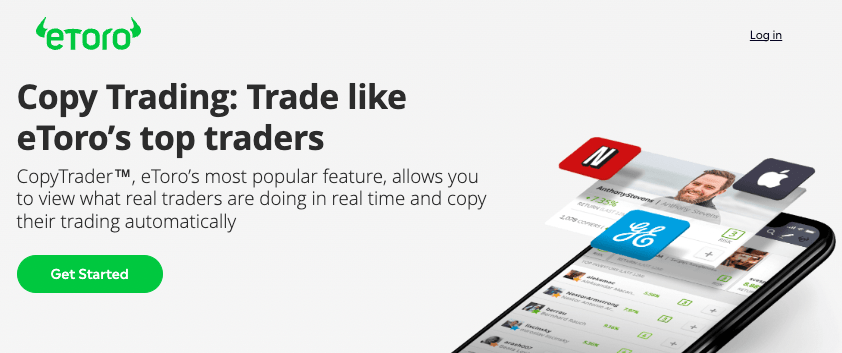 Best for: Everyone.
eToro is the gold standard for copy trading. In my opinion, the list of best copy trading platforms should begin and end here.
eToro is one of the most popular and best social trading platforms in the world (and basically invented the category). Today, more than 28 million users choose eToro as their brokerage. In my opinion, it's the best stock app.
And CopyTrader is its most iconic feature.
It was not long ago that trading was something of a hidden field for a select few specialists that had access to sophisticated trading technology. In recent times, however, social trading and modern financial applications have opened the market to a much larger demographic.
And now, with copy trading, you don't even need to learn the ins and outs of trading yourself.
CopyTrader enables you to see what real people are trading in real time, find and follow investors you like, and copy their trades with just a few clicks.
Copy up to 100 traders simultaneously
CopyTrader is completely free and is commission-free
Find all the investors you can copy with eToro CopyTrader here.
Copy Trading does not amount to investment advice. Your investments value may go up or down. Your capital is at risk.
Why is eToro #1 on this list?
eToro's users can filter traders by nationality, performance, strategy, and more to suit their goals. Additionally, its large list of established social traders and functionality make it easy to communicate with traders and copy their trades.
If you're interested in copy trading you should start with an account at eToro.
Features:
Largest social investing platform in the world.
Safe and regulated.
iOS and Android mobile apps + web-based platform.
Huge network of copy traders to choose from.
Fantastic filters to select your ideal copy trading portfolio.
Minimum Deposit: $200
Fees: There are no extra fees to use CopyTrader.
Copy Trading does not amount to investment advice. Your investments value may go up or down. Your capital is at risk.
2. DupliTrade – The Best Automated Copy Trading Platform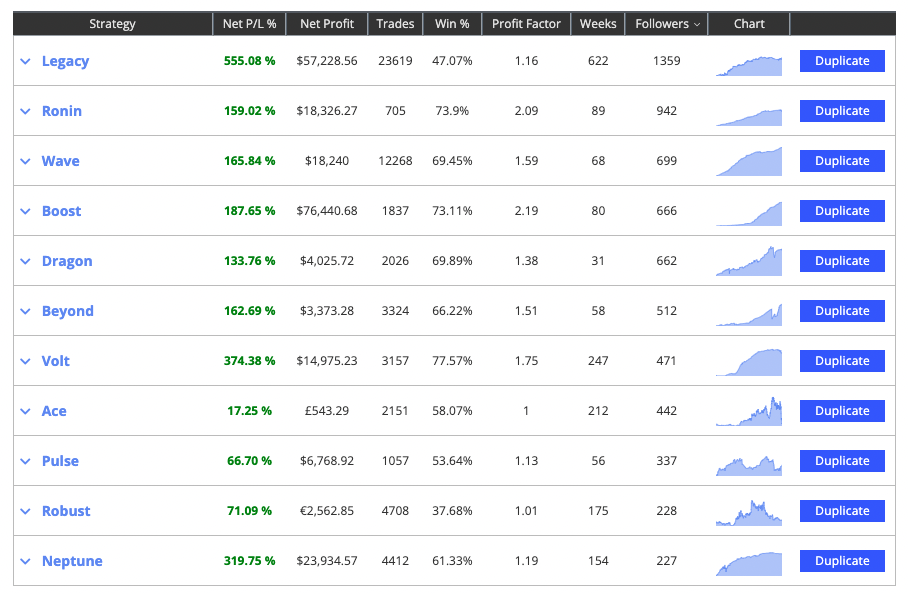 Best for: Experienced copy traders who want to automate their copy trading.
DupliTrade takes copy trading a step further using automation.
For advanced copy traders, however, DupliTrade's automation enables an even greater hands-off approach to trading: Pick your traders, set your configurations, and let the software do the rest.
Beyond finding a trader to copy, DupliTrade allows you to configure personal settings to copy only certain actions, strategies, and setups.
Automation is a double-edged sword: When it works well, profits come easy. If a configuration is wrong, however, losses can pile up without you realizing it. For this reason, you should have experience copy trading before using DupliTrade.
DupliTrade also has a large minimum deposit and connections to just a handful of niche brokers. At this time, DupliTrade is only for forex traders.
It's a great product for a select group of copy traders, but it should be used with caution and avoided altogether by novice copy traders.
Features:
Completely automated investments.
Only the best traders are accepted for strategies.
Minimum Deposit: $5,000.
Fees: Depends on the broker you choose. Usually around $100 + small commissions.
3. NAGA – The Best Copy Trading Platform for Cryptocurrencies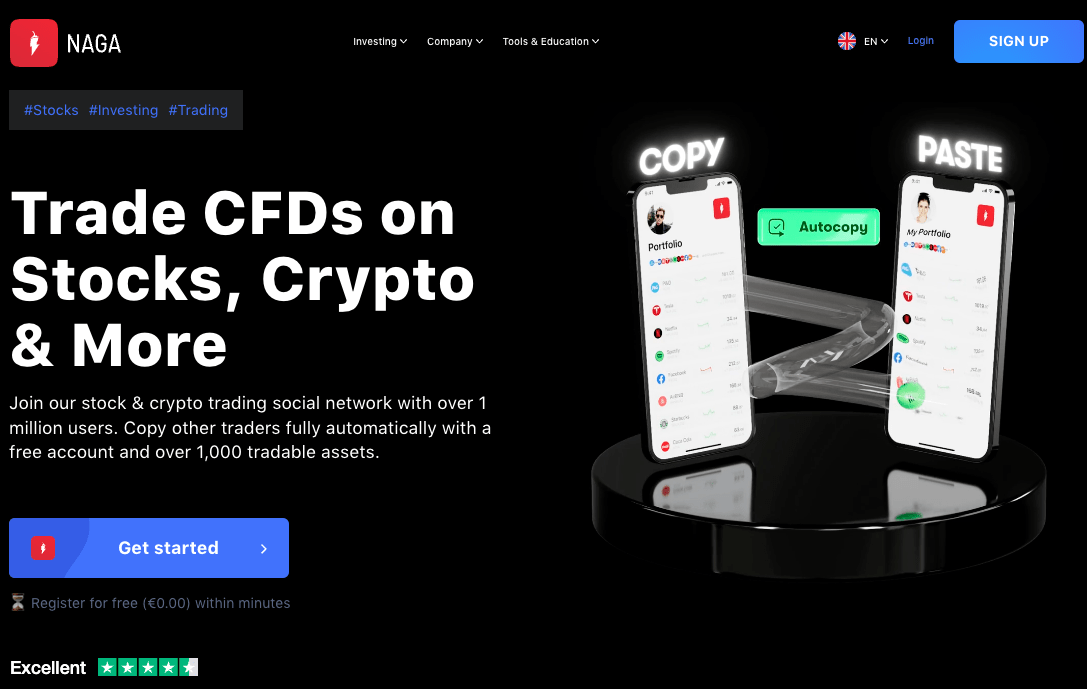 Best for: Modern investors looking for cryptocurrency copy trading.
NAGA is a self described "stock & crypto trading social network" and boasts more than 1 million users. Easily copy other traders with a free account and access to more than 1,000 assets.
NAGA primarily appeals to modern, tech-savvy investors who want to apply copy trading to cryptocurrencies (you can accomplish this and more on eToro). The platform makes it easy to buy, sell, and hold crypto, all with zero fees.
I can't say it has the power or sophistication of a platform like eToro, but it is "cool" – its smooth interface, social atmosphere, and gamified feel does make for an entertaining experience.
Features:
Very crypto-friendly.
Novel interface for increased social sharing and public media integration.
Beginner-friendly.
Easy-to-use.
Quick account setup.
Minimum Deposit: $250
Fees: 0% commission on trades. CFD on shares is charged 0.2% per lot to copy trade while those on ETFs 0.1% per lot. Average spread is 2.5 pips.
4. ZuluTrade – The Best MT4-Supported, Non-U.S. Copy Trading Platform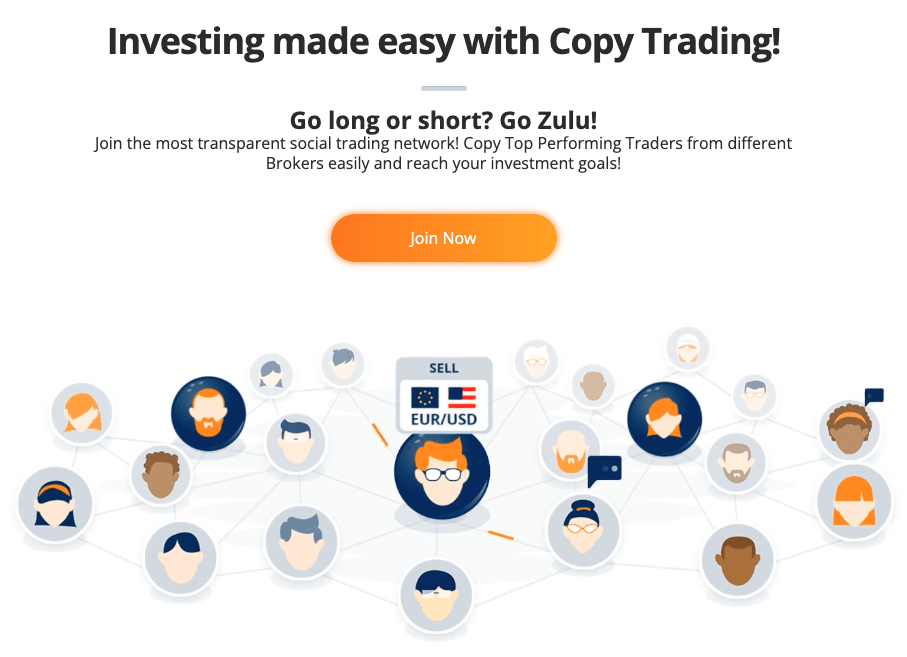 Best for: International (non-U.S.) traders who want MT4 compatibility.
Unlike eToro, ZuluTrade is built for copy trading, which is great for investors who are only interested in copy trading (though it has its limitations as a "regular" broker, whereas eToro does both well).
ZuluTrade is a wonderful mix of power and simplicity. It does not overburden the user with options and complex features, but focuses more on the core essentials for successful copy trading. This makes it a superb platform for new investors.
The ZuluGuard feature also operates automatically to protect your capital when trades hit a certain threshold amount, exiting all open positions. The feature automatically removes a Trader when detecting a trading strategy that has deviated from the expected loss profile.
It's easy to connect with brokers once you've registered a ZuluTrade account. It works with well-known brokerages such as FX View, APFX, AXI, BlackBull, Vantage, FX Choice, and more.
There are two major ZuluTrade account types. With a classic account, you pay when you open a trade position. With a profit sharing account, you pay a $30 monthly fee and a 25% commission on any profits which have been earned.
Features:
Trade crypto, CFDs, forex, commodities, stocks, and over 40 other financial assets.
Automated social trading of crypto through ZuluTrade, scripts, and APIs.
Miinimum trade of $1.
Exceptional support and interface.
Minimum Deposit: $300
Fees: About 2.5 pips per trade. With a profit-sharing account, it's $30 monthly +25% on profits earned. Conversion fees apply for non USD denominations. Variable overnight fees.
5. MetaTrader4 and 5 – The Best Plug-In Copy Trade Software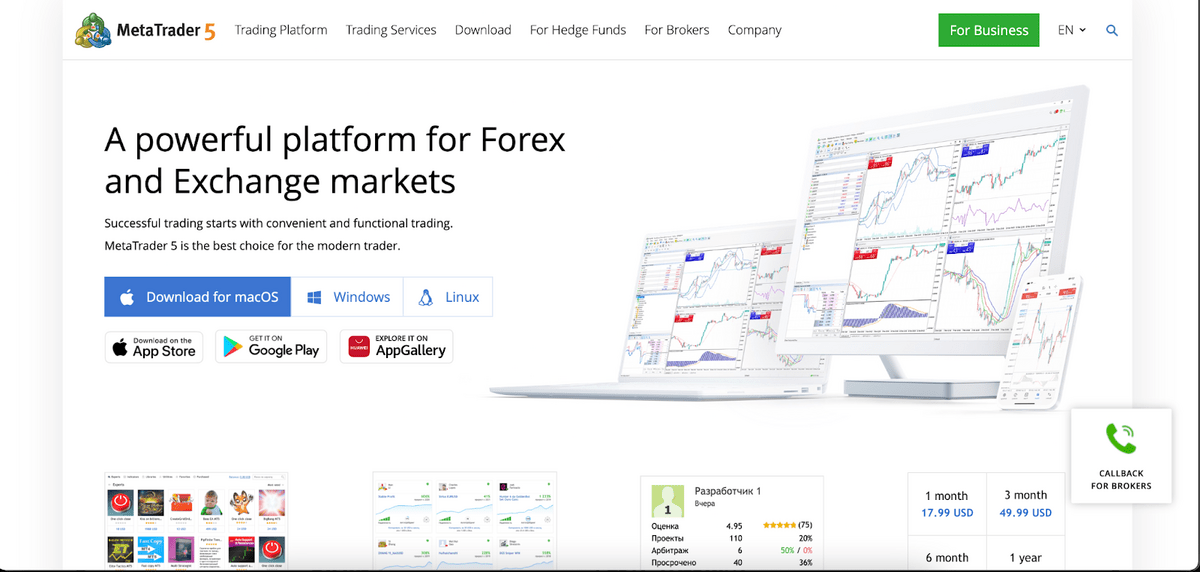 Best for: Intermediate to experienced forex traders.
MetaTrader5 (MT5) is a product of AvaTrade, a financial giant with a large array of offerings. MT5 is itself a continuation of the hugely popular MT4, but upgraded for a modern investment audience.
Both MT4 and MT5 are wickedly powerful platforms that are highly regarded by trading professionals. It really excels for forex copy trading due to its speed, reliability, and advanced features.
MT5 is not a copy trading platform but a piece of software that brokers use to execute trades – you'll need to connect it to a broker.
ZuluTrade has MT4 already built into trading accounts.
Withdrawals and deposits are free. But to use MT5, you need to sign up through a broker, who will have other requirements for account opening that you need to consider.
Features:
Available on Mac, Windows, IOS, Android, Linux, Huawei.
Giant list of trading tools to suit all requirements.
Compatible with most well-known brokerages and applications.
Industry leading copy trade software.
Minimum Deposit: Depends on the broker. Usually around $500.
Fees: Depends on the broker and the asset being traded. Examples of brokers include Plus500, Pepperstone, AvaTrade, eToro, etc.
6. Forex Copier – The Best Advanced Forex Copy Trading Platform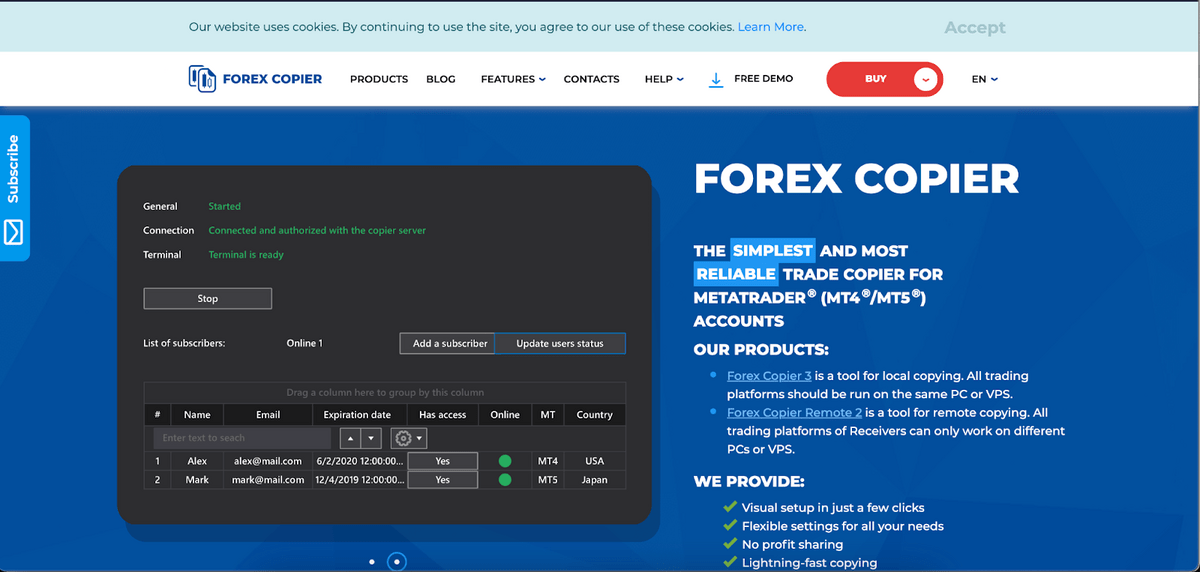 Best for: Advanced forex traders with MT4/MT5 accounts.
Forex Copier, as its name suggests, is for forex copy trading.
Unlike the other platforms on this list, Forex Copier is a software with a one-time fee that is downloaded onto your computer.
Additionally, MT4 or MT5 is required to use Forex Copier.
Features:
Send signals from MT4 to MT5 terminals (and vice versa).
Use reverse copy trading mode to profit from a trader's mistakes.
Adjust opening and closing prices of trades copied.
Filter to-be-copied orders in terms of size, pair, and number of orders.
More customisable than other copy trading platforms.
Minimum Deposit: n/a
Fees: Software cost of $199.
What is Copy Trading? What is Social Trading/Investing?
Social trading is the combination of social media and active trading (social investing is the same but for long-term investments).
What used to be a solitary experience relegated to a small number of experts, trading has exploded in popularity since commission-free trading and other fintech breakthroughs have made investing accessible to anybody with a cell phone.
Copy trading has taken this all one step further.
Today, the best traders in the world can share their winning strategies and allow you to copy their moves. Find a trader with a strong track record, set up your trade sizes and other criteria, and start "outsourcing" your trading.
Of course, this is not auto-income – profits are far from guaranteed. If you're considering copy trading, be sure to perform analysis on the traders you're thinking of copying and set trade sizes appropriate to the amount of risk you're willing to undertake. You can copy all of a trader's moves or be more selective.
Additionally, the best copy trading platforms (like eToro), give you the opportunity to learn why a trader is taking a particular position. Beyond mere profits, this is one of the biggest benefits of social investing.
Final Word: The Best Copy Trading Platforms for Social Investing in 2023
Copy trading is a great way to make money and learn from more experienced traders.
While investing always entails risk, following the moves of traders with excellent performance gives many new traders the best chance of earning serious profits. Plus, many of these traders will share their exact rationale behind their trades, giving you exposure to a world-class education.
Social investing has opened the door for millions of new investors to get invested in a fun and educational way. Copy trading has gone a step further, making potentially profitable trading accessible to all.
If you're looking to get started copy trading in 2023 and want to use the best copy trader platform, I cannot recommend eToro's CopyTrader highly enough.
---
FAQs:
Which copy trading strategy is the best?
The best copy trading strategy is to find and follow a trader you like and take appropriate levels of risk.
The best place to do this is on eToro - easily filter on distinct criteria to uncover the trader(s) best suited to your goals as an investor.
Is copy trading a good idea?
Copy trading is a good idea for new investors. It's easy to follow more experienced investors and learn from them.
However, copy trading isn't fool-proof. You still need to perform thorough due diligence and research before copy trading.
Can you make a living from copy trading?
Yes, you can make a living from copy trading.
In the same way that you can make a living from trading, provided you are diversified in your portfolio, active in your trading, hedged, and always looking to learn more.
Remember that even the best trader with a superb history goes through volatile periods. Capital reserve requirements need to be met to weather these storms. You can make a living, provided you do your research.
Which website is best for forex copy trading?
eToro is the best platform for forex copy trading and all other types of copy trading.
eToro's CopyTrader allows you to copy the trades of up to 100 top performers and simultaneously learn why they're taking their trades. eToro is one of the largest social trading platforms in the world with over 28 million users.
Where to Invest $1,000 Right Now?
Did you know that stocks rated as "Buy" by the Top Analysts in WallStreetZen's database beat the S&P500 by 98.4% last year?
Our September report reveals the 3 "Strong Buy" stocks that market-beating analysts predict will outperform over the next year.